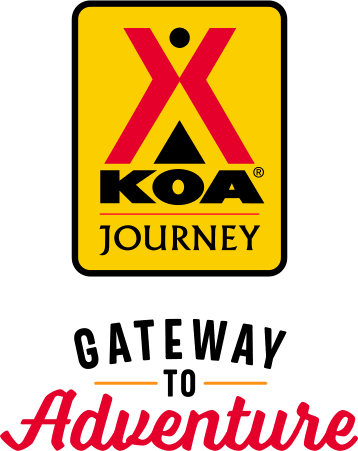 KOA Journey Campgrounds
KOA Journey campgrounds are the perfect oases after a day on the road. Whether it's along the way or a quick getaway, they've got you covered. Located near the highways and byways of North America with long Pull-thru RV Sites, they deliver convenience to the traveling camper. Pull in, ease back and take a load off.
KOA Journeys Feature:
Pull-through RV Sites with 50-amp service
Premium Tent Sites
Well lit after hours check-in service
Directions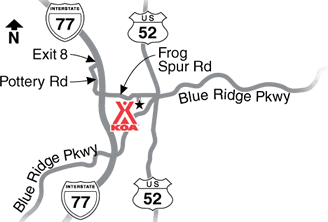 From I-77 Exit 8 go west approximately 100 yards (sign on left), turn left onto Pottery Drive. Go to the end of the road, turn left and go 0.9 mile, KOA will be on the right.
Coming from Blue Ridge Parkway, we are at Mile marker 199, follow our yellow signs.
Get Google Directions
Oct 11, 2021
What an amazing family friendly experience! We loved the Fall activities and the cabin was very clean and had a great location!
Oct 11, 2021
Short but sweet. The customer service here is top notch!
Oct 11, 2021
Another great stay!
Oct 11, 2021
Staff was nice, we arrived after hours and our reservation details were on a clip board. Easy in and easy out.
Oct 11, 2021
Our best stop this trip. Friendly service and awesome amenities.
Oct 11, 2021
The layout of the park was not the best because of the mountainous terrain but they have made the best of a challenging bit of real estate. And the personnel are the greatest! Bend over backwards to help.
Oct 10, 2021
Always very friendly
Oct 10, 2021
Sweet welcome after having an accident with our new camper trailer. Calming for sure. Rained but slept well
Oct 10, 2021
Unfortunately, the weather was not great. We were delighted to find out they cook and deliver delicious bar-b-que and pizza to your site. The park is quite hilly, so it is a bit of a hike to the office from the upper level. Our site was surrounded by underbrush and felt very private. The store is charming. The amenities are very nice. Just a caution about the hills. Close to the Parkway!!
Oct 10, 2021
You all do it up right. First impressions are wonderful. Friendly greeting upon arrival. Crackerjack guidance in backing that camper puppy exactly as it needed to be. Great decorations everywhere. Q-U-I-E-T! Clean restrooms! We were there only about 14 hours, but we've already been singing your praises. Thanks!
Oct 09, 2021
Well kept campground. Great location. All staff was friendly. Doug and Kerri were great.
Oct 09, 2021
Except the neatness of the sites to each other, our stay was lovely. Sandwiches were tasty, staff was helpful and even though it seemed nearly full, it was still peaceful and quiet and all neighbors were pleasant.
Oct 09, 2021
I really enjoy my stay at your campground as well as my wife. Only problem was she kept hearing things in the trees at nite. Lol
Oct 09, 2021
Our new FAVORITE campground. Everyone was so friendly. The supper they delivered was fantastic. All the campsites were roomy & the bathroom/showers were so nice!! Beautiful place!!
Oct 09, 2021
It is a great place to go Angia is so nice and the help is great I love to camp their
Oct 09, 2021
Traveling up north stayed in a cabin. It was great, clean. Staff was great. We are coming back with our camper in June for 5 days
Oct 08, 2021
Unique and beautiful setting. Very clean and very friendly staff. This is now one of our favorite campgrounds.
Oct 07, 2021
Loved how friendly and welcoming the staff were. The campground is beautiful and well kept. Perfect location. Perfect place to stay to see the many sites nearby. Definitely look forward to returning to this campground again.
Oct 07, 2021
One of the nicest KOAs I have ever been to. This was our second time there. Beautiful area, but what makes the stay so special is the owners, whom are so kind and helpful. Strongly recommend.
Oct 07, 2021
Just love this campground, have stayed there 3 times and planning on staying more. The personnel are just great, and are the best part of the stay, sites are great too
Oct 07, 2021
I wish they would have returned my call sooner so we won't have to go down the wrong road. Other than that it was great. Nice camp sites. Level and not muddy
Oct 06, 2021
The facilities are the nicest we have experienced at any of the half dozen KOA's we have stayed at. Everything was very clean, everything worked, the roads were in great condition and the owner and staff were extremely nice and attentive. We needed to make a repair requiring a ladder and they quickly brought it to our site. Also my wife did laundry and they gladly drove her back to our campsite.
Oct 06, 2021
We love this campground. We have had two overnight stays this year and will return. Excellent location and convenient stop over. Nice staff. Clean and well maintained.
Oct 06, 2021
We have stayed at the Fancy Gap KOA twice - once in our travel trailer and once in a Kamper cabin. We especially appreciated the half bath in the cabin. Fancy Gap is our favorite of all the KOAs at which we have stayed. The setting is beautiful, the bath houses are private and immaculate, and the hosts always make you feel that they are truly happy to see you.
Oct 05, 2021
This is our favorite campground! It feels like home everytime we pull in! The owners are amazing and even brought our girls gifts for Halloween since we were missing the fall festival this year. Definitely recommend to all our family and friends!
Oct 05, 2021
Our stay at Fancy Gap KOA was absolutely enjoyable at every aspect, clean shower house/bathrooms, the sights were very neat, level, and easy to set our campers up on, but most of all the staff and owners went out of the way to make us feel at home, especially our 3 granddaughters ages 5 years old to 18 months old! We highly recommend this camp ground!
Oct 05, 2021
The staff here are so friendly and nice! Their fall festivities hadn't started this past weekend but we let our girls trick or treat between our campers anyway, and the staff brought them gift bags.
Oct 05, 2021
Nice campground, not much around it so make sure you have some vittles just in case however they do have pizza and bbq
Oct 05, 2021
We so enjoyed our stay at your KOA - and visiting the Blue Ridge Parkway.... Just wish our visit had been longer --- Hope to see you next year!!!!!!!!!!!
Oct 05, 2021
Beautiful setting, very convenient to the Blue Ridge Parkway. Friendly, helpful staff. Peaceful atmosphere and nice campers around us.
Oct 05, 2021
Always a great place to stay. Campground is clean, nicely landscaped and large campsites. Workers are courteous & helpful.
Oct 05, 2021
This is our 3rd time coming to this KOA! Everyone is so kind and helpful! The campground and facilities are very clean! We will definitely come again!
Oct 05, 2021
This campground was the absolute best!! We had a late check in and everything was waiting for us! The staff was so friendly and organized! The property and bathhouses were so clean! The pizza was delicious too! We can't wait to go back in the spring!
Oct 05, 2021
One of our favorite KOAs. Stop Once or twice a year. Close to the Blue Ridge Parkway. Neat and clean and not overpriced.
Oct 05, 2021
Beautiful campsite... helpful, friendly staff. Best of all is a option to order dinner cooked right there, and have it delivered to your site. Thanks Dave for those pulled pork sandwiches.
Oct 05, 2021
Awesome campground. Great staff and yummy food prepared on sight and brought to your site!
Oct 04, 2021
Clean, quite and very beautifully maintained
Oct 04, 2021
The staff was super friendly. Enjoyed all the decorations for fall and Halloween. Location was great and made getting to the sites we wanted to see very convenient. Very enjoyable stay.
Oct 04, 2021
This our FAVORITE campground!! The staff, workcampers, everyone was so helpful and friendly! We love being able to order dinner!! And the trash pickup, fire ring clean out - great services!! The attention to detail - the flowers, decorations in the park - everything is wonderful! We'll be back!!
Oct 04, 2021
We have travelled from Maine to Mississippi, absolutely the best campground! Park is beautiful, staff is friendly and you couldn't ask for a better experience.
Oct 04, 2021
We really enjoyed our visit. Everyone was very friendly
Oct 04, 2021
Everyone was very friendly and helpful. We enjoyed our stay.
Nov 09, 2021
Great campground! Very friendly staff and they are very accommodating!
- Scott Berry on Google
Nov 08, 2021
Very fun campground
- Ron Price on Google
Nov 08, 2021
Best place ever!! Dave, Angie, Doug, Carrie and the entire staff deliver a truly personal experience like no other Campground.
- Bill Rossomano on Google