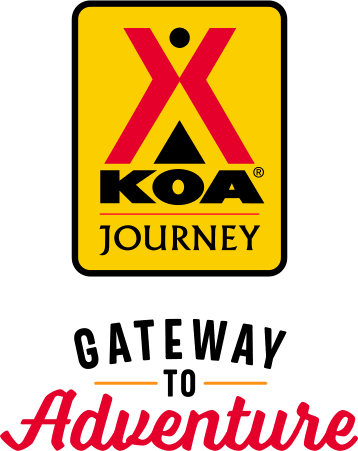 KOA Journey Campgrounds
KOA Journey campgrounds are the perfect oases after a day on the road. Whether it's along the way or a quick getaway, they've got you covered. Located near the highways and byways of North America with long Pull-thru RV Sites, they deliver convenience to the traveling camper. Pull in, ease back and take a load off.
KOA Journeys Feature:
Pull-through RV Sites with 50-amp service
Premium Tent Sites
Well lit after hours check-in service
Directions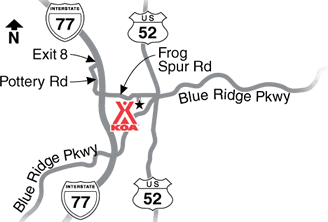 From I-77 Exit 8 go west approximately 100 yards (sign on left), turn left onto Pottery Drive. Go to the end of the road, turn left and go 0.9 mile, KOA will be on the right.
Coming from Blue Ridge Parkway, we are at Mile marker 199, follow our yellow signs.
Get Google Directions
Nov 15, 2021
This campground was one of the best I have been to. Very well kept with owners that really cared about whether I, and the other people I camped with, had a great time. I cannot wait to take my family back here. Such a great place!!
Nov 10, 2021
We had a wonderful stay. The park is clean, tidy & everyone who works there was so friendly!! We'll absolutely be back.
Nov 01, 2021
Only thing we didn't like was not having an actual grass pad for the tent. Otherwise, we'll most likely be back
Oct 31, 2021
Friendly, clean, staff was super helpful. Look forward to returning soon!
Oct 28, 2021
super clean!
Oct 28, 2021
The campground and amenities were top-notch and very clean. The staff were so nice, humble and gracious to me and came by to check and see if I needed anything throughout my stay. Thank You Fancy Gap KOA for your kindness and a wonderful stay!
Oct 24, 2021
organized and very welcoming check in. loved all the little extras- cozy seats, camper sinks, rustic decorations, cute store. Will def be back.
Oct 20, 2021
Great campground. The staff was amazing. We forgot our drop cord and they brought us one with our firewood and ice.
Oct 16, 2021
Excellent facilities (clean and well maintained) and great hospitality from staff.
Oct 05, 2021
This is our 3rd time coming to this KOA! Everyone is so kind and helpful! The campground and facilities are very clean! We will definitely come again!
Sep 27, 2021
Campsite was beautiful all staff ver friendly.
Sep 17, 2021
Loved my huge tent site with a shelter for the table. I liked the fact that sites are on many different levels so even if you were technically "close" to a neighboring site, the other site was on a different level from yours so still felt very distant. Everything was neat, clean and well done. Very nice spot.
Sep 15, 2021
Great, nice staff, nice facility
Sep 10, 2021
Wonderful place. The staff goes out of their to take care of guests.
Aug 24, 2021
The campground was beautiful, and clean. The campsites were roomy, the bathrooms were spotless. Our family enjoyed all the Saturday activities, the water war wagon ride, the craft time, the ice cream social. Our family was warmly welcomed by all the staff, this was our home away from home. And, Dave's Smokehouse was the icing on the cake. The bbq sandwich served at the campground was great.
Aug 20, 2021
Bathhouse was super clean! Check in was wonderful! Good delivery service was great!
Aug 16, 2021
Fantastic staff, very clean bathrooms.
Aug 11, 2021
Staff are AWESOME and super helpful. Food at the lodge was fantastic! The smoke master cooking there knows what he's doing. The camp hosts multiple activities and keeps in contact via text messages during your stay. Overall, 5 out of 5! We will go back.
Aug 09, 2021
Had a great time very friendly and helpful staff
Aug 06, 2021
Very nice campground and staff. Would not hesitate to stay here again.
Jul 06, 2021
Perfect spot to camp, and the owner was very friendly and helpful!
Jul 03, 2021
The staff could not have been nicer. I had a great time.
Jul 01, 2021
Our stay was awesome as always!
Jun 28, 2021
We enjoyed our stay very much. I was impressed with how well kept the facilities were, especially the bath house. The staff was kind, attentive, and enthusiastic. We will be back and have already recommended the campground to friends and family.
Jun 22, 2021
Fancy Gap KOA was absolutely the best 1st camping trip experience EVER! The most friendly people I have ever met along with the cleanest facilities possible! Our kids absolutely loved the activities planned and we actual cancelled our outing to stay at the campground to do their planned activities! We booked another stay exactly a month later and we cannot wait to come back!
Jun 22, 2021
Great campground with lots of activities and amenities. Super friendly staff and clean and modern bath house. We had a fantastic time during our visit!
Jun 20, 2021
Second time here. It was great but there is dirt bike noise every evening when trying to relax and enjoy the great outdoors. We camp to escape traffic noise. Great place other than that. All the employees couldn't be more friendly.
Jun 14, 2021
Everyone was so helpful, friendly and hospitable!
Jun 13, 2021
Staff was friendly and everything was super clean! Very well maintained!
Jun 09, 2021
The staff at Fancy Gap KOA provided me amazing customer service and ensured that I had an amazing stay. The grounds and facilities were immaculate and added to my overall enjoyment during my stay.
Nov 09, 2021
Great campground! Very friendly staff and they are very accommodating!
- Scott Berry on Google
Nov 08, 2021
Very fun campground
- Ron Price on Google
Nov 08, 2021
Best place ever!! Dave, Angie, Doug, Carrie and the entire staff deliver a truly personal experience like no other Campground.
- Bill Rossomano on Google