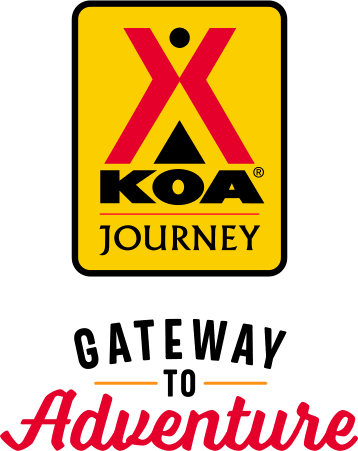 KOA Journey Campgrounds
KOA Journey campgrounds are the perfect oases after a day on the road. Whether it's along the way or a quick getaway, they've got you covered. Located near the highways and byways of North America with long Pull-thru RV Sites, they deliver convenience to the traveling camper. Pull in, ease back and take a load off.
KOA Journeys Feature:
Pull-through RV Sites with 50-amp service
Premium Tent Sites
Well lit after hours check-in service
Directions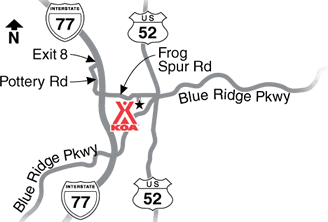 From I-77 Exit 8 go west approximately 100 yards (sign on left), turn left onto Pottery Drive. Go to the end of the road, turn left and go 0.9 mile, KOA will be on the right.
Please call if coming from Blue Ridge Parkway or using GPS. 276-728-7776
Get Google Directions
Nov 25, 2020
Very nice campground. Staff was friendly and very helpful. We were only staying one night as we passed through to South Carolina and the staff moved us to a site that was easy-in and easy-out so we didn't have to unhook our Toad.
Nov 20, 2020
Unique location and campground. Very friendly. Would enjoy staying there again.
Nov 19, 2020
We've only stayed in the pull thru sites due to our size (40'). The pull thrus are spacious, especially for a KOA. Many of the back in sites look appealing because of their seclusion and again size. All utilities are adequate. If you're a satellite user this is a well wooded campground so getting a signal will be a challenge. The staff is friendly and accommodating.
Nov 16, 2020
Short 2 night weekend stay at the end of the season. We love this campground. Staff there go way up and beyond to make sure all goes well. They lead you to your campsite. I told them I needed a bag of ice and propane. They took my bottle with them and came back with it filled and a bag of ice. There is a place called Fancy Gap Pottery but its a awesome store. Kinda like a Hobby Lobby.
Nov 16, 2020
We really enjoyed staying at the Fancy Gap Campground KOA in the Deluxe Cabin....The owners & staff are very friendly & would definitely stay again & recommend to a friend..
Nov 16, 2020
Very pleasant stay absolutely the cleanest bath houses I've seen any. The staff were extremely helpful,friendly,polite and professional. Great place to just kick back and relax and enjoy nature
Nov 16, 2020
Great staff and nice campground
Nov 16, 2020
Lovely place with very friendly people. I love their bathhouse it is the nicest I've been to at a campground. Barbecue was a pleasant surprise this time around �
Nov 16, 2020
We love this KOA! The customer service cannot be beaten! We love staying here!
Nov 15, 2020
This was our first time there and it will not be our last. One of the best KOA's that we have visited. A very clean and well maintained campground. The staff was very friendly and nice. The owners are the BEST. The BBQ was great also and they bring it to you at your camp site.
Nov 15, 2020
Our stay here was fabulous! The owners are very nice and accommodating. The site was very roomy and the park is well kept and clean. Nice store well stocked for your camping needs. We will definitely be back again!
Nov 15, 2020
What a great campground! Super friendly staff. We wish we would have been able to stay longer. We will absolutely be back!
Nov 14, 2020
Staff was very nice.
Nov 14, 2020
So clean and neat it was not our first stay and won't be our last. Workers were very helpful
Nov 14, 2020
Great stay. Very private. The staff is so friendly and helpful. Look forward to revisiting in the spring.
Nov 13, 2020
Very dog friendly campground. We loved the backyard dog sites. Staff is very friendly and was very nice to our young son. Facilities were clean and well maintained. Had fun activities for children.
Nov 12, 2020
Beautiful and well maintained park. The shining stars were the employees who work there-ALL OF THEM! Friendly, helpful, solved a cable tv problem promptly, delivered firewood to fire pit before we could walk back and by the smiles on their faces were glad to be helping folks and enjoying their jobs. Well done, great people loving what they do is the key to success.
Nov 12, 2020
We loved the golf cart escort to our spot and the BBQ was amazing!
Nov 12, 2020
Very friendly, Covid appropriate and super clean facilities. The sites were great and our stay was lovely.
Nov 11, 2020
Wonderful. Love the staff, great Very clean, well kept. Little pricey but loved it
Nov 11, 2020
Love the place and will be back!
Nov 11, 2020
It is a nice camp ground with a friendly staff.
Nov 11, 2020
Nice camp ground with an accommodating staff.
Nov 10, 2020
This was my 2nd stay with this campground and hosts and staff. And once again an AWESOME experience all around. The cabin was clean and ready for use, the grounds was were clean of trash. The campground was full of campers and it was alot of fun.
Nov 10, 2020
Fancy Gap KOA is our favorite campground! It's like coming home every stay here! Y'all are awesome!
Nov 10, 2020
Traveling in a 45ft class a with a tow vehicle. Being in the mountainous area, we knew the sites would not be level, but we managed to level. The entrance and some corners are tight, but again slow and careful planning we were fine. Did not use any amenities as not needed. They celebrated Xmas with a Santa visit. Kids were happy! Staff was all friendly. Will return if in the area.
Nov 10, 2020
Always a nice place to stay, friendly staff and owners
Nov 10, 2020
I would have rated the campground a 5 out or 5 except a camper next to us had a dog that barked constantly.
Nov 09, 2020
Great place!
Nov 09, 2020
We had a wonderful experience at Fancy Gap Campground. Staff was very accommodating and very friendly. My wife can not wait to return next Spring.
Nov 09, 2020
I was running 30 mins late and they waited for me even though I did not call them. Great service!!!
Nov 09, 2020
Very relaxing! Love this campground!
Nov 09, 2020
We had a good time shopping in the camp store. And just relaxing.
Nov 08, 2020
Access roads in campground are narrow and tight to maneuver. Our site was small and required a lot of leveling. Picnic table was in good condition and store well stocked. Employees were very friendly and accommodating. Check in was easy.
Nov 08, 2020
Excellent facilities and a very helpful staff.
Nov 07, 2020
Halloween was a hoot! Staff was fantastic and very responsive to our needs.
Nov 07, 2020
We always enjoy our time at this KOA because the staff makes every effort to make your time here special.
Nov 06, 2020
very nice stay,will be back soon.
Nov 06, 2020
Staff was great and very helpful. It was nice and quiet here I needed the rest as I had a long trip the next day. Pull through site was very easy to pull in and out. My dog thoroughly enjoyed the dog park there. I will plan to stop here again in my upcoming travels Next year.
Nov 06, 2020
Stayed at KOA'S from here to Montana, Dave and Angie always has the nicest place and the best staff bar none.
Nov 06, 2020
Beautiful wooded campground. Everyone friendly and knowledgeable. Laundry room very nice with hot dryers. Bathhouse perfectly clean and accommodating. Loved Cabin 48! So nice to have your own toilet and sink. TV was nice to have too! I will be planning my return trip for next season. My first adventure in camping was a success!
Nov 06, 2020
Sweet friendly and pleasant lay out Will come again.
Jan 09, 2021
We stayed here at a cabin in August and were so thrilled. The campground, the staff and the area were awesome. Over the years we have stayed at many KOA's, some good, some great and some not so great. Fancy Gap has taken a step beyond GREAT. We received a 'Thank You' card from Fancy Gap KOA, right after Christmas and it has been placed with all of our Christmas greeting cards. Never, ever have we received something like this from any campground we have stayed at. Fancy Gap you have made us feel like we matter and you appreciate our business. You have no idea how one little card has brightened our day. I just had to do a second review and shout out what a great place this is to stay with awesome staff. Keep up your great customer service and wonderful campground. I am hoping will be able to return. Thank you. 10 STARS.......
- AineFlorida on Trip Advisor
Dec 29, 2020
Awesome campground, and wonderful hosts and staff, this was the first Christmas for the campground, already have a 2021 scheduled... SANTA had a unforgettable time! Half of the campers are reserved for 2021 for the Christmas with Santa. The deluxe cabin is fantastic, 2 nights rest for Santa.
- Ricky Phillips on Google
Dec 03, 2020
Love the quaint feel. Sites are spacious and well laid out. Was able to proudly display our Trump and Dixie flags! So much patriotism at this park. We had people stopping by all the time complementing us on our flags. The staff is friendly and they have food onsite that they will deliver to your site. Love their barbecue . Bathrooms are clean and bright.
- Kent E on Trip Advisor