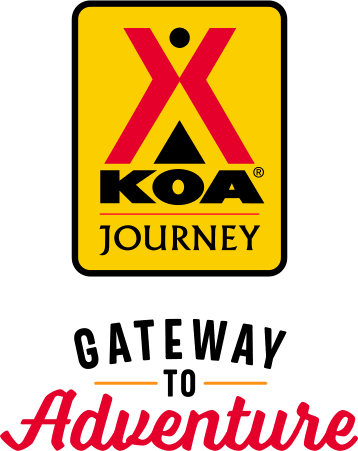 KOA Journey Campgrounds
KOA Journey campgrounds are the perfect oases after a day on the road. Whether it's along the way or a quick getaway, they've got you covered. Located near the highways and byways of North America with long Pull-thru RV Sites, they deliver convenience to the traveling camper. Pull in, ease back and take a load off.
KOA Journeys Feature:
Pull-through RV Sites with 50-amp service
Premium Tent Sites
Well lit after hours check-in service
Directions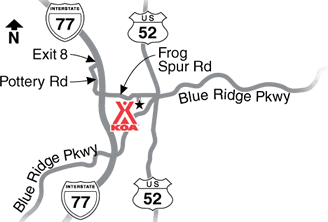 From I-77 Exit 8 go west approximately 100 yards (sign on left), turn left onto Pottery Drive. Go to the end of the road, turn left and go 0.9 mile, KOA will be on the right.
Coming from Blue Ridge Parkway, we are at Mile marker 199, follow our yellow signs.
Get Google Directions
Dec 08, 2022
Its a nice night staying location on our journey north
Nov 14, 2022
We had a lovely time. The owners were awesome!
Nov 14, 2022
Nice cabin, helpful people; I would recommend if you need a spot for the night.
Nov 14, 2022
Nice campground. Staff was very friendly and helpful.
Nov 14, 2022
Very clean. Great staff very friendly and helpful. This is our second time there and we will be going back
Nov 14, 2022
Well kept and clean campground. Staff helped us back in to our site in the pouring rain. Much appreciated. We stayed with three other parties and they all said they would definitely come back again.
Nov 14, 2022
Loved the family vibes atmosphere and friendly staff. We will definitely be back!
Nov 14, 2022
Nice grounds well kept and helpful friendly Staff
Nov 14, 2022
Beau KOA. Salle de bains super propre et moderne.
Nov 14, 2022
Very nice staff, bath house very clean. Would recommend to others.
Nov 13, 2022
The powder room style toilet in the camping cabin was AWESOME. Absolutely the nicest camping cabin experience EVER!! Total game changer. I wish the other KOA's would follow suit. I don't need any frilly extras. We decided to leave our tent at home this trip and used camping cabins instead. This was the only KOA Campground that had a toilet in the VERY reasonably priced camping cabins.
Nov 13, 2022
Staff very friendly & helpful. Beautiful camp sites, excellent location.
Nov 13, 2022
Great place.
Nov 12, 2022
The campground is fantastic! The staff is fantastic! We will definitely stay here again.
Nov 11, 2022
It was great!! The absolutely best part was the fenced in back yards for our 2 puppies to play & stay. We will definitely be back & highly recommend...
Nov 10, 2022
Just stayed 1 night on way to FL. Manager was gracious enough to switch my spot so that I could be near my friends. Clean bathrooms, and dog friendly - we liked the dog park.
Nov 08, 2022
Very clean and beautiful campground. Staff was friendly and we would return if in the area.
Nov 08, 2022
We stayed at site 71 which was just big enough for our 25 foot TT and tow vehicle. Didn't get a chance to check out the whole campground this time like we normally like to do due to the weather. The staff were really great and knowledgeable. Will definitely come back sometime. I had no problems.
Nov 08, 2022
We stayed in a cabin. It was wonderful! We will be back next season.
Nov 08, 2022
Beautiful but we had a very hard time getting into our site. Very hilly.
CAMPGROUND RESPONSE / COMMENTS:
Camping on top of Fancy Gap Mountain, at it's best. Please take our advise when we are helping you into your site. Happy Trails
Nov 07, 2022
Great stay as always!!
Nov 07, 2022
My visit was very nice � Rekindled friendship with friends and made new friends Priceless memories were discovered � ���ϋ�
Nov 07, 2022
Everyone is so nice this is our favorite campground
Nov 07, 2022
First time for us, had to leave early due to bad weather-GREAT STAFF, FRIENDLY CAMPERS-WE'LL BE BACK!!!
Nov 07, 2022
Hanging out with my Grandson and Santa, cant get much better than that!
Nov 07, 2022
Loved the campground but what really sold us on returning is the amazing and friendly staff!
Nov 07, 2022
We like how the staff is so friendly and helpful. We also like being taken to our site and they help to back you in.
Nov 07, 2022
Very nice site
Nov 07, 2022
I love this spot! The people are super friendly. Everything I need can be found in the store. Also, the campers are respectful of each other. I will be back soon. Thank You.
Nov 07, 2022
Absolutely loved our stay.our spot backed up in the woods. The christmas decorations were so nice.i left painted rocks too.
Nov 06, 2022
Very clean and comfortable. We will be back
Nov 06, 2022
We were so pleased when we arrived, had a great camp site with it's own private dog lot in back, site was nice a private, the staff were very accommodating, found some nice gifts in the store. Enjoyed the decorations both fall and the just set up Christmas, as well as all the campers that decorated for Christmas. Saturday morning With the real Santa Claus! What a way to start the Christmas seaso
Nov 05, 2022
I would like to thank you folks for allowing us to change our arrival date a couple of times due to illness. You were all great and very helpful when we arrived. The sandwiches were excellent along with the prompt delivery to our site. We will definitely be back to stay again! Thanks again
Nov 04, 2022
Nice place. Nice people
Nov 03, 2022
Great stay. Owners and employees were all fantastic.
Nov 03, 2022
Park staff met us as soon as we pulled in, led us to our cabin, and delivered firewood, ice, and food to us. They even had coffee available in the cabin already! What an awesome stay! Definitely going to come back!
Nov 03, 2022
Most accommodating staff. Clean facilities and all in good working condition. Very welcoming.
Nov 03, 2022
Our site was at a sharp angle. Ok once in the site. Great location Great host. Very quiet
Dec 11, 2022
I stayed at this KOA campground one night while making a fall drive on the Blueridge Parkway. It is located near the Parkway and close to the interstate. They even had someone escort me to my site. The site I had was cozy with full hookups. This campground even had a restaurant that sells smoke meat and other things. I didn't get a chance to try. There is a dump station located in an "outhouse" down close to the office. It was cute for a dump station. They have the standard hose for cleaning, a dumpster and even an air pump for tires. They listed a dog park as an amenity but I arrived late and didn't see it.
- Katherine Parker on Google
Nov 20, 2022
Oh boy if you need your hair dried and forgot the blower just get out of you car on a parkway pull over and let the wind do it for you
- The Bland county survivalman on Google
Nov 19, 2022
Still 5 Star with bad weather. Enjoyed family time, staff were great and met very nice travelers and share contact information.
- MAINSTRIKE 6410 on Google