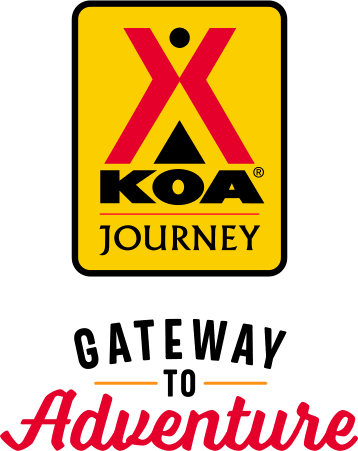 KOA Journey Campgrounds
KOA Journey campgrounds are the perfect oases after a day on the road. Whether it's along the way or a quick getaway, they've got you covered. Located near the highways and byways of North America with long Pull-thru RV Sites, they deliver convenience to the traveling camper. Pull in, ease back and take a load off.
KOA Journeys Feature:
Pull-through RV Sites with 50-amp service
Premium Tent Sites
Well lit after hours check-in service
Directions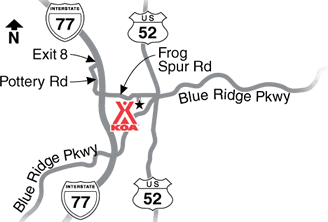 From I-77 Exit 8 go west approximately 100 yards (sign on left), turn left onto Pottery Drive. Go to the end of the road, turn left and go 0.9 mile, KOA will be on the right.
Coming from Blue Ridge Parkway, we are at Mile marker 199, follow our yellow signs.
Get Google Directions
Nov 09, 2021
The cabin that we stayed in was very clean and we really enjoyed the Christmas lights that everyone put out.
Nov 08, 2021
Wonderful kid activities! Campground is very clean! Staff goes over and beyond making sure you are well taken care of!!! Already made reservations for next year!!!
Nov 07, 2021
Wonderful, staff is above excellence! Will stay there again and tell everyone about this KOA.
Nov 06, 2021
Everything about this place is top notch. From the park decor, cleanliness, updated bathroom, and the staff. Will be back!
Nov 02, 2021
The cabin was great! Loved having the bathroom, but hot water at the sink would have been greatly appreciated. Next time I hope to stay more than one night.
Oct 30, 2021
Everyone is so friendly and helpful! Stayed in one of the small cabins and my granddaughter had a blast only regret we couldn't have stayed longer!!! Hope to see you again next year!
Oct 29, 2021
Loved the sandwiches! /
Oct 26, 2021
Loved the cabin by the pond -- very tranquil and beautiful! Fire pit was awesome! Camp store was a shopping treat -- found several one-of-a-kind items!
Oct 26, 2021
Very clean and quite. Would definitely stay there again.
Oct 26, 2021
Great accommodations clean easy check out
Oct 25, 2021
We enjoyed the stay at this KOA cabin and the campground. The cabin with a toilet and sink was very good for older people like us. It is a must. The showers are very clean and they looked new. There must have been upgraded the shower stalls, etc. The shelter next to the tent sites are such a nice touch as well as the sink to use next to 1-room cabins, as well as campers kitchen for people to use.
Oct 25, 2021
This KOA is a regular of ours - we especially love the month of October! We stay in a camping cabin, #49 is our favorite; right at the top of the hill and we love to watch campers arrive. We love all the activities offered and have joined many of them and made new friends. The staff is pleasant and helpful at all times. Thanks!
Oct 22, 2021
Wonderful as always. Love the new shower heads in the bath house ���
Oct 22, 2021
Owner and staff were very friendly and helpful. Cabin was perfect and contained everything we needed. Only complaint would be the queen bed could have been a little firmer, but that's a subjective opinion.
Oct 21, 2021
Great owners and staff very friendly and helpful. Cabins are clean and well maintained.
Oct 19, 2021
We stayed in the lodge with extended family for a long weekend. Very spacious and comfortable. Beautiful setting surrounded by the fall foliage.
Oct 18, 2021
Great place to stay.
Oct 17, 2021
I like to spend some "quite time" once a year to do devotionals, and meditate. This cabin had the perfect combination of allowing me to have my quiet time, and meet some great people. Will definitely go back.
Oct 16, 2021
The cabin was more comfortable than I expected with high-quality sheets and towels. Everyone was very friendly, there were arts and crafts for the kids and the campground was well maintained. I would have liked to see more for the kids like bounce platforms, but the playground was nice and the kids had a ball being miners. Overall a great stay, and the smokehouse had nice sandwiches.
Oct 15, 2021
Great camp ground! We stayed in the lodge, roomy clean and everything we needed was there. A wonderful place to have a family vacation. The owners were friendly and helpful�
Oct 15, 2021
Just awesome, everyone, and everybody from site delivered food to (that was hot and delicious) the super groomed grounds. The wonderful welcome, truly a joy, I would totally recommend fancy gap koa. Thanks so much.
Oct 15, 2021
Everything was great, people were so awesome, we ended up booking additional night
Oct 14, 2021
Although we stayed only one night, at Fancy Gap KOA, our visit was excellent. The staff was welcoming and helpful in all regards. We stayed in cabin #5 and found it to be very well appointed and comfortable. Unfortunately, since we were traveling, we weren't able to take advantage of the many attractions available in the area.
Oct 13, 2021
Cabin stay. Was told we had a new mattress, Mattress was Fine, But the BOX Fame, Frame was terrible. Every little movement, rattled, squeaked or moaned. If there had been a room next door, i don't know what they would have thought.... On the other hand very nice park, well maintained, lots of trees, clean dog play area. If I had been in a RV, would enjoy an extended stay.
CAMPGROUND RESPONSE / COMMENTS:
Thank you for your comment, and yes, we fixed the broken box frame. In the future, please oh please let us know when you have a challenge, we want your stay to be amazing.
Oct 12, 2021
We had a wonderful time! Clean, comfortable and friendly! Lots of activities for the kids(and adults), would absolutely return and recommend others check it out!!! Also BBQ was so delicious �
Oct 11, 2021
What an amazing family friendly experience! We loved the Fall activities and the cabin was very clean and had a great location!
Oct 09, 2021
Traveling up north stayed in a cabin. It was great, clean. Staff was great. We are coming back with our camper in June for 5 days
Oct 06, 2021
We have stayed at the Fancy Gap KOA twice - once in our travel trailer and once in a Kamper cabin. We especially appreciated the half bath in the cabin. Fancy Gap is our favorite of all the KOAs at which we have stayed. The setting is beautiful, the bath houses are private and immaculate, and the hosts always make you feel that they are truly happy to see you.
Oct 05, 2021
Awesome campground. Great staff and yummy food prepared on sight and brought to your site!
Oct 04, 2021
Everyone was very friendly and helpful. We enjoyed our stay.
Oct 03, 2021
Very nice. Polite, responsive staff. Camping cabin was perfect for couple and being pet friendly was a plus.
Oct 02, 2021
Arrived late, they left the lights on left the key in our room. It was very nice. Thank you. BOB
Sep 30, 2021
The campground was beautiful! In addition to the beauty of the natural surroundings, the campsites were nicely spaced out and there were little "touches" of decor tastefully added such as a windcatcher or metal garden sign. The hosts were very friendly and my cabin was clean, comfortable, and well outfitted for a family stay. I loved my stay!
Sep 30, 2021
Great little cabin! Love staying here when traveling north/south. Very convenient location!
Sep 27, 2021
Great stay as always. Arrived Monday and departed Sunday. Campground very nice, clean and all staff are very friendly and knowable. Staff can,t do enough for you. Stayed in cabin #2, and was great accommodations . This was our 4th time staying and never had a bad experience. Cant wait until next year to return.
Sep 21, 2021
Everything was great !
Sep 19, 2021
We have stayed several times in cabins and in RV spots and never have been disappointed. We were only in cabin over night this trip but the cabin was very clean and well stocked. Staff we encounterd were very nice as well as the campstore . We look forward to coming again as this is always our first choice when in the area .
Sep 18, 2021
Very clean grounds. Owners and staff are amazing, very friendly and quick to act when we had a request. Pizza and BBQ were delicious and I loved the cute items available in the store.
Sep 16, 2021
One of the nicest KOAs I have stayed at. Staff treated you like family. Will return.
Sep 15, 2021
I stayed in the Lodge with a group of folks and it exceeded my expectations. The campground was fantastic, the Lodge was beautiful, and the staff were so personable and took the time to make sure we had everything we needed. I will absolutely return! (In fact, I was hoping to return for my birthday weekend of Oct. 16 but unfortunately the cabins were all booked up.) Keep up the great work!
Sep 14, 2021
Great Staff, clean and well kept KOA.
Sep 14, 2021
Clean nice cabin, friendly staff, if we stayed in the summer seems like their would be lots to do
Nov 09, 2021
Great campground! Very friendly staff and they are very accommodating!
- Scott Berry on Google
Nov 08, 2021
Very fun campground
- Ron Price on Google
Nov 08, 2021
Best place ever!! Dave, Angie, Doug, Carrie and the entire staff deliver a truly personal experience like no other Campground.
- Bill Rossomano on Google