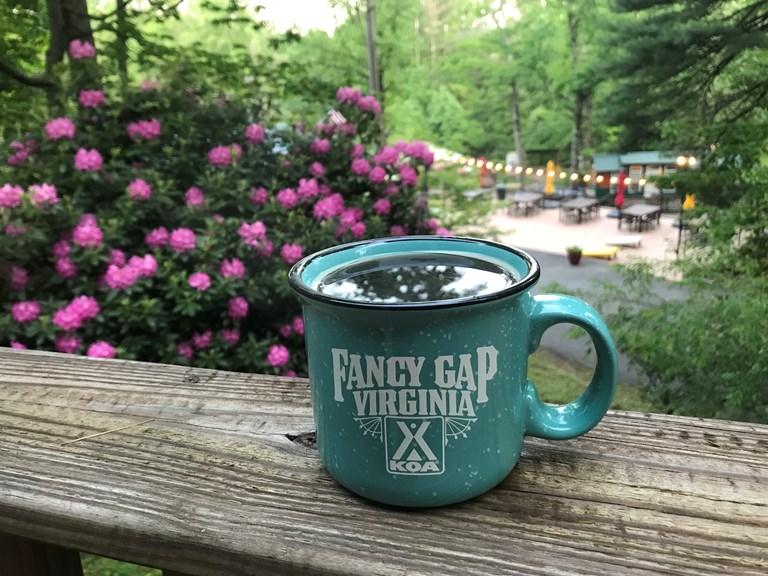 General Campground Information
Camp Store Boutique
Come experience our camp store boutique that has a flair of old down home. We offer a fun assortment of items for your camping experience, great handbags made from retired Military tents, and souvenirs from Fancy Gap Virginia.  We have fun step back in time  toys as well as some new Kindness Rocks items.
We are open at 9 am every morning and close at 8 pm most nights, see store hours posted at the bath houses and at the store.
Come grab a cup off coffee as you head out for your adventures for the day, 
We have ice cream to enjoy  for a corn hole game on our patio
Kiddie Pools and Hot Tubs
We do not allow the use of Portable Hot Tubs or Small Kiddie Pools at any of our sites.
Check-in and Check-out times
Check in time is 1pm for RV sites and 2 pm for cabins. If you would like to stay another night, please let us know before 10 am the day of departure. If site not requested we will be happy to accommodate.
Check Out - 12pm for RV and Lodging
Flag Displays
Due to the current environment that our society is experiencing, the ONLY flags that are allowed to be displayed are:
The American Flag

The Official State Flag of your choice

The KOA Flag

Trees in the park are not to be used for hanging of the flags, see management for clarification.
Touchless Check-IN
With widespread worry about passing the coronavirus when traveling we are adding  a
Touch-less Check-in
option.
- Make your reservation on line using  KOA.com/FancyGap or call us 276-728-7776
- Upon arrival when asked, state Touch-less Check-in
- A member of our staff will escort you to your site.
- The remainder of your balance will be charged to the credit card
-
Receipt will be sent to your email.
Pool Hours
Our pool hours are 10 am to 8 pm during the summer. Memorial Day through Labor Day
No Life Guard On-Duty
Younger than 18 MUST be accompanied by an Adult
Firewood Policy
You are welcome to bring your own firewood, please do not leave any behind.
We have fire wood for sale, stop by or call the store - we deliver to your site
DO NOT CUT down any trees in the campground or on the Blue Ridge Parkway Property
Visitor Policy
We welcome your visitors and ask that they or you stop by the store and check-in with us.It will cost 10 dollars per person and they have full use of the park as registered guest. If your guest are coming by to pick you up and or drop you off then there is no need to pay the fee. Just let us know. We need to keep everyone as safe as possible when it comes to the public driving through our park.
Quiet Hours
Our quiet hours are from 10 pm to 8 am. We strictly enforce our peace and quiet. Please remember your neighboring campers after 10pm, Walls are thin.
If you come in for late arrival or have to leave early, please be considerate of fellow campers.
Golf Carts and Others
The campground is small and hilly. We do not allow Golf Carts, Mopeds, Motor Bikes, ATV's or Skateboards on our property.
If you or your guest need a ride around the campground for shopping, laundry, etc. just let us know - we will pick you up (Fancy Uber)
Pet Policy
Your pets cannot pick up after themselves, please don't embarrass them by leaving their business for someone to discover.

Virginia Law requires that the pet be on a leash.

All shapes sizes and breeds are welcome, but you have to be a responsible owner and have complete control of your pet(s).

Pets are not to be left outside with out owners presence.

If your dog has a barking problem while you are away, we will inform you of the concern.

We have a dog park for the fury family members can stretch their legs.

We have 3 specific sites that have there own private dog park. (Sites 41,43,45)

We also have 39" tall and 24" tall portable fencing that we can deliver to your site for you to set up the way you want. Supper Easy!!!! Stop by the store for details.

Trash Pick-up
We will pick up your trash, just place it out at the end of your site for pick up. We are happy to take it to the trash every morning.
The campground has been visited by Bears, Raccoons, Possums and others that are looking for a good meal. Please,
Don't leave your trash out overnight.
Big Rigs
We Escort All Campers to your Sites
We are big rig capable, if you have a 40ft plus rig (Fifth Wheel, Motor Home, etc.) let us know so we can get you into the correct site to meet your needs. Wide turns, slow a steady with an escort will ensure you get where you need to be.

If you are coming in after hours, please let us know ahead of time so we can meet you to guide you to your campsite.

Big campsites are limited so the early reservations make it easier on all parties.

There are a few cases where a Motor Home Towing might have to disconnect in order to get you to the site.(full size vehicles towed or big trailers)

Motor Home Towing a enclosed trailer - please call

Horse Trailers types (very low to ground) are limited to certain campsites and need to exit the park a different way. Contact us for more information.

Meet Your Hosts
We love creating wonderful memories with all our Happy Campers who recommend Fancy Gap KOA to others!
Fancy Gap/Blue Ridge Parkway Journey
From corporate to campfire, we are Dave and Angie Bower, owners of the Fancy Gap/Blue Ridge Parkway KOA in Virginia, the decision to get into the campground business was made around a campfire with one simple question. "How hard can it be to own a campground". We researched for two years, and here we are, loving every moment.
When the campground is closed, Dave and Angie visit family in central Virginia and travel with their 3 dogs.