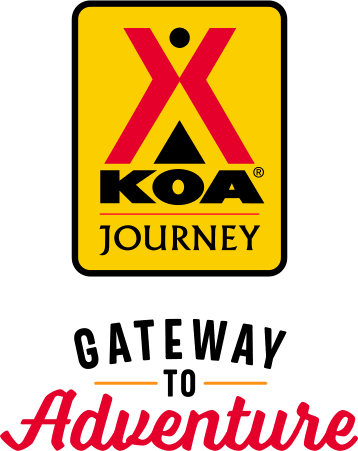 KOA Journey Campgrounds
KOA Journey campgrounds are the perfect oases after a day on the road. Whether it's along the way or a quick getaway, they've got you covered. Located near the highways and byways of North America with long Pull-thru RV Sites, they deliver convenience to the traveling camper. Pull in, ease back and take a load off.
KOA Journeys Feature:
Pull-through RV Sites with 50-amp service
Premium Tent Sites
Well lit after hours check-in service
Directions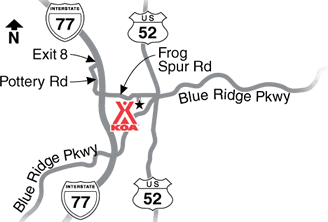 From I-77 Exit 8 go west approximately 100 yards (sign on left), turn left onto Pottery Drive. Go to the end of the road, turn left and go 0.9 mile, KOA will be on the right.
Coming from Blue Ridge Parkway, we are at Mile marker 199, follow our yellow signs.
Get Google Directions
Nov 20, 2021
Staff was instantly available and super friendly. The owner smokes brisket and pork and so we had a super-easy dinner that night! It was tasty so we gladly bought some more to take with us. This was the best KOA we've stayed at. Good job!
Nov 19, 2021
Love the Fancy Gap KOA. Staff was awesome. Beautiful grounds. To make a long story short. Husband made a narrow turn and ran over a tree stump. (This was protected by a fence). Dave and staff were more then helpful. Got a wrecker out to help us. We were fine 5th wheel not so, but can be fixed. Thanks to Dave and staff for a wonderful visit.
Nov 18, 2021
We were in site 76 which was quite nice with a deck overlooking the lower campground area. The customer service was amazing. The guidance Ernie provided in parking our trailer was excellent. And the pick up and delivery of propane to our campsite was above and beyond. We were present for the last weekend of the season and the Christmas theme was fun.
Nov 17, 2021
Beautiful location, well maintained, level campsites, super nice people - we loved our stay!
Nov 12, 2021
Wonderful people and Beautiful campground
Nov 12, 2021
Fancy Gap KOA was awesome. The campsite facilities were excellent and everything worked!! The staff was very kind and helpful. Would definitely stay again.
Nov 11, 2021
Greeted very warmly, great place to stay
Nov 09, 2021
As always this KOA has activities for all ages and goes out of their way to make everyones stay a memorable one! Will definitely be back! Angie and Dave are great owners who makes everyone feel like family!
Nov 09, 2021
Lots of fun as always
Nov 09, 2021
Love this camp ground. Always neat, clean and ready for whatever holiday is coming up. Including adults an kids. Staff is always helpful, kind and friendly. Loved the Santa this year (never been when he was there before). Such a welcoming place, always puts a smile on my face.
Nov 08, 2021
ALWAYS HAVE THE BEST TIME HERE. STAFF IS AMAZING
Nov 08, 2021
Great stay as always, Christmas weekend at fancy gap was nice for the second year was nice to see Santa, definitely recommend to anyone that gets a chance.
Nov 08, 2021
Everyone is so nice. It is like family there
Nov 08, 2021
Great campground!
Nov 08, 2021
This is one of the best KOA's we stay at. The staff are great, and make sure you have a great time.
Nov 08, 2021
Awesome campground. Incredible staff. Anything you need they take care of it. Need propane? They get the bottle, go fill it and bring it back. Same with ice, firewood etc. Love this campground! Super clean and a real Gem!
Nov 08, 2021
Great as always! The staff was very polite and helpful. Appreciated the notice about cutting water off due to freezing temps. Enjoyed the Christmas celebration events. The campers really got in the Christmas spirit. Will see you in the spring.
Nov 08, 2021
Theres not enough space in the comments to tell you what i think about the owners and staff at fancy gap koa. They treat us like family and i feel like family when i stay there. My girlfriend and i stayed the whole season up there and i consider them like my second family. The worst part is having to leave. Definitely a 100 thumbs up to this campground..till next year my friends.
Nov 08, 2021
Great as always….staff is awesome and accommodating! Thanks so much!
Nov 08, 2021
We drove in to a Christmas Wonderland in November. Mini sites were decorated and we even got a surprise visit from Santa. Everyone is so nice there. They even delivered brisket sandwiches cooked onsite. Will definitely stay there again
Nov 06, 2021
Great park! Most site are roomy and provide some privacy. Staff were friendly and very helpful. Lots of Halloween activities going on and plenty to do nearby.
Nov 06, 2021
Nice campground. We visited on November 2-3. Our only complaint was the restroom facility at the back of the campground was closed for the end of the season. Great folks to stay with. We will use them again if we camp in that area.
Nov 06, 2021
A beautiful campground with friendly, helpful staff. We've told our friends about Fancy Gap KOA and will definitely be back.
Nov 06, 2021
Super friendly and clean.
Nov 05, 2021
Easy access from freeway. Super nice people. BBQ on offer is highly recommended.
Nov 05, 2021
Large RV sites
Nov 05, 2021
My favorite KOA! Tiered level campsites, small dog park, excellent WIFI. Sorry I couldn't have stayed longer.
Nov 05, 2021
Very, very clean and well maintained campground. The staff is so nice and friendly. We like the idea of being shown to our campsite.
Nov 04, 2021
Favorite campground great
Nov 04, 2021
Sooooo fabulous! The staff were so friendly! And they are on top of things ! The Halloween Festivities were so much fun !! The camp store has some cute stuff!
Nov 04, 2021
Very friendly and helpful staff. A well maintained and unique camping/RV facility. Everything was in perfect working order. Excellent Wi-Fi and cable. Unusual for most RV parks. Felt like home
Nov 03, 2021
Enjoyed our stay. The KOA was clean, the Halloween decorations were outstanding and the office/gift shop was the best stocked KOA gift shop I have ever seen. Staff was very nice and always asking to help or provide service for us. Enjoyed all of the amenities. Can't wait to camp here again.
Nov 03, 2021
Loved this KOA! Easy on/off highway with our big rig, beautiful location, great bathrooms, friendly people!
Nov 03, 2021
Our stay was only for one night (a very chilly one at that) but it was a wonderful experience. The sites were well maintained, the staff was friendly and helpful, and the restrooms and showers were very clean with nice hot water. We're planning to get a larger camper and will definitely stay here again.
Nov 03, 2021
We pulled in late and out early. We didn't use any of the facilities. Site was long enough however the sewer was in the back of the site. We barely fit with our tow.
Nov 02, 2021
It is absolutely my favorite KOA! They are friendly, organized, and the sites are gorgeous!
Nov 02, 2021
Great staff and tons of activities for the kids.
Nov 09, 2021
Great campground! Very friendly staff and they are very accommodating!
- Scott Berry on Google
Nov 08, 2021
Very fun campground
- Ron Price on Google
Nov 08, 2021
Best place ever!! Dave, Angie, Doug, Carrie and the entire staff deliver a truly personal experience like no other Campground.
- Bill Rossomano on Google