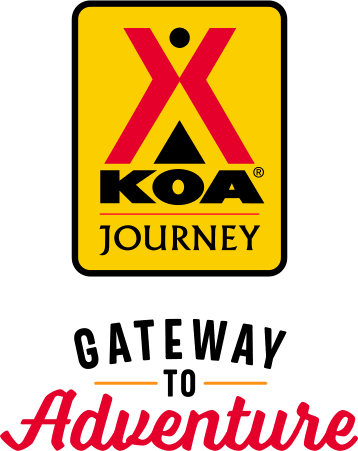 KOA Journey Campgrounds
KOA Journey campgrounds are the perfect oases after a day on the road. Whether it's along the way or a quick getaway, they've got you covered. Located near the highways and byways of North America with long Pull-thru RV Sites, they deliver convenience to the traveling camper. Pull in, ease back and take a load off.
KOA Journeys Feature:
Pull-through RV Sites with 50-amp service
Premium Tent Sites
Well lit after hours check-in service
Directions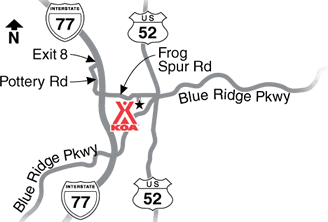 From I-77 Exit 8 go west approximately 100 yards (sign on left), turn left onto Pottery Drive. Go to the end of the road, turn left and go 0.9 mile, KOA will be on the right.
Coming from Blue Ridge Parkway, we are at Mile marker 199, follow our yellow signs.
Get Google Directions
Oct 19, 2021
Quiet, nice staff and very good smoked brisket and pork.
Oct 19, 2021
We stayed in the lodge with extended family for a long weekend. Very spacious and comfortable. Beautiful setting surrounded by the fall foliage.
Oct 19, 2021
What a beautiful place people are very friendly awesome place to stay.
Oct 18, 2021
Great campground and staff
Oct 18, 2021
As always the staff is always so nice and accommodating to the campers. They make Halloween and camping there a great experience for everyone. We look forwarded to coming every year. Already have reservations for next year with our group.
Oct 18, 2021
We live in WV and pass many campgrounds to visit this one atleast once a year. Recommend to everyone. They will do above and beyond for every guest. Thanks again for the hospitality.
Oct 18, 2021
Great place to stay.
Oct 18, 2021
Great camp and great staff!!! I'll be back!!!
Oct 17, 2021
I like to spend some "quite time" once a year to do devotionals, and meditate. This cabin had the perfect combination of allowing me to have my quiet time, and meet some great people. Will definitely go back.
Oct 17, 2021
Really pleasant workers and beautiful campground! �ϋ�
Oct 16, 2021
The cabin was more comfortable than I expected with high-quality sheets and towels. Everyone was very friendly, there were arts and crafts for the kids and the campground was well maintained. I would have liked to see more for the kids like bounce platforms, but the playground was nice and the kids had a ball being miners. Overall a great stay, and the smokehouse had nice sandwiches.
Oct 16, 2021
Always so friendly and well run. Loved our visit. Thank you for making our trip so pleasant! Love your weather rock!!
Oct 16, 2021
Congratulations Dave and Angie on your rating of number 4 company wide although we feel you should be #1 or higher. We've been from here to Montana and back but no one makes you feel like home and family like Dave and Angie. See you soon
Oct 16, 2021
Excellent facilities (clean and well maintained) and great hospitality from staff.
Oct 16, 2021
As usual our stay was great! Really nice campground with great staff.
Oct 15, 2021
Great camp ground! We stayed in the lodge, roomy clean and everything we needed was there. A wonderful place to have a family vacation. The owners were friendly and helpful�
Oct 15, 2021
Absolutely great KOA!!! From check in to change out, our stay was excellent! The staff was outstanding and were very cordial and welcoming! We had a wonderful experience at Fancy Gap KOA!!!!! Already made reservations for next year!
Oct 15, 2021
One night stay. Facilities were nice had on premise restaurant and outside dining area.
Oct 15, 2021
Just awesome, everyone, and everybody from site delivered food to (that was hot and delicious) the super groomed grounds. The wonderful welcome, truly a joy, I would totally recommend fancy gap koa. Thanks so much.
Oct 15, 2021
Everything was great, people were so awesome, we ended up booking additional night
Oct 15, 2021
Our experience at the Fancy Gap KOA was exceptional! The campground was immaculate! We had a nice, roomy pull-through space. WiFi was good. All the employees were beyond nice - that good old southern hospitality was shining through! Even though we didn't use or need them, we checked out the bathroom and showers - my husband comment was that the shower was nicer than we have at home!
Oct 15, 2021
Extremely nice and helpful. They were all working at this campground to make their campers happy and make sure that they had or were in need of help in anyway possible. Thank you Fancy Gap KOA employees!! Judy Pilotte
Oct 15, 2021
Got in after 6 pm was on upper hill a staff member took me to my spot so appreciated . Site was spacious with patio and patio table and fire pit. All staff friendly! Bathrooms and showers were immaculate! Park decorated for Halloween so cute. The store had some great finds� And I tried the pull pork sandwich full of meat and yummy! I will be back . Thank you �
Oct 15, 2021
Always great!! Our 3rd stay. Best & cleanest bathrooms in our 25 years of camping & boating!!
Oct 14, 2021
Stay was very good Dave and Angie and the whole staff are outstanding KOA at fancy gap is # 1 in my book
Oct 14, 2021
We enjoyed our stay at Fancy Gap. The site was well maintained and staff extremely friendly. We would definitely stay again at the campground.
Oct 14, 2021
Two nights with a beautiful private location for our van! The private restrooms were very clean and convenient. Location is perfect for the area.
Oct 14, 2021
Excellent staff, good sized & level sites for motorhome, easy in/out. Nice camp store. Variety of activities and amenities. Highly recommend and will definitely stay again!
Oct 14, 2021
Although we stayed only one night, at Fancy Gap KOA, our visit was excellent. The staff was welcoming and helpful in all regards. We stayed in cabin #5 and found it to be very well appointed and comfortable. Unfortunately, since we were traveling, we weren't able to take advantage of the many attractions available in the area.
Oct 14, 2021
Very nice camping experience. Great staff.
Oct 13, 2021
Staff is the friendliest!!! Park area is so well kept. Awesome BBQ! Highly recommend!
Oct 13, 2021
Very friendly, beautiful park. Highly recommend! Great amenities, activities and surroundings.
Oct 13, 2021
Cabin stay. Was told we had a new mattress, Mattress was Fine, But the BOX Fame, Frame was terrible. Every little movement, rattled, squeaked or moaned. If there had been a room next door, i don't know what they would have thought.... On the other hand very nice park, well maintained, lots of trees, clean dog play area. If I had been in a RV, would enjoy an extended stay.
CAMPGROUND RESPONSE / COMMENTS:
Thank you for your comment, and yes, we fixed the broken box frame. In the future, please oh please let us know when you have a challenge, we want your stay to be amazing.
Oct 12, 2021
We had a wonderful time! Clean, comfortable and friendly! Lots of activities for the kids(and adults), would absolutely return and recommend others check it out!!! Also BBQ was so delicious �
Oct 12, 2021
This is a very well run campground. It is tiny, and the sites have very little parking. Some areas hare packed in tight, but other sites are nicely isolated. the character and location make up for the small footprint.
Oct 12, 2021
Everyone and everything was wonderful
Oct 11, 2021
Probably will make reservations soon for early summer 2022.
Nov 09, 2021
Great campground! Very friendly staff and they are very accommodating!
- Scott Berry on Google
Nov 08, 2021
Very fun campground
- Ron Price on Google
Nov 08, 2021
Best place ever!! Dave, Angie, Doug, Carrie and the entire staff deliver a truly personal experience like no other Campground.
- Bill Rossomano on Google