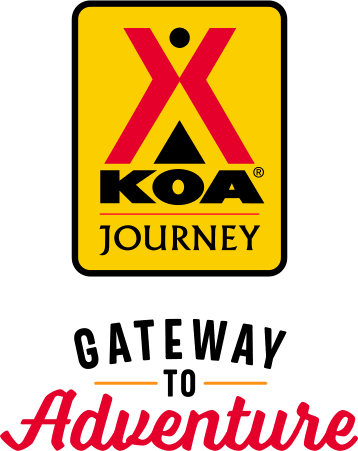 KOA Journey Campgrounds
KOA Journey campgrounds are the perfect oases after a day on the road. Whether it's along the way or a quick getaway, they've got you covered. Located near the highways and byways of North America with long Pull-thru RV Sites, they deliver convenience to the traveling camper. Pull in, ease back and take a load off.
KOA Journeys Feature:
Pull-through RV Sites with 50-amp service
Premium Tent Sites
Well lit after hours check-in service
Directions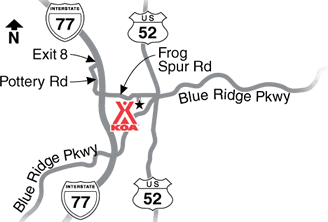 From I-77 Exit 8 go west approximately 100 yards (sign on left), turn left onto Pottery Drive. Go to the end of the road, turn left and go 0.9 mile, KOA will be on the right.
Coming from Blue Ridge Parkway, we are at Mile marker 199, follow our yellow signs.
Get Google Directions
Oct 26, 2021
Great accommodations clean easy check out
Oct 26, 2021
We stayed one night while passing through the area. The campground had 1 site available for our 38' fifth wheel. We were pleasantly surprised how spacious the site was in addition to being very clean with newer picnic table and bricks surrounding the fire ring. We will definitely be back for a longer stay. The staff was friendly and helpful.
Oct 26, 2021
Awesome staff, lots to do, clean. Everything and more.
Oct 25, 2021
Fancy Gap KOA is the best!!!
Oct 25, 2021
We have been coming up to fancy gap KOA for years. Awesome people, very clean you couldn't ask for a better place to be in the fall!! Just a great place to go and to relax!!
Oct 25, 2021
This is by far our most favorite campsite to visit year after year, and our kids talk about it all the time! We love Fancy Gap KOA!
Oct 25, 2021
We love it there. We enjoy our stay and the staff are amazing
Oct 25, 2021
Loved the holiday decorations throughout the park, the kids really enjoyed the trick or treating and hayrides. We had good food delivered to our site from the KOA snack bar. We will be back!
Oct 25, 2021
We enjoyed the stay at this KOA cabin and the campground. The cabin with a toilet and sink was very good for older people like us. It is a must. The showers are very clean and they looked new. There must have been upgraded the shower stalls, etc. The shelter next to the tent sites are such a nice touch as well as the sink to use next to 1-room cabins, as well as campers kitchen for people to use.
Oct 25, 2021
Fall is not complete without a visit to Fancy Gap KOA in October. While there are plenty of activities for the young or young at heart, you can easily relax at your camp site and text to have wood delivered or an amazing platter or smoked meat. The only disappointment is pulling out of the campground. I hope the best staff around have a wonderful winter and we will see you in the spring!
Oct 25, 2021
Every one who works there was so accommodating...If I needed anything they were right on it...also the planned activities were well thought out and the addition of bbq meals was awesome very delicious....fancy gap is my favorite campground and I will always go back there...thank you
Oct 25, 2021
My family and I had a awesome weekend at this KOA. The staff go out of their way to assist you in whatever your needs are and the facilities are always very clean. We will continue visiting year after year.
Oct 25, 2021
This KOA is a regular of ours - we especially love the month of October! We stay in a camping cabin, #49 is our favorite; right at the top of the hill and we love to watch campers arrive. We love all the activities offered and have joined many of them and made new friends. The staff is pleasant and helpful at all times. Thanks!
Oct 25, 2021
this is our second time staying here and will stay here again. Very nice and staff was helpful.
Oct 25, 2021
This was our 2nd visit to the Fancy Gap KOA and we loved it. So much fun with the kiddos going around trick or treating and watching the hayrides come by our site. We have already made our next reservation for July 2022. Can't wait!!
Oct 24, 2021
Awesome and very well run and clean. Excellent service. Nice folks. Don't change a thing. Only complaint is the sideways speed bumps which are very difficult going up hill on a motor cycle.
Oct 24, 2021
This KOA is a favorite of mine. The owners are awesome and the staff very helpful. It's a beautiful place! We love the location as it's 1/4 mile to the Blue Ridge Parkway. I hope to get there again sometime!
Oct 24, 2021
Nice friendly park. Entry and exit a little challenging for a big rig. Site was nice, level, and well laid out. Trees on either side of the exit made the exit a bit nerve wracking, but doable with planning for a 38', not sure a 45' could do it from the pullthru space I was assigned.
Oct 24, 2021
We only did an overnight on our way to another destination. The park is convenient to the highway, we had level pull thru full hook up site that fit our needs perfectly. But seeing the park in the daylight the next morning, dressed in it's fall colors makes me want to come back and try one of those doggie backyard sites.
Oct 24, 2021
organized and very welcoming check in. loved all the little extras- cozy seats, camper sinks, rustic decorations, cute store. Will def be back.
Oct 23, 2021
Beautiful and very clean. All staff were more than helpful with anything needed and very friendly.
Oct 23, 2021
Can't say enough about the beautiful and clean campsites! The staff was wonderful. There are cabins you can rent if you don't have an RV. We will definitely be back! One of my favorites for sure!
Oct 23, 2021
KOA's are always the true standard when it comes to great camping. However, the staff at this KOA was truly remarkable. Not only that the pulled pork was just what a hungry traveler needed at the end of the day. Keep up the great work guys and gals!!!
Oct 23, 2021
We enjoyed our stay very much. Since we are fairly new at camping, I'm afraid that Fancy Gap has set the bar high for our future stays in other campgrounds.
Oct 23, 2021
The Staff was excellent and very helpful! The staff went out of their way to help us take our golf cart trailer off and parked it in a convenient spot. They came as soon as we called to help us hook it back up.. Beautiful park wish we could have stayed another night!
Oct 23, 2021
Our stay went beyond our expectations as soon as we arrived. Gorgeous campground in a fantastic setting. The staff was extremely welcoming - Mike helped us into our spot after hours! The wifi was also super speedy and we loved the various activities like ping pong and badminton. Definitely planning to come back for a longer stay!
Oct 23, 2021
Super friendly staff and they deliver dinner right to your site .
Oct 23, 2021
I stay there numberious times. It is always a great stop over when going North or South.
Oct 22, 2021
Wonderful as always. Love the new shower heads in the bath house ���
Oct 22, 2021
Owner and staff were very friendly and helpful. Cabin was perfect and contained everything we needed. Only complaint would be the queen bed could have been a little firmer, but that's a subjective opinion.
Oct 22, 2021
Prompt & efficient reception, genuinely welcoming, guided us to our site, clean, level, decently spaced, NICE FOLKS (Krista and Mike).
Oct 22, 2021
Super nice people and we really enjoyed our time here. Everyone was helpful and friendly. We will be back for a longer stay. Thanks
Oct 22, 2021
Wonderful site we received. I would not want this to be heard by other folks, but so private and so beautiful! In the middle of the grounds but so far away from others! The spotters were great! And the the sandwiches were out of the park! I gourmet cook and both the pork and beef were there! But, above all, smiles and kindness from a great staff! thanks and yes, we will stay again! mel burdet
Oct 22, 2021
It is always a pleasure to be at this KOA. The staff are friendly, upbeat, and kind. The facilities are in great shape and the property is well kept...and decorated, in this case, for Halloween. Quiet, peaceful, beautiful, and fun for families. Love the option for a brisket sandwich or a pizza. Big help to us on this last trip!
Oct 22, 2021
The grounds were well maintained. The staff were friendly and very helpful. It is in the woods which is great. I only stayed one night as a stopover, I am playing to go back in 2022 for maybe a week.
Oct 21, 2021
Cleanest and best run campground in the land!!!!!!!!!!
Oct 21, 2021
Sites not level, wifi great, very friendly.
Oct 21, 2021
We had a great stay here! Everything was nicely decorated for the Halloween holiday. The kids im sure loved seeing this and all the activities that were available. Easy to find and the staff was great.
Oct 21, 2021
Good price, great location. Wooded sites, I believe they have many amenities, but we didn't need them. Activities available for families. Very nice bathhouse. Would be nice if store had longer hours, but they have staffing issues.
Oct 21, 2021
Great owners and staff very friendly and helpful. Cabins are clean and well maintained.
Oct 20, 2021
Great campground. The staff was amazing. We forgot our drop cord and they brought us one with our firewood and ice.
Oct 20, 2021
Very nice campground, well run. Tight for big rigs but they make it work. Sites are large enough for our 40' fifth wheel especially to stay hooked on over night. The written direction getting off the highway don't say left or right off the ramp, sign said right, GPS left. We went left with no problems but it was supposed to be right! This is a mountain CG on a country road always watch above!
Oct 19, 2021
Our stay was fantastic, as always. I would like to suggest a second playground, doesn't have to be anything as big as the first…but something at the top of the hill…near the bathhouse maybe? Thanks.
Nov 09, 2021
Great campground! Very friendly staff and they are very accommodating!
- Scott Berry on Google
Nov 08, 2021
Very fun campground
- Ron Price on Google
Nov 08, 2021
Best place ever!! Dave, Angie, Doug, Carrie and the entire staff deliver a truly personal experience like no other Campground.
- Bill Rossomano on Google