Coloma / St. Joseph KOA Holiday Recreation
Our family-friendly campground provides the perfect setting for you to relax at your campsite, enjoy resort-style amenities, take a walk around the park enjoying nature, meet new friends. Planned activities and themed weekends are scheduled throughout the camping season.

Kayak Rentals *** New in 2021 ***
Want an experience where you can truly connect with the outdoors?  We have partnered with Coloma/Watervliet Kayak Rentals to offer our guests special pricing and transportation right from the campground.  The adventure begins daily at 9:30am when you meet at the General Store and depart promptly at 9:45am.  A van will then transport you to the river for a safety and equipment overview after which time you'll be off to enjoy a 90 minute paddle down the Paw Paw River.  Once done, you'll be transported back to the campground.  SIGN UP AT THE FRONT DESK AS SPACE IS LIMITED!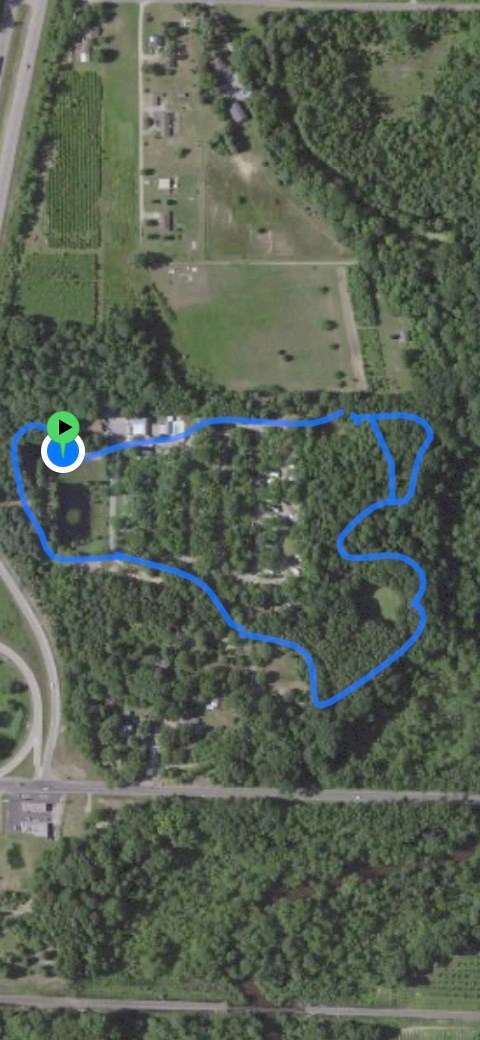 Wooded Nature Trail
Made available in 2020, guests can enjoy hiking, bird watching or just stretching their legs without needing the leave the campground. Walk along wooded trails that have been carved into 10 acres of our property that also feature our ponds, and the east ridge over looking the Paw Paw River down below.
Enjoy our Pool
Enjoying our in-ground heated pool is truly one of the biggest reasons that make your time with us not just a camping weekend, but a KOA weekend! (Open throughout the summer from Memorial Day to Labor Day weekend).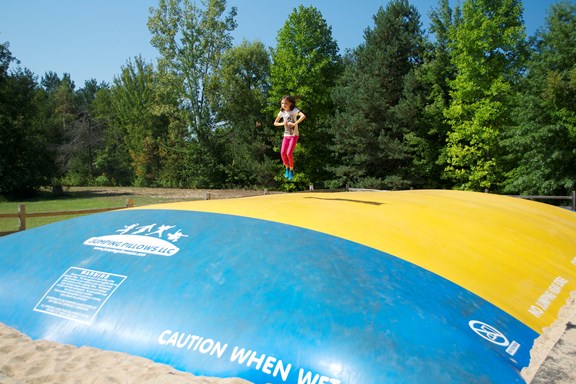 Jumping Pillow
There is nothing quite like taking off your shoes and climbing to the top of our big bouncer. Except of course actually bouncing on it and trying to touch the sky! How high can you jump?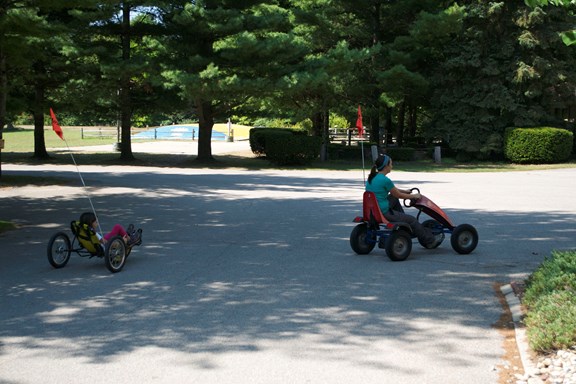 Bike Rentals
Once you learn, you never forget right? Unless of course you try steering our awesome banana bikes for the first time. These fantastic rentals will let you 'peel' out in style and cruise the campground.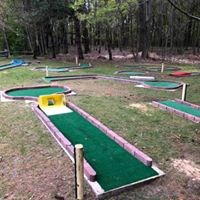 Miniature Golf
Not everyone possesses the same level of skill as Tiger Woods. For those people, there is miniature golf. Here at the Coloma / St Joseph KOA you can enjoy this treasured sport with all your friends.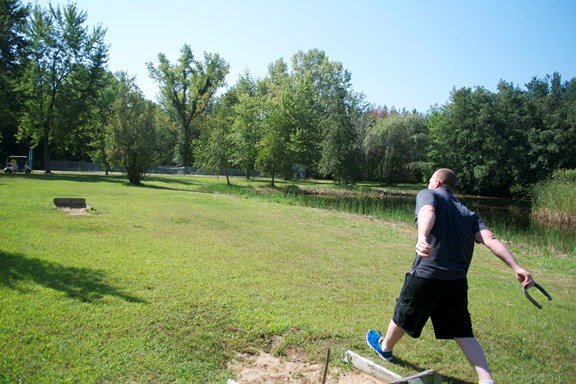 Horseshoes
Is it possible to go camping without playing horseshoes? The short answer is yes but why would you want to? Challenge your friends to an exciting game on your next visit to the Coloma / St Joseph KOA.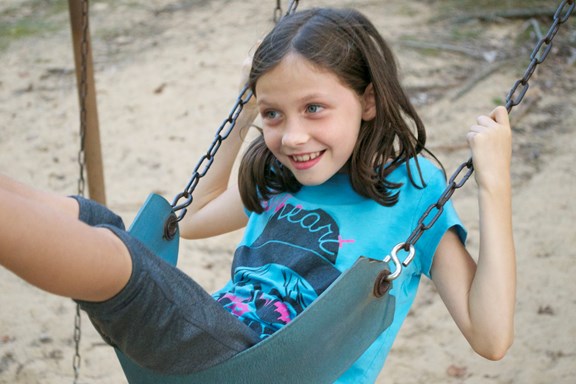 Playground
You've heard people say there is a kid in all of us right? There is no doubt your children will have a blast on our playground but, unfortunately, our playground equipment only comes in one size. Sorry parents.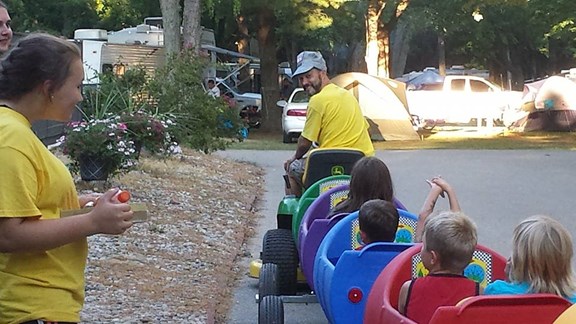 Barrel Train Rides
All Aboard!!! Barrel train rides are given to children, and those who are children at heart, each weekend in the summer (usually Saturday evenings). Rides are free and start in front of the General Store.
Carpet Ball
In this competitive game, two players arrange their "pool" balls within arms reach of their end. A cue ball is then rolled in an attempt to knock the other players balls into the tray.Once the first player has knocked all of the other player's balls into the tray the second player has one more role to try to knock the remaining balls of player one into the tray (this is known as the mercy roll). If the player two is successful, then one less ball is placed on the each end and the game repeated. The cycle is repeated until a winner is determined.
Gaga Ball
Gaga is a fast paced, high energy sport played in an octagonal pit. The more players the better! Dubbed a kinder gentler version of dodge ball, the game is played with a soft foam ball, and combines the skills of dodging, striking, running, and jumping, while trying to hit opponents with a ball below the knees.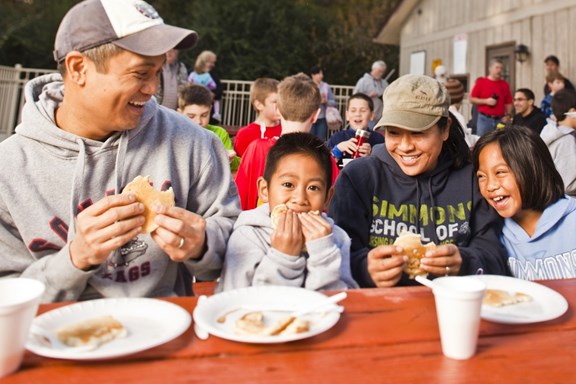 Pancake Breakfast - KOA Care Camps (Charity)
Mother's Day, Memorial Day weekend, Father's Day, Independence Day, and Labor Day weekend and KOA Rewards Appreciation weekend is made special with a pancake charity breakfast. Take a break and let us do all the cooking as you wake up to all you can eat pancakes, sausage, juice or coffee made by us. Minimum Donation for adults is $5, and children $3 with all proceeds going to support KOA Care Camps.
KOA Care Kamps is a 501c3 organization that provides kids with cancer with a specialized, memorable camping experience. Finding the cure is important, but letting kids with cancer be kids is something we care deeply about! Come support this great cause!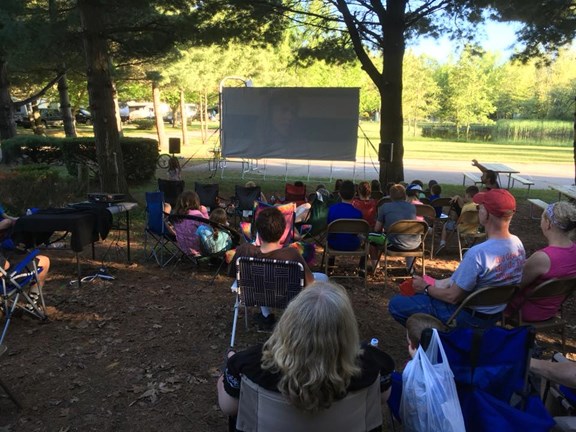 Family Movie Nights
Family Movie nights are enjoyed (FREE) every Saturday night during the summer outside under the stars. If weather is inclement, this activity, will be held in our Club House.  Popcorn, candy or themed treats will be available for purchase.  Check the activity schedule when you arrive, and plan to join the fun.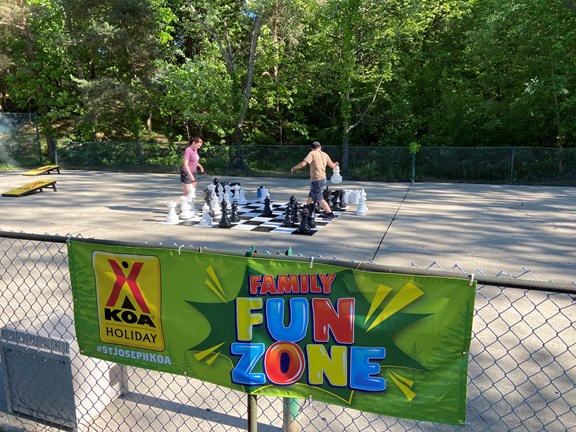 Family Fun Zone
Helping you connect with each other is a cornerstone of our offerings.  This outdoor, interactive recreational space will cause you to forget the iPhone in your pocket while you challenge your family or friends to a game of Corn Hole, ladder jacks, Air Sport, or a competitive game of giant chess, checkers or Connect Four!
Local Area Recreation