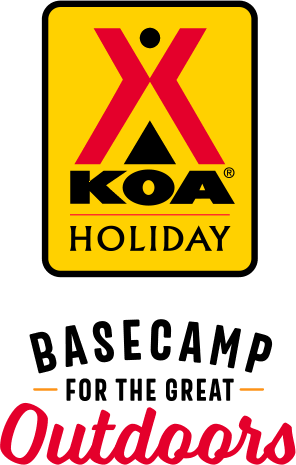 KOA Holiday Campgrounds
Whether you're exploring the local area or hanging out at the campground, KOA Holidays are an ideal place to relax and play. There's plenty to do, with amenities and services to make your stay memorable. Plus, you'll enjoy the outdoor experience with upgraded RV Sites with KOA Patio® and Deluxe Cabins with full baths for camping in comfort. Bring your family, bring your friends, or bring the whole group – there's plenty of ways to stay and explore.
KOA Holidays Feature:
RV Sites with a KOA Patio®
Deluxe Cabins with full baths
Premium Tent Sites
Group meeting facilities
Directions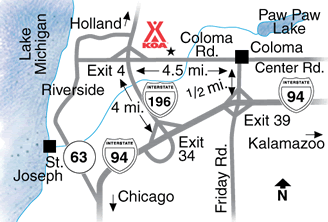 From the south / Interstate 94 use Exit 34 to I-196 North. Then drive 4 miles and take Exit 4. At the bottom on the ramp, turn left (east) and we are just 200 yards on your left hand side.
From the north / Interstate 196 use Exit 4. At bottom of ramp, turn left (east) and you will find us on the left hand side just past the highway.
For GPS coordinates: N42.186239, W86.373353
Get Google Directions
Sep 15, 2021
Wonderfully clean and well run campground. They have gone above and beyond with services and amenities here. Very friendly and we will return!
Sep 14, 2021
It's been a few years since we've camped here, and noticed many upgrades to the campground. Lots of games for families and kids. Very well taken care of. The price per night is quite expensive.
Sep 14, 2021
The campsites had enough space that you didn't feel like you were on top of they other camper. The store had a nice variety to choose from. I always enjoy having pizza delivered to my campsite! Bathrooms were clean. Lots of activities for the kids. Though it is close to the Interstate, a pro & a con, the campground is tuck back in the woods and you barely notice the noise.
Sep 14, 2021
As usual, awesome staff and camp site.
Sep 14, 2021
convenient location in extreme southwest lower Michigan. nice hosts and a beautiful campground
Sep 13, 2021
Very helpful staff, beautiful grounds ,pond seating, activities for all.
Sep 13, 2021
We really like this campground, great location and lots of things to do in the park. The only real issues we've had are trying to work/ school from our camper as the WiFi is not very strong or reliable and the last couple times we've camped here we've had neighbors who enjoyed loud music, inappropriate conversation and heavy drinking.
CAMPGROUND RESPONSE / COMMENTS:
Our complimentary W-Fi bandwidth does not support streaming and at times may be slower, especially when we have a full park. As for your neighbors, we pride ourselves at being a family-friendly park. If you brought this matter to our attention, we would be been happy to address it immediately.
Sep 13, 2021
beautiful, clean campground and friendly staff.
Sep 13, 2021
Very beautiful campground…great staff and nice site…would stay there again !!
Sep 13, 2021
This is one of the best KOA/ Friendly owners, very helpful. The food they have is great. Campsites are wooded and kept nice. We will be back.
Sep 13, 2021
Always a great place to stay!
Sep 13, 2021
Exceptional campground in the KOA family. One of the top of the dozens we have visited.
Sep 13, 2021
I loved all the amenities and the kids did too. Bags, checkers, connect 4, bikes, trails.... The only reason I gave a 4 was that the sites were pretty tight. We did have trees for me to put up my hammock and the bathrooms were nice enough.
Sep 13, 2021
Had a wonderful time. Very relaxing vacation.
Sep 13, 2021
We stayed here years ago and it was dumpy! The new owners have build new cabins, yerts, and added lots of activities for families. It's a pretty awesome campground now and staff is very friendly.
Sep 13, 2021
Very nice campground. Clean bathrooms. Close to St. Joe. Only negative thing is the campsites are very close together.
Sep 13, 2021
Excellent campground! Nice and quite with lots of activities and a great nature trail. Very pleasant owners and staff! Will definitely go back.
Sep 13, 2021
Romantic weekend getaway for anniversary in Glamping Tent. It was awesome! Super clean facilities. Easy check-in and check-out. Everything we needed (firewood/ice/etc) was at the general store and could be delivered. We've already booked our next stay for summer of 2022.
CAMPGROUND RESPONSE / COMMENTS:
We are glad we could provide you with the setting for a romantic get-a-way. While our Glamping Tents can accommodate up to four guests, we purposefully built them to provide an enjoyable setting for just a couple. We look forward to seeing you again next year!
Sep 12, 2021
We've been camping for about 5 years and this adventure, hands down, was our favorite! The campground was very clean, plenty of workers, and an abundance of hospitality. I don't think there was one bad site in the entire campground. St Joseph was just a short drive away and so my amazing restaurants, shops and of course the unsalted beach. This should be a must on your list of places to go.
Sep 11, 2021
Everyone was so helpful to me, and so friendly. I had a very nice time staying there and will do so again. Thank you very much. Sharon.
Sep 11, 2021
Excellent KOA. Good selection of amenities, very clean restrooms and grounds. Lots of trees and grass. The hosts and staff were all very helpful and friendly.
Sep 11, 2021
We were here 5 years ago and could not believe all the positive changes that were made. It is truly a rising star. The owners do everything they can to insure you have a great stay. When you speak to workers and they tell you they have been their for years makes you realize that they treat their workers with care. Will be back hopefully next year for it make a nice short trip seem like a longer
CAMPGROUND RESPONSE / COMMENTS:
Our entire team has a passion to serve our guests knowing that you've worked hard and are ready to relax, perhaps for the only vacation of the year. The best way we can show you the respect you deserve is to deliver nothing short of an exceptional experience and meets and exceeds your expectations
Sep 11, 2021
That first speed bump is excessive…. That could damage somebody's rig if they weren't paying attention.
CAMPGROUND RESPONSE / COMMENTS:
As a family-friendly park, we have found that guests drive much too fast coming into the park, so we very intentionally set a speed bump at the top of the hill to alert those that are arriving to SLOW DOWN! By paying attention and slowing down, there is no chance of damage to anyone's RV.
Sep 10, 2021
Very clean bathrooms. The wheelchairs accessible bathroom was very good for my partner who needed it. Good roll in shower with a bench and hand held shower . Thanks The whole stay was relaxing and enjoyable. All guests were curtius and quiet
Sep 10, 2021
Stayed 2 nights 1. Easy in and out 2.nice camp spot (spots could be more level 3. Quiet 4 reservation and check in quick and easy
Sep 09, 2021
Great campground. Friendly staff. Big spaces. Lot to do.
Sep 09, 2021
Absolutely beautiful campground. The owners were friendly and caring. The deluxe cabins are new and well equipped.
CAMPGROUND RESPONSE / COMMENTS:
Our five new deluxe cabins have been extremely well-received by our guests. In total, we now offer twenty accommodations in helping people connect with the outdoors and their family and friends.
Sep 08, 2021
Great campground host that are very friendly & will go the extra mile for you. Constantly upgrading the campground. We camp here twice a year.
Sep 08, 2021
Get stay as usual! Our favorite KOA hands down! Your doing a great job updating the campground.
Sep 08, 2021
Welcoming staff and clean nice facilities
Sep 08, 2021
This campground was very clean! Lots to do for kids, pool was very well kept, and activities were well planned and really fun. The owners were out and about and very friendly! This is a fantastic KOA!
Sep 08, 2021
We love camping here. Has quickly become our favorite campground. Customer service is the best. Clean facilities. Friendly and helpful staff. Thanks for a great weekend.
Sep 08, 2021
we have been coming here for about 24 years. We enjoy Mark and Carla. They had made many great improvements. The one problem we have is trying to get our sites from year to year with changing rules ,times, and just inconsistences. They are trying to follow KOA rules and sometimes the sign up is hard to figure out. We love the place and come back every Memorial day and labor Day.
CAMPGROUND RESPONSE / COMMENTS:
Having a fair and consistent reservation process is EXACTLY what we have changed. This is necessary because we have so much interest from thousands of guests each year. We cannot have one set of rules for some, and special rules for others. Our process has also been in place for three years.
Sep 08, 2021
This was our first stay at a KOA but definitely not our last. The campground itself is a good size without being too big to worry about small kids. It was clean and quiet at night and the activities were great allowing our daughter to make friends and good memories.
CAMPGROUND RESPONSE / COMMENTS:
We are honored to have made you a repeat guest on your first stay with us! We too love our park for the same reasons. We pride ourselves at being very family-oriented and large enough to offer great amenities and room to stretch your legs, but not too large so as the be overwhelming.
Sep 07, 2021
Been going for 10 years . Great place for families , new owner has really worked hard on improving the place . Redid showers , Booked again for new year.
Sep 07, 2021
Always lots to do at the campground and around the area. Staff is always very friendly and quick with requests for ice and firewood.
Sep 07, 2021
Love LOVE your campground! We stay every year! Best in the area! �ϋ�
Sep 07, 2021
Outstanding accommodations and customer service. New addition of lodges is very appreciated. Staff is very friendly but also very professional. Bathroom facilities are kept very clean all day. This is a standard for all other KOAs.
Sep 07, 2021
Mark & Karla run a very nice campground. Been going there with the family for 3 years now. Always a good time. Plenty of activities for the kids to do. Mark and Karla are always approachable and welcoming. Can't wait for many more years camping there.
Sep 07, 2021
As always, a wonderful campground. Great staff. Cleanest bathrooms. Love the food choices. See you next year!!
Sep 07, 2021
Fantastic, very helpful and friendly staff
Sep 13, 2021
Lots of tree, clean, frienfly staff. Respect between people.AMAZING
- Marcela Wong on Google
Sep 12, 2021
This is a wonderful place! I will definitely be back!
- JENNA SAWADE on Google
Sep 11, 2021
Super friendly owners & staff. What a well laid out park with all the kiddie bells & whistles! Cabins & upscale glamping tents as well as a few upgraded RV sites. Highly recommend as it's close to Lake Michigan beaches with few people for sunset watching. Loved the hiking trails surrounding the park!
- dianae379 on Trip Advisor