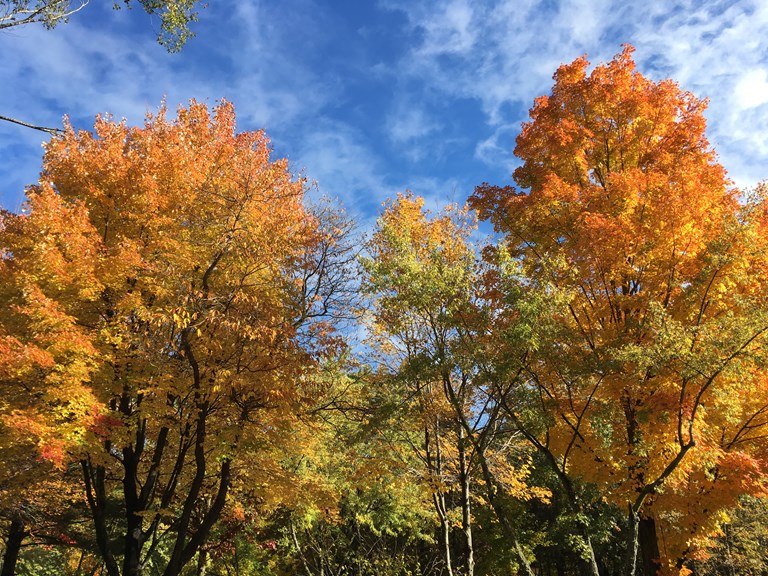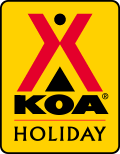 Coloma / St. Joseph KOA General Information
Join us Outside this Fall Where Social Distancing Comes Naturally
General Campground Information
Top 10 Reasons You'll Love it Here!
(1) You'll be camping at THE closest KOA to several, beautiful Lake Michigan beaches between the beachtowns of St. Joseph and South Haven;
(2) You'll discover our General Store and Cafe filled with unique gifts/souvenirs, toys, camping supplies, groceries, ice cream, Hunt Brothers Pizza, wings and more;
(3) You'll find time to play and relax on the 41-acre grounds that offers guests a park-like atmosphere with paved roads and mature trees throughout the park;
(4) You'll  enjoy nice amenities such as our heated pool & hot tub (Memorial Day- Labor Day), jumping pillow, mini golf, playground, and wooded nature trail;
(5) You'll enjoy special activities led by our fun staff including craft time, train rides, ice cream socials, pancake breakfasts and themed weekends;
(6) You'll be a mere minutes away from top SW Michigan wineries, vineyards and fruit farms;
(7) You'll have easy access along the Paw Paw River for fishing, paddle boarding and kayaking;
(8) You'll find a variety of camping experiences from tenting, to RVing, to staying in cabins and our new Luxury "Glamping" Tents;
(9) It's the only campground in the world where the Lemoines and their awesome team eagerly await the opportunity to provide you with an exceptional camping experience, and;
(10) You'll take home life-long memories you make here with family or friends.
Camping in the Era of Social Distancing
While we are just as happy as anyone to get back to some level of normalcy, we have adapted our business practices and will continue to modify as necessary, to demonstrate our commitment to promoting the health and wellness of our staff and guests.  For the latest information on the procedures and measures we've put into place, please
read our Blog story
.
Select My Site *** New in 2020 ****
Guests wishing to select their specific site now have the option do so with KOA Select My Site!  This service enables you to choose your individual site, or two or more sites together. We added this option due to the increased popularity of our park and to meet the guest demand requesting this service.  When making reservations, guests can use
"KOA Select My Site"
online, or when speaking to our local office or reservation center staff.  Ideally, requests should be made at time of reservation or as early as possible.  Please note: A one-time $15.00 fee applies. All requests are subject to availability.  To ensure the best camping experience possible for you, management reserves the right to make any necessary changes. (eg. flooded sites due to heavy rain or unexpected damage to site).
Full Access Registration Rates, Discounts & Minimum Stays
Tired of feeling "nickeled and dimed" or discovering there are hidden resort fees added when you show up at other campgrounds? Our Full Access Registration Rates allows you and your family to enjoy ALL of our campgrounds amenities* (e.g. W-Fi, heated pool, hot tub, jumping pillow, mini-golf, and outdoor games/equipment rentals).  Your registration cost
 includes 2 adults and the first 2 children are FREE! Five dollars per person will be added for additional adults or children 5 years of age or older
.  No more than 6 persons, per site. * Full Access Registration Rates excludes bike rentals, and special events or certain activities.
In addition to our "Hot Deals," our rates are discounted during our Non-Peak season camping (before Memorial Day and after Labor Day). During our Peak Season (between Memorial Day and Labor Day), Promotional/High Occupancy and Holiday rates will apply.  Guest may also save 10% on their registration by enrolling in the KOA Value Kard Reward program either when booking online or with the assistance of our friendly Front Desk staff. 
A minimum three night stay is required for holidays with a full deposit, and a two-night minimum stay is required for all weekends during the Peak Season and for Promotional weekends with a two-day deposit.  Please see Cancellation policy for additional information.  
Register online today or call us for an estimated cost of your stay.
Office / General Store Hours
We are open to serve our guests:
Spring/Fall Hours: Sunday-Thursday 9am-6pm | Friday-Saturday 9am-8pm
Peak Summer Season Hours: Daily 8am-9pm
* Please note, we are located in the Eastern time zone
Visitor Policy
Visitors of registered guests are welcome to come, but must stop in at the office and pay a Visitor fee and receive a pass. Cost is $5/day per person (age 5 to 99).  Children 4 years of age or younger are free.   After registering in the office, all visitors are then welcome to enjoy all the park amenities, and may stay until 10:00pm. Visitors who stay less than 2 hours can receive a full refund of their fee.  Visitors wishing to stay the night must inform the office before the front desk closes.  Parking is limited on sites, and Visitors may be required to park in the General Store parking lot area and display a Visitor car tag..
After-Hours Check-In Process
Our registration desk is open to serve guests until 9pm during our Peak Season (Memorial Day-Labor Day). During the spring and fall season, we are open until 6pm (Sunday-Thursday) and 8pm (Friday & Saturday). When guests arrive after hours, a registration packet will be placed in the Night Registration Box which is immediately to the right of the General Store front door. The packet will have your name written on it, and will include a car pass and site map outlining how to get to your assigned site.
If you are staying with us for more than one night, guests are required to come into the office in the morning to complete the registration process.
* Please also note that we are in the Eastern time zone.
Check-in & Check-out Times / Late Check-Out
PLEASE NOTE: WE ARE IN THE EASTERN TIME ZONE.
Check-in time for all tent and RV sites is any time AFTER 1:00pm.  Check-In time for all cabins and luxury glamping tents is AFTER 3:00pm. Please note: In order to limit disruptions to others, late arriving guests are strongly discouraged from arriving after 11:00pm.  If you are unable to arrive before that time, please consider checking on the following morning.
Check-out time for guest staying in any of our cabins or luxury glamping tent sites is 11am. Check out time for all rustic tent, premium tent or RV sites is noon. 
Late Check-out may be requested and MUST be approved in advance with the Office. The Late Check-Out fee is $15.00 and permits registered guests to continue to enjoy the park amenities until 4:00pm.
Cancellation Policy
Need to Cancel?
 Please call us at 269.849.3333 by 4pm before the deadlines listed below to receive your deposit refund, minus a $10.00 Cancellation fee.  Text and email notifications of cancellations are not acceptable. Cancellations made after the deadlines, forfeit the entire deposit.
Holiday and Special Events: 14 days cancellation notice is required for ALL site types.

Deluxe Cabins & Luxury Glamping Tents: 14 days cancellation notice required.

Camping Cabins: 7 days cancellation notice is required

RV & Tent Sites: 48 hours cancellation notice is required

Sites will not be held past 12 noon on the day following your scheduled arrival and the reservation will be automatically canceled unless prior arrangements have been made.
Inclement Weather / Reservation Guarantee & Deposit Refunds
We fully understand that inclement weather is not as ideal for camping, but unfortunately, the weather is not in our control. As a result, we won't take credit for the sunshine, nor the blame for rain.
When reservations are made, guests must understand that they are agreeing to our cancellation policies for their camping plans.  While we cannot guarantee the weather will be perfect for your stay (although we certainly hope it will), WE GUARANTEE that once your camping reservations are made, we ensure that a camping experience with us is available only for you, and as such, we turn away all other prospective guests from that point forward.  As a business we also incur an expense to process reservations via your credit card payment.  Therefore, even in instances of inclement weather, refunds of reservation deposits will be made consistent with our cancellation policies.
Additional Tent Policy
Only one RV or tent is permitted on a camping site, with no more then 6 persons. However, special exceptions can be made for families camping with children under the age of 17. Additional tents for adults may be allowed, but are subject to an additional fee of $40.00.  Please contact the office in advance to make your arrangements.
Alcoholic Beverages
As a family-friendly campground, alcoholic beverages are permitted, however, we ask that they remain only at your campsite. Please drink responsibly and in moderation.
Recreational Marijuana *** UPDATED 2020 ***
Although Michigan voters approved recreational use of marijuana in November 2018, management is exercising the legal right to control its use on our private property.  In order to maintain a family-friendly camping environment, and due to previous issues, use of marijuana is
PROHIBITED ANYWHERE OUTSIDE ON OUR GROUNDS and 
will be
STRICTLY LIMITED
to inside of your personal tent or camper.  As a reminder, vaping or smoking of any kind is prohibited inside of our cabins or Glamping tents.   In management's exclusive opinion, any guest using marijuana that causes a disturbance to other campers will be required to immediately cease its use or face ejection from the park without refund.
Pool & Hot Tub Rules
IN COMPLIANCE WITH GOVERNOR WHITMER'S EXECUTIVE ORDER, THE POOL LIMITED TO 50% CAPACITY TO SUPPORT SOCIAL DISTANCING ON DECK.  PLEASE ALSO NOTE, AS OF 7/30/2020, THE HOT TUB IS NO LONGER AVAILABLE.
Swimming in our heated pool and hot tub is one of our guest's most popular activities. The pool is open throughout the summer from Memorial Day to Labor Day weekend, and the hours are between 10:00am - 9:00pm. Children under age 14 MUST be accompanied by an adult, age 18 or older. Please observe all other posted rules. No life guard is on duty, so swim at your own risk.
Dump Station Use
Dumping of raw sewage, gray water or garbage on the ground, in the woods or in a fire ring is not permitted. Our dump station is available for guest that are not staying on full hook-up sites. The dump station may also be used by non-registered guests for a $25.00 fee.
Firewood State Law Restrictions
Michigan law restricts the use of firewood that has been transported from outside our area, and especially from out of state. For the convenience of our guests and in order to prevent the spread of invasive species, NEW IN 2020, we have
mixed hardwood, kiln dried firewood
available for purchase at the General Store, and we will even deliver it right to your site.
Linen Package Available in Accommodations
Guest staying in one of our camping cabins, deluxe cabins or luxury "glamping" tents may add a linen package (a one-time $25.00 additional fee) to be included in their reservation.  Commercially-laundered and prepared for you, this package will include all the bed sheets, blankets, pillows, bath towels and wash clothes needed for your stay.  With advance orders, housekeeping staff will even make the main bed prior to your arrival. This offering is designed to eliminate one more item you need to pack, and enhance your overall outdoor hospitality experience.  While we will attempt to keep a small inventory of linens on hand, advance orders are strongly encouraged as supplies may be limited for same-day arrivals. 
To order, simply add a note when making your reservation or give us a call and we'll take care of the rest!
Guest Security Policy
To ensure guest safety, it is our policy that every vehicle in the campground be registered and have a pass displayed in the windshield. We also require a photo identification that matches your reservation. Please be prepared to provide your drivers license and license plate number at time of check in.
Motorcycles, Golf Carts, Mopeds and ATVs
Motorcyclists are welcome as camping guests! However, guest use of golf carts, motor scooters, dirtbikes, minibikes or ATVs are prohibited on our campground premises.
Pet Policy
Well-behaved pets, or service dogs, are welcome, but must always be on a leash, and under the control and visual observation of its owner... never left unattended. Please also clean up after your pet. Pets are not permitted in any building, playground, pool or jumping pillow areas.
A pet fee is charged for guests staying in our pet-friendly cabins.
To insure that all of our guests have a safe and enjoyable time, aggressive dogs of any breed are not welcome. If your dog shows behavior that is protective and unfriendly to strangers, we encourage you to leave it at home. If you decide to bring your dog and it exhibits this type of behavior you will be asked to please find other camping accommodations.
Quiet Hours
For the comfort and enjoyment of all our guests, please observe our quiet hours from 11:00pm to 8am (Eastern Time). However, please be courteous and respectful to your neighbors at all hours. As a family-friendly campground, disturbances will NOT be tolerated.  Violators who disturb the peace will be ejected from the park and charged a fee to pay for any physical damage or costs associated with refunding your neighbors.
Recycling Program and Trash Disposal
Doing the right thing to keep unnecessary items out of landfills, we are "Green" and encourage our guests to recycle. To make it easy for everyone, guests are asked to sort their trash into three categories: (1) paper, metal, plastic recycling materials; (2) bottle deposit items of pop/beer glass, plastic and aluminum cans; and (3) all other trash/garbage.
Recycling bins will be located by the dumpster. All plastic, paper and tin can materials may be put into our "single-stream" carts. A separate cart is available for all soda/beer cans and bottles. All other garbage/trash, including cardboard, can be placed in the dumpster.
Guests may also leave their recycling and trash bags in front of their site where we will pick it up between 8:00am-6:00pm. We kindly ask that you please take a few minutes to separate your bags into the three categories noted above.
Meet Your Hosts
"Creating Family Memories, One Camping Night at a Time."
After more than 20 years in corporate America, Mark & Karla Lemoine decided to pursue their dream of being in business for themselves. As avid campers they have traveled across the country with their family where they felt most fulfilled enjoying the outdoors and time with their children. Since 2016, they have applied their experience and gift of hospitality to serve their guests, creating life-long memories for families and friends. As one of the first KOA Campgrounds in the United States, their KOA was built in 1974. Today, Mark & Karla, with the support of their growing family, are carrying on the tradition to meet the needs of new and returning guests alike, providing exceptional camping experiences in Michigan's Great Southwest.
We look forward to serving you!