Local Area Recreation Near Cody KOA Holiday
Did you reserve enough nights?  Cody, Wyoming offers a ton of outdoor activities for you and your family to enjoy.  From hiking and biking to nightly rodeos.  Make sure you save plenty of time to enjoy the Buffalo Bill Center of the West.  Daily rafting trips and Wild horse tours leave daily from the campground and help you to have the wild west adventure your family is looking for.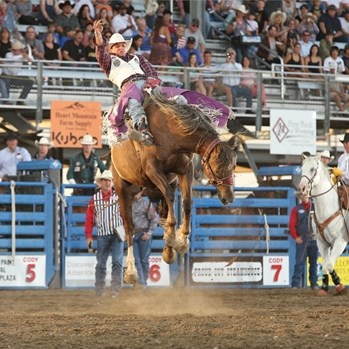 Cody Nite Rodeo
Every night from June1-August 30 enjoy barrel racing, bareback riding, rodeo clowns and bull riding.  Gates open at 7 show starts at 8pm.  Tickets available at the KOA front desk
Buffalo Bill Center of the West
5 museums in one will keep you busy.  Buffalo Bill Museum, Draper Natural History Museum, Whitney Western Art Museum, Cody Firearms Museum,  and the Plains Indian Museum are filled with exhibits to help you see how the west was won.  Kid friendly with many interactive displays Dan Miller's Cowboy Music Revue
Dan Miller's Cowboy Music Revue is celebrating its fifteenth season of entertainment in Cody, Wyoming. Over 160,000 visitors from around the world have made this show a part of their Wyoming vacation experience.The Dan Miller Cowboy Music Revue will be partnering with the Irma Hotel this year for our dinner/show package offering. We are moving our venue to 1131 12th Street, in the heart of downtown Cody, right next door to the historic Irma Hotel.Tickets for our show (which has moved back to 8 p.m. Monday through Saturday) are just $17, with discounts for seniors, military, and tour groups. A further discount is available for a package that includes a prime rib/seafood buffet at the Irma. That package is just $37 for individuals, or $35 per person for groups of 15 or more. Cody Dug Up Gun Museum
Stroll through history while viewing hundreds of relic guns & other weapons from many different time periods and locations including ''America's War of Independence, The Gold Rush Era, The US Civil War, The Old West & Indian Wars, World War I, The Roaring 20's, and World War II. The Cody Dug Up Gun Museum is a great look at history for the whole family. Open to the public in May of 2009, the museum is a proud sponsor of the Cody Gunfighter's Show at the World Famous Irma Hotel (just steps away from our museum!!) Old Trail Town
Today Old Trail Town preserves the lifestyle and history of the Frontier West through a rare collection of authentic structures and furnishings. From remote locations in Wyoming and Montana these historic buildings were carefully disassembled, moved and reassembled here at Old Trail Town by Western historian Bob Edgar and friends.
Located here also are thousands of historic artifacts from the Old West and grave sites of several notable Western figures. Among the is the grave of mountain man John Johnson, who was portrayed by the actor Robert Redford in the 1972 motion picture ''Jeremiah Johnson''.
Here too are original cabins used by Old West outlaws Butch Cassidy and the Sundance Kid and a Wyoming saloon frequented by Cassidy's ''Hole-in-the-Wall Gang''. Also on this site is the log cabin home of ''Curley'' a Crow Indian army scout who helped guide Lt Col. George A. Custer and the U.S. 7th Cavalry to the battle of the Little Big Horn in 1876. Old Trail Town exists today as a memorial to the uniquely American experience known throughout the world as ''the Old West''. Rock Climbing and Bouldering
Cody hosts a variety of rock climbing possibilities. Whether it's bouldering on sandstone, climbing sport and traditional routes on limestone or granite, or high-altitude mountaineering on the highest peaks in Wyoming and Montana. Whatever your passion is you can get your fix here. Information regarding instruction and/or guiding is available at the Cody Country Chamber of Commerce or Jackson Hole Mountain Guides. Xtreme Bulls
ONE NIGHT ONLY! The Cody Stampede in conjunction with the Park County Travel Council, Yellowstone Park, and Wyoming Travel & Tourism Division invite you to watch the PRCA's top 40 bullriders matched against the PRCA's best bucking bulls to compete for well over $15,000 in cash. Enjoy the added excitement of the Wrangler Bullfighters Only. 
Gates will open at 6:00 p.m. so come early and get your photo taken on Mongo the Bull and meet the clowns & bullfighters.