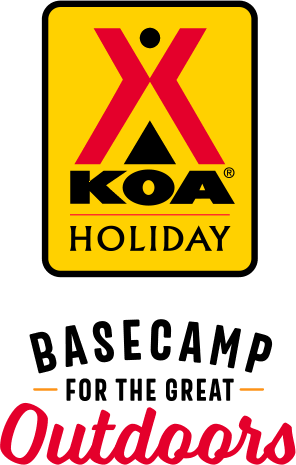 KOA Holiday Campgrounds
Whether you're exploring the local area or hanging out at the campground, KOA Holidays are an ideal place to relax and play. There's plenty to do, with amenities and services to make your stay memorable. Plus, you'll enjoy the outdoor experience with upgraded RV Sites with KOA Patio® and Deluxe Cabins with full baths for camping in comfort. Bring your family, bring your friends, or bring the whole group – there's plenty of ways to stay and explore.
KOA Holidays Feature:
RV Sites with a KOA Patio®
Deluxe Cabins with full baths
Premium Tent Sites
Group meeting facilities
Jul 23, 2021
Campsites were dirty, full of weeds, not big enough for large RV's
Jul 23, 2021
Very friendly staff.
Jul 23, 2021
The amenities are the BEST I have seen of any KOA across the country hands down. We have stayed at many! Wonderful pancake breakfast!
Jul 23, 2021
Such an amazing place! With great staff! Always a fun time!
Jul 23, 2021
The location was good, site clean 2 of our neighbors were great, but on our 3rd side we had a very loud and rowdy family. The kids were rude and the dad very loud, they used the privacy fence between our campsites as a clothesline so we had their dripping clothes on our side. The children had a burping/ farting competition at 10:30 at night. I love the idea of KOA, but you never know who you get
Jul 22, 2021
Our stay was good overall but we have a suggestion. When people are at your KOA, they are relaxed, happy and on vacation. That being said, I would suggest you encourage your employees to greet their customers at breakfast with some energy and a smile. We walked up for pancakes which had 3 teenagers working and none of them even bothered to say "hello". Customer service is key, people. Energy!
Jul 22, 2021
Very nice campground. Could have used a little more shade. The shuttle to the rodeo was nice as well as the free pancakes for breakfast. The girls at check is were very friendly and helpful. Would stay here again.
Jul 22, 2021
Restrooms were inconvenient. Not being able to go into the office or store was also a bit off putting. The town was great and if you have the right space you get an awesome view. Elk wandered through in the evening.
Jul 22, 2021
We felt that for a KOA the sites were extremely close and while this isnt a deal breaker, the dust and lack of mitigation is. This is dirt and gravel with expansion and lack of upkeep to current high traffic areas. The pool, store, and available campground activities were awesome!
Jul 22, 2021
SHOWER STALLS COULD BE KEPT CLEANER. FUNCTIONAL RESTROOM DOOR LOCKS WOULD BE HELPFUL.
Jul 22, 2021
Need more grass
Jul 22, 2021
We really enjoyed our stay! We were in site 96 with the patio. Nice private site. The staff was amazing, from check-in (I forget who checked us in), to preparing and serving the pancake breakfast. The grounds were kept clean. A special thank you to Elliza and Savanna for walking Cowboy for us so we could go and enjoy Yellowstone!
Jul 21, 2021
We were charged 10$ hecause we arrived 10 minutes early. Our site was next to construction and dirts borw on us all day. They couldve put up a pkastic fence shield.
Jul 21, 2021
Love it this campground. Even. Sleep in teepee it awesome
Jul 21, 2021
it was great having warmish water to swim in and great pancake breakfasts.
Jul 21, 2021
Do not think it's fair that in order to check in an hour early, you charge 10.00. If I came in at 4:00 would I get a 10:00 discount?? Seems like it's all about trying to charge for everything
Jul 21, 2021
Last minute stop, loved the deluxe cabin. Very friendly staff. Nice pancake breakfast. Conveniently located.
Jul 20, 2021
Great location, nice campground. Seems like a lot of people staying there are on the road before quiet hours are over.
Jul 20, 2021
Like the numerous amenities (breakfast, swimming pool, store, etc.). Friendly staff.
Jul 20, 2021
Good except for very unkept grounds and public areas.
Jul 20, 2021
Clean showers and restrooms. Enjoyed the free pancake breakfast
Jul 20, 2021
Very nice bathrooms. Nice pool. Great play area. And the nicest staff!
Jul 20, 2021
Staff was great. Clean. Main woman's bathroom had to get in and out of the toilet stalls due to the doors opening inward and the paper dispenser on the opening side.
Jul 20, 2021
Stayed 1 night. Simple campground with a park for the kids. I liked the shuttle to the rodeo, made traveling so much easier.
Jul 20, 2021
Ladies at reception desk made it a great stay. They were the greatest.
Jul 20, 2021
I think it is ok for an RV but a tent is noisy and crowded. I had a guy pitch his tent 5 feet from my tent. He was shining his flashlight in my tent at midnight. I had to yell at him to stop. He did. Koa is not for tents. Pancake people, in the morning, were very nice. Shower was good.
Jul 20, 2021
Everything was ok no problems
Jul 19, 2021
Park was really nice. Concrete patios were a nice amenity along with the permanent shade gazebo and gas grills at our site. The only down side was being next to the hwy.
Jul 19, 2021
Great place but staff is not very friendly.
Jul 19, 2021
Had a great 3 day in Cody and the shower were very good with hot water and clean, all really nice people that work at the Cody KOA. Thank You
Jul 19, 2021
It was a pleasure, everybody was nice! And they give us the cabin that near with everything.. thank you KOA
Jul 19, 2021
Very hard to rest at night with no one to enforce quiet hrs. A lot of locals joining together in campsite right behind us and being obnoxiously loud till early hrs of the morning. So for an overnight stop to rest it was not a good experience for us to stay here
Jul 19, 2021
Appreciated convenient location. However, Tent site was just loose dirt, no shade in blistering heat - would be greatly improved with some grass and a small tree. Table was unstable. Restrooms would benefit by more than x1 day cleaning
Jul 19, 2021
The staff were nice, friendly and accommodating. The facilities were well maintained. The pool was GREAT! They have basketball courts, outdoor games and an indoor game room. They have wifi and nice restrooms. Overall a great place to stay.
Jul 19, 2021
friendship, security, peaceful, and super fun for kids
Jul 17, 2021
Tent camped and it was great. Clean and fun camp grounds.
- Erin Webb on Google
Jul 16, 2021
Amazing place very friendly staff and great location for daily trips to Yellowstone National Park.
- Russell Ramsey on Google
Jul 14, 2021
Great Campground, kind staff, great amenities, love this KOA!
- Matt McReavy on Google