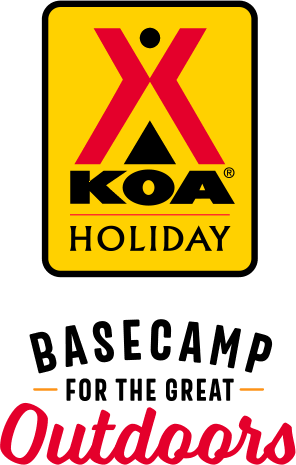 KOA Holiday Campgrounds
Whether you're exploring the local area or hanging out at the campground, KOA Holidays are an ideal place to relax and play. There's plenty to do, with amenities and services to make your stay memorable. Plus, you'll enjoy the outdoor experience with upgraded RV Sites with KOA Patio® and Deluxe Cabins with full baths for camping in comfort. Bring your family, bring your friends, or bring the whole group – there's plenty of ways to stay and explore.
KOA Holidays Feature:
RV Sites with a KOA Patio®
Deluxe Cabins with full baths
Premium Tent Sites
Group meeting facilities
Jan 16, 2021
During Covid, good stay for only One night - worked really well for us. Good space and nice well kept ground - a little bit of a drive to town and close to road.
Nov 18, 2020
We had a great stay at KOA. Two of us with a dog, we rented a cabin. The environment was such a great break from the motels and tents we'd recently slept in, but the amenities elevated it beyond being relative to the previous dismays. Staff was very nice, no complaints toward any other tenants. The distance from Yellowstone was right at the edge of realistic, but the drive is amazing. Recommended!
Oct 24, 2020
Very nice facility located just outside Cody. Spacious, clean, quiet — highly recommended.
Oct 16, 2020
Good park to stay in. Convenient to local attractions.
Oct 08, 2020
Great views, friendly people, close to Buffalo Bill Wild West Museum and Old Cody Town. Very long drive but beautiful to drive to Yellowstone. Most expensive koa we ever stayed in.
Oct 06, 2020
Thus was the 4th year I've stayed at this location in my 5th wheel, and I'm sure I'll be back again. I'm treated like a king by the friendly staff... the park grounds are always neat & clean... and the quiet location just out of town (but still close enough to all of the conveniences of Cody) can't be beat.
Oct 04, 2020
Grumpy office staff.. otherwise fine campground close to Yellowstone..
Oct 03, 2020
Enjoyed our stay very much. The Cody KOA was well maintained and the staff was very friendly and helpful. Only problems were with Wi-Fi and cable TV. Both services need to be enhanced so that signals are stronger.
Oct 02, 2020
Great, helpful
Oct 02, 2020
Very friendly/helpful adding extra nights to reservation on arrival! Sad about cable reaction: 2nd night while watching tv, all but 5 channels vanish! Reported next a.m. on way out for the day, agreed I'd check when return in eve. Still not receiving, different person working who implied I had too many things running/blew a breaker! NOTHING on/plugged in! No one followed up! Cable fine next stop!
Oct 01, 2020
Campground was fine no problems, but nobody waring masks.
Oct 01, 2020
Nice campground. Friendly staff. Great location to visit Cody.
Oct 01, 2020
The cabins seemed dirty , floors not swept , bathrooms hadn't been cleaned in like two or three days ,stayed at another koa in Missoula Montana , that one was very clean and bathrooms were spotless , we had a problem with our Heater in our room they seemed to care less and offered us a electric plug in Heater , wouldn't recommend
Sep 30, 2020
Everything was great the only negative is cable didn't work. Thanks so much for your hospitality and pool/hot tub it was great therapy for my knee. Crystal
Sep 30, 2020
Nice park great staff
Sep 30, 2020
Stayed in a "delux" cabin. Appreciated the feature of the in cabin bath during this time of Covid 19. Cabin was clean and well kept. Everything worked that we used. The quiet hours were followed to allow for a good sleep.
Sep 30, 2020
Extremely clean and friendly staff.
Sep 30, 2020
Turns out our assigned space was to small forour 35ft 5th wheel, neighbors slide was only 10 inches from ours. Also the site was a buddy site so not alot of privacy. Site was #68.
Sep 30, 2020
Lack of good interaction by staff
Sep 30, 2020
I was happy with my stay and would go back! We arrived late at night and found that my cabin light was not working. I was disappointed at first, but was relieved when I called the emergency# and they called me right back and came to fix my lightbulb in matter of minutes! This made our night! I was also impressed with the clean restrooms/showers. Thank you so much!
Sep 29, 2020
Very nice �
Sep 28, 2020
Always a nice place to stay. Office staff so helpful
Sep 28, 2020
Staff was outstanding - got to keep Terry - he is amazing - great place to visit while in Cody or Yellowstone
Sep 28, 2020
This was my favorite KOA stay to date and we've stayed at quite a few. The cabin we stayed in was adorable, comfortable and very nice. The staff was SO nice and extremely helpful. We'd love to stay here again.
Sep 28, 2020
The General Manager Jean is amazing!
Sep 28, 2020
Right off the get go the counter person was no where to be found when we were checking in. Then when he showed up he was more concerned about his cup of coffee than us. I was disappointed my site was smaller than other premium sites had no privacy panel on the highway side like others did and my cable didn't work, I still paid the same premium price. I have had good experiences here before.
Sep 28, 2020
great and friendly staff! good location, cabin smelled funny, kinda dirty. picnic table was covered with bird poop, nice bathrooms but a even after cleaning noticed wads of hair in the corners...the grounds could use some trees. The kids loved the bouncy thing and nice basketball hoops!
Sep 28, 2020
Super awesome place, staff super friendly staff, Cabin was very nice and clean and warm, Electric vehicle friendly, we drove here from Mammoth hot springs in Yellowstone with our electric vehicle and they were awesome enough to let us use a 50amp plug for a few hours to keep us going the next day on our road trip. Highly recommend. 5 stars!!
Sep 27, 2020
We loved the KOA in Cody, the cabins are nice and the staff was very friendly!!
Sep 27, 2020
I love Mrs. Jane she was so helpful and sweet. That was our 1st tine staying at a KOA and the experience waa great, the 1st night we stayed there we didn't have reservation so we stayed in a cabin with his the beds and I didn't like using the restroom at the site, but once we got our big cabin the next day it was great. Thank you!!
Sep 27, 2020
Disappointed, it was supposed to be the highlight of our stay to enter Yellowstone. It felt like we were in a huge parking lot. the spaces too close ,you can't open the awning , to close to the next camper, you couldn't have a fire even if allowed , the next camper had a dog kennel by our picnic table and if they had a pit fire the sparks, and smoke would have been awful.No level parking. Sorry
Sep 27, 2020
The cabin was perfect. Thanks
Sep 27, 2020
Very helpful staff!!! Clean, laundry accessible.
Sep 27, 2020
There was traffic through the campground all night. Little kids were running through our camp site until 11:30PM, maybe even later. The sites were small and on top of each other in an open field. This was the worst KOA we have ever stayed at.
Sep 27, 2020
During a trip to yellowstone national park my truck broke down, while it was at the mechanic my girlfriend and I stayed at the Cody KOA and were pretty happy with the campground. We were tent camping, and we pitched our tent in a the non-electric side; having the wind breaks were great both for the obvious (blocking the wind), and also to give us a little privacy.
Sep 26, 2020
Campground is close to town. However, sites are close together with no trees. Okay for a one night stay.
Sep 26, 2020
Spent 4 nights I would like to see them add more grass areas the wind made it a little dusty
Sep 26, 2020
Beside the restrooms needing a little more TLC everything was great.
Sep 26, 2020
Very upscale KOA wirh private fencing and picnic areas. One of the best I've been to!
Sep 25, 2020
Great campground close to Yellowstone for day trips. Pleasant staff. I appreciate that we were able to wash the RV.
Oct 02, 2020
Enjoyed a private tent site toward the end of my autumn road trip, I call, "Wyoming Week". Nice CG with great showers and WIFI
- Eddie B on Google
Sep 29, 2020
Typical KOA. Showers were clean, laundry room was nice, and staff was very friendly. They also had an adorable gift shop. We'd definitely return if we come back this way!
- Mariah Dunn-Buchanan on Google
Sep 29, 2020
Very friendly staff. Large selection of gifts. We were traveling to Yellowstone and this place was perfect. It was about 45 minutes to the entrance but the drive is beautiful. The park was clean, they had large sites, a nice dog run and lovely views.
- 264JenniferS264 on Trip Advisor