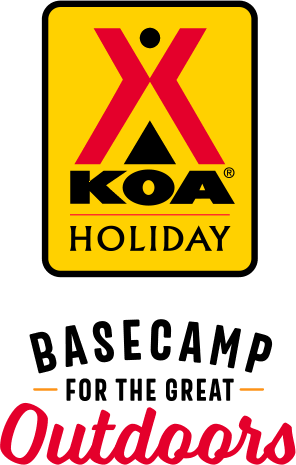 KOA Holiday Campgrounds
Whether you're exploring the local area or hanging out at the campground, KOA Holidays are an ideal place to relax and play. There's plenty to do, with amenities and services to make your stay memorable. Plus, you'll enjoy the outdoor experience with upgraded RV Sites with KOA Patio® and Deluxe Cabins with full baths for camping in comfort. Bring your family, bring your friends, or bring the whole group – there's plenty of ways to stay and explore.
KOA Holidays Feature:
RV Sites with a KOA Patio®
Deluxe Cabins with full baths
Premium Tent Sites
Group meeting facilities
Oct 18, 2022
Absolutely disgusting!! We stayed 1 nite, only because it was to late to find another place. Place was loaded with flies from the time we got there till the nx morning. For a deluxe place=no sink in the bathroom(how could you wash your hands? A small sink in the kitchen! Foil covering the burners on the stove! Silverware and utensils were thrown in the cuboards! Cushion on couch were taped!
Oct 10, 2022
Well organized staff. Clean park.
Oct 09, 2022
Camground was nice enough, store was great. But our site was just gravel on a hilside, very unlevel, no trees, bushes or even grass. a few weeds.
Oct 08, 2022
We had a gorgeous level site with plenty of room for our rig and truck. Site was level, power, water and sewer were all in good shape. The staff were all friendly and helpful. We would stay here again.
Oct 06, 2022
Loved the Cody KOA! The grounds are very clean and kept nice. The staff was friendly and helpful. The location was just a couple minutes from all the happenings in Cody! About 45 minutes to the east gate of Yellowstone but it is one amazingly beautiful drive! Would definitely stay here again!
Oct 06, 2022
Was a pleasant stay!
Oct 04, 2022
All the employees we talked with were very nice. The cabin we rented was not stocked with bedding and we needed to go a couple of times to ask for multiple items. Cabinet doors were falling off the hinges, pocket door was off its track and the sofa bed was broken. After leaving for the morning after our first night the grill was on our porch, and we couldn't use the swing. Overall disappointed.
Oct 03, 2022
Staff were friendly and helpful. Site was not level but not a big deal to fix that. We did not need any bells and whistles though everything was there if we did. Just a nice KOA experience.
Oct 03, 2022
Everything was fine. One thing I didn't like was the facility fee. That's bull
Oct 02, 2022
Clean and tidy. Would highly recommend.
Oct 01, 2022
It was to short!! Wish we could have stayed longer!!!
Sep 30, 2022
One of our favorite places (Cody KOA) places to stay
Sep 30, 2022
Helpful, friendly staff. Clean restrooms and showers. Close to Cody but not too close. Sites are level with plenty of space.
Sep 29, 2022
Nice place, good location. However, the last week of September everything making it a 'holiday' wasn't open. Ok, but they're still charging an extra $5/night facility fee! And, with many empty sites, they charged another $10 for arriving early.
Sep 29, 2022
This is the 2nd time we have stayed at the Cody KOA, and the 1st time in one of the Kamping Kabins. All of the KOA staff that we encountered were polite, helpful and friendly. While at Yellowstone National Park, we lost our kabin key. Linda called the office, and a replacement key was waiting for us when we got back to the KOA. Our Kabin was comfortable and met our needs for a Yellowstone day trip
Sep 29, 2022
Friendly staff, clean restrooms and grounds . Lots of activities .
Sep 28, 2022
Very nice park, clean! Will return again.
Sep 28, 2022
Great campground and very friendly staff. Enjoy staying here.
Sep 28, 2022
Campground was one of the cleanest campgrounds we have ever stayed in. Showers were great. Everyone was so pleasant and helpful. Would love to stay there again!
Sep 28, 2022
This was the best time of year for our trip. The Cody KOA was clean and quiet and we all really enjoyed our time there! I was so sad when we left !
Sep 27, 2022
Everyone at the campground was very helpful. It was a perfect location.
Sep 27, 2022
This campground is a great place to stay in the Cody area. It is well maintained, the employees are helpful, pleasant folks. From here you are close to all the area attractions, the town of Cody and its restaurants and museums and close enough to make day trips to Yellowstone, Red Lodge and the Beartooth highway.
Sep 27, 2022
Friendly staff, clean campground, lots of amenities.
Sep 27, 2022
Awesome campground quite beautiful patio furniture very clean
Sep 27, 2022
Very friendly staff, clean, level sites, nice area for the dog to run and a VERY fun and well-stocked store! 5 stars!
Sep 27, 2022
Loved the couple running the place. Both very friendly and helpful! Bathrooms were cleaned and maintained. Cabins were tidy. Firewood on site and a cute little gift shop.
Sep 26, 2022
Cody KOA was pleasant and restful enjoyed the time we spent there while we visited the area.
Sep 26, 2022
We enjoyed our stay; safe and friendly. Did have to drive to downtown, but worth it! Cody has a nice park for swimming and biking; this is in addition to the campground being convenient to East Entrance of Yellowstone. Wish there were more shade trees.
Sep 26, 2022
Besides high winds, the stay was great.
Sep 26, 2022
Our stay your campground was very nice. Staff was very nice and helpful and the bathrooms were very clean.
Sep 26, 2022
Very clean and family friendly park. Our kids loved the playground and jumping pillow.
Sep 25, 2022
It was a great place to stay. Nice and quiet. Cabin was nice to sleep in. Will be back. Hopefully next year
Sep 25, 2022
It was fine, but not very aesthetically pleasing. It functioned fine. The people were great, everything worked fine. But the sites were a little close together, and it seemed more like a Journey than a Holiday. However, we were only there for one night so all we really needed was a Journey. Nothing really jumped out positive or negative, it was just a place to stay in transit.
Sep 24, 2022
All staff were very friendly. Very easy check in
Dec 21, 2022
Nice campground.
- Leif Engler on Google
Dec 13, 2022
Mooie schone camping, ruim van opzet en er rijd een bus vanaf deze camping naar de plaatselijke rodeo. 's Morgen kun je er gratis pancakes eten, alles er bij moet je wel betalen maar de prijzen zijn prima te doen, vooral de koffie is goed te drinken.
- Klaas Bouw on Google
Oct 03, 2022
Very nice and clean.
- Chris Quarnberg on Google