Local Area Attractions Near Cody KOA Holiday
Buffalo Bill Center of the West
Five museums in one! Explore the "Smithsonian of the West" with the two day admission. The Whitney Gallery of Art, Draper Natural History, Buffalo Bill Museum, Cody Firearms, and Plains Indian Museums are all under one roof, for one price.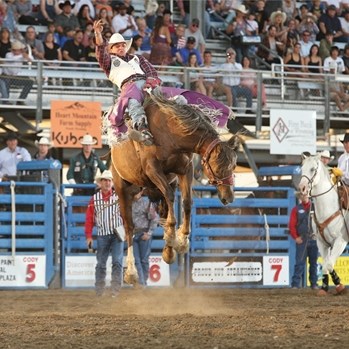 Cody Night Rodeo
The Cody Night Rodeo is held every night, June through August at 8:30 pm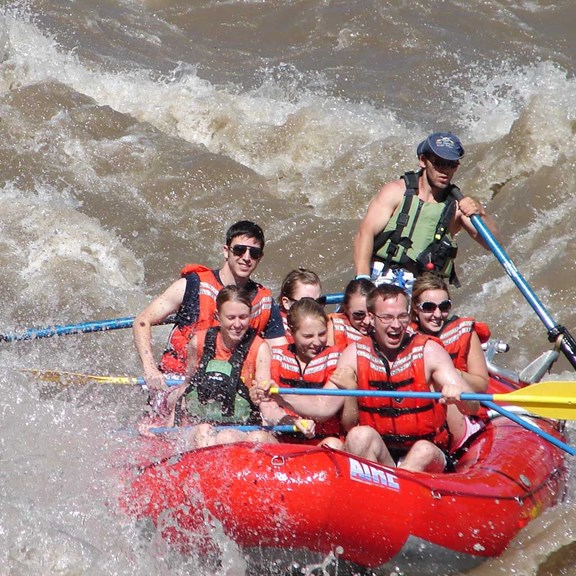 Red Canyon river trips
Ride the rapids of the Shoshone River with expert river guides. This wet and wild ride is one for the whole family. Reservations can be made at the front desk.
Yellowstone National Park
Enjoy geysers, mudpots, mineral pools, and abundant wildlife in the oldest National Park in the United States.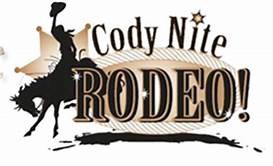 Cody Night Rodeo
The Cody Night Rodeo is held every night June - August at 8:30pm. Come early and enjoy Kowboy Kal- Famous trick roper, get your picture on a LIVE Bull, meet the bullfighters, have your face painted by a real rodeo clown, take a spin in a rodeo barrel, pet a miniature pony, have a try at the "Roller Roper" gates open at 7pm.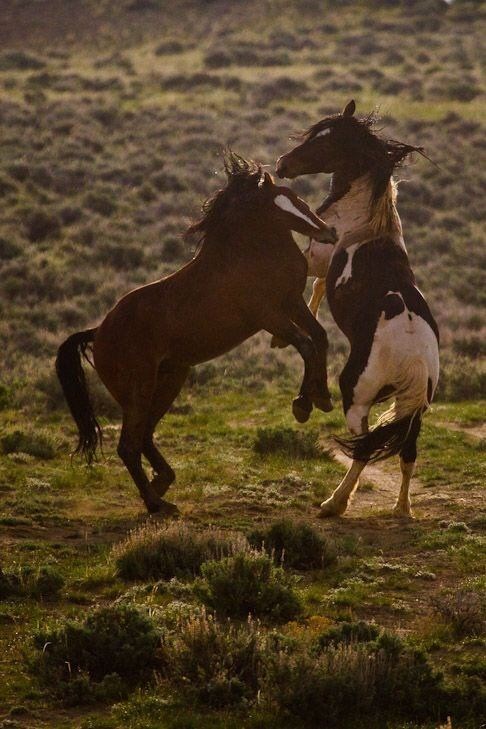 Red Canyon Wild Mustang Tours
Watch the wild mustangs as they roam the open prairie. Tours leave from the campground at 8:30am and 5:30pm.

Cody Gunfighters
This is a free Old West melodrama in held in downtown Cody six nights weekly June 2- late September. The outdoor program takes place along the side of Cody's historic Irma Hotel. Shows are at 6pm Monday-Saturday.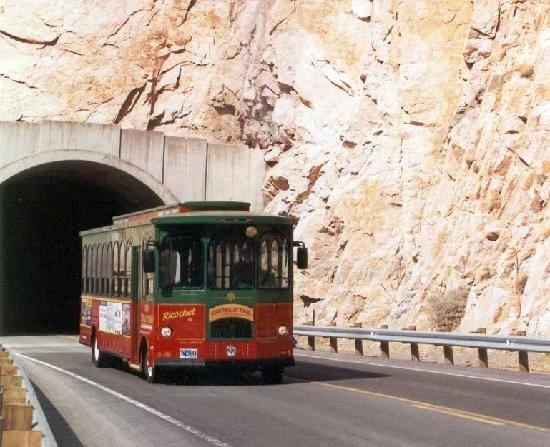 Cody Trolley Tours
Enjoy a 1 hour informational tour of all the historic sites, scenic vistas, geology, wildlife and old and new west attractions that Cody has to offer. Tickets are available at the front desk and shuttle service is provided. Old Trail Town
Old Trail Town is a vast collection of historic buildings and western artifacts that provides a hands on history lesson. Most of the cabins were moved to Cody from less than 150 miles away and each is historically significant.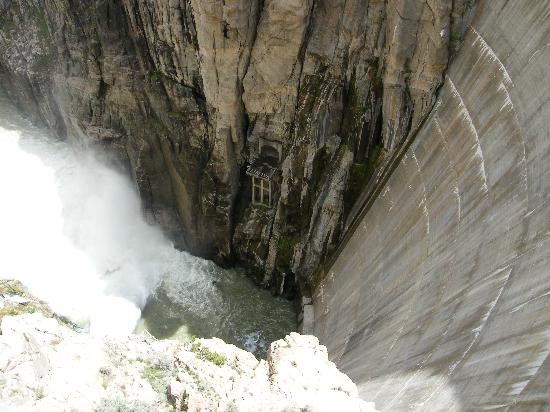 Buffalo Bill Dam
Celebrating 100 years the Buffalo Bill Dam Visitor Center is open May- September from 8am-8pm. www.bbdvc.org Swimming pool complex
Includes wading pool, hot tub and pool. Pancake breakfast
Every morning - 7 to 9 am Friendly staff
We try our best to provide helpful information and do what we can to help guests enjoy their stay.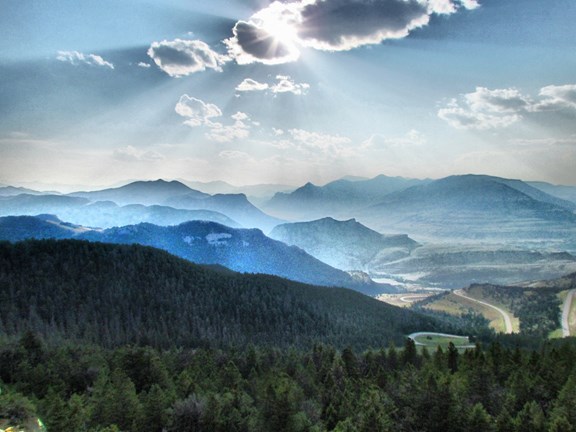 Sunlight Basin - Cooke City or Sunlight-Red Lodge
Looking for breathtaking beauty and the top of the world, this trip has it all. Located 17 miles north of Cody on Highway 120, Chief Joseph Scenic Highway, which is one of the most scenic Highways in Wyoming. Dead Indian Peak, elevation 12,253 feet, looks out over the Sunlight Basin and Clark's Fork River. Forty-seven miles up the highway, the road splits and takes you to either the Beartooth Highway or Cooke City and the north entrance of Yellowstone Park. Beartooth Pass has an elevation of 10,947 feet and allows for year round snowball fights. Southfork - Shoshone River
A block past Wal-Mart is the start of this pristine drive through the countryside. Take a left hand turn and travel southwest on the Southfork Road and view lush farmland, working ranches, bighorn sheep, elk, deer and moose are abundant throughout this drive. Castle Rock and Carter Mountain dot the landscape and provide a beautiful backdrop for the wildlife that flourishes on this scenic drive. Wapiti Valley and North Fork
Drive west of Cody on US 14-16-20 to the east entrance of Yellowstone. Visit the Buffalo Bill Dam, Pahaska Teepee (Buffalo Bill's Lodge), and watch the abundant wildlife that live throughout the area. Yellowstone National Park
Leave your rig at the park and travel into the oldest National Park in the United States. Enjoy wildlife, geological wonders, and the many fascinating features that make Yellowstone a must see for every U.S. traveler. Cody Wild West Show
Sit back, relax, and watch the Legend of Buffalo Bill Cody; the WORLDS greatest showman to ever live, come to life in this LIVE original musical in the historic downtown Cody Theatre.
[i]Whether you are a young buckaroo or and old timer, a local or someone "not from around these here parts"; you will be entertained by action, romance, humor, perils, fights, toe tappn', hoots & hollers, and of course acting, singing, AND dancing.
Purchase your tickets for the Wild West Spectacular today and bring the whole family for a memorable experience of the West![/i]
1171 Sheridan Ave
Cody, WY 82414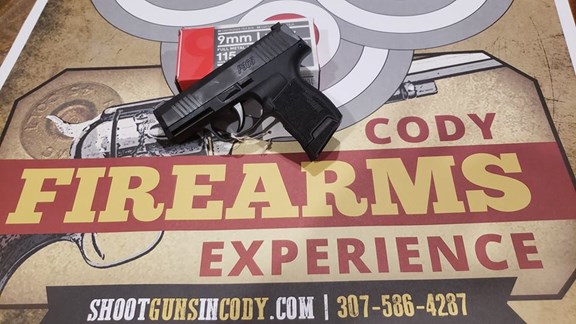 Cody Firearm Experience
No experience required! Our packages includes everything you need to shoot live ammunition

Huge selection of guns including modern tactical and historic replicas

...including the 1865 Gatling Gun, M-16, and Thompson sub-machine gun

All packages include one-on-one expert instruction for uncompromising safety and fascinating facts

Unique retail items, Cowboy-Western Arcade, and North American Wildlife Display ensure fun for the whole family

Buffalo Bill's Irma Hotel
Buffalo Bill's Original Hotel in the Rockies.  Built in 1902 and named after his daughter, Irma.  The hotel features a Cherry Oak Bar shipped from England after Buffalo Bill performed. If you look close enough, you might even be able to see a bullet hole from the rowdy days . Cody Dug Up Gun Museum
Stroll through history while viewing over a thousand relic guns & other weapons from many different time periods and locations including "America's War of Independence, The Gold Rush Era, The US Civil War, The Old West & Indian Wars,   World War I, The Roaring 20's, and World War II". The Cody Dug Up Gun Museum is one of Cody, Wyoming's newest attractions and a great look at history for the whole family. Open to the public in May of 2009, the museum is a proud sponsor of the Cody Gunfighter's Show at the World Famous Irma Hotel (just steps away from our museum!!) Cody Chamber of Commerce, and enthusiastic supporters of Cody's attractions.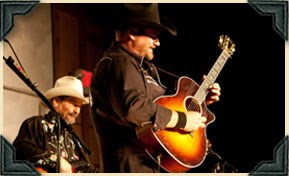 Cody Cattle Company
All You Can Eat from 5:30-7:30pm nightly
Dinner hours to fit your schedule so you can eat before or during the 6:30pm show, whichever works best for you. Serving chicken, beef brisket, potatoes, baked beans, apple sauce, corn bread, Caesar salad, Cole slaw, brownies, lemonade, coffee and water. Add steak for $8 more. Cash beverages including beer, wine and soda are available. 
Show Time: 6:30-7:30pm nightly
Live, award winning entertainment for the whole family...and the show ends in plenty of time to attend the Cody Nite Rodeo. Join Ryan Martin and his Triple C Cowboys Band for a thoroughly enjoyable evening of foot-stompin' fun family entertainment. Ryan and his band have entertained around the world and are popular with groups that stop in Cody.
1910 Demaris Spring Rd
Cody, WY 82414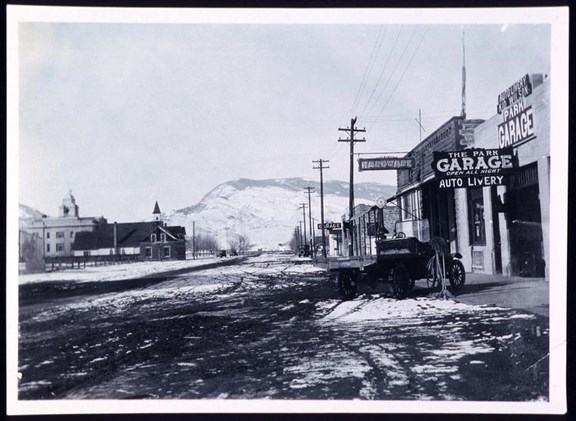 Cody Heritage Museum
The museum focuses on local Cody history, ranching & ag history, & early Cody businesses.
5561 Greybull HWY
Cody, WY 82414

Heart Mountain Interpretive Center
In August of 2011, the Heart Mountain Wyoming Foundation opened its doors to the Heart Mountain Interpretive Center, a world-class museum dedicated to passing on the Heart Mountain story to future generations. Through photographs, artifacts, oral histories and the interactive exhibits, guests to the Center experience life at Heart Mountain through the eyes of those Japanese and Japanese Americans that were confined here during WWII. The Center provides an overview of the wartime relocation of Japanese Americans, including the background history of anti-Asian prejudice in America and the factors leading to their enforced relocation and confinement. Special emphasis is given to the experience of incarceration, the diverse personal responses of Japanese Americans to their imprisonment, constitutional issues, violations of civil liberties and civil rights, and the broader issues of race and social justice in the U.S.
The New York Times praised the Interpretive Center for "powerfully commemorating" the "tragic consequences" of the government's wartime imprisonment of Japanese Americans, including "the violation of principle, the loss of property, the inability of internees to pick up their old lives, the suicides, the hatreds, [and] the lost possibilities."
With the opening of the Center, the Heart Mountain Wyoming Foundation looks to the future of the Foundation and the Interpretive Center as we continue our efforts to remind the Nation about the importance of tolerance and the need to balance our concern for national security with a commitment to protect the basic civil rights of all of our citizens.
The Heart Mountain Relocation Center opened in August, 1942 and imprisoned more than 14,000 people during its three-year existence. The last incarcerees left the Heart Mountain Relocation Center in November, 1945.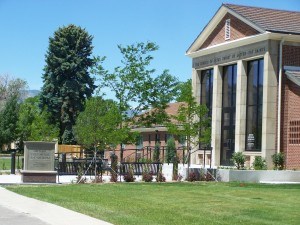 Historical Cody Mural and Museum
Welcome to the Historic Cody Mural and Museum. Located in Cody, Wyoming, the site offers a powerful glimpse into the western expansion of Mormon pioneers in the late 1800s. During your free tour, you will experience the awe-inspiring, one-of-a-kind mural painted by renowned artist Edward T. Grigware. Stretching high overhead in the Visitor's Center rotunda, the work exemplifies the highest levels of artistic technique while sharing a remarkable, true-to-life story of faith, hard work and sacrifice. In our museum, you can also see items brought and used by Mormon pioneers more than 100 years ago as they settled the rugged Wyoming Big Horn Basin area. If you're going to be visiting or traveling through Cody, we invite you to learn more about the experience you will enjoy when you visit our location by reviewing the information on this website. If you have any questions or would like more information about our free tours, please contact us.