Cody KOA Holiday Recreation
We offer a variety of family activities to help you enjoy your time together.  From free pancakes in the morning to splashing into our heated pool, bring the family together and make memories that last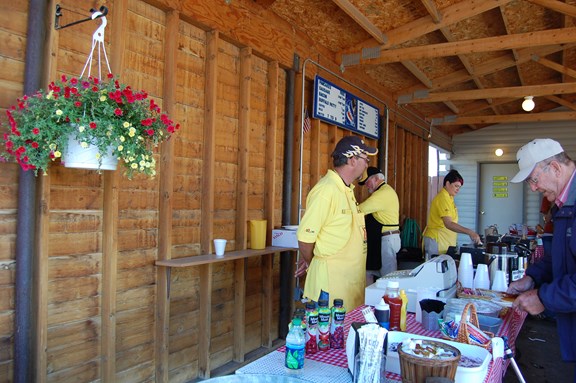 Pancakes
All you can eat pancakes for Free! Sausage, milk, juice and coffee are available for an additional charge.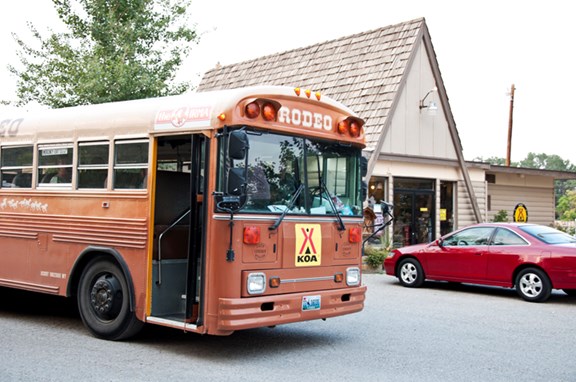 Free rodeo shuttle
Avoid the stampede, let us shuttle you to our nightly rodeo, held at 8:00 pm June through August. Bull riding, bareback, calf roping and steer wrestling - we have it all! Shuttle leaves the campground at 7pm Activities available in the Cody area:
Olive Glenn Golf Course Located in Cody, 9 blocks west of McDonalds at 802 Meadow Lane. This is an 18-hole course, open to the public, and open 7 days a week. Lunch is available daily.
White water rafting Come make a splash on the Shoshone River. This activity is safe for all ages. Call 1-800-293-0148 for more information.
Trout fishing Enjoy fishing at its finest. From the serious angler to the littlest fisherman Cody's got something for all levels. Beck Lake located right down the road offers fishing for the kids while the Shoshone River which flows from Yellowstone all the way through town offers excellent fly fishing opportunities.
Shopping Start in our gift shop and keep going right on into town. Downtown offers a variety of shopping opportunities from gift shops to the Sierra Outlet Store. Enjoy all Cody has to offer!
Gift Shop
Come browse our great selection of gifts and souvenirs.  Stock up on all of your rv  and camping needs in our camping supply section. Fishing at its finest
River or lake. . .guided adventure or on-your own. . .free (with license, of course) or "pay-for-play"—Cody Country takes a back seat to no area when it comes to fun-producing fishing opportunities.The North and South Forks of the Shoshone River, the Clark's Fork of the Yellowstone River and the legendary rivers of Yellowstone National Park—Madison, Firehole, Lamar, Gibbon and the Yellowstone itself—are reason enough to visit Cody Country to test your angling skills. Add it all up and the area offers more than 2,000 miles of fishing waters where brook, rainbow, cutthroat and brown trout and grayling will provide the challenge.If lake fishing is more to your liking, Buffalo Bill Reservoir and a myriad of high country lakes provide all the challenge you're looking for.Cody Country outfitters can get you to the special places, or you can go it alone.-Cody Chamber of Commerce
Local Area Recreation