Learn how to start fishing in Cherokee, NC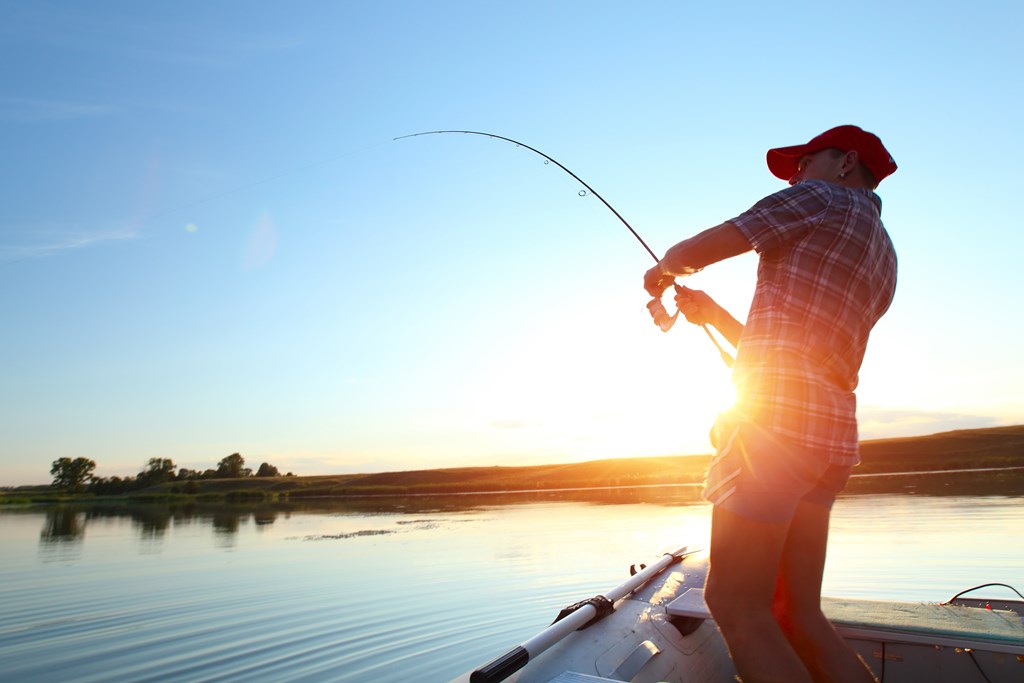 How Do I Get a Cherokee Fishing License?
If you are fishing in the Eastern Band of the Cherokee Reservation, you need an Eastern Band Sport Fishing License. This is different from a North Carolina state fishing license. However, you only need this tribal reservation permit while fishing inside the Qualla Boundary. The Qualla Boundary is composed of 57,000 acres and includes much of the Oconaluftee, Soco and Raven Fork watersheds. Contact the North Carolina Wildlife Resources Commission to see if your favorite fishing spot falls within this area.
Eastern Band Sport Fishing License
If you do not know how to get a Cherokee fishing license, here is what you need to know:
Any person 12 years and older must have a Tribal permit to fish inside the Qualla Boundry.
Children under 12 may fish when accompanied by a permitted adult.
Before you purchase a permit, you need a sportsman number. You can register for a sportsman number online.
Once you have a sportsman number, you can buy your permit online or in person, including at Kampgrounds of America Cherokee.
You can choose permits for one, two, three or five days, or you can buy one that covers the entire fishing season.
While you do not need a North Carolina state fishing license to fish the reservation, you must abide by all of the tribe's rules and regulations. This includes:
You may only fish in designated streams and ponds.
You may only fish during fishing hours, which are one hour before sunrise until one hour after sunset.
You may only keep 10 fish per day, per permit holder. This includes any fish your children catch and keep.

You may use artificial flies and streamers made with natural or synthetic materials, but all flies must be constructed in a normal fashion on a single, barbless hook. Anything other than these items is not allowed. You may fish with multiple flies attached to a single line.

For tackle, you may only fish with fly rods, reels and line with a maximum of 18 feet of attached leader material or monofilament.

You are not permitted to use or possess any natural bait, bait paste, fish eggs or similar substances. Using or taking baitfish is prohibited.

At Raven Fork, you will find a catch-and-release only portion of the water that stretches 2.2 miles. This area is for fly-fishing only, and you must throw all fish back. To fish here, you must have a Tribal Special Use Permit for catch-and-release.

You can find a complete list of all fishing rules and regulations

in the Code of Ordinances for the Eastern Band of Cherokee Indians, Tribes and Tribal Nations.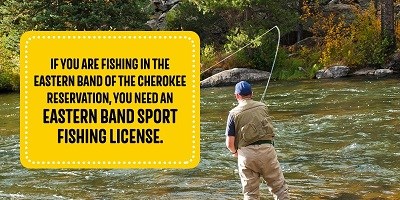 North Carolina State Fishing License
To fish anywhere outside of the Qualla Boundry in Cherokee, NC, you need to have a North Carolina state fishing license. There are several types of NC fishing licenses, including:
A resident of North Carolina is anyone who has lived in the state for a minimum of six months.
Non-residents can purchase an inland fishing license.
Lifetime licenses are available for both residents and non-residents. There are several types available.

A senior is defined as any resident born on or before August 1, 1953. Seniors may purchase a senior license when they turn 65. Those born after August 1, 1953, may obtain a senior license when they turn 70.

Disabled licenses are available for residents who are totally and permanently disabled, as well as disabled veterans.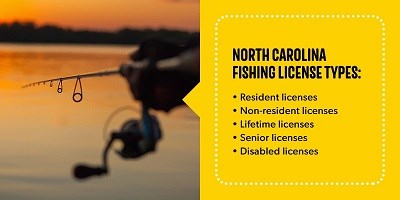 Fees and requirements vary depending on the type of fishing license you purchase. You can buy a state fishing license online, over the phone or in person at any
Wildlife Service Agent location.
Where Should I Go Fishing in Cherokee, NC?
The Eastern Band of Cherokee Indians, or EBCI, have their own Wildlife Management Department, which keeps the Cherokee waters heavily stocked with approximately 400,000 trout in 30 miles of stream water. EBCI Fisheries and Wildlife Management stocks fish twice per week in more than 150 different spots in the Qualla Boundary.
The Best Places to Fish in Cherokee, NC
The top three fishing locations in the Cherokee area are:
Oconaluftee River
Raven Fork
Soco Creek
As you plan your fishing trip, use a fishing guide map that can show you where to fish in Cherokee, NC.
Oconaluftee River
The Oconaluftee River is a large freestone river. A freestone river is a river that gets its water from melting snow and runoff from rainfall. Gravity pulls the water from mountains, caves and the ground. As new water flows to a freestone river, the movement and debris shift the shape and size of the river.
The Oconaluftee River is the largest river system in Cherokee. The head of the river is found in the Great Smoky Mountain National Park at Newfound Gap, and it flows quickly through the Cherokee region, with several tributaries along the way.
Anglers love fishing "the Luftee" due to its diverse ecosystem of fish, including trout, bass and sunfish. This makes it the perfect spot for first-time fishers or families with young children.
Raven Fork
Raven Fork is a medium-sized freestone stream that flows directly from the Great Smoky Mountains National Park. It is one of the most well-known fishing locations in the area due to its size and easy drive-up access. Inside Raven Fork, you will find The Parkway Haven, which is a 2.2-mile catch-and-release flyfishing zone.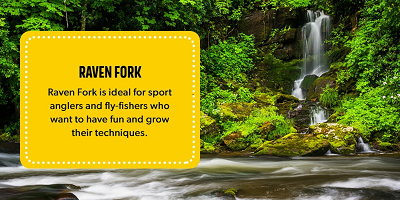 Raven Fork is ideal for sport anglers and fly-fishers who want to have fun and grow their techniques.
When fishing in the upper part of Raven Fork, know that the steep terrain may cause flash flooding. Always be aware of your surroundings — including the weather forecast —and do not fish alone.
Soco Creek
Soco Creek is not as well known as Oconuluftee or Raven Fork. It is small — approximately 8.5 miles in length — and easy to wade in. It is a trickier body of water to access than Oconaluftee and Raven Fork — but it is for this reason that avid fisherman praise its quiet, private atmosphere.
If you are looking for a fishing experience that will help you relax, unwind and enjoy nature at its finest, Soco Creek is the place for you. Because it is not as frequently fished as Raven Fork and the Oconluftee River, you will likely have less competition when it comes to catching large trophy fish.
What to Know Before Fishing in Cherokee, NC
Before you go trout fishing in Cherokee, NC, there are a few tips you should know.
Research the Best Time to Go
There is no off-season for most fishing in North Carolina, with a few exceptions. One such exception is fishing in hatchery supported trout waters, where the season for all fishing is closed from March 1 at 7 a.m. until the first Saturday in April.
If you plan to go trout fishing in Cherokee, NC, make sure you research the habits of trout in the region. Planning your time on the water around the trout lifestyle is the best way to ensure a successful trip. Do you want an expert opinion? Consult a professional Cherokee, NC fishing guide. Professional fishing guides can tell you everything you need to know about fishing in a given body of water, including the best time to go.
Bring the Right Gear
Fishing with the right gear will make your experience enjoyable and productive. Your specific fishing gear checklist will be determined by the type of fish you are trying to catch. However, there are some essential items that any angler needs, no matter what.
Essential fishing gear includes:
Your fishing license or permit
A first aid kit
A tackle box with sinkers, bobbers, lures, jigs, spoons or flies
Your rod and reel
A pair of needle-nose pliers
A knife
Extra fishing line
A cooler
Sunscreen
Food and water
Moist towelettes or paper towels
Hand sanitizer
Sunglasses
Wading or waterproof boots
Know Your Fish
Although Cherokee is known for its abundance of trout, there are plenty of other fish in the region, too. If you want to be an expert angler — or just want to have a more fruitful experience on the water — do your homework. Learn how to spot and identify different species and breeds of fish. Understanding how to recognize each fish is also the best way to make sure you are always fishing within regulation.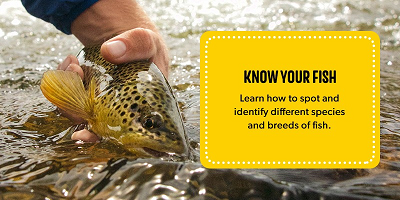 Talk to the Locals
Seasoned anglers will tell you that some of the best advice they ever received was "talk to the locals." If you are fishing in new territory, friendly locals can tell you which areas are the best, which to avoid and maybe even let you in on a few locals-only fishing secrets. Not sure where to begin? Head down to the nearest bait store or tackle shop. While you stock up on fishing supplies, get to know the person behind the counter and the other shoppers. At the very least, you will have made a few new friends.
Learn How to Catch and Release Safely
If you fish for sport-only — or if you have decided to venture into The Parkway Haven in Raven Fork — you need to know how to safely catch-and-release fish. Make things easier for you and the fish by following these tips:
Go when fish are at their least stressed. This means you should avoid fishing for catch-and-release during low-flow or scorching temperatures.
Pay attention to your line. Reel the fish in as soon as you catch it, as a tired fish finds it more difficult to recover once thrown back in the water.
Once you have caught the fish, do your best to keep it calm. Treat it gently and support its body. Avoid removing any of its protective mucus by wearing gloves or wetting your hands.
Remove the hook using needle-nose pliers or a similar tool. Do this quickly and gently. If necessary, place the fish back in the water without removing the hook.
Hold the fish underwater and allow it time to recover and ventilate before releasing it.
Be Patient
Fishing is not a task to take on if you are in a hurry. One of the best parts of a fishing trip is the ability to disconnect and slow down for a while. A successful fishing trip requires patience and perseverance. Watch your line constantly and relax while you wait for a fish to bite.
Have Fun
The most important part of any fishing trip is to have fun. As anglers, we fish because we love it. While it is good to understand the science behind successful fishing, at the end of the day, a good fishing trip is one that sends you home with refreshed and with a smile on your face.
Camp Where You Fish With KOA
Who says the fun has to stop when the fishing trip ends? Turn your fishing adventure into an unforgettable getaway to the Great Smoky Mountains. Cherokee KOA is located in the foothills of the mountains, right in the heart of tribal country. The campground boasts a breathtaking, 360-degree view of the mountains and all the great outdoors has to offer.
KOA has several lodging options to suit any traveler, including spacious RV Sites and river view cabins. Have fun with the whole family during themed weekends or in the indoor and outdoor pool and hot tub. Cherokee KOA has a playground, outdoor movie theater, bounce pillow and game room. Guests at Cherokee KOA also have easy access to nearby horseback riding, tubing rentals, zip line, whitewater rafting and all the entertainment that Gatlinburg and Pigeon Forge provide.
If your dog is your favorite fishing companion, do not worry about leaving him behind. Cherokee KOA is a dog-friendly campground. Your four-legged friend will even have access to Kamp K9®, an off-leash dog park. Due to limited availability of dog-friendly Sites — and certain breed restrictions — please call ahead and speak with the helpful staff at KOA.
Call the office at 828-414-2531 or visit the Cherokee KOA website to learn more about the campground and to book your stay today.