Kid-Friendly Things to Do in Cherokee, NC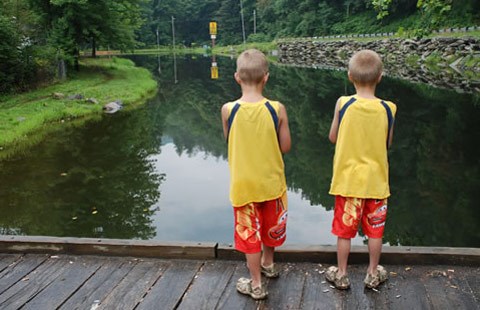 Cherokee, North Carolina is the ideal vacation spot for any family who wants to spend more time enjoying everything the great outdoors has to offer. From the scenic views of the Great Smoky Mountain National Park to the region's rich Cherokee history, here are five of the best kid-friendly things to do near Cherokee, NC.
1. Discover the Great Smoky Mountain National Park
The Great Smoky Mountains are among the oldest mountains on the planet. They emerged during the last Ice Age, which left the area rich with diverse plants and wildlife. More than 11 million people visit the Smoky Mountain National Park each year to see its breathtaking views. There are endless hiking trails, scenic paths, waterways and more to explore throughout the park's 522,427 acres, which is split between North Carolina and Tennessee.
For a stunning, one-of-a-kind view of the Smoky Mountains, venture to Clingman's Dome, which is only a short drive from Cherokee. Clingman's Dome is the highest point in the park, standing at 6,643 feet. Clingman's Dome observation tower is 45 feet tall. You can drive or hike your way up to Clingman's Dome — but be prepared for a steep, uphill trek either way. Due to hazardous road conditions, the road to Clingman's Dome is closed from December 1 to March 31, as well as during any inclement weather.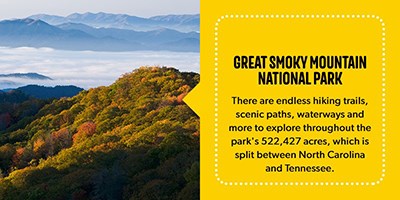 2. Dive Into the Region's Cherokee History
Cherokee, NC is named after the Cherokee natives who first inhabited the land. The Cherokee lived across much of the southeastern United States in small communities made up of houses constructed with wood, vines, saplings and mud, as well as seven-sided council houses. As settlers entered the region, the Cherokee culture underwent several changes, including the creation of their own printing press and a form of democratic government. During what is now known as the Trail of Tears, many of the Cherokee were forced west. The Oconaluftee Cherokees were able to remain in the region of what is now the Qualla Boundary region of Cherokee, North Carolina. Today, there are around 11,000 members of the Eastern Tribe.
If you are visiting the area with children, the Ocanaluftee Indian Village and the Museum of the Cherokee Indian are two excellent ways to incorporate history and education into your family trip:
Oconaluftee Indian Village: One of the most informative and family-friendly things to do in Cherokee, NC is a visit to the Oconaluftee Indian Village. Here, you will find a preserved reenactment of what a traditional native village in the area would have looked like, complete with guided tours, traditional dancing, artisan displays and living history presentations.
Museum of the Cherokee Indian: The Museum of the Cherokee Indian is an interactive museum with traditional displays, as well as video presentations, sound effects, holograms and more to give viewers an immersive experience of Cherokee life.
3. Cool Down and Stay Active With Outdoor Adventures
Visitors flock to Cherokee, NC to find outdoor adventure, including at scenic waterfalls like Mingo Falls, or on a thrilling tube ride down one of Cherokee's refreshing waterways:
Adventure to Mingo Falls: Cherokee is full of lots of great outdoor activities, including Mingo Falls. Mingo Falls is a gorgeous 120-foot waterfall filled with rushing water and large granite rocks that is located just outside the Great Smoky Mountain National Park, in the Qualla Boundary of Cherokee, NC. The hike to reach Mingo Falls is a short one — only 0.4 miles — but it is ranked moderately difficult.
Cool down with river tubing and rafting: If you are visiting Cherokee in the summer, your whole family will love river tubing or river rafting for the day. Whether you are seeking an adrenaline-filled rafting adventure or a relaxing lazy river experience, Cherokee has several tubing and rafting rental businesses — including Kampgrounds of America — that are ready to help.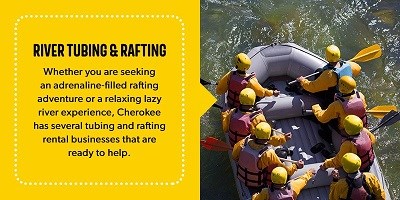 4. Explore Oconaluftee Islands Park
Oconaluftee Islands Park is a public green area located close to downtown Cherokee. It is among the top family things to do in Cherokee, NC because it offers a little bit of something for everyone, including:
Shaded picnic areas
Wildlife viewing, including elks, ducks and birds
The Cherokee Bonfire, which is a seasonal public event — complete with traditional hand drums — where Cherokee stories and legends are told around a bonfire
Tubing and swimming
5. Experience Wildlife With Elk Viewing
Many people visit the Cherokee region to watch herds of elk while they graze. In the spring, summer and fall months, you can usually find elk near the Oconaluftee Visitor's Center in Cherokee, or in one of several surrounding low-lying fields. You can also drive about an hour from Cherokee to Chatalooche, NC, which is another popular elk viewing spot. When viewing elk, here are some things to keep in mind:
Do not litter: Do not leave trash of any kind, as it can injure or even kill an elk if ingested. Litter also ruins the natural beauty of the area. Never feed wild elk.
Keep your distance: Do not get too close to the elk, even if you are in your vehicle. For your safety, stay at least 150 feet away at all times. Bring a pair of binoculars if you want the up-close experience.
Avoid private property: Do not access any private or residential property to view elk. Stay on designated public lands and refrain from blocking traffic.
Bring the camera: Do not forget to take plenty of pictures — the Cherokee elk are truly a sight to see.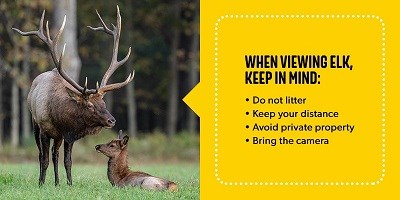 Get the Most out of Your Family Camping Trip at KOA
The best way for your family to experience the wonders of Cherokee is to fully immerse yourself in the region with a camping trip at KOA Cherokee. KOA Cherokee provides the ultimate balance of outdoor activities and relaxing amenities, meaning each member of your family will find something they love.
Experience non-stop adventure at KOA Cherokee, where you will enjoy several fun family-friendly amenities, including:
Family-friendly themed weekends
Horseback riding
Tubing rentals
Zipline canopy tours
Access to nearby hiking trails
Whitewater rafting
Area trout fishing
Indoor and outdoor swimming
Indoor and outdoor hot tubs
Outdoor movie screen for movies under the stars
A bouncy, kid-friendly Jump Pillow
At the end of the day, relax by your own campsite campfire at your Premium Tent Site, RV Site with KOA Patio™ or Deluxe Cabin with full baths. Are you ready to create lasting memories with your family? To reserve your spot at KOA Cherokee, visit us online or give our friendly staff a call at 828-497-9711.