Alert
Covid-19 Alert! WE ARE OPEN!!! Our bathroom facilities are open with limited occupancy. Please CALL for tent, Cabin, or Deluxe Cabin reservations. We have full-hook up sites available. Our pool is now open, with limited occupancy- sign up for 45 minute time slots available at the front desk. The Governor has issued a mandate requiring masks in all public places across NC. This mandate goes into effect Friday, June 26th @ 5pm. Please let us know if you have any questions. Hope to see you all soon. Please check out our blog for current updates.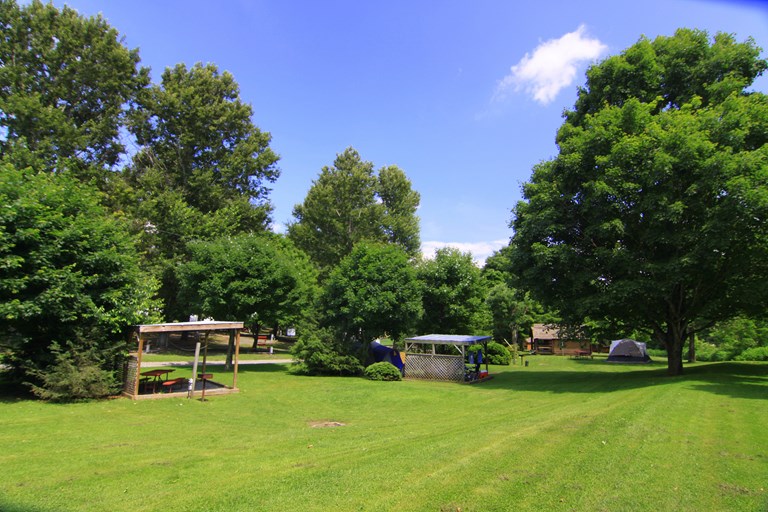 Boone KOA Reviews
Directions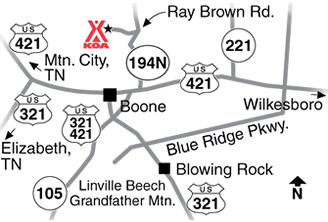 GPS address:  1258 Ray Brown Road
GPS: If you can, make sure your GPS is programmed to use highways only, avoid unpaved roads, and follow truck routes.  If you're GPS routes you on a narrow, winding mountain road or gravel road - immediately stop and turn around.  
GPS TIPS and DIRECTIONS:

If coming on 421N DO NOT TURN ON Brookshire Road, continue to  Hardee's and turn on NC194N/Jefferson Hwy. 3 miles, turn left on Ray Brown Road for 1 mile.

If coming from West Jefferson on NC194/Jefferson Hwy DO NOT TURN ON Chestnut Grove Road continue on NC194/Jefferson Hwy 1.5 miles to Ray Brown Road for 1 mile. 

If coming from TN, we recommend traveling from Mountain City to Boone on 421S DO NOT TURN ON Rich Mountain Road OR Tater Hill Road.  Travel on 421S through downtown Boone to NC194N/Jefferson Hwy. 3 miles, turn left on Ray Brown Road for 1 mile.

Easy access from Blue Ridge Parkway on US 321 or 421. From Boone take NC194N 3 miles, turn left on Ray Brown Road for 1 mile.

There is a road in our county called Harmony Lane.  You do not want to go there. The physical address for the campground is 123 Harmony Mountain Lane.
Get Google Directions
Aug 03, 2020
Campsite A1 right at entrance constant road nose. With the Covid Pandemic only cleaning bathrooms twice a day is pretty minimal. Minimum every two hours - bleach and lysol, especially with the foot traffic going in and out.
Aug 02, 2020
Great campground, clean, easy to navigate. Friendly professional staff!
Aug 02, 2020
Joann and crew are very nice and helpful. I wish I could stay with them all summer long. We will be back if not in September sometime next year.
Aug 02, 2020

We had a quick one night stay in a cabin with a bath. Upon arriving I had to clean the cabin before we could enter with our belongings. It was dirty and had a moldy smell.
Aug 02, 2020
Was good other than some people in the cabin across from us being drunk. But other than that good prices and a nice area definitely would go back.
Aug 01, 2020
We really enjoy staying there and in all will be we staying over three times this summer! The staff is very nice and friendly! They always work hard to make accommodations! We really appreciate the cooler temperatures in the summer!
Aug 01, 2020

Staff is very friendly. Had a couple of issues and they were resolved quickly. Thank you and will stay again.
Aug 01, 2020
A lovely location, pleasant staff, pastoral setting.
Aug 01, 2020
Great location! Great customer service!
Aug 01, 2020
The kids had such a good time. Feeding the goats was definitely a highlight. Beautiful views beautiful trees nice people.
Jul 31, 2020
Clean and well maintained campground with a friendly helpful staff. Nice pool. This place is on the side of a hill and maneuvering our 30-ft class A in and out was tricky even with the pull-thru sites. WiFi was very spotty and cell phone service was non-existent. Some of these issues are unavoidable considering the location and we wouldn't hesitate to visit again in the future.
Jul 31, 2020
The staff and check in staff were very helpful and courteous. The campground itself is not "Big Rig" friendly. Tight inner roads and non level sites, make this KOA better suited for small trailers small 5th wheels and the likes.
Jul 31, 2020
Had a great 5 days but my 3 grandkids were a little disappointed that the playground was closed. I had to explain to them about the coronavirus and it would have to be cleaned several times a day. We all enjoyed the weather cooperating for a cool, clear 5 days. Unfortunately, we had to come home to 98 degrees.�� Love Boone KOA!
Jul 31, 2020
Spaces are tight and sewer was very difficult to connect based on it's proximity to the side of the trailer. Nice park even though it's a tight fit. We'll be back.
Jul 30, 2020
Loved the mountain setting and small town of Boone. The goats, donkeys and cows were an added bonus. Sites are very unlevel and difficult to settle into as we and just about all neighbors experienced. Wi-fi was very unreliable as well. Restrooms were quite clean and well lit.
Jul 29, 2020
Sites and roads need a little work, but you're in the mountains. Beautiful!
Jul 28, 2020
Excellent campground. Older which means spots are tight. Nice relaxing environment
Jul 28, 2020
Beautiful setting for a campground. Staff was great gave us a later check out.
Jul 28, 2020

Good stay. Would recommend.
Jul 28, 2020
Employees were friendly and helpful. We are already looking forward to booking our next visit.
Jul 27, 2020
The staff was friendly, our site was small, but nice. The campground was pretty. We had a great time!
Jul 27, 2020
best place ever to kamp... would like to have cable...
Jul 27, 2020
Lots of trees, bathrooms and dog run clean. Sites not very level but we made it work. Would definitely come back again!
Jul 27, 2020
Park was clean and well kept. No air TV service. WI-FI was extremely weak, to the point we could not stream at all. This point will make me look at other parks in the Boone area.
Jul 27, 2020
While it is a very nice area, the campground did not space out the guest very well. Our site was cramped and on the side of a hill. While I saw many other sites, which were more level than ours go unused during our stay. Definitely could use some work and better planning.
Jul 27, 2020
Easy to find and check in was super quick. The store is great even has food to feed the goats and other animals nearby. We had a gorgeous view of the pasture and trees. Helpful staff, clean and organized place! Definitely a good place to stay. Love all the camping options, definitely want to come back and try a cabin.
Jul 26, 2020
This is the third time we have stayed at the Boone KOA, the first time in 2002. We have stayed in numerous KOAs and Boone is our favorite. We will definitely be back.
Jul 25, 2020
We love Boone and the area. We always stay at Boone KOA
Jul 25, 2020
We stayed for 7 days with no TV, it was a long week.
Jul 25, 2020
Very clean and well kept. The ducks, goats and donkeys were precious. We look forward to bringing our grandkids up next year.
Jul 25, 2020
We stayed in site 6 c, there is a tree on the right corner it's impossible to make the turn, I scrubbed my slide out topper with some damage, my motor home is 35 feet and I'd like to suggest not putting a camper the size of mine in that site again. Thanks, Lee Reese
Jul 25, 2020
Nice, clean, nice staff. Only problem is the sites or tight. But, most KOA's seem to be like that. Yes, we will go back.
Jul 25, 2020
Our site was small and tight to get in and out of, not much room to park truck in site. The WiFi was very slow, and the TV channels were only 5.(no cable at this KOA)other than that,we enjoyed going to Grandfather Mountain.
Jul 24, 2020
Sites are too close together.
Jul 24, 2020
While the staff was amazing, I was not particularly pleased with our site. It was quite small, barely getting our motorhome and tow vehicle. Typically, our neighbor's vehicle was partially in our site.
Jul 23, 2020

We have normally stayed in Jellystone campgrounds and loved it. The KOA was a let-down. The cabin was really uncomfortable. The mattresses on the bed were so thin that they really aggravated my back pain. Bthrm was ridiculously small so my poor 6 ft 3 in husband repeatedly hit his head. Staff gave conflicting info about using the pool. Biggest plus was the farm animals who were adorable.
Jul 23, 2020
We had a great stay! The staff was very helpful and friendly, the campground amenities were clean and in good shape.
Jul 23, 2020
We spent 2 days at KOA Boone & it was a good stay for us. We will recommend this campground!
Jul 23, 2020
We had a great time at the Boone KOA. A few things could make the campground better: 1) the road leading to the campground is in bad need of repair, 2) the main driveways within the campground need to be paved to reduce dust and noise, 3) cable TV would be nice, 4) the WIFI was basically useless. I drops out continuously. Needs improvement. 5) several dogs barked frequently and loudly.
Jul 22, 2020
Still here, just moved to our favorite cabin for a week of hiking. Cheyenne made the transition efficient--able to get set up while son was at climbing camp. Gerry fixed our door lock with no wait time. Love it here! Clean bathrooms. Great showers.
Jul 21, 2020
We felt welcomed. The staff were very friendly. They don't have the same extra's as other KOA, ex; no person to take you to your site; didn't offer firewood, don't pick up your trash at site. No lounge chairs for the pool. The road is very narrow, difficult for 2 trailers passing.
Jul 21, 2020
4dogs next door barked for a day. Glad they didn't stay longer. No internet most of the time.
Jul 21, 2020

We love going to the KOA campground in Boone. We've been going for 3 years now and we will continue going every summer!
Jul 21, 2020
The sites are very tight with no privacy. Need more room. Did enjoy the goats, donkeys, and lightening bugs. Next trip to Boone, we will use another campground.
Jul 21, 2020
Thank you for the hospitality.
Jul 20, 2020
Very peaceful and clean.
Jul 20, 2020
This campground has a good location for Boone and Blowing Rock activities. Sites a little small. Suggest you look at the site they assign before pulling to site. No trash pick up at site which I've become used to at other KOA's.
Sep 14, 2020
My husband and I have a great time. The office was really nice an helpful. Will be definitely coming back
- April Dillon on Google
Sep 08, 2020
Campsites have shade, nice small playground for children, bath house was clean. Weekend activities were a fun addition (tie dye) with friendly staff, as well as easy sign ups for time at the pool and the small putt putt course. We had a great time!
- Megan on Google
Sep 03, 2020
Friendly Staff. Beautiful location. Great prices.
- Victoria Fullbright on Google

Boone KOA
Open May 1 - October 31
123 Harmony Mountain Lane
Boone, NC 28607
Check-In/Check-Out Times
All, Check in 1pm, check out by 11am
Check-in: 1:00 pm, Check-out: 11:00 am
Get Google Directions

© 2020 Kampgrounds of America, Inc.