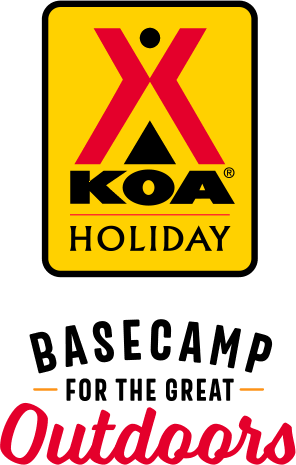 KOA Holiday Campgrounds
Whether you're exploring the local area or hanging out at the campground, KOA Holidays are an ideal place to relax and play. There's plenty to do, with amenities and services to make your stay memorable. Plus, you'll enjoy the outdoor experience with upgraded RV Sites with KOA Patio® and Deluxe Cabins with full baths for camping in comfort. Bring your family, bring your friends, or bring the whole group – there's plenty of ways to stay and explore.
KOA Holidays Feature:
RV Sites with a KOA Patio®
Deluxe Cabins with full baths
Premium Tent Sites
Group meeting facilities
Directions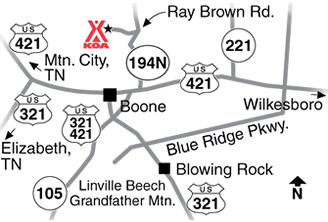 GPS address:  1258 Ray Brown Road
GPS: If you can, make sure your GPS is programmed to use highways only, avoid unpaved roads, and follow truck routes.  If you're GPS routes you on a narrow, winding mountain road or gravel road - immediately stop and turn around.  
GPS TIPS and DIRECTIONS:

If coming on 421N DO NOT TURN ON Brookshire Road, continue to  Hardee's and turn on NC194N/Jefferson Hwy. 3 miles, turn left on Ray Brown Road for 1 mile.

If coming from West Jefferson on NC194/Jefferson Hwy DO NOT TURN ON Chestnut Grove Road continue on NC194/Jefferson Hwy 1.5 miles to Ray Brown Road for 1 mile. 

If coming from TN, we recommend traveling from Mountain City to Boone on 421S DO NOT TURN ON Rich Mountain Road OR Tater Hill Road.  Travel on 421S through downtown Boone to NC194N/Jefferson Hwy. 3 miles, turn left on Ray Brown Road for 1 mile.

Easy access from Blue Ridge Parkway on US 321 or 421. From Boone take NC194N 3 miles, turn left on Ray Brown Road for 1 mile.

There is a road in our county called Harmony Lane.  You do not want to go there. The physical address for the campground is 123 Harmony Mountain Lane.
Get Google Directions
Jul 06, 2021
Great little get away. 3 grandkids loved the playground and the animals.
Jul 06, 2021
Staff were very friendly, location was great. We went to Tweetsie and it was about 15 minutes away. Bathrooms were clean and the kids enjoyed the activities. The campsites were were nicely kept with gravel and had a fire pit at each area. Would definitely stay again!
Jul 06, 2021
We had a wonderful time. The cabin was clean and exactly as expected. The staff were wonderful and we appreciated all the activities.
Jul 06, 2021
Was really good, I will like have better wifi to have wachet the news or for emergency phone call.
Jul 06, 2021
we had an amazing time at the boone koa. we rented one of the cabins for 3 nights for the 4th of july weekend. It was very clean and close to the bathrooms, which was very nice. My children enjoyed all the activities that were offered. we enjoyed the animals, the playground, pool, and mini golf. There was plenty to keep us busy and we will be visiting again!!
Jul 05, 2021
We really enjoyed the hospitality from the staff. The campground was nice and had activities for the family. We hope to get back here again soon.
Jul 04, 2021
The size of the site was so tight that was a nightmare to park and because that angle of the location my front jack broke. Mi neighbor had to help me to hitch my trailer and I spent $495 on a new jack. I never had a bad experience with any of the KOA campground but I would never go back to this one.
Jul 03, 2021
Nice people and extremely clean.
Jul 02, 2021
We were very pleased with most of our stay at this KOA. The only negative point is they did not enforce the speed limit within the park well. We had young men "flying" through the park without regard for the children around on their bikes. Also, we "city folk" didn't realize there would not be TV available. Our antennae would not pick up any stations. We should have seen this in the info.
Jul 02, 2021
We stayed in a site with a concrete patio, with a table, 4 chairs and a small fire pit. The site was level and provided a good view of the night sky as it was open with no trees nearby. Great view of the goats! It was very quiet around us as there were no others around after our first night. Great folks at the check-in!
Jul 01, 2021
great site, staff was more than helpful. quiet area
Jul 01, 2021
Everything went well. The wifi was lacking though (bad coverage, I understand they are working on this). The grounds are very nice and the staff is even nicer.
Jul 01, 2021
Stay was good as usual. Since there's no cable service, I wish the WiFi was stronger. Some of us actually try to do some work while on vacation but is difficult with the hit/miss WiFi service. Note: our last 3 stays at the Boone KOA, we have noticed barking dogs locked up in campers with the owners gone all day. There should be some regulations about that…
Jun 30, 2021
Very clean, nice campground. We would have liked to have known that not even air channels would pick up at campground before booking just so we could have thrown a few movies in the camper but didn't ruin our stay. Very nice campground and we will definitely be back.
Jun 30, 2021
I had made my reservation over 30days ahead requesting a level lot ? I got there & it was horrible! Very small lot not enough room to park our trailer & truck with out being in the road some! Camp fire area was so unlevel you couldn't sit chairs around it! To get our trailer & truck on site it was hard to get into & out of our camper & truck because of the drop off of both ends of camp site!!
Jun 30, 2021
Friendliest staff. Wonderful people. Small campground but great location.
Jun 30, 2021
The campground staff was extremely friendly and great to get help from. The bathrooms always looked cleaned and stocked. Showers were great too. This was our first KOA experience and we will definitely not only use KOA again, but we will be back to this one too!
Jun 29, 2021
Love Ms. Joann and the crew. They are always very friendly and willing to help. The updates they have done on the camp ground look great.
Jun 29, 2021
we would probably stay here again however,the lower sites need some work leveling out and we did not see any of the workers coming around checking like some of the other KOA's we have been at..customer service needs working on. bathrooms very clean...
Jun 29, 2021
Everyone was very nice and friendly. Loved the goats and donkeys. Everything was very clean. The campground was peaceful and quiet. One of our favs.
Jun 29, 2021
always a great place to stay a nite or 2. It's clean and quiet
Jun 29, 2021
We love Boone KOA! Just 13 miles from home, it's our favorite local "go-to" getaway! We enjoy the cozy atmosphere, the sites are nice, the laundry facility is top notch, the people are friendly, and the list goes on. It's close enough to home that we can come over even when one of us has to work, but it still feels like we're a million miles away from everything. Can't wait to be back
Jun 28, 2021
Always a great time at the Boone KOA
Jun 28, 2021
Wonderful trip as always! There is a reason we keep coming back to this campground over all others in the Boone area year after year (for over 12 years). It's because Joann and her team are fabulous! The sites are always ready for us, bath house is always clean, staff is so friendly and helpful.
Jun 28, 2021
Wonderful stay at a quaint KOA. Would certainly suggest those staying use a pressure regulator as friends staying this weekend found the water pressure too high for their 5th wheel rig. The roads are a little narrow but pull through sites help mitigate that problem. The campgrounds is close enough to serve as a nice base camp while exploring the area. Staff was super friendly.
Jun 28, 2021
Awesome place to camp in Boone. The staff was very friendly and accommodating. We will be back!
Jun 28, 2021
Great Family environment. Great staff. Very clean. We are going back soon!
Jun 28, 2021
This was our first time staying at a KOA campground! We traveled from Winston Salem, NC. The campsite we had was very nice and spacious. There was a firepit and a outdoor table and chairs for eating or just lounging to enjoy the weather. This is a great place to bring your family and kids. Everything looked to be well kept up and maintained. We will definitely visit here again!
Jun 28, 2021
Sites are fairly level. Sites are close together but due to orientation of sites, they do not feel like it. Loved the newly remodeled bathroom shower facility.
Jun 28, 2021
It was clean, nice neighbors, and a pretty settings. I will be back. Doug D.
Jun 28, 2021
This was our first camping experience and it was great. Nice clean quiet family.
Jun 28, 2021
We had a great time. The front desk staff was very kind and accommodating.
Jun 27, 2021
Nice place. Just a couple of issues. They need to put paper towels in their bathrooms and bathhouses. They also need to upgrade their wireless service.
Jun 26, 2021
Very clean cabin. The setting in the mountains was beautiful.
Jun 25, 2021
too close to others...no tv...maybe yall should consider dish......
Jun 25, 2021
My son and I enjoyed our stay. We loved the peace and tranquillity of this KOA. We will definitely come back and will recommend this KOA to our friends.
Jun 24, 2021
Money first with them
Jun 24, 2021
Crowded campground . Parking difficult for car / truck. Noisy at times with the closeness . Sites not level . Narrow gravel roads. Mini golf in sad shape . Good restrooms / shower .
Jun 24, 2021
Perfect 3-night stay - clean cabin and grounds, very friendly and knowledgeable staff. Fun watching animals. Would recommend this KOA to everyone. Thanks for the wonderful vacation!
Jun 24, 2021
It was a good stay Need to upgrade the WiFi they do not have cable hookup and no local tv so WiFi would make a big difference. Staff was great bathrooms clean and maintained
Jun 24, 2021
Great site, great amenities, and a pretty area. Sites are just a little packed in but that's my only complaint
Jun 23, 2021
It was a nice campground. Clean and friendly. Although a little to crowded in for my taste. Probably would not go back to that one.
Jul 30, 2021
Great campground with lots of activities for kids.
- Steve Perkins on Google
Jul 26, 2021
Love it! Clean and beautiful! Lots of amenities!
- Beverly Johnson on Google
Jul 13, 2021
Tent camped and stayed in a cabin. Wonderful staff, terrific facilities, and even better location.
- A Rudolph on Google