Alert
Covid-19 Alert! WE ARE OPEN!!! Our bathroom facilities are open with limited occupancy. Please CALL for tent, Cabin, or Deluxe Cabin reservations. We have full-hook up sites available. Our pool is now open, with limited occupancy- sign up for 45 minute time slots available at the front desk. The Governor has issued a mandate requiring masks in all public places across NC. This mandate goes into effect Friday, June 26th @ 5pm. Please let us know if you have any questions. Hope to see you all soon. Please check out our blog for current updates.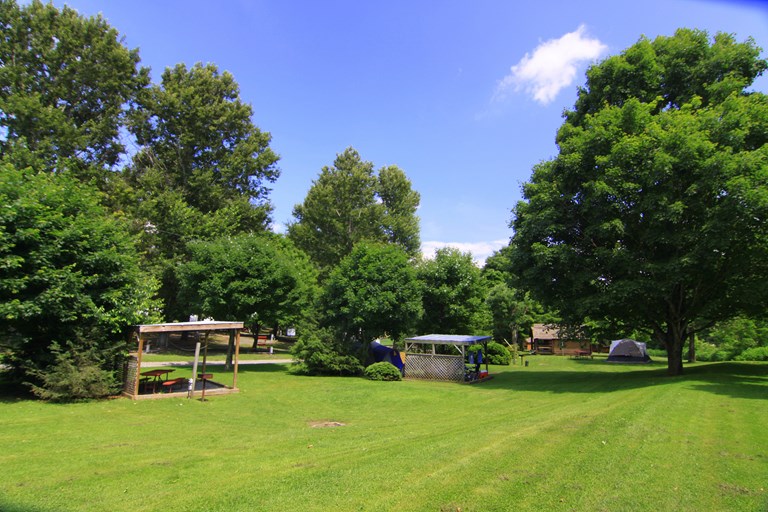 Boone KOA Reviews
Directions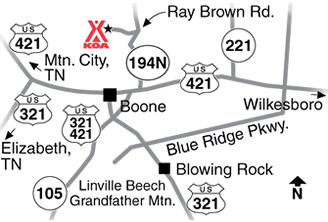 GPS address:  1258 Ray Brown Road
GPS: If you can, make sure your GPS is programmed to use highways only, avoid unpaved roads, and follow truck routes.  If you're GPS routes you on a narrow, winding mountain road or gravel road - immediately stop and turn around.  
GPS TIPS and DIRECTIONS:

If coming on 421N DO NOT TURN ON Brookshire Road, continue to  Hardee's and turn on NC194N/Jefferson Hwy. 3 miles, turn left on Ray Brown Road for 1 mile.

If coming from West Jefferson on NC194/Jefferson Hwy DO NOT TURN ON Chestnut Grove Road continue on NC194/Jefferson Hwy 1.5 miles to Ray Brown Road for 1 mile. 

If coming from TN, we recommend traveling from Mountain City to Boone on 421S DO NOT TURN ON Rich Mountain Road OR Tater Hill Road.  Travel on 421S through downtown Boone to NC194N/Jefferson Hwy. 3 miles, turn left on Ray Brown Road for 1 mile.

Easy access from Blue Ridge Parkway on US 321 or 421. From Boone take NC194N 3 miles, turn left on Ray Brown Road for 1 mile.

There is a road in our county called Harmony Lane.  You do not want to go there. The physical address for the campground is 123 Harmony Mountain Lane.
Get Google Directions
Aug 15, 2020
Wonderful job implementing COVID safety measures. The best I've seen so far at KOAs.
Aug 15, 2020
Nice campground enjoyed our stay
Aug 14, 2020
Wish we could have stayed longer
Aug 14, 2020
We enjoyed our time at the campground. We liked the views and the animals like the cows and goats.
Aug 14, 2020
Staff were VERY nice&helpful! give Donna a 10!! The only thing that concerned us were that the fire pits were too close to the back side of the next person's camper.Thankfully Donna was very sweet&agreed to not put anyone next to us. We had decided we would not have a fire out of consideration for neighbor. Unfor. someone did get booked next to us but thankfully they agreed not to have a fire.
Aug 14, 2020
Will definitely go back, enjoyed our stay and the views were beautiful. Everyone was polite and place was quiet. However, the roads are in need of attention. Gravel is broken up and washed away. Roads are uneven with huge dips and craters.
Aug 14, 2020
good welcome and clear info from check-in person good level gravel spot for RV beautiful scenery (mountains and farm with cows, goats, and geese) clean restrooms and showers
Aug 13, 2020
The stay itself was nice but was a bit cramped. It would have been nice to have a space in between the next camper. The dogs on site were often left unleashed and would bark continuously. I am a dog lover, 1pp% but don't allow mine to continue to bark. The people were nice at the Site, not a lot of amminities but overall, it was okay. When I go again, I will ask for an end site or outer edges.
Aug 13, 2020
The lot we were on D-1 - was very unlevel and the sewer drain was at the far back. We couldn't get our trailer on level ground and still reach the sewer with a 15 ft. hose. We had to move the picnic table out of the way to park our vehicle. No space to even put a chair outside under the awning. Not very desirable spot. We saw other spots that were nice, but ours wasn't. Pretty disappointed.
Aug 12, 2020
Great campsite & the folks are really friendly! Great place to camp while visiting the local towns.
Aug 11, 2020
Great facilities cleanliness was excellent
Aug 10, 2020

It was a very friendly welcoming place. I would highly recommend this KOA. Nicely maintained and clean. Even survived the 5.1 earthquake that hit the area. Will be back for a visit!
Aug 10, 2020
It was awesome clean and fun for the family
Aug 10, 2020
Nice quiet place.Only draw back is no cable tv.
Aug 10, 2020
Loved the scenery and the facility. It is very well maintained and clean.
Aug 10, 2020

Aug 10, 2020
Very pleasant stay. Always relaxing. Too many barking dogs!
Aug 10, 2020
KOA Boone is a very nice place to stay. It is clear that the owner(s) and staff work hard to keep it up. Staff is friendly. Grounds are clean and well maintained. Nice, quiet location. This was my second visit there and I plan to go back again, and again.
Aug 10, 2020
For some reason when there are a lot of campers we have issues with our ac not running properly. This was our second visit and same problem. Not sure why because we don't have the problem anywhere else.
Aug 09, 2020
A great place to stay. The staff are always very friendly & helpful. We have been coming for several years.
Aug 09, 2020
Great weather very nice helpful staff
Aug 09, 2020
Wonderful staff of people at KOA. The campsites were a little tight, but the cool weather and views more than make up for any problem we might have had. Great location from the Blue Ridge Parkway, and really enjoyed the stay.
Aug 09, 2020
All sites are unlevel and Muddy. There is no Groceries- unless one of the employees bring them from town??? The laundry has a signup sheet and it is meaningless. Campers come in- after you have signed up for your Hour. Employees say that no one can be turned away. Employees sit around all day- like they are waiting for the bus- with No Masks or distancing. ??????
Aug 08, 2020
Very nice stay. Wifi is strong. Beautiful scenes, clean place.
Aug 08, 2020

Aug 07, 2020
Well managed with clean restrooms and showers. Enjoyed our visit.
Aug 07, 2020
sites unlevel, too close together, too many weeds..........you can tell it is not that well taken care of. Wont return.
Aug 07, 2020

So glad to have bathroom with shower in cabin. When weather is rainy not having to walk to bathroom in dark in middle of night is such a great access. Please consider adding swing on front porch!
Aug 07, 2020
Very enjoyable stay however cable TV would be a great improvement. I think the putt-putt may need a little upgrade (seemed a little outdated). Very clean and neat ... the staff are delightful!
Aug 07, 2020
We had a nice visit, beautiful area, nice campground. Wish you had better wifi and wish you had cable. You certainly seem to have enough business to invest in those upgrades. Sites and roads need some maintenance.
Aug 06, 2020
Had a great time. Staff was very accomodating. Wifi was very unstable even sitting outside the office.
Aug 06, 2020
The staff was wonderful, the facilities clean and the property so fun for the family to walk around and explore. We will continue to stay at the Boone, NC KOA in the future.
Aug 06, 2020
Our spot C4 had uneven ground and we could not get our leveling system to work properly and we had to move to C3 other than that our stay was great.
Aug 04, 2020
Our site was perfect! Concrete slab and patio. We had problems with our camper's slide and the staff was helpful trying to find a solution... even offering her dad's help. Will definitely stay again.
Aug 04, 2020
Perfectly acceptable. First site I was put on had a really messed up sewer connection and was horribly unlevel. Once I was moved to a new site, everything was fine. The sites are pretty tight together, but overall worked fine for what I needed. Not a lot of options near Boone, so I wouldn't have any issue with staying here again, but it's not super memorable, either.
Aug 04, 2020

Very wonderful
Aug 03, 2020

Aug 03, 2020

Enjoyed our stay and the staff was very helpful. Would highly recommend.
Aug 03, 2020
Weather perfect. Left at 65F and arrived home near Charleston at 95F. Oh, I miss the cool air in Boone.
Aug 03, 2020
Great place to stay nice staff.
Sep 14, 2020
My husband and I have a great time. The office was really nice an helpful. Will be definitely coming back
- April Dillon on Google
Sep 08, 2020
Campsites have shade, nice small playground for children, bath house was clean. Weekend activities were a fun addition (tie dye) with friendly staff, as well as easy sign ups for time at the pool and the small putt putt course. We had a great time!
- Megan on Google
Sep 03, 2020
Friendly Staff. Beautiful location. Great prices.
- Victoria Fullbright on Google

Boone KOA
Open May 1 - October 31
123 Harmony Mountain Lane
Boone, NC 28607
Check-In/Check-Out Times
All, Check in 1pm, check out by 11am
Check-in: 1:00 pm, Check-out: 11:00 am
Get Google Directions

© 2020 Kampgrounds of America, Inc.