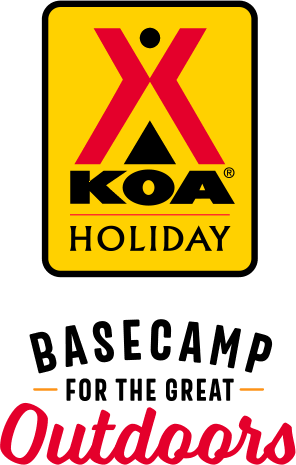 KOA Holiday Campgrounds
Whether you're exploring the local area or hanging out at the campground, KOA Holidays are an ideal place to relax and play. There's plenty to do, with amenities and services to make your stay memorable. Plus, you'll enjoy the outdoor experience with upgraded RV Sites with KOA Patio® and Deluxe Cabins with full baths for camping in comfort. Bring your family, bring your friends, or bring the whole group – there's plenty of ways to stay and explore.
KOA Holidays Feature:
RV Sites with a KOA Patio®
Deluxe Cabins with full baths
Premium Tent Sites
Group meeting facilities
Directions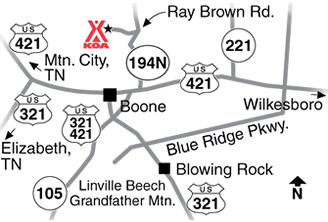 GPS address:  1258 Ray Brown Road
GPS: If you can, make sure your GPS is programmed to use highways only, avoid unpaved roads, and follow truck routes.  If you're GPS routes you on a narrow, winding mountain road or gravel road - immediately stop and turn around.  
GPS TIPS and DIRECTIONS:

If coming on 421N DO NOT TURN ON Brookshire Road, continue to  Hardee's and turn on NC194N/Jefferson Hwy. 3 miles, turn left on Ray Brown Road for 1 mile.

If coming from West Jefferson on NC194/Jefferson Hwy DO NOT TURN ON Chestnut Grove Road continue on NC194/Jefferson Hwy 1.5 miles to Ray Brown Road for 1 mile. 

If coming from TN, we recommend traveling from Mountain City to Boone on 421S DO NOT TURN ON Rich Mountain Road OR Tater Hill Road.  Travel on 421S through downtown Boone to NC194N/Jefferson Hwy. 3 miles, turn left on Ray Brown Road for 1 mile.

Easy access from Blue Ridge Parkway on US 321 or 421. From Boone take NC194N 3 miles, turn left on Ray Brown Road for 1 mile.

There is a road in our county called Harmony Lane.  You do not want to go there. The physical address for the campground is 123 Harmony Mountain Lane.
Get Google Directions
Jul 14, 2021
We really enjoyed our stay. Putt putt facility needs repairs and new carpet.
Jul 14, 2021
Great quiet campground.
Jul 14, 2021
2 night stay while passing through Boone. Campsite was level, easy to pull into, and clean. Staff was overwhelmingly friendly. Bath houses were very clean as were the laundry facilities. Overall a great stay here!
Jul 14, 2021
Not really sure how this is a Koa holiday just because it has deluxe sites available. The sites are small, close together, and unlevel as well. No pet clean up stations or trash pick up. Saw a bunch of trash laying at the playground for 3 days. The can at the playground is bolted shut so people just left their trash. One seasonal camper that has trailer on the short term sites is rude to campers.
Jul 13, 2021
If you're looking for a campground that has the perfect location then look no further. If other amenities are high on your list, then you might want to stay elsewhere. This campground has been around since 1973,and is dated. It has a sweet, peaceful vibe, and beautiful trees (especially in autumn). Again, it's the location that's the star. Route 194, 321, and other routes, quick and accessible!
Jul 13, 2021
Camp ground is nice and the sites are good. The wifi is pretty much nonexistent so I would suggest improving that for those that work some.
Jul 13, 2021
It was just not our thing. The only sink was in the kitchen - it was small. The shower door was falling off/shower head too low. The beds were incredibly uncomfortable. There were bees all around the bush out front (although I will say the front desk was VERY good about coming to spray them). It is just for the cost, our family would rather do an air bnb or hotel. The goats were cute though.
Jul 13, 2021
I would like to say that we had a wonderful stay at this KOA. Office personnel are wonderful and accommodating. The whole staff and permanent residence are very friendly. With that said, the campground is in need of a lot of maintenance. Sites are far from level and roads need attention. Wi-Fi is nonexistent unless you are in the rec center.
Jul 13, 2021
Boone and the surrounding area is beautiful. The KOA had some well kept bathrooms and it was fun feeding the goats. Much of the KOA needs renovation desperately. The mini golf course is dilapidated. The lots are very small and uneven. The owners are clearly trying to maximize profit without investing back into the KOA. If another KOA opened in Boone, this one would be in trouble.
Jul 12, 2021
Love this KOA. Super friendly staff and guests. Everything is well kept.
Jul 12, 2021
All around good stay. Some upkeep and grading needed on sites.
Jul 12, 2021
VERY NICE PEOPLE AND CLEAN REALY ENJOYED OUR STAY .WE WILL BE BACK THANKS
Jul 12, 2021
Tightly packed together RVs put in undersized lots. Beautiful area but we were crammed together on a hill so we had to use lots of leveling equipment and then site was too short to open back porch (it is a toy hauler) and our truck had to be parked sideways on the grass
Jul 12, 2021
It's a beautiful campground close to downtown Boone and was perfect for our rooftop tent. We had some delays and came in late for check in and the campground attendant was so friendly and helpful in helping us find our site. Our little one loved the goats and donkeys and you can purchase food to feed them for 25 cents in the camp store. We will definitely be staying here again!
Jul 12, 2021
Staff was friendly. The campground need updating Not nearly enough bath houses showers. Pool is extremely dated and very small. The kids playground is from the 1970. It's a shame as the Campground has so much potential.
Jul 12, 2021
Nice place only stayed in night
Jul 12, 2021
My husband and I love this KOA and have visited often. Our last stay was very relaxing, however, the spot was very unlevel, this is my only complaint, and I realize I am in the mountains and need to take that into consideration. I would also recommend a little more work to the Dog Park. The fence was falling and with all of the open space the area could be larger for bigger dogs.
Jul 12, 2021
This was our very first camping trip and we had an amazing experience.
Jul 11, 2021
Staff was very friendly and helpful! I stay at this KOA about twice a year and have for the past 10 years.
Jul 11, 2021
stayed 3 nights. excellent quiet place, no highway nearby! beautiful Mountain View to one end of the grounds, visible to only long term tenants.. Very small trailer/camper sites, not room for a vehicle and the camper. Very clean, recently tiled shower stalls were a true plus.
Jul 11, 2021
Spaces are to cramped, no place to park truck after unhooked so the roads are very narrow. I had to ask 3 people to move the vehicles while I negotiated down the hill then to the exit so I would hit a camper tongue or truck.
Jul 11, 2021
Everything was great but the lack of cell service and wifi is a question about whether we would return. Loved the location so wish internet was better.
Jul 10, 2021
The staff was friendly, the grounds were clean, and we enjoyed staying there! We will come back again!
Jul 10, 2021
Friendly staff, nice, quiet, and shady! Great place to beat the heat of the summer! The road into the campground needs some work. Maybe the NCDOT will read my review!
Jul 10, 2021
The staff are very nice and helpful. The grounds were clean. Only suggestion would be add cable tv. We had a great stay at Boone KOA.
Jul 10, 2021
We love this campground! Great and friendly staff. The grounds are always in beautiful condition. Very clean facilities. Great location and close.Kristen the manager is always very helpful and willing to go above and beyond to ensure that your stay is pleasurable and stress free. We recommend this campground to everyone we know. We gave them five stars, but would have given them more if we could.
Jul 10, 2021
Stayed 2 days in camping cabin #9. Loved, loved, loved the quiet and the natural beauty of the area. On the other hand, it would be great to have showers closer to the camping cabins.
Jul 10, 2021
It is a charming place with a covered area, running water, and lighting at the site. The location is at the top of a mountain and there are beautiful views. It's only a short drive to a supermarket.
Jul 10, 2021
I really enjoyed the area. When we arrived at our campsite, we had a problem with our sewer connection and a staff member immediately came over and helped us out. Very friendly and courteous staff who cares!! We'll be back!!
Jul 10, 2021
They were very accommodating and helpful. We only stayed one night because of passing through. The site was nice and quiet.
Jul 09, 2021
Wonderful Campsite ! Also, Kristine, manning the Boone KOA office, was fantastic. She spent a lot of time with me laying out my drive on the Parkway. She is an outstanding representative and employee of KOA Boone. Thank you !
Jul 08, 2021
The staff is always wanting to help and answer any questions. They keep the facility very clean. My family has been coming for a reunion for 40 years, The Swift Family. We are very blessed for the attention they give to us and all the needs they meet. Thank you so much for being so kind.
Jul 08, 2021
Our site was way to small there was not room to park our vehicle, we felt closed in with other campers right on top of us. There was no cable and the wifi was terrible. The way we had to park made our hookups very hard to put out and take up on uneven ground. Don't think we would stay there again.
Jul 08, 2021
Check in good, staff friendly Camp store inventory seemed lean Approach road too narrow and winding Site was clean but small Dog areas were nice along with the goats Mini golf area dated needs upgrades Bath areas need improvement and updates
Jul 08, 2021
Kid friendly.
Jul 08, 2021
Arrived before check in and the kind lady found us a site we could go ahead and get set up.
Jul 07, 2021
this is the 2nd year in a row that we've stayed here for the 4th of July and are trying to decide if we will come again next year so we can go ahead and book. There's lot's of things to do at the camp as well as great things/excursions not too far from there for us to go and enjoy. There are also great restaurants to go out and eat if we decide not to cook at camp. The staff is Super!
Jul 07, 2021
Friendly staff and clean facilities as always. Been there at least 10 times now.
Jul 07, 2021
First time visit and we did enjoy our stay
Jul 07, 2021
Nice park, we enjoyed our stay. We were visiting family in Banner elk and really only slept at the campground. Personal thoughts , the sites were way too close together and getting into and out of sites was difficult( myself and witnessed many others). Multiple vehicles at many campsites made manuverabilty difficult as well. The staff was awesome! Sewer pipes 3 feet from picnic table, yuk!
Jul 07, 2021
Great campground, nice and clean facilities, and a great location! Stayed here before and will definitely be staying here again in the fall.
Jul 07, 2021
Was my first time in a KOA and the staff were very knowledgable and friendly. The facility was clean and easy to get around. The scenery around the site was nice as well. Couldn't have been happier.
Jul 07, 2021
Out truck broke down after we arrived and needed a new transmission-so we asked to extend out stay which was granted - plus, one of their KOA Staff helped relocate our RV to the new site. We also were given a military discount. Great park, great service & a fun time ! Thank you PS Love the pool!
Jul 07, 2021
Friendliest staff made us feel so welcome! They were able to accommodate us short notice. The sites are close together and not private, but clean. Restrooms stocked and clean. Lots of activities for children and adults alike.
Jul 06, 2021
Thank you for the very nice stay. Your staff is professional, knowledgeable and very pleasant. The Watauga County Band was an unexpected surprise. My wife and I enjoyed the impromptu concert.
Jul 30, 2021
Great campground with lots of activities for kids.
- Steve Perkins on Google
Jul 26, 2021
Love it! Clean and beautiful! Lots of amenities!
- Beverly Johnson on Google
Jul 13, 2021
Tent camped and stayed in a cabin. Wonderful staff, terrific facilities, and even better location.
- A Rudolph on Google