Local Area Recreation Near Belvidere East / Exit 170 KOA Journey
Our local area is known for great bird watching and breathtaking prairie land view. Our campsites become your own private planetarium each night.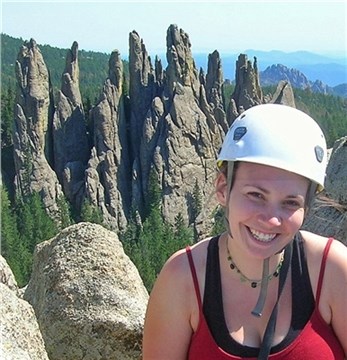 Rocks Climbing in Hill City, SD
Don't let your vacation be boring. Go rock climbing in Hill City, SD.
Courtesy of: South Dakota Department of Tourism.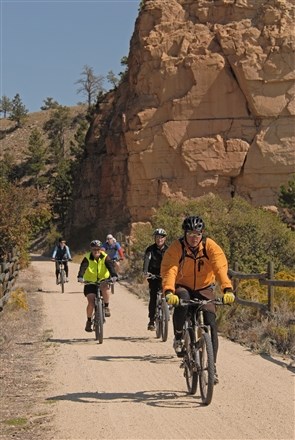 Biking in the Black Hills, SD
Perfect stop for your trip anywhere in the Black Hills, Mount Rushmore, Crazy Horse, Custer State Park and Mickelson Trail.
Courtesy of: South Dakota Department of Tourism.
Hiking in the Badlands National Park
The Badlands National Park, or "mako sica" as it is known to the Lakota people, is a place of mystery, spirituality and natural beauty. Located near Wall, South Dakota, the Badlands National Park consists of 244,000 acres of sharply eroded buttes, pinnacles and spires blended with the largest, protected mixed grass prairie in the United States.
Once home to ancient marine life, early mammals and now bison, bighorn sheep and ferrets, Badlands National Park is a must-see stop filled with painted canyons and photo opportunities.
One million visitors are attracted to the park's 244,000 acres each year, which are divided between three units for hiking and exploring. The Stronghold and Palmer Creek Units to the south are also part of the Pine Ridge Indian Reservation. An entrance fee is required to enter Badlands National Park, and is valid for 7 days.
Courtesy of: South Dakota Department of Tourism. 1880 Town - Midland, SD
South Dakota's Original 1880 TOWN has more than 30 buildings from the 1880 to 1920 era, authentically furnished with thousands of relics, historical accounts and photographs, a Casey Tibbs exhibit, Dances with Wolves movie props, and fun activities for kids. Walk down Main Street of this 1880 town and explore more than 30 buildings authentically furnished with thousands of relics.  Enjoy the rolling terrain of a sprawling homestead and envision life on the prairie.  While at the 1880 town, you can also view memorabilia from the late Casey Tibbs, a champion rodeo bronc rider, and many props that were used in filming the movie "Dances with Wolves".
In 1972 a gas station was built at this location along with forming an idea of an old west attraction. Later, an additional 80 acres was purchased. About that time a movie company came to a small town nearby to film an 1880 era movie. A main street set was constructed from old buildings and a number of Indian relics and antiques were borrowed from Clarence Hullinger, Richard's father. Winter set in and the filming was abandoned. The movie company returned home giving the main street set to Clarence for the use of his artifacts. The movie set was moved to the 80 acres and the 1880 TOWN was born! Along with the beginning of the 1880 TOWN began years of collecting what is now an authentic 1880 to 1920 era town from buildings to contents.  The displays and buildings range from Indian relics from the 1970's to the fourteen-sided barn built in 1919.  This history of the 1880 TOWN is just a snap shot of what you'll see and experience while visiting our attraction. We are constantly updating and adding items and buildings to the collection so make sure and plan to visit us soon!
24280 SD Highway
Midland, SD 57552