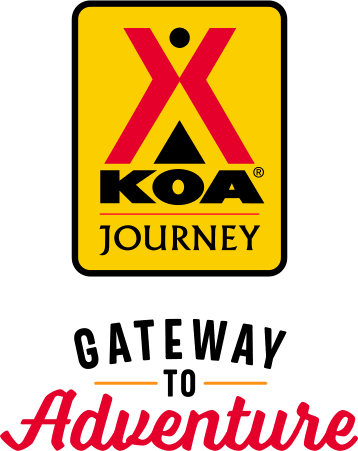 KOA Journey Campgrounds
KOA Journey campgrounds are the perfect oases after a day on the road. Whether it's along the way or a quick getaway, they've got you covered. Located near the highways and byways of North America with long Pull-thru RV Sites, they deliver convenience to the traveling camper. Pull in, ease back and take a load off.
KOA Journeys Feature:
Pull-through RV Sites with 50-amp service
Premium Tent Sites
Well lit after hours check-in service
Directions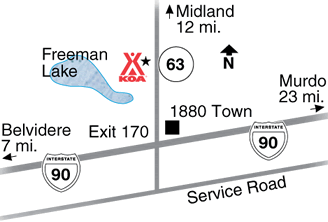 KOA is located (east or west) on I-90 at Exit 170.  Turn north, proceed 1/2 mile.  Campground is located on the left-hand side of the road.
Watch for the Belvidere East / Exit 170 KOA signs. KOA is at the same exit as the famous 1880's town. 
Our address is not GPS friendly. GPS: N43.89120, W101.14810
Get Google Directions
Oct 10, 2021
Great location, very nice owners and staff. We enjoyed our stay and stopped at the 1880's town nearby. Did not notice any heavy noise from I90.
Oct 09, 2021
Staff was friendly. Very clean sites. The Campground was far enough off the freeway that we got a nice quiet nights sleep ��
Oct 08, 2021
Hunted 6 days straight. Great facility to come back to
Oct 08, 2021
Traveling in the off season the hosts spaced out the RV's on the sites which was nice. Setting is nice with a lake and birds. Would use this KOA again. Hosts friendly.
Oct 08, 2021
Very nice!!!! Definitely will recommend this place!
Oct 08, 2021
Great place,owners and clean
Oct 07, 2021
Great people. They helped us out all they could to find people to repair our RV.
Oct 07, 2021
This was the most friendly and helpful people we ever encountered on our trip. We showed up without a reservation and they could not have been more accommodating. They treated us like old friends. Just the greatest. They were so sweet to our dog Walter and even gave him part of their dinner. LOL We would definitely stay here again and recommend it to anyone traveling through South Dakota.
Oct 07, 2021
The women's bathroom is in need of repair. Sinks were rusted. Floor was peeling exposing tile underneath. Had a pool , filled it in somewhat of an eyesore. Campground is located close to highway so it makes a good one night stay stop.
Oct 06, 2021
Best Wi-Fi of all KOA's on our 24day trip !!!!
Oct 05, 2021
We had a great time! One of the most peaceful campgrounds we have stayed at. ���
Oct 05, 2021
The place has an infestation of Box Elder bugs. I had to sweep off the outside of my RV to put the slides in. I feel that the owners could have sprayed them.
Oct 04, 2021
Good stay. Good service.
Oct 04, 2021
Great stay! Plenty of space. Cafe was convenient.
Oct 03, 2021
QUIET, well kept, and very clean KOA with cement pads that were dead-on level, outstanding hookups, great cable TV and superb wifi ... great overall facilities and very conveniently located just off 90W. Friendly owners who greeted us on arrival and wished us safe travels when we moved on! Highest recommendation!
Oct 03, 2021
We had a great one night stay on our way to the Black Hills. Check-in was easy and quick and the hosts were friendly and anxious to make our stay pleasant. We loved the well-equipped little store and option to order food and have it delivered to our site. Five stars for a fun experience!
Oct 03, 2021
Its quiet and we loved staying there coming from our home in Tennessee in August and returning to our home in Tennessee in September. Its not fancy and doesn't need to be. Its neat friendly and peaceful. A huge positive is the food they offer in their little deli. Staff are very accommodating. We will stay there any chance we get. Itwas breezy both times we stayed. And we loved that.
Oct 03, 2021
Friendly Staff. Just parked overnight so did not use any of the facilities beyond the parking pad.
Oct 01, 2021
Very quiet, nice owners, lots of flies (better than mosquitos).
Oct 01, 2021
The staff was very friendly, knowledgeable, and helpful. Our Pizza order from the kitchen was delivered promptly and came as ordered. Will stay there again when traveling to the Black Hills.
Sep 30, 2021
We had the feel of camping on a prairie, but with a clean bathroom with showers and laundry. It was also very convenient to Rt 90.
Sep 30, 2021
Overnight stay. Staff very friendly and helpful. Site nice with ample room
Sep 29, 2021
Very Nice Staff!
Sep 29, 2021
Checked in and campsite was full of Flies and Hornets. Cable TV didnt work. When I was walking my Dogs around the Campground a Workers Dog was off the leash and came after us. I guess rules are only for paying customers. I wouldn't recommend this campground to anyone.
Sep 28, 2021
Great service
Sep 28, 2021
Great campground. Friendly host and as a bonus a great kitchen. Nothing like having your food brought to your door after a long day on the road
Sep 27, 2021
Robert and Lisa fantastic hosts. Facility extremely clean and very quiet. Would recommend this KOA highly.
Sep 27, 2021
Easy to get to. Everyone was so friendly and helpful. They have meal service and we got hamburgers for lunch and a super spaghetti dinner with a salad and rolls for dinner delivered hot to our door. Close to 1880 replica of a pioneer town. Quiet nice place to stop.
Sep 27, 2021
We were greeted late at the office (7:30 pm) by the friendly staff, who took us to our camp site and explained everything we needed to know. They even collected our garbage bag at our campsite before leaving the next morning! Great place to stay! We would definitely stay there again…
Sep 26, 2021
Nice place. Friendly staff. Large pull through spots, with a lot of room between trailers. Enjoyed the lake, see birds flying in.
Sep 26, 2021
Guided to my site. Ordered pizza when we arrived. Tasted great and was delivered to our site. Very kind gentleman helped me get my cable to work by updating my TV settings. That is true service!! Site was spacious and everything was in good working order. Can't say enough great things about our stay.
Sep 25, 2021
Peaceful prairie setting, very friendly staff. Really appreciated their cafe options and food delivery to my kabin after a long day on the road.
Sep 25, 2021
Very friendly owners. Sites were large
Sep 25, 2021
Wonderful campground and very friendly staff. Has a better store than most Camping World locations. Great stop over for one night on our trip west.
Sep 24, 2021
We had to switch from a pull through site from a cabin a few days before we were to arrive. They were very accomodating! We will definitely stay there at our next trip.
Sep 24, 2021
This is a great stop on the way to the Badlands and Black Hills. The food in the little cafe is really well done and delicious, and the people are very helpful, friendly, and accommodating. It is a quiet and peaceful setting and we enjoyed it.
Sep 24, 2021
very ciean campgrond the staff was awesome very helpful and friendly. would highly recommend
Sep 23, 2021
Great spot. Clean restroom. Nice people!
Sep 23, 2021
Staff were very friendly and helpful
Sep 23, 2021
Excellent food, good sites and dog area.
Sep 23, 2021
A nice convenient place to get off the road. Management was extremely courteous and knowledgeable about the surroundings. Campsites were clean and well maintained. Campstore had a variety of good food and well stocked supplies for those that needed to re supply. Would definitely recommend.
Sep 23, 2021
Beautiful campground. Friendly staff. They even deliver food to your campsite.
Oct 09, 2021
Stopped here on our way to the Badlands. The owners and staff were so very kind and clearly they are investing back into the park with improvements. We enjoyed the pizza they delivered to our site. The sunset on the prairie was beautiful. Very dog friendly and convenient to I90 and the 1880's town (also very dog friendly). Very good WIFI
- Carol Henderson on Google
Oct 06, 2021
We loved it here. Staff is exceptionally friendly, the camp restaurant is great, close to NP, very dog friendly, beautiful night sky.
- Maria Rominger (Threedogsandacatrv) on Google
Oct 03, 2021
The folks who run this place are exceedingly friendly and helpful (and they have a cute dog). We stayed in a comfy little cabin for two nights and had a great experience. No big stores nearby, so make sure you pack all you need for your stay. The camp store has some extra food, small supplies, and souvenirs.
- Sigrun Fenris on Google