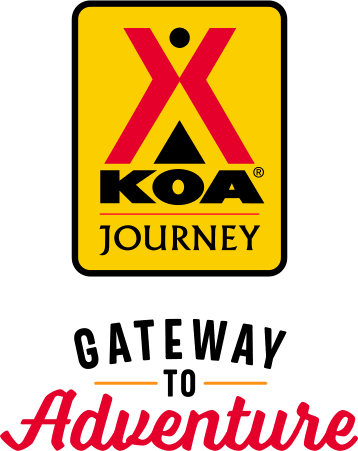 KOA Journey Campgrounds
KOA Journey campgrounds are the perfect oases after a day on the road. Whether it's along the way or a quick getaway, they've got you covered. Located near the highways and byways of North America with long Pull-thru RV Sites, they deliver convenience to the traveling camper. Pull in, ease back and take a load off.
KOA Journeys Feature:
Pull-through RV Sites with 50-amp service
Premium Tent Sites
Well lit after hours check-in service
Directions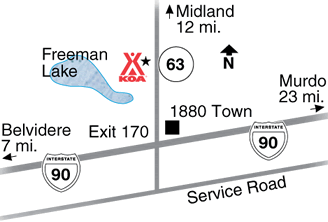 KOA is located (east or west) on I-90 at Exit 170.  Turn north, proceed 1/2 mile.  Campground is located on the left-hand side of the road.
Watch for the Belvidere East / Exit 170 KOA signs. KOA is at the same exit as the famous 1880's town. 
Our address is not GPS friendly. GPS: N43.89120, W101.14810
Get Google Directions
Nov 14, 2020
It's a quiet campground a 1/2 mile off the interstate surrounded by fields and a small lake. The quiet is what brings us back each time as we're traveling. Very peaceful area. We've stayed there 3 times this past year as we travel between states. Friendly, accommodating staff ready to assist in any way they can. One of the shower buildings could use some renovating but they are very clean.
Oct 23, 2020
Hosts were really helpful and friendly
Oct 20, 2020
We were driving through and needed a place for the night. They were very accommodating and we were able to stay for one night. Would definitely stay there again.
Oct 19, 2020
Friendly and helpful staff with a well stocked store, but no masks and little in the way of COVID safety. The campgrounds would be much more inviting in the summer as we awoke with 21 degree weather.
Oct 19, 2020
Best hosts ever!!
Oct 18, 2020
Very nice campground, clean facilities, friendly staff.
Oct 17, 2020
Check in person, please! Wear masks to stop this virus.
Oct 14, 2020
The hosts were very helpful and friendly. Due to its remote location they have a kitchen with menus for breakfast, lunch, and dinner. We ordered a Hawaiian Pizza. It was one of the best pizza we've ever had. THANKS.
Oct 14, 2020
We really appreciated the food that they delivered
Oct 11, 2020
Such a nice stay. Everyone was so helpful and friendly. Watching and listening to the red winged blackbirds in the marsh, put such a joyful end to my long day. (The pizza was a fun and surprising delicious treat!) Thank you! Wanda Booth
Oct 11, 2020
Quiet campground, even delivered us pizza!
Oct 10, 2020
One night stay while on the road. Rustic and simple. Simple on/off I-90.
Oct 08, 2020
The Wifi worked, the tent camp spaces were very large, and the store was very extensive, it was overall nice. We have been to KOAs with better facilities for washing dishes and greener grass for tent camping.
Oct 07, 2020
we were handed a flyswatter when we tolod the staff there were wasps in out cabin. There were also wasps in the bathroom in the toiletpaper rolls not a very clean place....
Oct 07, 2020
Other than the highway nice, it was great.
Oct 06, 2020
Well kept and maintained campground with a very friendly staff and clean accommodations. The on-site restaurant was a MAJOR welcome after a long day of driving in very high winds...delicious burgers! Lots of cattle nearby, and you could tell if the wind shifted, but it wasn't a big deal. We would happily stay again.
Oct 04, 2020
to many trees right at the corner of your turning radius for a big rig towing
Oct 03, 2020
One of the best! It'll be nice when all the freeway construction is over. We didn't try the food delivery service but so reassuring it was there if needed.
Sep 30, 2020
Staff was very friendly and helpful.
Sep 30, 2020
Great park with fantastic people. One of our favorites!
Sep 30, 2020
Very nice hosts. Escort to our camper was so kind! Clean campground.
Sep 29, 2020
Nice campground and staff. ZERO Covid precautions!
Sep 27, 2020
Great staff!! Very friendly and great service. Spot was level and plenty of room! Will stay there again!
Sep 27, 2020
Just there for the night but easy hookups and very quite. Thanks for having a dog playground
Sep 26, 2020
Friendly and helpful staff...much appreciated the delicious cheeseburgers!!
Sep 26, 2020
The Park was clean and the staff were very pleasant and helpful. We were guided to our site and offered help with setting up. A bonus, the office also offers cooked meals. They have a menu to choose from. We didn't partake but the office smelled fantastic during sign in.
Sep 26, 2020
Kind of odd that there is a key code to get into the restrooms and shower house. Made us think that they have had issues with vandalism or theft, just have never been to a campground that you had to enter a code to get in. Also there were hundreds of wasps when we were trying to set up.
Sep 25, 2020
staff not wearing masks for Covid. Trees overgrown and scraped motorhome. Did not use any of facilities. Very quiet. Dusty gravel entrance.
Sep 23, 2020
Great people and great campground.
Sep 23, 2020
Nice people! Cabin was good. Restrooms needed cleaning and some paper towels. Have stayed here many times ans will again.
Sep 23, 2020
This was a nice campground. The sites were quite large with grass and level gravel for the trailer. Not at all like most that are like parking lots with all gravel and close together. The staff were friendly, they had a menu to order food if you wanted and they delivered it to your camper. Great place. Unfortunately I gave this review to a different KOA campground by mistake.
Sep 22, 2020
It was a very good overnight stop. Easy access to the interstate. Nice people. We didn't use bathroom or laundry but what we saw was clean and well kept.
Sep 22, 2020
Friendly staff and good WiFi
Sep 22, 2020
Very nice, extremely good people there managing the campground
Sep 22, 2020
Friendly and well-organized staff, clean and spacious area, and the pizza delivered to our campsite saved the day! We loved the location near the lake and got a great laugh at the camel on the way out.
Sep 22, 2020
Very nice place and everyone was very friendly
Feb 20, 2021
I have stayed at this KOA a number of times. Easy access to the Interstate. Amenities directly adjacent to the campground. The owners are very nice and grounds are very well maintained.
- Wayne Boulanger on Google
Dec 08, 2020
Seemed kind of expensive but the staff went above and beyond to help me out a few times while I was there. Plus there was an amazing sunset!!!
- Sarah Green on Google
Oct 07, 2020
We would stay here again just for the food! The location is great, with many historic sites to visit nearby, but for us it was just an overnight. After a long day of driving, it was nice to pull in, settle into a site, and order a great meal (spaghetti and meatballs, cheesy garlic bread, salad) delivered hot and fresh to our trailer. This is clean, friendly, and well-appointed KOA.
- Nancy Bennett on Google