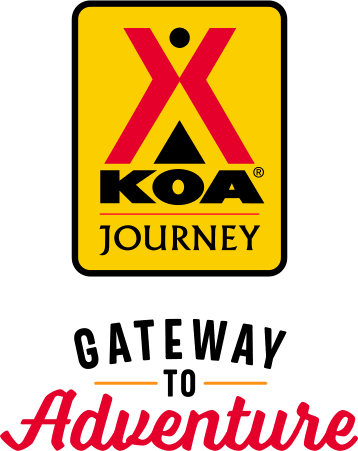 KOA Journey Campgrounds
KOA Journey campgrounds are the perfect oases after a day on the road. Whether it's along the way or a quick getaway, they've got you covered. Located near the highways and byways of North America with long Pull-thru RV Sites, they deliver convenience to the traveling camper. Pull in, ease back and take a load off.
KOA Journeys Feature:
Pull-through RV Sites with 50-amp service
Premium Tent Sites
Well lit after hours check-in service
Directions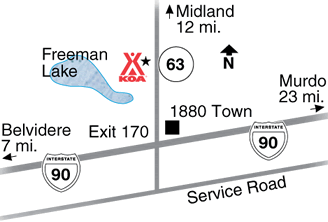 KOA is located (east or west) on I-90 at Exit 170.  Turn north, proceed 1/2 mile.  Campground is located on the left-hand side of the road.
Watch for the Belvidere East / Exit 170 KOA signs. KOA is at the same exit as the famous 1880's town. 
Our address is not GPS friendly. GPS: N43.89120, W101.14810
Get Google Directions
Jul 23, 2021
Staff was incredible!! We were on the road 12 hrs - made it to the cam exhausted - they let us know right away that we could get super there - they even delivered it to our camp site!! AWESOME place!!!! We will be back!!!!
Jul 23, 2021
We had a wonderful stay! The showers were clean and nice. The pet area was great. We really enjoyed the KOA Cafe. The food was great and it was so nice to have it delivered to our campsite. Everyone who works there is so friendly and helpful!! We definitely would stay there again.
Jul 23, 2021
Very nice campground. We shall return!!
Jul 22, 2021
Great stoping point on our trip. Friendly helpful staff. Next door to an old west town that was worth checking out.
Jul 22, 2021
What a great stay! Friendly and accommodating staff to greet you and help with anything you need. Deluxe cabin was clean and very comfortable.
Jul 22, 2021
Owners are great - re-opened the store to make sure we could get what we needed after a late arrival.
Jul 21, 2021
Easy to get to. Just off the freeway. Very friendly. Easy parking. Would stay here again!
Jul 20, 2021
Clean, quiet, very friendly and helpful staff. Well stocked store and great food. Will definitely recommend as a halfway point to the Black Hills and will definitely return if we do this vacation again. Staff definitely make or break a place and yours make it a great place. Thank you!
Jul 20, 2021
This is a very nice KOA with friendly people working there. We had food delivered to our site one evening, very good! We enjoyed our stay!
Jul 20, 2021
Great staff! Out in the middle of the prairie, but these Folks knew how to take care of you. They had a delicious food menu, since there are no close restaurants around. Their Hawaiian pizza was the best we have ever eaten, and we have lived in Hawaii. A great place to stay!
Jul 20, 2021
Very friendly and delivered our food to our campsite when it was ready.
Jul 19, 2021
It was such a lovely campground and so quiet. I will stay here again if I am in the area.
Jul 19, 2021
Son recommended it, we were delighted by it. Cabin great. Wifi strong in cabin. Showers and restrooms clean & functional. Staff was remarkable. Not only were they friendly & helpful, they shared a camaraderie that was a joy to see. That dynamic showed in every aspect of our short stay. Best KOA I've been to yet. Not sure when we'll return to South Dakota, but will definitely stay here again!
Jul 19, 2021
We stopped here on our way home as it was the right distance between our 2 destinations. This was a good place. There was construction in one of the men's restrooms so he had to walk a bit more to get to the bathroom and there were a couple of sinks in the women's bathroom that looked a bit rusty but otherwise it was fine. The trees were few and far between.
Jul 19, 2021
Beautiful campsite. Friendly, welcoming staff. Delicious, refreshing food. Best burgers we've ever had and the most delicious fruit smoothies.
Jul 18, 2021
The staff was great! The park itself needs maintenance and updating and the sites are not appropriate for a tow and a vehicle - too short.
Jul 18, 2021
The pool was not in service, otherwise a good park with good service
Jul 18, 2021
Staff couldn't have been more friendly and helpful. The site was beautiful and clean! Best experience ever! Thank you staff!
Jul 18, 2021
Our stay was fantastic! Loved the campground!! The food was good too! And all of the staff werewolf friendly.
Jul 18, 2021
Just a lay over but wished we could have stayed longer
Jul 17, 2021
Knowledgeable & helpful staff. Nice clean accommodations.
Jul 17, 2021
Everyone was very friendly and helpful! We loved our little cabin too. Thanks for a great stay!
Jul 17, 2021
We had a very pleasant stay at Belvidere East. They staff was very friendly, the sites were large and they guests were nice. The biggest drawback was distance you grocery stores and gas stations. The pool needs to be repaired and they need to let people know about the road construction getting to the place from the south
CAMPGROUND RESPONSE / COMMENTS:
Thank you for your visit at our campground. We have updated our website to show an alert for the construction on I-90 and 83. We try to maintain many items in our store to help accommodate for the distance to grocery stores. Unfortunately we are located in the middle of the prairie grasslands.
Jul 16, 2021
was only an overnight stay but it is a very nice clean campground and the staff is super friendly and helpful
Jul 16, 2021
Everyone was so nice and the FOOD Was Excellent, Ron was a big help setting up our rig. Thanks All
Jul 16, 2021
The campground was adequate for our needs, as we arrived around 10 pm and left at 9 am the next morning. It was a safe place to sleep overnight, charge our batteries, and fill our water tanks, although the price was somewhat high for what we got. I don't think it would be a great destination campground for a longer stay. The employees were friendly and helpful!
CAMPGROUND RESPONSE / COMMENTS:
Thank you for your stay with us. We are a KOA Journey. I'm not sure if you are aware there are 3 types of KOA campgrounds: Journey, Holiday and Resort. We are Journey KOA we do not have as many amenities as other KOA's and are designed for mostly overnight stops.
Jul 15, 2021
This was the best experience of customer service we have had since we have been RV'ing. The moment we walked into the office to check in to the moment we walked in to check out, we felt welcomed! Great staff, great KOA. Highly recommend but reserve early because it was full every night we were here.
Jul 15, 2021
We stayed twice this last month, on our way to and from a rally. We expected something much better. The staff is very friendly and the laundry and bathhouses are clean, but we didn't have a concrete pad either time and the park is run down. There are very nice campgrounds right off 90 in the area for less money. Sorry for this review, but KOA must adjust their prices. They are too high.
Jul 15, 2021
We had a very nice stay here. It was quiet, had SCREAMING internet and the sites were level. The electric and water were great and the dump station was available to us if needed. Are there some things they are working on? Yes. When they are able to get the pool up and running, that will be a bonus. But their customer service, their on-site restaurant and the fast internet was what we need
Jul 15, 2021
Very nice KOA. All the staff were very helpful and friendly and after a long day of driving, they delivered dinner to the RV. The bathrooms were nice and clean. The one drawback, the pool was in disrepair and out of service.
Jul 15, 2021
Friendly staff, wide open sites. On site kitchen. Only thing-dog park could benefit from a fresh coat of paint.
Jul 14, 2021
very friendly staff ... sites nicely spaced / not right on top of each other .... a few trees but not many .... this location provides hot food thru the "KOA Cafe" ..... thanks for the food option since there is nothing close by ..... our food was good ... camp store is very well stocked with a variety of useful supplies ... BUT restrooms need updating and 1 of the men's was closed.
Jul 14, 2021
Very friendly service from the camp hosts!
Jul 14, 2021
It was our 2nd visit. We would stay again
Jul 13, 2021
Staff was excellent. Disappointed there was not a working pool. Would stay again.
Jul 13, 2021
We've stayed here 3 times. Love this place. The staff are all professional & helpful and people you'd like to be friends with! Definitely will be back again��
Jul 13, 2021
The staff, friendly. The food, yummy. The site, small but adequate. My one negative..a t-shirt sold in the Campstore titled "12 Reasons Handguns are Better Than Women".The list was very offensive, including statements such as "You can buy a silencer for a handgun" and "Handguns function normally every day of the month". Is this the message you want to put out women and young girls? Ple
Jul 13, 2021
This was our first stay at a KOA. Everything was better than we imagined. Clean grounds, clean showers and bathrooms. They were extremely busy when we checked in but were still very friendly and patient. We hope to stay again!
Jul 17, 2021
Best experience ever. Staff was unbelievably friendly. Prettiest site we've ever been to. Thank you staff!
- David Levitt on Google
Jul 16, 2021
1/2 mile off I-90 so very quiet. Site's are good size and staff is very friendly.
- Brett Smith on Google
Jul 16, 2021
Traveling across country, we stopped at this KOA. Staff was congenial and very helpful. The campground was very scenic positioned next to a small lake. The birds in the reeds on the edge of the lake sang all evening. Many areas to walk the dog. Although I didn't use the fenced in dog park, there was one of a nice size. Would stay here again!
- joanebers2000 on Trip Advisor