Local Area Attractions Near Belvidere East / Exit 170 KOA Journey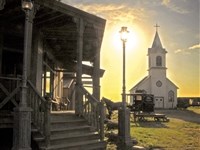 1880 Town
Murdo, SD
DISCOUNTED ADMISSION
Walk down Main Street of this 1880 town and explore more than 30 buildings authentically furnished with thousands of relics. Enjoy the rolling terrain of a sprawling homestead and envision life on the prairie. While at the 1880 town, you can also view memorabilia from the late Casey Tibbs, a champion rodeo bronco rider, and many props that were used in filming the movie "Dances with Wolves". Be sure to visit the Long Horn Saloon for a cold sarsaparilla, the gift shop, and the diner for lunch specials. The 1880 Town is hard to miss with easy access off I-90 and a large parking area for buses.
Tour: length: self-guided as long as wanted
Open: May 1 - October 31
Hours: Dawn until Dusk
Courtesy of: South Dakota Department of Tourism.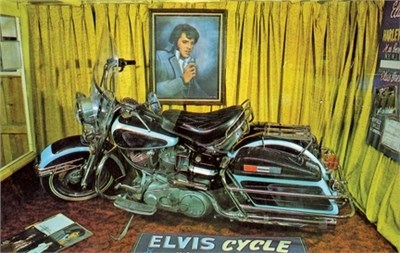 Pioneer Auto Show
Murdo, SD
DISCOUNTED ADMISSION.
Pioneer Auto Show and Prairie Town
For a genuine slice of Americana, stop in Murdo and visit the Pioneer Auto Show and Prairie Town to take a nostalgic journey into the past. Established in 1954, and known as "The Big Variety Show", this an unrivaled celebration of America's romance with the automobile, and includes motorcycles, tractors, scooters, and bicycles portraying the history of 20th century America through their incredible evolutions. Most of these wheeled antiques have automated recordings for self-guided tours.
Courtesy of: South Dakota Department of Tourism.
Wall Drug
Wall, SD
America's favorite roadside attraction, Wall Drug has been entertaining and educating the traveling public since 1931. Wall Drug has evolved into a 76,000-square-foot wonderland of free attractions. There is something for everyone at Wall Drug! AAA approved.
Courtesy of: South Dakota Department of Tourism.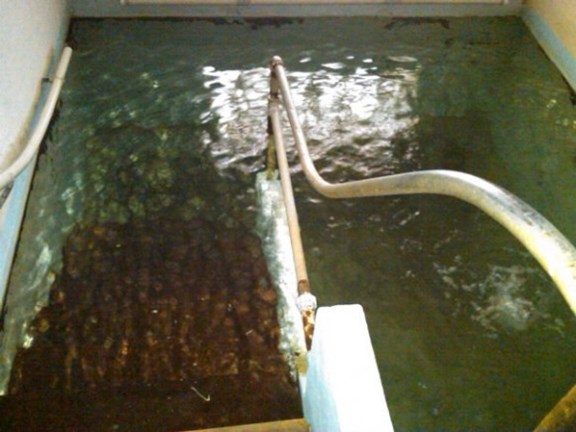 Hot Mineral Baths
Midland, SD
For over 70 years the hot mineral waters have run into the hotel's plunges to relive the body of aches and pains caused from muscular skeletal discomfort, trauma and disease. The healing waters have also been known to help with some skin disorders, respiratory issues, immune deficiencies by assisting the body own healing process through cleansing and detoxifying.
The mineral water comes from the ground at about 119 degrees F. Flowing to the plunges at about 30 gallons per minute, where it naturally arrives at about 105-109 degrees F. We use no other heating methods or chemical additives in the plunges. Just hot mineral water from the earth's natural source.
Courtesy of: Lava Water Hotel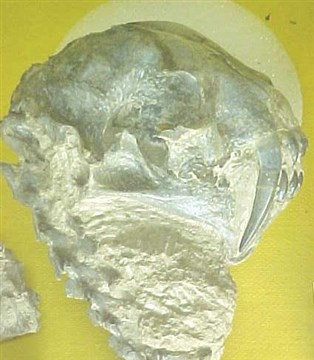 Badlands Petrified Gardens
While walking through the Petrified Gardens, you will be walking through the eons of time that the Badlands fossils, logs and minerals represent. The Badlands area has undergone dramatic climatic and geographic changes over the millions of years that they represent. It has changed from sea to swamp to grassland. The sea life fossils are 200 million years old; the petrified wood is 60 million years old; and the fossil mammals are 40 million years old.
Kadoka, SD
Courtesy of: South Dakota Department of Tourism.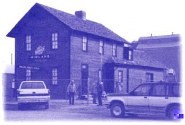 Midland Pioneer Museum
Dedicated to the preservation of the pioneer lifestyle, this museum features a homestead shack, pioneer machinery and pictures related to the historical past of the surrounding community.

Courtesy of: Midland Pioneer Museum.
South Dakota National Guard Museum
Pierre, SD
The South Dakota National Guard Museum's mission is to preserve and honor the history of the South Dakota Air and Army National Guard from the days of the Dakota Territory(1860's) to present with emphasis on various wars and conflicts. Our goal is to create a greater understanding of the significant role played by the South Dakota National Guard.
Courtesy of: South Dakota Department of Tourism.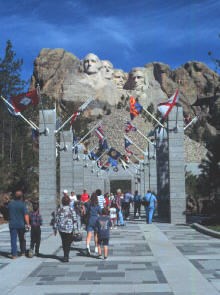 Mount Rushmore National Memorial
This epic sculpture features the faces of four exalted American presidents: George Washington, Thomas Jefferson, Theodore Roosevelt, and Abraham Lincoln.
South Dakota's Black Hills provide the backdrop for Mount Rushmore, the world's greatest mountain carving. These 60-foot high faces, 500 feet up, look out over a setting of pine, spruce, birch, and aspen in the clear western air.
Courtesy of: South Dakota Department of Tourism.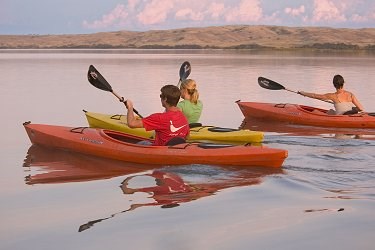 Missouri River
Running vertically through the middle of South Dakota, the Missouri River is a naturally beautiful attraction that offers boundless recreational opportunities.
History and Recreation
It served as part of the trail Meriwether Lewis and William Clark took as they explored the new territory, making history a vital part of the communities that line the river.
In addition to historical attractions, visitors to the river take advantage of hiking, biking and camping, as well as water activities such as fishing, kayaking and skiing.
Courtesy of: South Dakota Department of Tourism.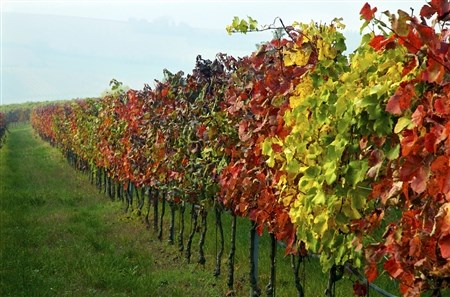 ChrisaMari Vineyards
Pierre, SD
To be the best and most enthusiastic people we know and live a life that is exemplary in the eyes of friend and foe alike. We want to be known for our honesty, integrity, fairness, compassion, generosity, and wrap that up in a package of thanksgiving and helpfulness in a Godly wrapper. To pass on a legacy to our children and grandchildren of Godly values, for them to be the best they can be, that they would desire to take our best qualities and make them their own.
Courtesy of: South Dakota Department of Tourism.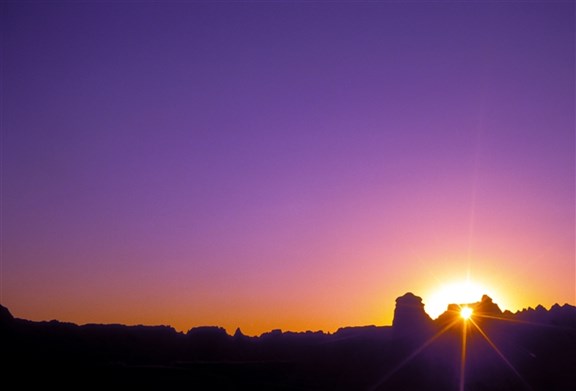 Badlands National Park
Millions of years of wind, water and erosion have created the chiseled spires, deep canyons and jagged buttes of Badlands National Park in South Dakota.
On-going rains, freezes and thaws have revealed millions of years of sediment that paint a colorful landscape on the prairies of southwestern South Dakota.
When the Lakota first encountered the striking, moon-like landscape, they aptly called the area "Mako Sica" or "bad land." Early French trappers also described the area as "bad land" after difficult travels over the rugged terrain. Today, visitors to Badlands National Park in South Dakota can explore this natural wonder on foot, on horseback or by car as they travel the scenic loop or roam the many trails.
Courtesy of: South Dakota Department of Tourism.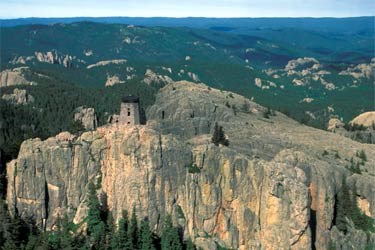 Black Hills National Forest
Sky-piercing granite peaks and forested mountains dominate the skyline of western South Dakota.
Paha Sapa
America's oldest mountains rose above the surrounding flatlands 60 million years ago, about the time the dinosaurs disappeared, and even after eons of erosion their granite peaks still soar as high as 7,242 feet to the dizzying heights of Harney Peak. The Lakota Sioux named the area Paha Sapa or Black Hills because a thick forest of pine and spruce trees cover the slopes making them appear black from a distance.
Outdoor Adventure
Black Hills National Forest stretches for 1.2 million acres, offering outdoor adventure like hiking, biking and camping amidst stunning scenery. Find grassy mountain meadows, towering granite peaks, deep canyons, cascading trout streams and clear, clean lakes.
Courtesy of: South Dakota Department of Tourism.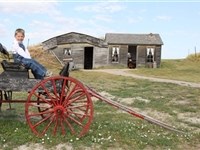 Prairie Homestead
Wall, SD
Journey into the visual memories of homestead days at the Prairie Homestead. Experience the original "green" home just north of the Badlands of South Dakota. Fun for all ages. Explore a typical sod homesteader's life in pioneer clothing. A real western adventure including farm animals and rare white prairie dogs.
Courtesy of: South Dakota Department of Tourism.
Custer State Park
Few truly wild places remain in this country. Custer State Park is one of them. Located in the Black Hills of South Dakota, the park is home to a variety of wildlife and magnificent scenery spanning 71,000 acres.
Courtesy of: South Dakota Department of Tourism.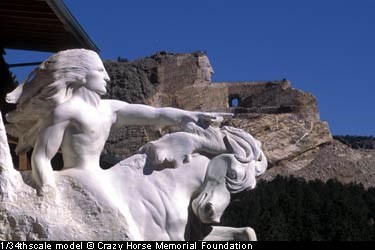 Crazy Horse Memorial
"My fellow chiefs and I would like the white man to know the red man has great heroes, too."
These are the words Chief Henry Standing Bear wrote to sculptor Korczak Ziolkowski in 1939 urging him to come back to the Black Hills and carve a mountain sculpture honoring American Indians.
Ziolkowski arrived in the Black Hills in May of 1947. He worked on the mountain until his death on October 20, 1982. His family continues the dream and work progresses on the world's largest mountain sculpture. When finished, Crazy Horse will stand 641 feet long and 563 feet high.
Courtesy of: South Dakota Department of Tourism.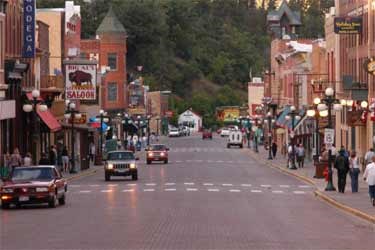 Deadwood
Deadwood puts you and your family in the middle of history. The entire city of Deadwood is a national historic landmark.
Authentic re-creation of turn-of-the-century street lamps light the way through accurately, carefully restored architecture.
The Wild West
The famous and infamous have left their marks here. Follow their footsteps as you explore the beauty and history of this one-of-a-kind Wild West town.
Courtesy of: South Dakota Department of Tourism.
Minuteman Missile National Historic Site
In 1961, the United States Air Force began burying top secret weapons beneath the prairie grasses of South Dakota.
The Minuteman Intercontinental Ballistic Missiles were designed to unleash massive destruction against America's enemies. Although never launched, these weapons were a powerful deterrent during the Cold War.
Cold War Site Preserved As National Park Service National Historic Site
Courtesy of: South Dakota Department of Tourism.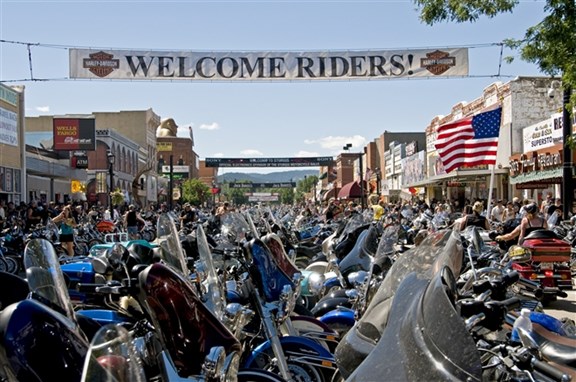 Sturgis Motorcycle Rally
Sturgis, SD
The Sturgis Motorcycle Rally is one of the world's oldest, largest, motorcycle gatherings, offering incredible riding. Exhibitors, motorcycle shows, demo rides, racing, concerts, and much more. Find out why this international phenomenon draws motorcycle legends, superstars, and hundreds of thousands of enthusiasts each year and is listed as one of the "1,000 Places to See Before You Die."

Thousands of cyclists converge on South Dakota's Black Hills each August for the Sturgis Motorcycle Rally, touring scenic roads, attending concerts and races, and enjoying the spectacle of the gathering. Chrome and horsepower gather each August for the Sturgis Motorcycle Rally in South Dakota's Black Hills.
Courtesy of: South Dakota Department of Tourism.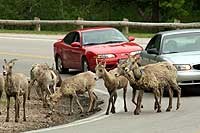 South Dakota Scenic Byways
Native American Scenic Byway, Peter Norbeck National Scenic Byway, Spearfish Canyon State and National Forest , Service Scenic Byway, Badlands Loop State Scenic Byway, Wildlife Loop State Scenic Byway
Courtesy of: South Dakota Department of Tourism.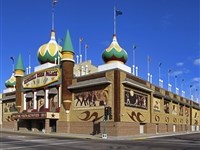 Corn Palace
Corn Palace, Mitchell, South Dakota.
During the summer months the World's Only Corn Palace in Mitchell, SD offers free guided tours led by friendly guides full of a-maize-ing facts (like how many nails and staples are used in the decoration process). The tour also features an outstanding video explaining the Corn Palace story. After the tour you can view displays about the Corn Palace, watch murals being created outside (Monday through Friday from 7 a.m. to 3 p.m.), check out what entertainment has played the Palace in the past, learn how the different colors of corn are grown, and shop for souvenirs in our large gift shop.
The theme for 2012 is Saluting Youth Activities. The new murals started to go up in June 2011 and will continue to be created until about September 2011. The process takes most of the summer because we have to wait for four different crops to be ready to harvest: milo, sourdock, rye and, of course, 12 different colors of field corn!
Courtesy of: South Dakota Department of Tourism.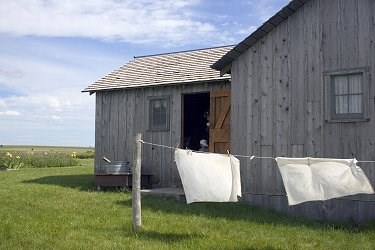 Laura Ingalls Wilder
A trip to De Smet, takes visitors to the homestead of famed author, Laura Ingalls Wilder.
Little House Book Series
The area was featured in several of her Little House series books, including "By the Shores of Silver Lake," "The Long Winter," "Little Town on the Prairie," "These Happy Golden Years" and "The First Four Years".
Courtesy of: South Dakota Department of Tourism.
Falls Park
This natural beauty on the Big Sioux River gave the city of Sioux Falls its name and, like a lot of places in South Dakota, it has a long history.
Visitors enjoy the scenic beauty, as well as the remnants of some of Sioux Falls' earliest buildings.
Queen Bee Mill
In pioneer days the falls were tapped for water power to run the Queen Bee Mill, built in 1887. The foundation of the mill is still visible, as well as a hydroelectric plant built in 1908. These structures offer a glimpse into the area's history, while the Falls Park Visitor Information Center, featuring a five-story observation tower and elevator, provides information on Falls Park and other Sioux Falls attractions.
Courtesy of: South Dakota Department of Tourism.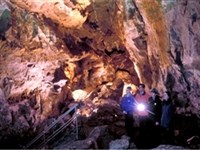 Black Hills Caves
Of all the caves in the United States, none contain the vast variety of rare formations found in Black Hills caves.
These caves display more box work than any other in the world. They also form some of the largest concentrations of passageways in the world. Eight Black Hills caves are open to the public. Two are part of the National Park Service: Jewel Cave National Monument and Wind Cave National Park.
Courtesy of: South Dakota Department of Tourism.
Wounded Knee the Museum
Wall, SD

Wounded Knee, The Museum, serves as a memorial to those who lost their lives at Wounded Knee Creek, December 28, 1890. The Museum's primary mission is to provide and advance knowledge about our shared history, and to assist in preserving the memory of the victims by encouraging visitors to learn and reflect on the events surrounding the massacre of the Lakota.

Courtesy of: South Dakota Department of Tourism.