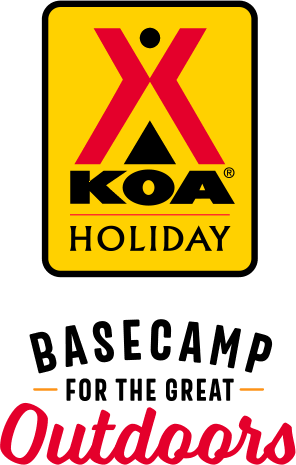 KOA Holiday Campgrounds
Whether you're exploring the local area or hanging out at the campground, KOA Holidays are an ideal place to relax and play. There's plenty to do, with amenities and services to make your stay memorable. Plus, you'll enjoy the outdoor experience with upgraded RV Sites with KOA Patio® and Deluxe Cabins with full baths for camping in comfort. Bring your family, bring your friends, or bring the whole group – there's plenty of ways to stay and explore.
KOA Holidays Feature:
RV Sites with a KOA Patio®
Deluxe Cabins with full baths
Premium Tent Sites
Group meeting facilities
Directions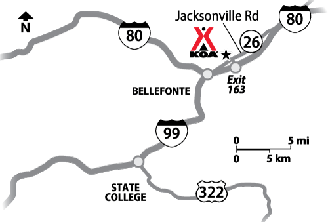 I-80 Exit 161: 2 miles on PA 26 North
From State College, PA: Follow I-99 North. Past I-80 interchange onto PA 26 North 2 miles.
Campground is NORTH of I-80. GPS may try to take you south.
GPS: N40.96275, W77.68725
Get Google Directions
Oct 13, 2020
We had a great time with the Halloween activities that were planned, the bounce pillow, the gem sand bag, playgrounds, etc. The bathrooms were very nice and I loved the street lights as well. It was a great experience we'll definitely be back! Thank you!
Oct 13, 2020
We had a 30 amp site with a pop-up. Great location, beautiful fall colors, really great facilities. It's my 4th or 5th time staying there...always enjoy it.
Oct 12, 2020
Love the KOA!
Oct 12, 2020
Very clean and we'll kept. Great time.
Oct 12, 2020
Friendly staff, clean and modern facilities. Best place we have camped yet. Well done!
Oct 05, 2020
Excellent site, staff, and activities
Sep 24, 2020
It was camping, what is there not to like?
Sep 19, 2020
The bathrooms were so nice! Having an individual bathroom was great and it was so obviously clean. Very enjoyable stay!
Sep 19, 2020
Very nice and frendly camp ground. Site was very nice and clean. Bathrooms and showers were excellent.
Sep 18, 2020
Clean, friendly, cheap. Reasonably remote tent sites. But the place is right next to I80 and very loud. Trucks engine braking all night.
Sep 15, 2020
This was the nicest KOA that I've been to out of the 6 that I've stayed. Tent pad was very level and raked. The fire ring was completely cleaned. Bathrooms were fantastic and there were plenty. It was very welcoming after a 7hr drive!!
Sep 09, 2020
People were friendly, the campsite had ample room. Bathrooms were clean. Special shout out to the young girl with purple hair that picked up the snake and showed us! Loved the camping kitchen. Lots of activities however due to COVID we did not participate. Looking forward to our next trip to Bellefonte
Sep 09, 2020
We LOVE your campground!! Cleanest and nicest bathrooms of any campgrounds we have stayed at.
Sep 09, 2020
Wonderful family friendly activities and clean facility!
Sep 08, 2020
The staff was very friendly and accommodating. We moved tent sites to get out of some standing water from the rain. The tent sites were well spaced out and easy to unload and set up. The bathrooms/showers were very clean.
Sep 08, 2020
Staff is very friendly and helpful. Campground facilities are clean and grounds are well maintained. Always a pleasure to stay here.
Sep 08, 2020
This was our first time camping together as a couple and the first time either of us camped at a KOA. We had an amazing time!!! The grounds were very neat and clean. We loved the Kamper's kitchen and the bathhouse!! I had issues with one shower being very forceful and it was addressed immediately. The activities were abundant, enthusiastic and fun. We are KOA Kampers from now on!! Thank you
Sep 07, 2020
Nice clean campground
Sep 03, 2020
Lovely grounds. Well kept. Great amenities. Friendly staff. We'll happily use them again!
Sep 02, 2020
Quite weekend. All ways have good time there.
Aug 31, 2020
Staff is nice and friendly! Great place to spend family time and lots of activities to do. We will definitely stay here again!
Aug 29, 2020
Very beautiful and peaceful. The stars sparkled in the night sky. Breathtaking!
Aug 27, 2020
Was a nice place to stay for a night only thing is we could hear highway traffic all night long.
Aug 24, 2020
Very nice facilities but some of the tent sites are rather exposed. Additionally, many tent pads are very rocky and could use some work.
Aug 17, 2020
It was our first stay! It was an amazing experience and our kids loved it there!
Aug 17, 2020
The campground was great! My only issue was with the spot for the tent. The spot for the tent was on a slop and very rocky. Other than that it was fantastic! Great activities and amenities Very clean and organized. Can't wait to stay again!
Aug 17, 2020
Awesome private but not isolated tent site.
Aug 14, 2020
We only spent the night, but it was very nice. The bathrooms were clean and the sites were large and clean.
Aug 10, 2020
Very nice people and lots to do for kids
Aug 09, 2020
Very clean bath house, fantastic pool and awesome socially distanced hay ride
Aug 04, 2020
Great, clean campground, with plenty of space in all the sites. Plenty of clean bathrooms and access to trash and pet areas with poop bags and bins. Our site was nice and flat and check-in was easy, and it was right near the highway in a beautiful, wooded location with pretty mountains nearby and free wifi. This was our first KOA stay, but it won't be our last!
Aug 02, 2020
We had a wonderful week at the Bellefonte KOA! I would have like to see more activities during the week, but I understand that there are more people on the weekend and that's the best option for you, but with the social distancing, it was not easy to get to all the activities. Also, we only stayed Monday through Saturday, so we missed some events. We still had plenty to do and had lots of fun!
Aug 02, 2020
Too close from other campers
Jul 31, 2020
Beautiful scenery, clean bathrooms, friendly staff and perfect for kids.
Jul 30, 2020
Excellent customer service at the front desk, from the initial call to checking in - very welcoming! The facility was very clean. My campsite had good privacy with a nice FLAT tent space. Well done.
Apr 23, 2021
New section is great with private bathrooms and showers a short walk.
- Gary Holler on Google
Mar 20, 2021
We love this campground! The staff is very friendly. So much to do for the kids! It's very clean and updated. We love tenting in the cooler days of summer and renting one of their cabins in the hotter days of summer. Def. recommend! Also very affordable!
- Sarah G on Google
Dec 23, 2020
Great lil place. Flat level sites. Hookups worked flawless. Check in was easy. Staff all friendly. Close to State College area.
- Explore A New Day on Google