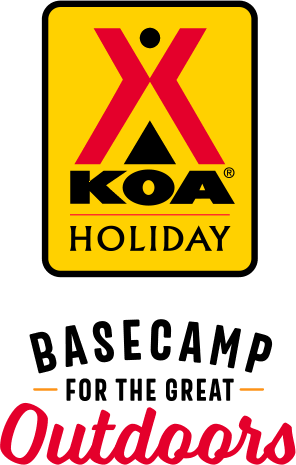 KOA Holiday Campgrounds
Whether you're exploring the local area or hanging out at the campground, KOA Holidays are an ideal place to relax and play. There's plenty to do, with amenities and services to make your stay memorable. Plus, you'll enjoy the outdoor experience with upgraded RV Sites with KOA Patio® and Deluxe Cabins with full baths for camping in comfort. Bring your family, bring your friends, or bring the whole group – there's plenty of ways to stay and explore.
KOA Holidays Feature:
RV Sites with a KOA Patio®
Deluxe Cabins with full baths
Premium Tent Sites
Group meeting facilities
Directions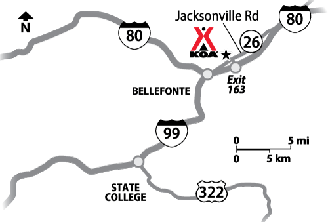 I-80 Exit 161: 2 miles on PA 26 North
From State College, PA: Follow I-99 North. Past I-80 interchange onto PA 26 North 2 miles.
Campground is NORTH of I-80. GPS may try to take you south.
GPS: N40.96275, W77.68725
Get Google Directions
Dec 04, 2020
Great place!
Dec 04, 2020
Very friendly and helpful staff. Clean, modern, and well maintained facilities. Looking forward to going back again next year.
Nov 25, 2020
Quiet, clean and well maintained. Excellent bath house.
Nov 14, 2020
Great campground!!! Nice amenities. Wish they had the BTN cable channel. Highly recommend some lighting on the steps leading into the Office/Store. My Sister-In-Law very nearly fell on those steps, as it was dark and no lighting. Very close call, that could have had a really bad outcome. No other issues.
Nov 10, 2020
One of the cleanest campgrounds we have ever stayed at. Fantastic bathroom facilities, lots of amenities and close to state college.
Nov 10, 2020
Great KOA, incredibly clean, very friendly staff.
Nov 09, 2020
Clean Campground, friendly staff, great place to camp!
Nov 09, 2020
We love Bellefont KOA. The staff are excellent and very accommodating with requests ,,! The new patio sites are excellent with the grills,patio set and the best fire pit !!!! Sad they are closed for the season. Can't wait till next year !!
Nov 09, 2020
Great time as usual! Only place we camped in 2020 and probably the only place next year as well.
Nov 09, 2020
We love this KOA! Cabins are clean and well cared for. Staff is friendly and accommodating. Campground feels safe, with family-oriented crowd. Our pet was welcome. We love to walk around the campground. This gets an A++ all around.
Nov 09, 2020
The sites were great, well maintained. Wash house was spotless!
Nov 09, 2020
Very nice campground with pull thru sites, patios, fire pits, gas grills and even patio furniture. The bathroom was spotless. Too bad we weren't there in the summer and we would have used the pool and other amenities. The campground is very well maintained, we will be back!
Nov 09, 2020
It was amazing! We love the beauty of the campground.
Nov 08, 2020
We always have fun at KOAs!
Nov 08, 2020
The inflated pad was an awesome surprise! We couldn't find any biking/hiking trails from the campground (we probably didn't look hard enough or ask) but if it's there would be great!
Nov 05, 2020
Loved this campground! So my for the kids to do!
Nov 05, 2020
stayed in the 'new' section - bathrooms are nicer than in my own home!! Glad you were open for our late-season stay.
Nov 05, 2020
Beautiful KOA. However we arrived after dark and it was very difficult to find our site due to low lighting.
Nov 03, 2020
Had a great time.
Nov 02, 2020
As usual very nice camping experience. Love the patios with weber grill and fire pit. Restrooms very clean. Hayride on Halloween was very nice and a fitting full moon!
Nov 02, 2020
As always, it was a great weekend! We can't wait to come back next spring
Nov 02, 2020
We were able to stay in the newer part of the campground. Great sites, and prefer to stay there when we come back.
Nov 02, 2020
Went for a Halloween weekend. Campground was nice and clean and quiet. We are repeat customers of this KOA and others and I will say in regards to Halloween, this was the only one who didn't do much for trick or treating for the kids. That was the only downfall compared to the others we stayed at in October (even with covid)
Nov 02, 2020
The 8pm trick or treat on Halloween was very disappointing.
Nov 02, 2020
We love the Bellefonte/State College KOA! We stay there several times a year. The patio spots are amazing, and there are always plenty of activities. The ice cream social with Penn State Creamy ice cream is our favorite!
Nov 02, 2020
Beautiful campground. Well maintained and clean facilities. Lots to do there. Several new pull through sites were added this year and a jumping pillow for the kids! Great staff, very friendly and helpful.
Nov 01, 2020
A wonderful setting. Staff member was excellent with swift check in. Campsite was clean with all amenities. Bathrooms with showers were spotless. An excellent experience for first time campers. One suggestion: add a quick photo guide to the campsite hookups (electrical, water, waste, etc.)
Oct 29, 2020
great patio site. Loved the weber grill. Wonderful parks nearby.
Oct 28, 2020
GREAT CAMPGROUND, FRIENDLY STAFF, OPEN PULL THRU SITES, DELUXE SITES ARE GREAT, NICE TABLE, PATIO, GRILL, BUILT-IN FIRE PITS, DOG RUN, PLENTY OF ROOM FOR NICE WALKS AROUND POND ETC. MANY THINGS FOR KIDS AND LOTS OF ACTIVITIES THE WEEKEND WE WERE THERE. LOVE IT HERE.
Oct 28, 2020
Beautiful setting and clean cabins. We also enjoyed the amenities and fall activities!
Oct 28, 2020
Very enjoyable! We had everything we needed and the cabin was very cozy! We appreciated the friendly staff at the office, made us feel right at home. Also loved the fire pit and the deck!
Oct 27, 2020
The cabin was cute and fit our needs, however we had a several small issues that when added up make us reluctant to stay at this particular KOA again. The bed was extremely uncomfortable and the heater only worked sporadically and was LOUD! Cigarette ash spewed up from the sink when we turned on the water and smelled awful. The cabin was clean and staff amazing, but it was a disappointing stay.
Oct 27, 2020
Clean well run campground. Helpful and pleasant staff. Lots of activities for kids.
Mar 20, 2021
We love this campground! The staff is very friendly. So much to do for the kids! It's very clean and updated. We love tenting in the cooler days of summer and renting one of their cabins in the hotter days of summer. Def. recommend! Also very affordable!
- Sarah G on Google
Nov 06, 2020
Beautiful patio sites and super clean campground. Will definitely return.
- Laurie Schell on Google
Nov 06, 2020
Fantastic campground with deluxe spaces complete with patios, weber grills, fire rings....and the swing was a nice touch! Rest rooms are very up to date and everything was very clean and well maintained. Nice people!
- Donita Rudy on Google