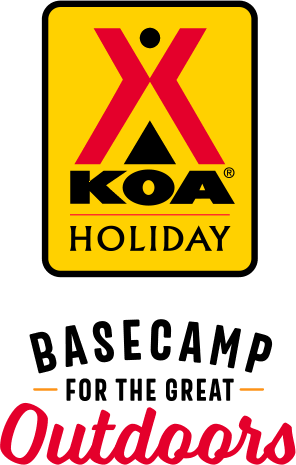 KOA Holiday Campgrounds
Whether you're exploring the local area or hanging out at the campground, KOA Holidays are an ideal place to relax and play. There's plenty to do, with amenities and services to make your stay memorable. Plus, you'll enjoy the outdoor experience with upgraded RV Sites with KOA Patio® and Deluxe Cabins with full baths for camping in comfort. Bring your family, bring your friends, or bring the whole group – there's plenty of ways to stay and explore.
KOA Holidays Feature:
RV Sites with a KOA Patio®
Deluxe Cabins with full baths
Premium Tent Sites
Group meeting facilities
Directions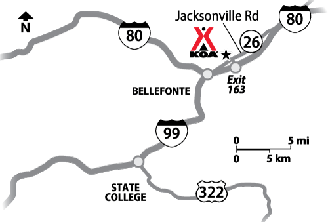 I-80 Exit 161: 2 miles on PA 26 North
From State College, PA: Follow I-99 North. Past I-80 interchange onto PA 26 North 2 miles.
Campground is NORTH of I-80. GPS may try to take you south.
GPS: N40.96275, W77.68725
Get Google Directions
May 03, 2021
Great place to stay. That part of the state is full of great roads if you're on a motorcycle. The camp is very clean and quiet.
Apr 26, 2021
We couldn't have asked for better hospitality than we found at this beautiful park. We had some special requests as we were trading in our coach for a new 5er, but Casey and the rest of the team helped us get it done with a smile. :D We will definitely be back... hopefully for a PSU game weekend!
Apr 20, 2021
Great weekend with my 4 adult children and their families. The camp is very clean and well maintained. Casey as well as the rest of the staff offers excellent customer service; they are very patient, courteous, and helpful. Great mini-vacation. My only suggestion would be to upgrade mattresses; some of them were pretty worn out. We will visit again!
Apr 20, 2021
Great stay .. only complaint is bathroom/showers could be warmer especially when it's cold. Thank you for a great stay!
Apr 19, 2021
I went camping with my 4 grown children and their families. We had a GREAT time. The cabins were very clean and comfortable and the staff couldn't have been more helpful. My grandkids loved the bouncing bubble and the stocked pond for fishing. Perfect weekend!
Apr 19, 2021
Great time, great staff! Super friendly.
Apr 10, 2021
Always a joy at the Bellefonte KOA! Wonderful clean cabins, friendly staff, quiet and peaceful stay!
Nov 10, 2020
Great KOA, incredibly clean, very friendly staff.
Nov 09, 2020
We love this KOA! Cabins are clean and well cared for. Staff is friendly and accommodating. Campground feels safe, with family-oriented crowd. Our pet was welcome. We love to walk around the campground. This gets an A++ all around.
Nov 08, 2020
We always have fun at KOAs!
Nov 03, 2020
Had a great time.
Nov 02, 2020
The 8pm trick or treat on Halloween was very disappointing.
Oct 28, 2020
Beautiful setting and clean cabins. We also enjoyed the amenities and fall activities!
Oct 28, 2020
Very enjoyable! We had everything we needed and the cabin was very cozy! We appreciated the friendly staff at the office, made us feel right at home. Also loved the fire pit and the deck!
Oct 27, 2020
The cabin was cute and fit our needs, however we had a several small issues that when added up make us reluctant to stay at this particular KOA again. The bed was extremely uncomfortable and the heater only worked sporadically and was LOUD! Cigarette ash spewed up from the sink when we turned on the water and smelled awful. The cabin was clean and staff amazing, but it was a disappointing stay.
Oct 26, 2020
Amazing...the activities for kids were amazing. Wish we could have stayed longer!
Oct 26, 2020
Very nice, as always. A great place to stay with the friendly staff and wonderful amenities.
Oct 24, 2020
Beautiful park in a great location!
Oct 21, 2020
We really enjoyed our stay. They had nice activities that my grandson loved. The deluxe site was Awesome! We would not hesitate to come back.
Oct 20, 2020
The cabin we stayed in was nice and clean, as were the facilities. The surrounding area was absolutely beautiful! We loved seeing the mountains every morning.
Oct 19, 2020
The Deluxe Kabin was very nice and cozy. Well maintained. The bed was a little squeaky, but not too bad. Heater was a little noisy too, but prob not much you can do about that. Staff is always so friendly! We have our dates booked for 2021!
Oct 19, 2020
We had so much fun! Beautiful campground and friendly staff We are already talking about coming back next year. Thanks so much!!!
Oct 17, 2020
Always WONDERFUL! But the mattress's in cabin #8 need replacing...like rocks !
Oct 12, 2020
Great first experience at KOA. The lodging and restrooms were kept clean. Lots of fun planned activities and the grounds were beautiful, people friendly. My only complaint was getting charged a $25 fee for late half day check out. I was under the understanding check out was 2pm (I got a call around 1:30p being asked about when we planned to leave). It was not posted anywhere :(
CAMPGROUND RESPONSE / COMMENTS:
We're sorry you didn't notice the check out time, but it is on the website, you're confirmation email, and the paperwork we gave you at check in. Check in time is 1pm, and when guests leave late it can cause a poor experience for the people staying the next night.
Oct 11, 2020
This campground is beautiful. We walked all over. The cleanest bathrooms ever!!
Oct 09, 2020
Very nice campground, clean showers and cabin!
Oct 07, 2020
Nice place. Had a nice hayride and a couple kids activities on Saturday. We stayed in the studio deluxe cabin. (K1) Very nice. Bed made a lot of noise. Couldn't even move your arm without it squeaking so we didn't sleep very well. Bathroom was clean. Nice fire pit area. Kids also did the mining activity. I would definitely visit again.
Oct 07, 2020
Great little cabin. Modern, bright, and very clean. My only "complaint," if you want to call it that, is there were no dishes, cups, paper towels, or even coffee filters. (Those items are usually there.) Granted, very understable given the pandemic but I wish I would have known ahead of time. I would have brought them.
Oct 07, 2020
Awesome as usual.
Oct 06, 2020
We had a relaxing and fun weekend. Weather was beautiful. There were fun activities set up for the kids to participate in. Would definitely recommend !
Oct 01, 2020
we were unable to go to the beach this year so we decided to book a cabin for the weekend. The cabin and fire pit was VERY nice and clean!we really enjoyed sitting by the fire at night. It was a bit cold but that is to be expected at this time of year.The only thing we weren't real thrilled with is some people chose not to wear a mask in the Store and the hayride was to full. no social distancin
Oct 01, 2020
Check in after hours was super easy and we were VERY thankful to have wood brought to us for a nice fire, as it was a perfect night. Really loved the built in firepit with lid (we've been to other KOAs and they aren't always that nice). Also love the deck with picnic table, although we didn't use it. VERY nice set up and our cabin was in a great location! Thank you for all you do.
Sep 30, 2020
Need more handicap bathroom with those deluxe cabins and stairs need to be handicapped and pool was closed plus cabin 10 needs a bigger fridge like a 14 cubic but can not think about any thing else have a good Day enjoy this fabulous Fall will be back next year
Sep 27, 2020
Cabin was very clean. Nice deck with fire pit along side cabin. Give it 3 stars though because could hear a lot of road noise from the highway and cabins were very close to each other.
Sep 26, 2020
Cabin could have been cleaner. Information about cabins should be more detailed on website.
Apr 23, 2021
New section is great with private bathrooms and showers a short walk.
- Gary Holler on Google
Mar 20, 2021
We love this campground! The staff is very friendly. So much to do for the kids! It's very clean and updated. We love tenting in the cooler days of summer and renting one of their cabins in the hotter days of summer. Def. recommend! Also very affordable!
- Sarah G on Google
Dec 23, 2020
Great lil place. Flat level sites. Hookups worked flawless. Check in was easy. Staff all friendly. Close to State College area.
- Explore A New Day on Google