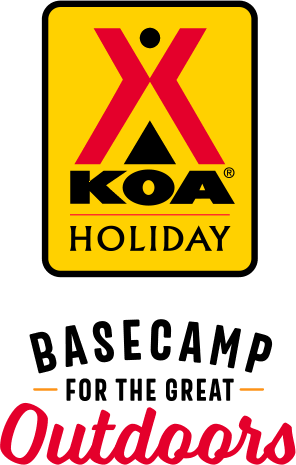 KOA Holiday Campgrounds
Whether you're exploring the local area or hanging out at the campground, KOA Holidays are an ideal place to relax and play. There's plenty to do, with amenities and services to make your stay memorable. Plus, you'll enjoy the outdoor experience with upgraded RV Sites with KOA Patio® and Deluxe Cabins with full baths for camping in comfort. Bring your family, bring your friends, or bring the whole group – there's plenty of ways to stay and explore.
KOA Holidays Feature:
RV Sites with a KOA Patio®
Deluxe Cabins with full baths
Premium Tent Sites
Group meeting facilities
Directions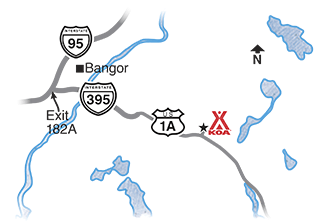 Off I-95 at exit 182A ( I-395) Take it to the end approximately 6 miles to Rte 1A Ellsworth/ Bar Harbor. This park is 3.5 miles on the left.  GPS: N44.755128, W68.659243
Get Google Directions
Jul 21, 2021
Very friendly Owner. Helpful too. Nice clean campground that was in a great location for us. Only 25 minutes to get to the lake. Will definitely stay here in the future.
Jul 21, 2021
Nice campsite and plenty of activity for the kids. Close to the town of Bangor. Perfect location to site see Maine. Employees was friendly and helpful. Great general store and pizza was convenient and great. Bathroom were clean regularly. Hot showers. I can't find a complaint about the place.
Jul 21, 2021
This park is not up to the standard that we have experienced under the KOA name elsewhere. Run down, crowded and cluttered. Spaces pictured on the booking page in no way accurately describes what you arrive to. Our RV was very close to touching the neighbors RV when our slides were out. Owner is portrayed as domineering and the police were there when we arrived. KOA, this shouldn't bear your nam
CAMPGROUND RESPONSE / COMMENTS:
The reason the police were here is that we have 4 police officers as seasonals. Some take their cars home with them. We like them here! As for cluttered, as we are running at 95% capacity, the park is busy not cluttered. Unlike other parks we allow our campers to have more than 1 car, like you had.
Jul 20, 2021
We loved all that this KOA had to offer, especially the pool, the ice cream shop, the cafe (lobster rolls), the clean bathrooms, and most of all the amazing owner/hosts. Chris and his wife went out of their way to make sure everyone had a fun time while there. Saturdays were full of activities for folks of all ages. This KOA store has the best inventory of any RV place we have stayed.
Jul 20, 2021
I loved the people at this KOA, the campers and the staff were very nice, and enjoyable. The pool could use some updating and the sites are a little close, but we still had a very nice stay and did not want to leave.
Jul 19, 2021
The fire ring should be the standard metal ring instead of having a collection of broken bricks and blocks stacked in a circle. It would look neater and be easier to maintain. The staff was friendly and helpful.
Jul 19, 2021
The campgrounds was clean and neat and the rest rooms were spotless. They were cleaned at least 3 to 4 times a day.The staff was friendly and helpful.
Jul 19, 2021
Our only request was to be with our family who were also camping, and we were put on the other side of the campground in a wet lot where the camper couldn't be leveled. Asked to be moved to the empty lot beside our family (same type of lot we reserved) and were denied.
CAMPGROUND RESPONSE / COMMENTS:
I am sorry that we were not able to accommodate you request to be next to your family. As everyone knows this is an extremely busy season and there were no sites left next to your family. When it rains over two inches over the weekend there is not much we can do. Also that site is level.
Jul 18, 2021
Staff were very friendly and gave us one of the last two spots they had left. Problem was with electric pole. Turned on microwave and blew power. They sent two young men with volt meter. Read 104 and I was told that was within tolerance. I was able to use my long 30 amp extension cord to plug into next campsite. Power was a little better. My neighbor next door had elect problems also.
CAMPGROUND RESPONSE / COMMENTS:
You had tenters on one side of you so I am not sure how they would have electric problems! When you took off your surge protector and plugged into the site next to you had no problems. We suggested you could plug into your site with the same results. The surge protector was the problem.
Jul 17, 2021
Great owners & staff. Sites were very nice
Jul 17, 2021
Even though the staff was wonderful and the campground very well-kept, I do not think that we would camp here again. 80% of the people there are either full timers or seasonal, and it was uncomfortable for me. Very few actual campsites. I just felt like I was intruding, rather than having a fun family camp time. Also, the sites were very small and cramped.
CAMPGROUND RESPONSE / COMMENTS:
Out of 120 sites 45 are seasonal sites. The site you were on accommodates a 36' trailer, and the site is 50 long, and yours is 30'.There is also 12' wide of grass until the next campsite. You are from Ohio and most likely will not be camping her again. Are you sure you have the right campground?
Jul 15, 2021
Love this campground. Cabin was perfect and easy to maintain a comfortable temp. Lots of stuff to do at campground as well as in local area
Jul 15, 2021
Overpriced and hard to get in and out with camper.
CAMPGROUND RESPONSE / COMMENTS:
Amazing, you booked on line and you knew what the price was. The site you had was a 75 foot pull thru site, which is angled to make it easier to pull into. Not sure you have the right campground.
Jul 14, 2021
We had beautiful weather, minus Elsa The staff was great, clean bathrooms and showers. Alot of things for the kids to do.
Jul 14, 2021
Love this campground so much we will be coming back real soon nice friendly people there too and stuff
Jul 13, 2021
Helpful frontdesk. Our geo dome was already setup with linens (paid) and directions were very clear. Bathrooms were basic but clean, and they were very close. The only issue we had was the noise from the nearby highway which had traffic througout the night. Otherwise, good place to stay.
Jul 12, 2021
When we arrived we were greeted at check in by very friendly staff. The campground had a lot of seasonal campers but everyone was very friendly and respected the quiet time which we always appreciate. We had a spot on a corner and it was tight to park the truck but managed ok. A big plus was the "Holden a Cone" ice cream stand out front that we took advantage of several evenings.
Jul 12, 2021
I was very disappointed with this campground. I was promised and paid for a deluxe premium site what I got was a site that was so small I can barely walk between my slide and the camper beside me. The deck was all rotten my sons chair went through a rotted area when he was holding my Granddaughter. Both steps to the deck were a safety hazard. The owner was a real hothead wish I could write more.
CAMPGROUND RESPONSE / COMMENTS:
Let's be honest you were here 8 days and we let you run a tab for visitors. 6 people max per site and you always had 10 + When it was time to pay it you wanted us to waive it since you had a wood deck and not a stone or concrete deck. We said no, and you got upset. No one ever fell through the deck.
Jul 11, 2021
Staff was very friendly. Had pizza delivered which was yummy �. We got there a little early and our cabin just happened to be ready..very clean.
Jul 11, 2021
Great people and nice place! Good pizza!
Jul 10, 2021
They go above and beyond great people
Jul 10, 2021
KOA had a problem with the ground in lot 96 which we stayed on. Our AC did not work and had to call a serviceman who spent over two hours trying to find the problem. Finally asked if we had a generator and we did. Started it up and AC worked fine. By the way, we moved to another KOA in Lebanon, Maine. Our AC works fine.
Jul 09, 2021
We had a great time during our stay. We stayed for 5 days in a cabin. The cabin was clean and the campground was quiet. We enjoyed the weekend activities that the campground offered too. The food at the store/kitchen was really good. The owners were super nice and we enjoyed talking to them. Easy check in and easy check out.
Jul 09, 2021
Another night at this Koa still great sites and the food at Red Barn is suburb.
Jul 08, 2021
Enjoyed our stay at KOA Holden, Maine. Friendly helpful staff.
Jul 08, 2021
Chris and his crew is AMAZING
Jul 08, 2021
One thing, I just felt super sorry for the one lady dying of heat making Pizza and delivering. She needed help and some cool air. I wasn't in there but a few min. And I was sweating!!!
Jul 07, 2021
Highly recommend this KOA. Grounds well kept, bathhouses clean. Activities for the kids especially on the weekends. The owner and his staff are great people and very helpful.
Jul 07, 2021
It was good, except for all the rain and cold weather, the 4th of July shouldn't be like. But the campground was fun, would stay there again.
Jul 07, 2021
It's an older park but managers do a great job of accomodating everyone and meet the needs of campers. Well cared for amenities and and friendly people. The icecream shop on site is a hit!!
Jul 07, 2021
Unfortunately our 17year old wonderful tent just did not hold up with all the RAIN ( not anyone's fault for sure ) we did water proof it twice but sadly it was done :( our time in Maine Koa was great ! Friendly , Busy but clean and quiet !! Thank you very much
Jul 07, 2021
One of the best Koa we have stayed in super friendly owners and the food was wonderful, are returning to this place on our way home
Jul 06, 2021
Lack of professionalism, office error in dates of stay when reservation made (Staff booked two date ranges rather than same dates for both sites), inadequate and unsafe electrical work - found electric box completely charred inside after electrician attempt to make us feel ignorant, sites very small with "overly helpful" staff trying to dictate where to place our camper within the site.
Jul 04, 2021
A trucking company is very close to the tent spots where we camped so instead of enjoying the peaceful sounds of nature, we had trucking noise to enjoy. Even on Saturday!!! We left one day early because of terrible weather(cold and rain). The best they could do was offer a rain check. Not very useful as we live too far away and will probably never be back. Tent pad was not flat and had no grass.
CAMPGROUND RESPONSE / COMMENTS:
Sadly, we cannot control who our neighbors are, though they are thankfully closed on the weekends. We also cannot control the weather, and although our No Refunds policy is clearly stated, we did offer you a raincheck. We also bend the rules by letting you book 2 days instead of 3.The site is level!
Jul 03, 2021
This is an awesome campground. From their sites that are so well kept, their cafe that has wide selection of food for a campground, their ice cream store and many other amenities for us to enjoy. We will stay there again when we are back in town.
Jul 03, 2021
this campground was very well maintained, bathrooms were always clean, it provided a nice quiet atmosphere and the staff was friendly.
Jun 30, 2021
Had a nice stay, had to take my wife to urgent care on checkout day, Chris and Lauren were very accommodating on allowing us a late checkout. Buy a pizza, they are excellent!! The free soft serve ice cream cone was excellent also.
Jun 30, 2021
The first thing I noticed about this Particular KOA , It is steeped in patriotism. respect, and appreciation. The second most important would have to be meeting the owners at the front desk upon check in. Chris & Lauren Waterhouse make camping fun and worry free for this first time rv camper. Their onsite Team of veterans , and employees keep a Safe, clean ,and well stocked, facilities.
Jun 30, 2021
Great stay as always Chris very friendly and treats you like family always can put smile on your face upbeat and positive attitude is calming even on your not so great days the employees also friendly been coming here for years campground peaceful and relaxing
Jul 16, 2021
Super friendly staff! Clean facilities & tons of activities! Perfect place to stay
- Cami Bilardello on Google
Jul 16, 2021
Quiet, good staff, easy in and out, convenient to Bangor, well-managed, clean and good camp sites.
- Gary Gruber on Google
Jul 15, 2021
Stayed 5 night. Played Bingo, clean bathrooms, fully stocked store with everything you need, great cafe, convenient to Acadia, seaport towns, and Bangor. Looking for seafood go to McLaughlins in Bangor.
- Regina King on Google