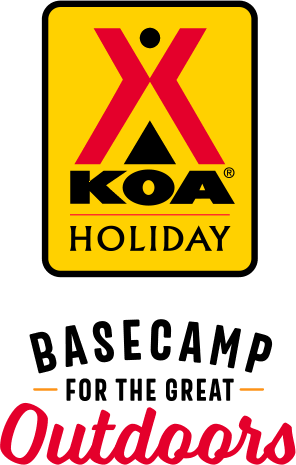 KOA Holiday Campgrounds
Whether you're exploring the local area or hanging out at the campground, KOA Holidays are an ideal place to relax and play. There's plenty to do, with amenities and services to make your stay memorable. Plus, you'll enjoy the outdoor experience with upgraded RV Sites with KOA Patio® and Deluxe Cabins with full baths for camping in comfort. Bring your family, bring your friends, or bring the whole group – there's plenty of ways to stay and explore.
KOA Holidays Feature:
RV Sites with a KOA Patio®
Deluxe Cabins with full baths
Premium Tent Sites
Group meeting facilities
Directions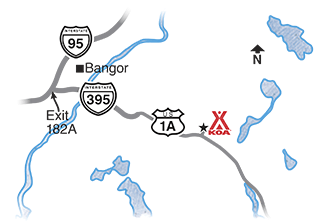 Off I-95 at exit 182A ( I-395) Take it to the end approximately 6 miles to Rte 1A Ellsworth/ Bar Harbor. This park is 3.5 miles on the left.  GPS: N44.755128, W68.659243
Get Google Directions
Oct 13, 2021
Bath houses were very clean, sites are level and large. Patio was a bit small but nice. Staff were very nice.
Oct 13, 2021
They make it easy. Great place, great people!
Oct 13, 2021
Friendly Clean Easy in and out
Oct 12, 2021
Staff very friendly! My site was not very level! The dump station needs some attention, the vent must be closed or stopped up, had to empty tanks very slowly or it would run out the hole! Very disappointing, hope they take care of it. We have stayed there several times and no problems. Would stay again when in the area.
Oct 12, 2021
We have stayed at several KOAs around the country. So far, this KOA is the only one we are impressed with. From the management/staff to the grounds to the cleanliness of ALL facilities and to the amenities, an excellent campground!
Oct 12, 2021
Great amenities like laundry and showers near tent site, restaurant on the back of main office. They also gave me a coupon for a free ice cream next door.
Oct 11, 2021
They are nice
Oct 11, 2021
Very nice staff. Campground is on the smaller size but very nice.
Oct 11, 2021
Hosts were very kind and welcoming. Facilities were in good condition. Overall a good place to stay. A couple points that kept it from being a 5 star site for me- It was a noisy area for sleeping in a tent with the roads running closely nearby. Wood available on site at the time was not usable as it was soggy from recent rains.
Oct 09, 2021
Great hosts. Good localization. Wi Fi signal poor.
Oct 08, 2021
Nice people, lots of amenities, ok bath/ shower, close to things. Liked the place, grounds were clean but needed detail. When it says KOA holiday I expect great bathrooms and manicured areas
Oct 08, 2021
The photos sell a different story. Major garbage piled up as you exited the KOA. Sites were set up where you sat next to someone sewer outlet and your bonfire was literally at the neighbors slide out. Overall less than wonderful
CAMPGROUND RESPONSE / COMMENTS:
I am sorry about the garbage. We get it dumped twice a week, Fridays and Mondays. When you were here they forgot to pick up on Friday. There was nothing we could do about that. You had a 60' x 14" grass strip. If you sit next to the sewer site of the adjacent camper that is on you!
Oct 06, 2021
Everything was in good working order and clean.
Oct 06, 2021
An okay site, but the wooden deck needs some serious work, several spots were rotten and holes were showing thru. The RV next to us was very close, seemed like our slides almost touched. Staff was friendly and the ice cream at holden cones was good.
Oct 05, 2021
The office staff were so helpful and kind!!
Oct 04, 2021
Great stay! The campground is very well maintained. A nice playground, walking trails, and very good ice cream. Also, Some of the beat pizza we have ever had and we got it from a campground! Amazing!!! We ordered pizza a couple of nights. Awesome both nights. We should have gotten one to go.
Oct 04, 2021
Staff very friendly and helpful. Food at the Red Barn and Ice Cream Shop Delish. Centrally locate in Maine. Will recommend to others…
Oct 03, 2021
The owners were very helpful. Clean bathrooms & showers.
Oct 03, 2021
Very nice campground our spot was small and couldn't use our fire pit because it was to close to our neighbors. Many if the site are larger. Owners are awesome. The have amazing pizza which they will deliver to your site as well as delivery of wood. Owners made great suggestions on where to eat. Would stay again in a different site.
Oct 02, 2021
The staff at KOA are great. Well managed campground.
Oct 02, 2021
Wonderful staff and Wonderful campgrounds
Oct 02, 2021
It was fine. Nothing special. And the laundry room was really sad. Don't feel like my clothes got very clean and the dryer cost a lot b/c it took forever to dry and I kept having to feed it quarters
CAMPGROUND RESPONSE / COMMENTS:
Like we explained to you when you came in the office to complain about the dyers that for each quarter you put in you need to push the button. So putting in 3 quarters and pushing the button once only gave you 5 minutes not 15. WE are special, we gave you extra quarters when YOU made the mistake.
Oct 01, 2021
We had a great site with patio furniture, glider and brick fire pit. It had lots is shade. The owners and workers are all very friendly and helpful. There are a lot of seasonals. The cable worked well but the WiFi was in/out a lot.
Sep 30, 2021
Nice camp store and very friendly owners. Good snack bar. Good placement of waste bins. The campground itself has the feel of an overcrowded long term trailer park. My site was half mud and puddles. Pea gravel or grass seed would help. Half was unusable.
CAMPGROUND RESPONSE / COMMENTS:
You had a 19' trailer on a 65' long site. The site has a gravel pad & a 14'wide grass strip. With the 3" of rain we got, you were on one of the driest spots. So not sure what you are talking about. What was unusable? There is no place for more grass or pea gravel! We are at 85% capacity! Overcrowded
Sep 30, 2021
The staff were friendly and helpful. The sites were large and quite level. There is a restaurant on the premises that offers free delivery to your site! The restrooms were clean. I didn't shower so I can't comment on that area. We would stay again.
Sep 29, 2021
The owners are on site and very friendly and helpful.
Sep 29, 2021
Very congested and close sites. Gave a trailer park vibe. Restrooms were very clean, on site restaurant is very good and staff was extremely pleasant and helpful.
CAMPGROUND RESPONSE / COMMENTS:
Seriously you were on a site 65 long, the grass is 14'wide not including the gravel you parked on. This gives you a trailer park vibe. You are camping at a campground after all and not in an open field!!! We work hard just to get foolish reviews like this. Thanks for the beat down!!!
Sep 28, 2021
Helpful staff, wifi was sporadic, enjoyed the pizza and ice cream.
Sep 28, 2021
Very rainy while I was here but I did get to take advantage of a couple trails, nice. Got invited to the Thanksgiving celebration even tho I didn't bring anything, very nice people.
Sep 27, 2021
the camp was clean with easy accessibility with the motorhome. the staff was very friendly and willing to go the extra to insure a pleasant stay.
Sep 24, 2021
Chris was great to to accommodate us even though we called looking for a place to stay after hours. The bathroom was clean, the shower had decent water strength and best of all, stayed contained so the floor wasn't all wet when I got out of the shower. And best of all, there were tons of trails behind the campground. We ordered breakfast from their in-house cafe, which was tasty.
Sep 23, 2021
The staff was wonderful, very personable and friendly. Would definitely stay there again. The gravel to Acadia and Bar Harbor was easy and a good commute.
Sep 23, 2021
Great staff and great food! They get customer service! Dog run could use some TLC.
Sep 22, 2021
Terrific, Owners were extremely friendly, informative and took great pride in their campground.
Sep 22, 2021
Very convenient, terrific host, pleasant staff and very good food in deli.
Sep 22, 2021
Thank you, Chris and Lauren for another awesome weekend at your KOA. I love all the activities you always have planned and for your kindness and great staff. Look forward to seeing you in 2022. Best Regards, Will
Sep 21, 2021
We enjoyed our stay. Enjoyed the pizza they delivered
Sep 21, 2021
Sites are close. Paid for an upgraded site and was not comfortable having a fire in the pit because the pit was so close to the campsite/RV right next to us
Sep 20, 2021
They told us we get free cable. Haha the free cable didn't work properly what a joke. If the cable doesn't work don't give us it for free! The management seemed overly strict.
CAMPGROUND RESPONSE / COMMENTS:
I think you have the wrong campground. As you can see from other reviews we are known for our help. You were here for 7 days & never interacted with us except at check in. Cable works throughout the park. We have 24 analog and 24 HD channels. Using analog channels on HD TV could have been your prob
Sep 20, 2021
This campsite is amazing - cleanest , and all kinds of activities - friendly and inviting . AND I repeat super clean . Only thing I found was campfires are too close and lots of smoke at times
Sep 20, 2021
The staff was friendly and helpful, but the sites were WAY too close. Considering that we were off-season, and the size/closeness of the sites we did not feel it was worth the price we paid.
CAMPGROUND RESPONSE / COMMENTS:
You live in Portland Me. so I am not sure why you say off season. We are running at 85% plus capacity & season doesn't end until Columbus weekend. We are sorry for you that the campground was not empty, we are happy that it is full for us! Your trailer is 21' & the site was 42' long with a 20' wide
Sep 19, 2021
Extremely friendly staff was always ready to help you in anyway that they could. The activities were great and gave us something special to look forward to. Wish this campground was closer to our home so we could camp there more often!! We have stayed at more than 19 campgrounds so far on this trip and this one was the BEST!!
Oct 03, 2021
Really nice! A great location near restaurants and stores, the owners are very nice, friendly and interesting to talk with. The campground is nicely done, well kept without being fussy. Awesome gift shop, ice cream, and homemade NY style pizza! Wifi works very well, cable tv is good. Be careful maneuvering big rigs, some areas are a bit snug. Not crazy about having the pump out so centrally located. But otherwise it's great!
- Trish L on Google
Oct 01, 2021
Your pizza was very good, will be back again. Good service and very pleasant people******
- Barry Mailman on Google
Sep 07, 2021
Family trip#2021 Labor Day weekend BANGOR Maine! GREAT memories made 💫 Happy glampers!
- lucia Colon on Google