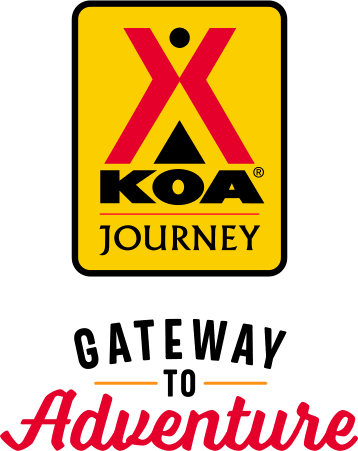 KOA Journey Campgrounds
KOA Journey campgrounds are the perfect oases after a day on the road. Whether it's along the way or a quick getaway, they've got you covered. Located near the highways and byways of North America with long Pull-thru RV Sites, they deliver convenience to the traveling camper. Pull in, ease back and take a load off.
KOA Journeys Feature:
Pull-through RV Sites with 50-amp service
Premium Tent Sites
Well lit after hours check-in service
Directions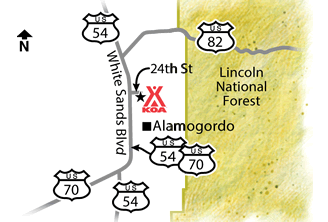 We are on the Northside of Alamogordo (in town) on 24th Street, 1-1/2 blocks East of White Sands Blvd (Hwy 54/70) Look for the KOA sign. (Do not take the relief route.)
Get Google Directions
May 08, 2021
Just a campground, nothing stand out, office code at 6p, bathroom is clean.
May 08, 2021
We only stayed overnight, but it was a very clean and tidy park, easy in-and-out. Very friendly and helpful staff. We have stayed here before, and will be staying again.
May 07, 2021
This was just a stop over for us. We don't use the facilities but the park was comfortable and suited the purpose. It got a little noisy beginning around 5AM as people were leaving for work and the train whistle but otherwise is was quiet.
May 07, 2021
Friendly, helpful staff. Recommended a terrific local restaurant. Functional site, but not exactly scenic. Good showers, although my wife wondered - again - why the women's showers were around the back of the building. Cheap laundry prices - half of what was charged at Carlsbad. Easy drive to White Sands. We'd stay here again if fortune brought us this way.
May 07, 2021
Helpful staff. Quite location.
May 07, 2021
Need to trim bushes in front of sign
May 06, 2021
We had a great time. Nice place, clean, convenient. Thank you for everything.
May 06, 2021
Great place. We wish we could have stayed there longer
May 05, 2021
Unhelpful staff- registration could have told us that a water regulator was required, but didn't, then another staff person turned our water off when a neighbor saw our rig leaking on the outside- didn't knock or say anything until we came out to investigate the lack of water. He said we had a problem because of their water pressure, then he drove off in his golf cart without another word.
May 05, 2021
It was a brief stay. Arrived late, left fairly early the next morning . The couple at the reservation desk were so pleasant and friendly. I wish we were staying longer. I would loved to have used their pool, it looked so inviting. The restrooms were not only clean but really nice too. Showers were very modern and water power was great. Everything in the whole campground was clean.
May 03, 2021
We were there for 3 nights. Very nice, spacious areas. Trains were loud at night, but we enjoyed them. The only drawback was people did not observe the quiet time posted.
May 03, 2021
Nice clean park in a great location for day trips outward on all directions .
May 03, 2021
Great RV park. Really like the divider walls between the sites. Staff is so nice and everything is nice and clean.
May 03, 2021
My family and I are Native Northern New Mexicans, at the start of the pandemic we purchased a fifth wheel, and was only able to take it out once before the end of the season. The spring of 2021 was going to be our maiden voyage, if you will. We decided to go to White Sands / Alamogordo area at your KOA. We LOVED it! and we plan on making it a annual stop! Thanks KOA, you made our stay FANTASTI
May 03, 2021
Great campgrounds centered between the white sands monument and Cloudcroft. Planning on staying at this campsite again in the future.
May 03, 2021
Not impressed with setup, too close to each other.
May 02, 2021
Great friendly service
May 01, 2021
Stayed 4/26-29; site E1. The campground was fine for its location in proximity to the things we wanted to do. The cable channels weren't the best and the wireless was fair.
Apr 30, 2021
The perfect place for an overnight. This is our 2nd time there and we'll be back. The dog park is nice, the WIFI is good, and the sites are quirky but offer decent privacy due to the picnic pavilions. They also stock Blue Bonnet ice cream in the store! It's a nice treat after a long day driving.
Apr 30, 2021
this is the best organized KOA that we stayed in. They went our of their way to make certain we had a place to pitch our tent and to find a place for a third night. They facilities were excellent (enjoy very nice showers), provide filtered water for our water bottles, had a microwave for cooking our potatoes!!. In general, all the staff was very friendly and helpful!!
Apr 29, 2021
Clean area, friendly staff, very helpful. Lots of night time trafic noise
Apr 28, 2021
I had just moved here to Alamogordo and needed to stay in our travel trailer until our furniture arrived. They were very accommodating and we enjoyed our stay there. Woulkd recommend to everyone just on the staff.
Apr 28, 2021
The staff was very helpful and friendly. We were 1st timers at a KOA and were pleasantly surprised at how quiet it was and how it was not too brightly lit at night. The bathrooms and laundromat were very clean.We would stay here again.
Apr 28, 2021
One of the better KOAs. Very clean and nice sites. Staff was so helpful and even loaned us a disk to slide on at White Sands. Our two dogs loved the large, clean dog park. Staff had great suggestions on other places to visit. Will stay there next time we are in the area.
Apr 28, 2021
It was great! Really appreciated the loan of sleds for white sands national park.
Apr 28, 2021
Great place to stay
Apr 28, 2021
Clean with the provisions needed.
Apr 28, 2021
Very friendly staff,clean place and it has a nice set up
Apr 27, 2021
Great location, close the White Sands National Park. Clean and great amenities, staff were friendly and helpful.
Apr 26, 2021
The front desk staff was so helpful and friendly. Had a great stay!
Apr 26, 2021
Good for an overnight or as home base to explore from. It's cramped and not an especially nice atmosphere where we would want to spend our time. Playground barely exists. Bring quarters as the 24hr laundromat doesn't have a change machine.
Apr 25, 2021
very nice and clean sites...especially appreciated the propane grill and the porch swing!
Apr 24, 2021
Very clean and staff is friendly.
Apr 24, 2021
Was great Kelly and Sandra and the crew are outstanding
Apr 24, 2021
Good store, cement tables, narrow sites with brick walls for privacy. A bit tight with a longer RV but manageable. Walking distance to a few stores biut no restaurants. HubGrub ? Maybe but we cooked in RV. Sites allow about 55 feet long and narrow. Weood bathrooms and great staff.
Apr 24, 2021
Our dogs enjoyed the little dog park. The wood chips are a good replacement for grass. Other KOAs in the southwest should try this out where grass can't grow.
CAMPGROUND RESPONSE / COMMENTS:
We're glad your pups like the dog run. We do have future plans to expand it. He bark helps with the mud as well, when we do get rain.
Apr 23, 2021
Very nice. Love that masks were optional.
CAMPGROUND RESPONSE / COMMENTS:
We love that everyone is respecting social distancing as they walk around outside as well.
Apr 22, 2021
Beautiful site & great customer service!
Apr 22, 2021
People always awesome, very friendly. Restrooms very clean and neat. I have stayed twice now and best accommodations.
Apr 22, 2021
The best place to stay while exploring the area
Apr 30, 2021
It was a quiet oasis that my family enjoyed.
- John Vrabely III on Google
Apr 29, 2021
Easy access, clean sites, and very friendly staff. The staff offered to let us borrow a sled for the dunes, and openly provided tips in the beat spots to visits and places to eat.
- Jackie S on Google
Apr 26, 2021
Nice / friendly & clean...will be back here again. Thank you to the staff here.
- kevin gardner on Google