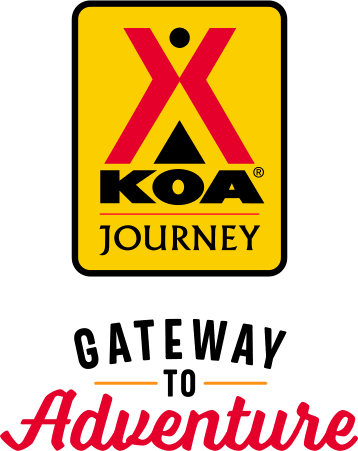 KOA Journey Campgrounds
KOA Journey campgrounds are the perfect oases after a day on the road. Whether it's along the way or a quick getaway, they've got you covered. Located near the highways and byways of North America with long Pull-thru RV Sites, they deliver convenience to the traveling camper. Pull in, ease back and take a load off.
KOA Journeys Feature:
Pull-through RV Sites with 50-amp service
Premium Tent Sites
Well lit after hours check-in service
Directions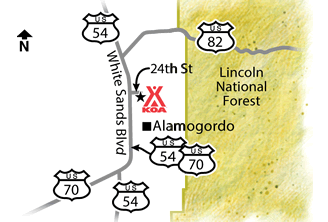 We are on the Northside of Alamogordo (in town) on 24th Street, 1-1/2 blocks East of White Sands Blvd (Hwy 54/70) Look for the KOA sign. (Do not take the relief route.)
Get Google Directions
Sep 23, 2021
We stayed there over the Labor Day weekend. It's super clean, the store has plenty of items if you need anything. Pool was nice and clean. The people who work there are very friendly and had activities for the kids and grownups. And a big plus is that you can check out sleds for the sand dunes. Thank you Alamogordo KOA!
Sep 22, 2021
Polite and courteous staff. Did not have to wait to be assisted. Showed us where to go, passwords and etc. Very polite. Nice clean campground, restrooms and cabin! Will stay here again!!!
Sep 22, 2021
Clean and good service
Sep 22, 2021
Super nice people and nice campground facilities. Loved our time there.
Sep 22, 2021
The staff were very nice and accommodating, but the place itself was very run down. Playground area is VERY outdated and our cabin was next to a dumpster. We did have a nice view of the mountains but the camp itself was a bit run down.
Sep 21, 2021
One negative thing we found was there is a long term resident with two small dogs, site # 3 who lets his dogs out then leaves. The dogs bark at everything while he is gone.
Sep 21, 2021
Clean park. Nice helpful staff. We opted for a patio site that was large and provided shade. Very pleased with campground. They lent us a sled to ride the sand dunes.
Sep 20, 2021
Sites were spacious and clean. Especially liked the privacy wall around picnic table. The bright colors were very attractive. Did not use pool or any other amenities. But totally took advantage of numerous outdoor activities afforded by the national park. The brochure was super and included much useful info for the area. Loved the campground and would love to revisit it sometime in the future
Sep 20, 2021
Site was great. Service was great. It stunk that there was construction during the night next door but they can't control that. We will be back.
Sep 20, 2021
Wonderful place to stay. Have been here several times including two RV rallies. Friendly staff. Great food in the Kafe here!
Sep 20, 2021
Campground needs updates but the showers were the best of any KOA that we had been to
Sep 18, 2021
Helpful staff, nice pool, clean bathrooms, overall great campground
Sep 18, 2021
Thanks for accommodating our last minute late check in!! Very nice facility!
Sep 17, 2021
Had such a wonderful stay here! The staff was very friendly and offered to give us a spot right next to the bathrooms since it wasn't full yet. Bathrooms had air conditioning and were super clean. Great showers too! We got free coffee in the morning and they even lent us three sleds to take and use at White Sands National Park(which is only 20mins away!) highly recommend. 2nd KOA I've stayed a
CAMPGROUND RESPONSE / COMMENTS:
Thanks for staying with us.
Sep 15, 2021
Very clean nice place. Friendly people but internet is spotty and a little noisy.
Sep 15, 2021
The facility is very clean, some trees and shrubs, very nice gift shop. The facility mangers were very friendly.
Sep 14, 2021
Nice clean campground. Sandy was working her tail off keeping things in order. She was extremely helpful with things to do around the area, and watching out for my package from Amazon. Thank you, we will definitely stay here again when in the area!
Sep 14, 2021
Great staff and place was clean. So questionable RV's with damage but no issues.
Sep 14, 2021
Clean well kept RV park - Friendly , helpful staff ... Always look forward to staying and outings for RV Club .. Enjoy using Alamogordo KOA for first and or last stop overs for RV trips ... Always great to talk with staff and get up to date information of events and things happening in the area.
Sep 14, 2021
Nice and clean. Great people working in office.
Sep 14, 2021
Very helpful office folks. Nice level site and great swimming pool.
Sep 14, 2021
This was my family's first stay at a KOA. It was an extremely pleasant time. The KOA site was clean, warm feeling, and the staff were beyond friendly and helpful. Loved the pool! The rec room was fun for the kiddos and added something to do away from electronics. We already look forward to coming back. Would recommend to everyone!
Sep 14, 2021
The staff was super sweet, we arrived very late and they had all our stuff ready at the entrance. We were able to go straight to our spot, set up and hit the sack!
CAMPGROUND RESPONSE / COMMENTS:
Glad it was easy for you to get set up when you arrived.
Sep 13, 2021
It was nice! Bathrooms clean. Tent space was great!
Sep 13, 2021
Very friendly and helpful staff. Super fun game room and pool.
Sep 13, 2021
This place was very welcoming and accommodating! We felt safe and happy for our weekend white sands getaway! :)
Sep 13, 2021
The Alamogordo/White Sands KOA is a great place to stay while visiting the area. It is located north of the main part of town, but still close enough to run into town for any needs. The only distractions were the train which can be loud when it comes through to the west. The facilities were very clean and the staff very helpful.
CAMPGROUND RESPONSE / COMMENTS:
We do have that neighborhood train.
Sep 13, 2021
Awesome owners, clean, organized. Has a homey calming feel. Love K9 park. Will return and stay longer.
CAMPGROUND RESPONSE / COMMENTS:
Glad you and Rocky enjoyed your stay.
Sep 12, 2021
Great staff! Clean restrooms with HOT water.
Sep 11, 2021
I like the patio sites lots of room and privacy.
CAMPGROUND RESPONSE / COMMENTS:
Glad you enjoyed the site.
Sep 10, 2021
Amazing camp, Pros: clean, well organized, welcoming. Lounge area a respite for us with no a/c. Grateful. Dog park cleaned by staff- not campers. Laundry area a plus, along with clean bathrooms. Pride in ownership is exhibited at this park. USN Ret reviewer � critical and complimentary.
Sep 09, 2021
Clean, Quiet, Friendly Staff, Good Location for local sights.
Sep 09, 2021
All good. Site was nice with a shade tree. Staff very friendly
Sep 09, 2021
Hands down the BEST KOA i have stayed at!!! Very clean, inviting environment and the best and friendliest staff EVER! Super helpful and courteous at all times. Would definitely recommend! A+ service all the way.
Sep 09, 2021
Nice laundry, great staff and awesome pool.
Sep 08, 2021
This is a very well maintained park with some very nice spots in a very attractive setting. The laundry facility is top notch, clean, air conditioned with plenty of machines. The hosts are very friendly and helpful making our stay very pleasurable.
Sep 08, 2021
the campground was clean and quiet, except for the 4, 6 & 6:15 am noisy trains passing through, a deal breaker for me
Sep 08, 2021
Our first KOA experience was fantastic! The KOA was clean and well maintained.
Sep 07, 2021
The Staff is fabulous! The bathroom facilities were immaculate! All around an awesome stay!
Sep 07, 2021
Wonderful and very helpful hosts and staff - was a lifesaver to have a bolt cutter available onsite when lock keys are lost. Would definitely stay and recommend!!!
Sep 07, 2021
Well maintained grounds and friendly staff.
Sep 07, 2021
We really enjoyed the tent site. Looking forward to coming back very soon.
Sep 25, 2021
Beautiful campground. Awesome customer service. This was our first time driving an RV and staying at a campground. We loved it so much that we stayed in a KOA in San Antonio Texas to rest for one night on our way back to Florida. We were equally satisfied. Thank you for making our first RV road trip a memorable one. The Ortiz Family
- cynthia ortiz on Google
Sep 21, 2021
Very nice campground with lovely service
- cheryl rosolie on Google
Sep 21, 2021
Clean resort. Nice picnic tables. Our patio spot was large spacious pull thru. Staff was helpful. They even lent us sleds to ride the sand dunes
- Karen Carmichael on Google