Northern Lights Trip Guide
One look at the starry sky streaked with the colors of the aurora borealis, and you will immediately see why thousands of people plan vacations each year to beautiful, remote destinations, hoping for a chance to see this natural phenomenon in person.
Alaska is home to some of the world's most beautiful aurora-viewing destinations. The northern lights can be tricky to catch, however, so proper planning is a necessity. Here is everything you need to know about planning a trip to see the northern lights in Alaska.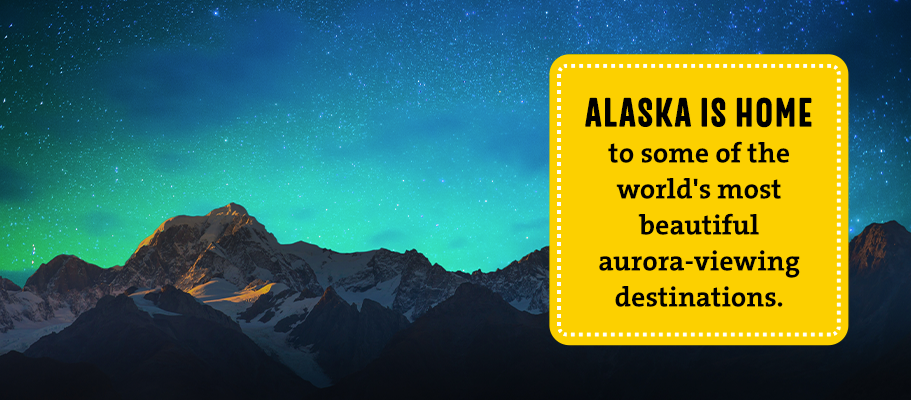 What Are the Northern Lights?
The northern light is a name given to a natural phenomenon known as the aurora borealis. It is caused when energetic particles from the sun are emitted as the result of a solar flare or coronal mass ejection (CME). These particles are carried on a solar wind until they penetrate Earth's magnetic field, collide with Earth's oxygen and nitrogen molecules and create powerful bursts of energetic light. The northern lights range in color and often appear as shades of vivid green, but they can also be red, purple, blue and white.
There is no set pattern for the appearance of the aurora borealis, and the intensity of the phenomenon fluctuates. Scientists rate the visibility and strength of the northern lights on a scale known as the Kp Index. Because solar flares are a type of geomagnetic storm, they can be tracked and detected. While you can't know for certain when a solar flare will occur or whether it will be visible, scientists can measure geomagnetic activity to make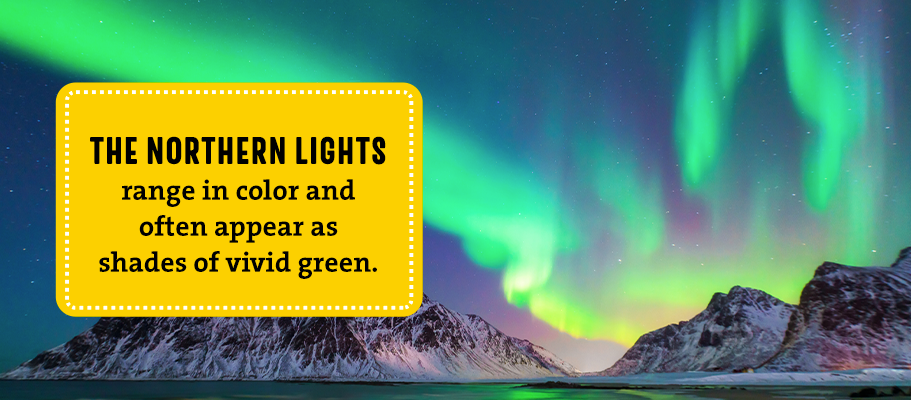 predictions, much like a weather forecast.
Before planning your trip, consult a northern lights forecast tracker and see what the Kp rating is for that time and place. This will help you decide when the best time to see the northern lights in Alaska will be.
The Best Time to See the Northern Lights in Alaska
As you've already learned, there is no definitive way to know when and where the aurora borealis will be visible in Alaska. However, there are specific times of the year, the month and the day when it is more likely than others.
A dark, clear sky is necessary to see the northern lights. For best viewing chances, plan your trip to fall sometime in the late autumn, early spring or during the winter. Alaska's official "Aurora Season" is from August 21 through April 21.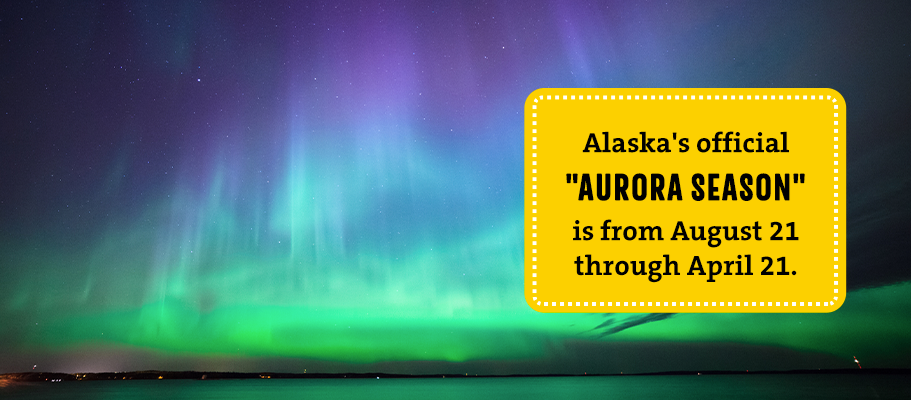 As you choose your vacation date, don't forget to take lunar cycles into account as well. When the moon is bright, the aurora borealis will be harder to detect. Try to go during the new, crescent or quarter moon periods for the best results.
The best time to see the lights is during the three or four hours around midnight. To increase your chances of seeing this phenomenon, plan to keep your eyes on the sky from around 9 p.m. through 3 a.m. Consult a three-day Aurora forecast to know when conditions will be ideal during your trip, and use a 30-minute Aurora forecast for a better idea of when the lights will appear.
The Best Places in Alaska to See the Northern Lights
Alaska is one of the best places in the world to see the northern lights, thanks to its northern location. Luckily, it is also a beautiful place to vacation thanks to its abundance of wildlife, unique cultural experiences and outdoor activities.
These are some of the best places in Alaska to see the northern lights.
1. Fairbanks
Fairbanks, Alaska is located underneath a ring that is centered on a magnetic pole in a zone known as the Auroral Oval. Aurora borealis activity is concentrated inside the Oval, making Fairbanks one of the best places in Alaska to see Northern Lights.
Some of the top locations for viewing the aurora borealis in Fairbanks include:
While you are in Fairbanks, make sure you do not leave before experiencing everything the area has to offer. Some fun day-trip activities you should consider are:
Participate in the Winter Solstice Celebration
Enjoy the artwork at the World Ice Art Championships
See natural hot springs
Take a fishing, boating or aviation tour of the lakes and rivers
Try your hand at gold panning while you learn about Frontier history
Watch or learn dog mushing
Dine and shop at several local restaurants and stores
2. Denali National Park
Denali National Park is more than six million acres of mountains, rivers, lakes, glaciers, wildlife and undisturbed land. If you are visiting during the winter, set aside plenty of time in your itinerary to try snowshoeing, snowmobiling or skiing the trails through the park.
Because it is so big, it can be challenging to narrow down the best place to visit inside the park. One popular aurora-viewing destination is the small town of Talkeetna, located at the base of Mount McKinley. Three glacial rivers meet in Talkeetna, making it a hotspot for fishing, boating and sightseeing. Talkeetna is home to several restaurants and local shops, and visitors love the local beer brewery. In addition to ziplining, aviation tours and water-based recreation, you can hike the outskirts of town until you find the perfect patch of clear land for your aurora borealis viewing.
3. Anchorage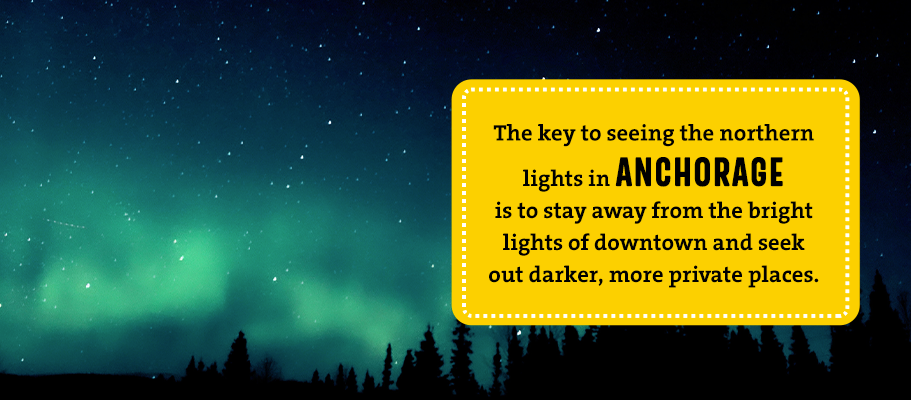 Anchorage is a popular Alaskan destination because it perfectly combines the beauty and nature of The Last Frontier with fun cultural and urban amenities. It is also a great home base for Aurora viewing. The key to seeing the northern lights in Anchorage is to stay away from the bright lights of downtown and seek out darker, more private places within a short walk or drive to the city, such as:
Bear Lake: Bear Lake is a two-mile lake near Seward, Alaska. Seward is just over a two-hour drive from Anchorage, but it is an ideal day — or night — trip if you want to experience the northern lights. If the lake is frozen through, you can spend the day ice skating until it's time for the light show to begin.
Glen Alps overlook: Glen Alps is just a few short miles outside of Anchorage, and it is well worth the trip. No matter what view you are craving, the overlook has it. From a single location, you can see the Anchorage skyline, three different volcanoes and three of Alaska's most famous mountains, including the Denali range, Mount Hunter and Foraker. The other sight to see here is, of course, aurora borealis.
Beluga Point: Beluga Point is in Alaska just off of Seward Highway. It offers sweeping, 180-degree views of rolling tides and Turnagain Arm. If you are lucky, you might just spot a beluga whale in the tide while you are waiting for the Northern Lights.
Anchorage is a truly one-of-a-kind city. While you are visiting, be sure to check out other top attractions:
Explore local glaciers
Take a wildlife cruise
Go kayaking, canoeing or paddleboarding
Visit nearby Kanai Fjords National Park
Learn more about local culture at the Alaska Native Heritage Center
Dine at award-winning restaurants
Attend the Anchorage International Film Festival
4. Utqiagvik
This aurora destination is more challenging than the others if you plan to visit during the winter, due to its location. Utqiagvik is one of Alaska's northernmost cities — and more than 300 miles north of the Arctic Circle — making it a very cold, snow-covered place for much of the year. Practice caution while visiting. This northern position, however, makes it an excellent place to go if you are trying to catch the light show.
For many years, Utqiagvik was known as Barrow, Alaska, until the residents voted to change it back to the original name. Regardless of what it is called now, though, it is often noted as one of the most breathtaking spots to see the aurora borealis. While you are there, take the time to learn more about the native Inupiat culture and the town's whaling and dog sledding histories.
Tips for Planning Your Northern Lights Trip to Alaska
To get the most out of your northern lights Alaska trip, follow these tips:
Reserve lodging early: Vacationing to see the northern lights is a popular Alaskan event, so be sure to reserve your lodging ahead of time. This way, you do not have to worry about any place being full or closed for the season. Choose a place that allows you to immerse yourself in the local nature while still offering comfortable amenities, like KOA Campgrounds.
Plan your route: Plan your route ahead of time, especially if you are going to drive your RV to Alaska from the lower 48. In addition to a valid passport, there are several other legal requirements you must meet before crossing the border in and out of Canada.
Pack the right gear: If your goal is to see the northern lights, pack the right gear for the trip. Since finding the perfect viewing spot often means doing a little snow-trekking, you will need plenty of warm, insulated layers, waterproof hiking boots and high-calorie snacks.
Stay for multiple days: Remember, there is never a guarantee that the lights will be visible during your trip. To increase your chances of seeing them, plan to stay multiple days. Every night, wait outdoors during those peak hours. With luck, you might even get to see the northern lights more than once!
Check the weather: Never go anywhere in Alaska — especially during winter nights — without consulting the weather first. Conditions can change very quickly, and you do not want to risk getting stuck somewhere unfamiliar during a snowstorm or hazardously low temperatures. You will want to take special note of cloudy, overcast days, as they will make seeing the northern lights more difficult.
Watch for wildlife: Alaska is home to some truly remarkable wildlife, including bears, moose and wolves. While they are certainly exciting to see, you need to take great care when spending time outdoors. Alaska has strict guidelines regarding the best ways to interact with these animals — always follow these instructions and any posted warnings for the sake of your safety and that of the animals.
Consider a tour: Many places in Alaska offer guided aurora borealis tours. These tours are a great way for you to experience the northern lights safely, and you can meet fellow explorers along the way.
Talk to the locals: Although the locations listed here are some of the best places in Alaska to see the northern lights, local residents always have a few hidden gems to share that the rest of the world doesn't know about. When you arrive, talk to the locals and ask them where they recommend you travel to see the lights.
Make it memorable: While you are waiting up all night to see the northern lights, make it as fun and comfortable as possible. Bring cozy blankets, a thermos of hot chocolate and your closest friends, and you have all the makings for an unforgettable outing. In addition to the lights, fill your trip itinerary with plenty of other activities and excursions so you can leave having experienced everything The Last Frontier has to offer.
Make KOA Your Homebase for Alaskan Adventure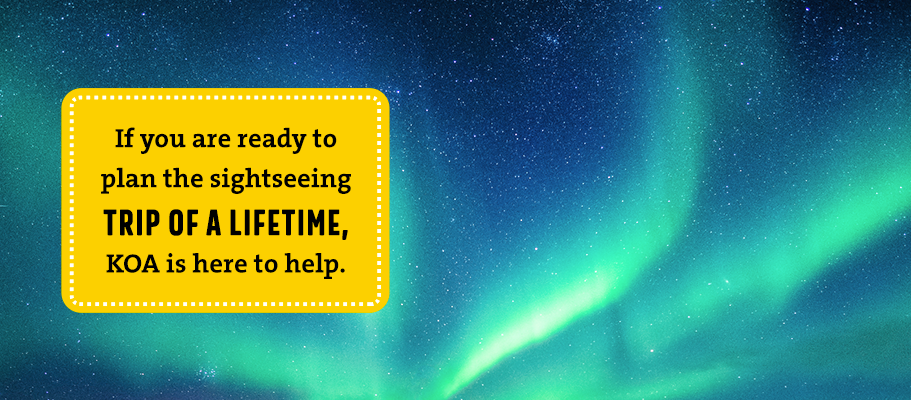 With its vivid swirls of color, the aurora borealis is one of nature's most awe-inspiring spectacles and a sight you are not likely to forget. If you are ready to plan the sightseeing trip of a lifetime, KOA is here to help. KOA has three locations in The Last Frontier, and each one is equipped with everything you need to make the most of your Alaskan adventure. This includes:
Helpful staff who are ready to answer any questions you have about seeing the northern lights
Warm, comfortable lodging options, such as Camping Cabins and RV Sites
Access to hot showers and fresh drinking water
Fun campground events and activities
Make KOA your home base for all things Alaska. Visit us online to reserve your stay today.
---