Your Guide to Joshua Tree National Park
There is no place in this world quite like Joshua Tree National Park. The iconic boulders, the trees that gave the park its name, and the skies that seem brighter here are all things that draw people to this magical national park. Everywhere you look feels like you're on another planet, and there is a seemingly endless amount of land to frolic in and get lost.
And this is the type of place where you want to get lost. The mesmerizing aspects of Joshua Tree National Park take you on adventures you never expected to embark on, and we think those are always the best.
The park spans nearly 800,000 acres with over one-third of that acreage designated as wilderness, much of which is free of trails. Like we said – plenty of space to get lost (in the best way) and plenty of paths to enjoy this park without merely following the herd of other visitors.
The opportunities to explore the vast solitude of the park come as a surprise to many, as Joshua Tree is a mere 2 hours from the hectic Los Angeles. This place draws people in from all over to get away from the mundane in life and experience the rugged high-desert wilderness in all of its glory. Whether you're drawn to Joshua Tree for hiking, rock climbing, camping, stargazing, or to just get away from the craziness of life, you will find all that you're looking for and more here.
To help you experience the Joshua Tree trip of your dreams, we have put together a guide. Here is how to do all the great things that Joshua Tree National Park has to offer.
How to Experience Joshua Tree National Park
When To Go
One of the great things about this national park is that there is no wrong time of the year to go. While you may be faced with some heat in the summer, there are still great things to enjoy.
Spring: With ideal temperatures that range between 50 degrees and 85 degrees, spring is the most popular time of the year to visit this national park. That, and the flowers. Spring is when the famous Joshua trees are in full bloom, as well as cacti and other wildflowers, so come until April to experience Joshua Tree's unusual flora.
Summer: Coming this time of the year promises fewer visitors to get in your way, but that privacy doesn't come without a downside: the heat. During this time of the year, temperatures often go above 100 degrees and when you're in a desert, 100 degrees feels much hotter. That doesn't mean you shouldn't come during this time, however. As we mentioned, there are fewer people in the summer, giving you more freedom with what you want to do. Just make sure that you come prepared with plenty of water and the right clothes to keep you protected from the sun, not to mention far more sunscreen than you think you'll need.
Fall: Spring and fall are the two favorite seasons to visit this national park, as the temperatures are more manageable. Things stay pretty hot in Joshua Tree until October, but once they cool down, this becomes the place to be – which means you'll have some competition for hiking trails and parking spots.
Winter: Winter is a wonderful but often challenging time to visit the park, due to the flux in temperatures. You may be basking in the sun by day, and wrapped in every item of clothing you brought by night. There is beauty in that, though – as long as you have the right gear to take with you. The park is more private in the winter due to these temperature changes, which is something we always love.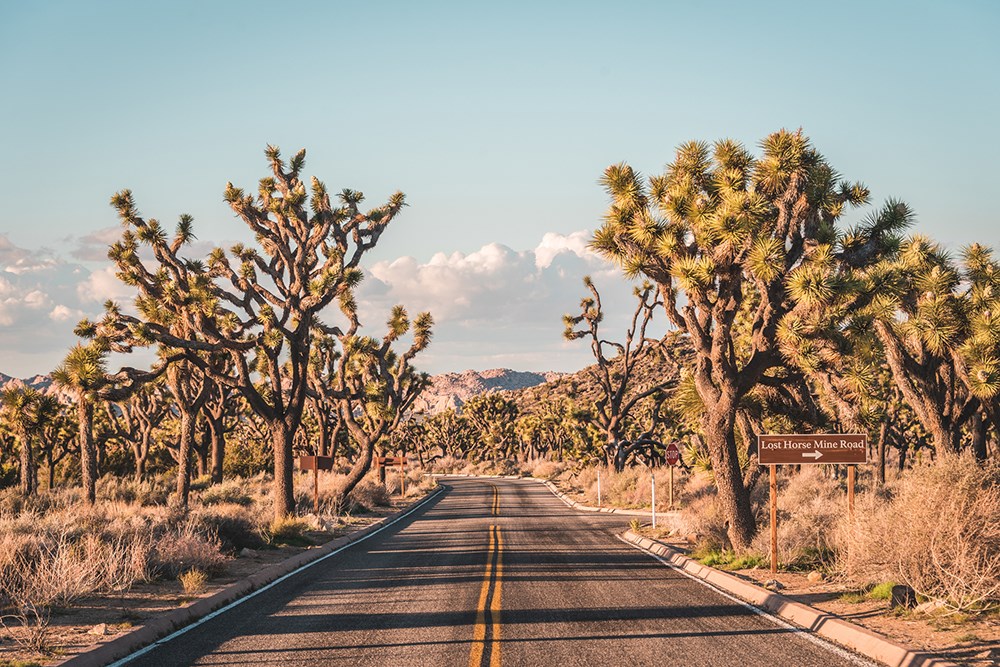 Joshua Tree National Park Entrances
Joshua Tree has three main entrances, the most popular of which is the West Entrance. If you're going during a busy season, try going through one of the other entrances – the North Entrance near Twentynine Palms or the South Entrance near the Cottonwood Visitors Center.
If you think you'll be visiting Joshua Tree National Park more than one time this year, it's worth paying the $55 for an annual pass. If not, then opt for the $30 pass that will grant you seven days in Joshua Tree. Better yet, if you plan on visiting more than one national park this year, the best deal is to buy the $80 pass that gives you entry into any national park for a whole year.
What To Do in Joshua Tree National Park
The meat of the article. The main reason why you're here. Let's get into all the adventures you can have in Joshua Tree.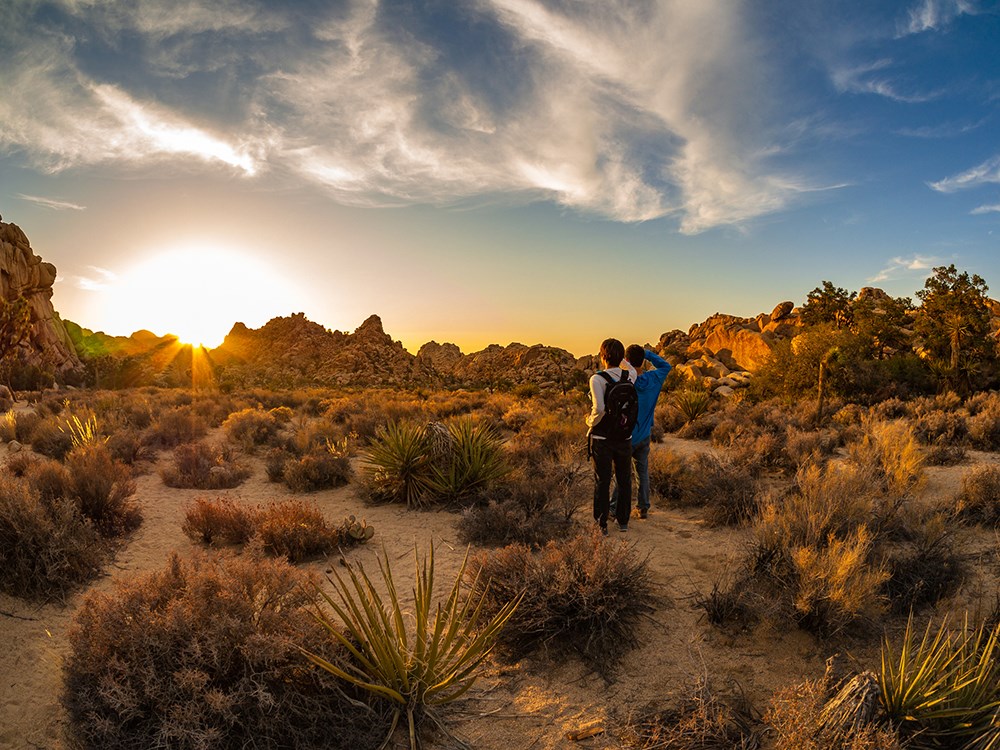 Hiking in Joshua Tree National Park
There is hiking galore in this park, on and off the trails. However, if you plan to stick to the trails, here are our favorite hikes to enjoy.
Barker Dam Trail. This 1.5-mile trail is a great one to do when the temperatures start to heat up because most of it is in the shade and gets some nice winds. The photo opportunities along this trail are plenty, and there is some great flora to see as well. You'll reach the dam about halfway through the trail, and the end of the journey takes you through the famous Joshua trees to some petroglyphs. This is one of the most popular trails in the park, however, so make sure to arrive early or plan to deal with some crowds.
Ryan Mountain. Though this hike is only 3 miles roundtrip, don't be fooled by its distance. It is actually considered a strenuous hike. But oh, is it worth it. You'll get some of the best views in the park from up here. The 360-degree view of Joshua Tree gives you some perspective and provides a way for you to appreciate the unique beauty of this place. We suggest hiking up here for sunset, but be sure you have a headlamp to make it down.
Lost Horse Mine Trail. Mining is a big part of the area's history, and there were once 300 mines in Joshua Tree. While most of them didn't bring much profit, it is said that lots of gold and silver came from the Lost Horse Mine. Now you can enjoy this mine as a great place to hike to. This trail is 4 miles roundtrip and offers stunning views of the park that take you to the crown jewel of the hike: the mine. Though the mine is blocked off by a fence due to its instability, it is still fun to see the history. If you decide to continue on the hike past the mine, it takes you up above to Keys View for a scenic outlook.
Hidden Valley Trail. If you're not much of a hiker or are visiting the park with people who aren't, this is the trail for you. It is flat and just one mile long, so isn't asking too much of anyone. Though it is short and easy, it still provides great scenery along the way. You get to take in the iconic giant boulders and rock formations of the park along with all sorts of trees and cacti. We love this hike for the picnic tables in the parking area, which makes it a beautiful spot for lunch.
Warren Peak Trail. If you're up for a bit of a challenge, take on this hike. It is not as well-known as some of the others, which makes it a prime option for those seasons when the park is packed. At 6 miles long, the trail is a moderate one with parts of it presenting challenges such as walking through sand. Rather than the Joshua trees you expect to see in the park, this hike will have you taking in views of pinyon, juniper, and oak trees. The shade on this trail is minimal, so be sure to put on your sunscreen and bring lots of water.
This is just a snippet of all the hikes available in the park, and there are plenty that aren't marked by trails. You can find a beautiful hike to enjoy really anywhere in the park – it just depends on what you're looking for, and what level of challenge you're up for.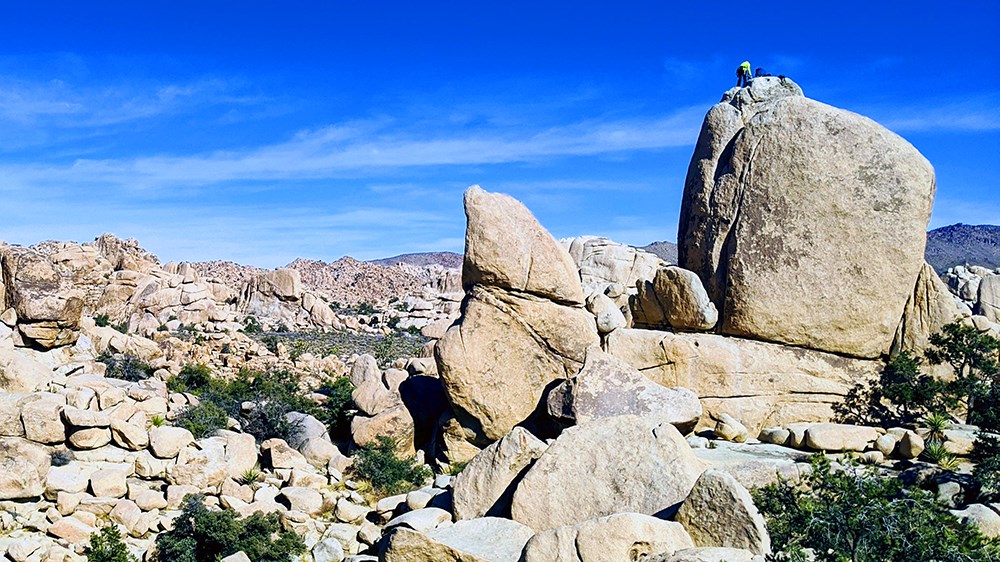 Climbing in Joshua Tree National Park
As much attention as this park gets for its hiking and its Joshua trees, where it really shines is for climbers. There are over 9,000 climbing routes that range in all levels of experience, so there is something for everyone here.
Beginners. One of the favorite rocks for climbing newbies and those who have minimal experience is Trashcan Rock. It is easy enough for new climbers to enjoy and is loved by many due to it being shaded in the afternoon. Intersection Rock is another famous place for beginning or intermediate climbers.
Advanced. If you're ready to put your climbing skills to the test, try out Big Moe. This is a climb that will challenge anyone and everyone. Saddle Rock is another great option for advanced climbers, as it offers some stellar multi-pitch climbing.
Birdwatching in Joshua Tree National Park
Joshua Tree National Park is positioned perfectly to have it be a haven for bird lovers. It is right along the Pacific Flyway migration route, which means that there are over 250 species of birds in the area. Expect to see things like roadrunners, osprey, raptors, bald eagles, and more.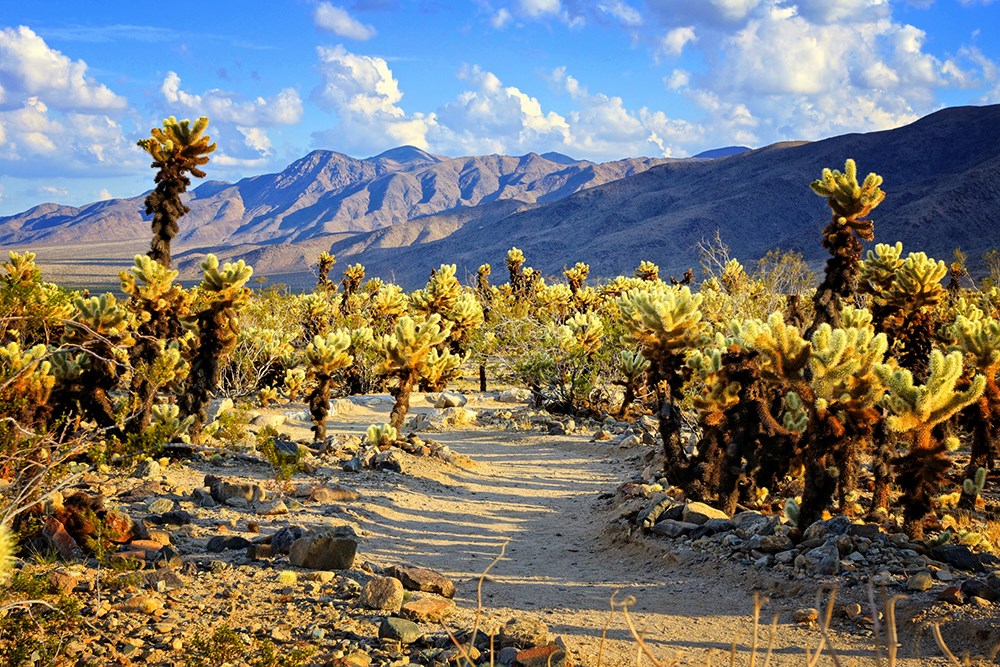 Plant life in Joshua Tree National Park
The arid desert landscape of this national park has made it one of the prettiest in California, and one that offers up so many variations of plant life. In fact, there are around 750 different species of plants, cacti, and trees that call this place home.
Of course, the plant that gets the spotlight here is the Yucca brevifolia, what we all know as the Joshua Tree. Because these trees only exist in this part of the desert, they are protected so whatever you do, do not touch them.
Speaking of rare plants, there are a total of 44 different species of rare plants here and plant enthusiasts from all over the world come to check them out. The park's herbarium has documentation of almost all of the plants found in this 1,000+ square mile piece of desert, so visit here to check out the plants that are the best to spot during the time of year you visit.
We also suggest checking out the Cholla Cactus Garden. It provides you with the opportunity to walk through hundreds of cholla – the unique plant that looks a bit like coral. This is another look-but-don't-touch plant. You won't want to touch it anyway, it's a cactus!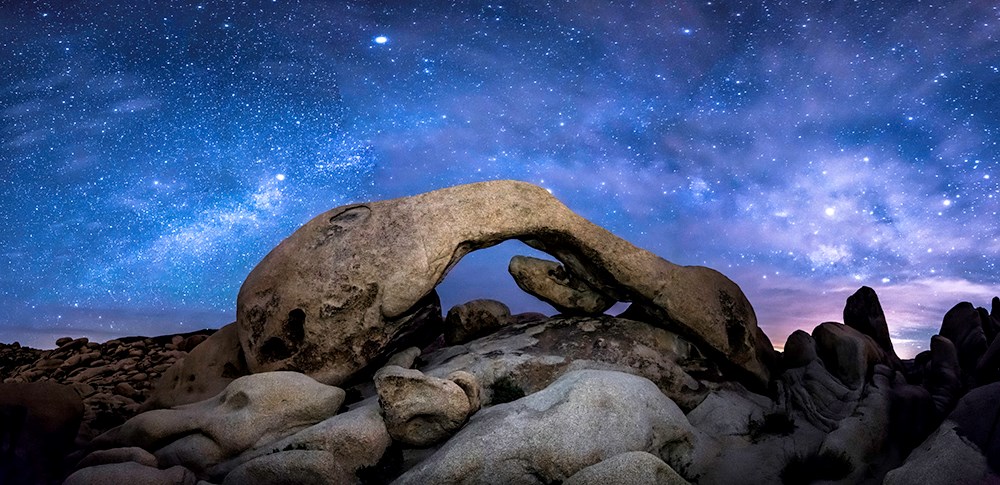 Stargazing in Joshua Tree National Park
Many people trek out to Joshua Tree to get away from the light pollution of Los Angeles and to see the beautiful night sky. This national park is a Silver Tier International Dark Sky Park, which means you'll get more stars to view than you'll know what to do with. The best part of the park to see the stars is in the center. Here you can spot the Big Dipper, Milky Way, and hopefully some shooting stars.
Where to Take the Best Photos in Joshua Tree National Park
It feels like everywhere you look in Joshua Tree is a picture waiting to be taken, but some spots will really blow your mind with a camera in hand. One such spot is Skull Rock. It is named this because – you guessed it – it looks like a human skull. You can see it off the main Park Boulevard, but if you want to get closer, it's very easy to access. Wait to photograph it until later in the day to get the full skull effect as the shadows make their way across the rock and into the perfect eye and nose socket locations.
Arch Rock is another famous spot to photograph, especially if astrophotography is your specialty. Few photos look better than the Milky Way over Arch Rock, in our opinion.
For epic sunrise and sunset photos, go to Keys View, the highest viewpoint in the entire park. You can see all the way to the Salton Sea and Palm Springs when the weather is right.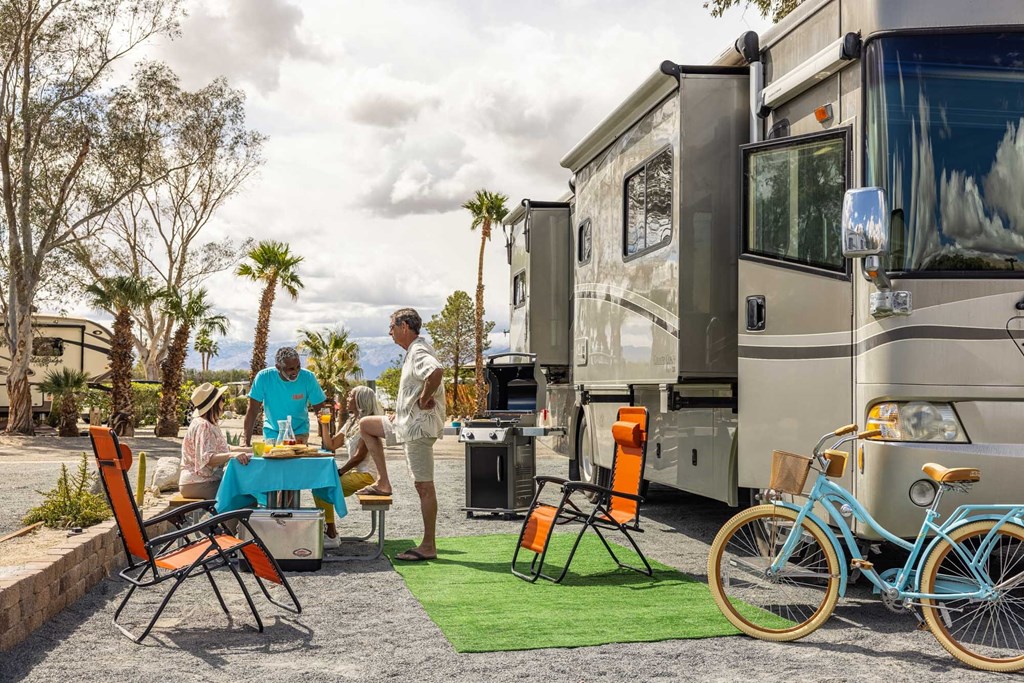 Where to Camp Near Joshua Tree National Park
There are spots to camp within the park itself, but those can be quite difficult to get, especially during the spring and fall seasons. To avoid dealing with that, we suggest staying at our personal favorite campsite in the area, the Palm Springs/Joshua Tree KOA. It is just 45 minutes from the entrance of Joshua Tree National Park and serves as the perfect place to call your home base when adventuring inside and around the park. All of the RV sites here are full hook-up, but if tent camping is more your style, there are new tent sites to enjoy. They even offer deluxe cabins to reserve if that seems to be more your style.
Things to Note About Joshua Tree National Park
The ecosystems in Joshua Tree National Park are some of the most mysterious, beautiful, and unique in the world. However, they are also very fragile. While you can travel off the trails here, always be careful of where you are stepping and never leave any trace behind.
Also, keep your eyes peeling for climbing and camping restrictions, which are put in place in some areas to protect the wildlife.
---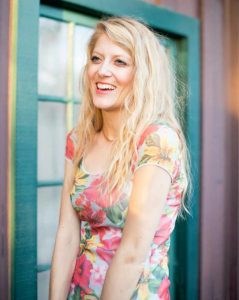 Leslie, a.k.a. Copy Girl, is a copywriter who gets butterflies from telling stories through words.
Her voice comes from a place filled with passion, dreams, and lots of sugar. "Cake over steak" is her go-to motto.
With over 10 years of experience in crafting words, and years of embarking on travels that have taken this Montana girl to some incredible places, Leslie love the adventures of both body and mind her writing takes her on.
Everywhere she goes, she takes this advice with her:
"Hold on to your divine blush, your innate rosy magic, or end up brown." – Tom Robbins, Jitterbug Perfume
To see what Leslie's up to in the writing world, visit her website here.
---