Are you someone who loves soaking up a great view but is also up to challenge themselves to a good hike or bike?
Then you are going to fall in love with the Fundy Trail Parkway.
Located in New Brunswick, this coastal road spans nearly 20 miles, and all 20 of those miles are just begging to be explored. If hiking or biking isn't your cup of tea, worry not — you can also see this beautiful span of land by car or even kayaking if that's more up your alley.
One of the best things about the Fundy Trail Parkway is that it is somewhat of a hidden gem. Those who know, know it's worth, but outside of local New Brunswick folk, not many people know about this wonderful place.
So, we are here to share the wonderful sights and adventure of the Fundy Trail Parkway so that you too can see this splendor behind this secret.
Why We Love the Fundy Trail Parkway
The ecosystem here along the Fundy Trail Parkway covers a variety of types, and you'll love experiencing them all in one place.
Fuller Falls
Though this waterfall will not wow you in its size, it will wow you in its beauty. Have fun crossing its cable ladder that takes you to the base of the waterfall, and take some time there to soak up the stunning scenery around you.
Flowerpot Rock
This unique rock foundation got its name from the fact that it looks like a flowerpot. The rocks here have a tuft of grass on top that makes it appear as such, but there's more to this rock formation than that. The rocks here date back to over 450 million years ago and though they have gone through some changes in shape and size, they are still standing today to be enjoyed by travelers passing through the parkway.
Sea Captain's Burial Ground Footpath
You may wonder why you'd want to visit burial plots while exploring the great Fundy Trail Parkway, but these two plots here have a lot of history behind them. Two families settled in the Bay of Fundy in the mid 1700s and here they farmed and built over 30 ships. With those ships they sailed all over the world and explored some truly wonderful places. This burial site is home to more than 45 members of the two families.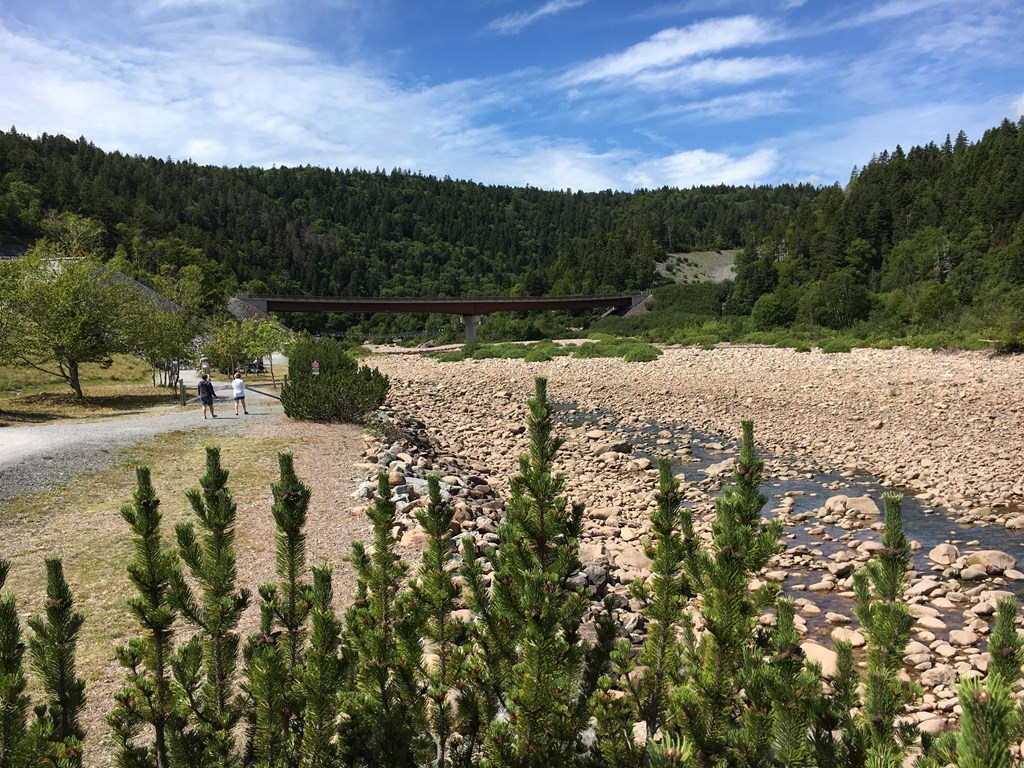 Suspension Footbridge
There's something about a suspension bridge that we just can't get enough of. And if that bridge is a footbridge, then we love it even more. This footbridge in the Fundy Trail Parkways sits nearly 900 feet above ground and is a beauty to cross. We challenge you to just cross it once.
Interpretive Center
This place can serve as a great homebase for your activities in the parkway. Travel into the park a bit to find the interpretive center where daily talks are held to teach you all you need to know about the Fundy Trail Parkway and its history. The interpretive center is a reproduction of the bunkhouse that stood in the parkway and served as the home to men in the 1800s – 1950s as they worked as loggers, fisherman, and shipbuilders.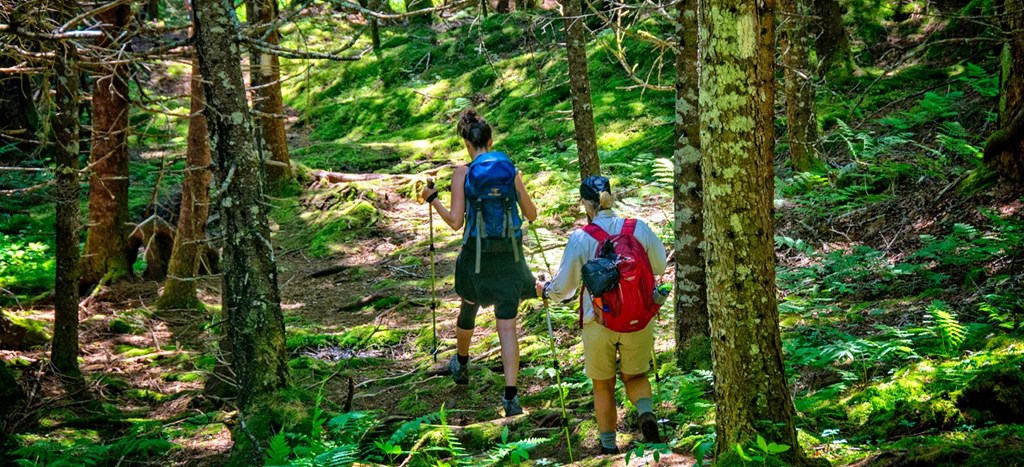 Hiking Trails
There is something for everyone in the Fundy Trail Parkway when it comes to hiking. Whether you're up for a short and easy hike or something more challenging, you'll find it here. If you're really up for a feat, then you can opt to hike the Fundy Footpath. This 25-mile wilderness trail takes about 4 days to complete, and it's full of difficult terrain and conditions that redefine the word "roughing it."
If that doesn't sound like your idea of fun, check out the other trail options at the Interpretive Center and be sure that you register and grab a map while you're there.
Kayaking
With the water right there, it seems a waste not to take advantage of it and do some kayaking. If you're not ready to go out on your own, kayak tours are offered here, so simply sign up for one of those.
Peace and Quiet
As mentioned above, the Fundy Park Trailway is somewhat undiscovered, so you can expect to enjoy much of the scenery sans crowds. Many visitors say they can hike without running into another person, which is one of the reasons why it's a good idea to register your hiking at the Interpretive Center — safety is always a priority in the wild.
Beaches
There are a number of different beaches here that offer the perfect opportunity to sit back and relax, or have fun in the sun — whichever you prefer. We suggest packing a picnic and heading to the beach here to enjoy the beautiful scenery.
Great Campsite to Call Home
When you head to the Fundy Trail Parkway, you can rest easy knowing there is a great campsite waiting for you after your days full of adventure.
The Sussex KOA puts you at the middle spot between Fundy Trail Parkway and The Fundy Foot Path.
Not only does this KOA have the great amenities of every KOA campground, it has some unique ones as well that you are guaranteed to love — our favorite of which is a drive-in movie theater. Yes, you read that right — a drive-in movie theater right at your campground.
The Sussex KOA campground also offers two pools on property and a splash pad, as well as a jumping pillow for extra fun in the water.
There is much fun to be had at this campground that goes far beyond just resting your head for the night after a long day at the Fundy Trail Parkway.
So book your getaway today and make a whole vacation out of it.
---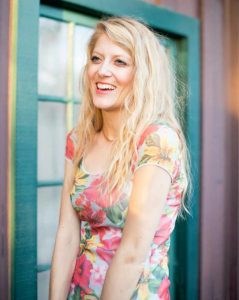 Leslie is a travel writer, copywriter, and web designer who gets butterflies from telling stories through words and visuals.
Her voice comes from a place filled with passion, dreams, and lots of sugar. "Cake over steak" is her go-to motto.
With over 10 years of experience in crafting words, and years of embarking on travels that have taken this Montana girl to some incredible places, Leslie loves the adventures of both body and mind her writing takes her on.
To see what Leslie's up to in the writing and design world, visit her website here.
---