The Best Time to See Wolves in Yellowstone Is Winter
Twenty-five years ago there wasn't even a lone wolf living in Yellowstone. Today, people travel from across the world just for the chance to see the park's most infamous predators. Yellowstone is home to nine wolf packs. Still, witnessing them in the wild isn't as simple as just showing up. These animals are as elusive as they are impressive. I should know. I grew up in Montana and visited Yellowstone every other summer. Still, I never saw a wolf until seven years ago. No, I wasn't wearing my lucky socks. The key, you see, is visiting during the right season. If you want to see a wolf in Yellowstone, winter is your best bet.
First: Why wolves?
It's hard to describe the feeling one gets in the presence of the mysterious Canis lupus. Good luck not getting goosebumps because it's bound to happen. Even though they're related to domesticated dogs, there's something overwhelmingly primal about these creaters. Doug Smith, leader of the Yellowstone Wolf Restoration project summed it up quite nicely when he told National Geographic, "The wolf is the poster child of wilderness. When you see one in the wild, it awakens the senses and everything feels right."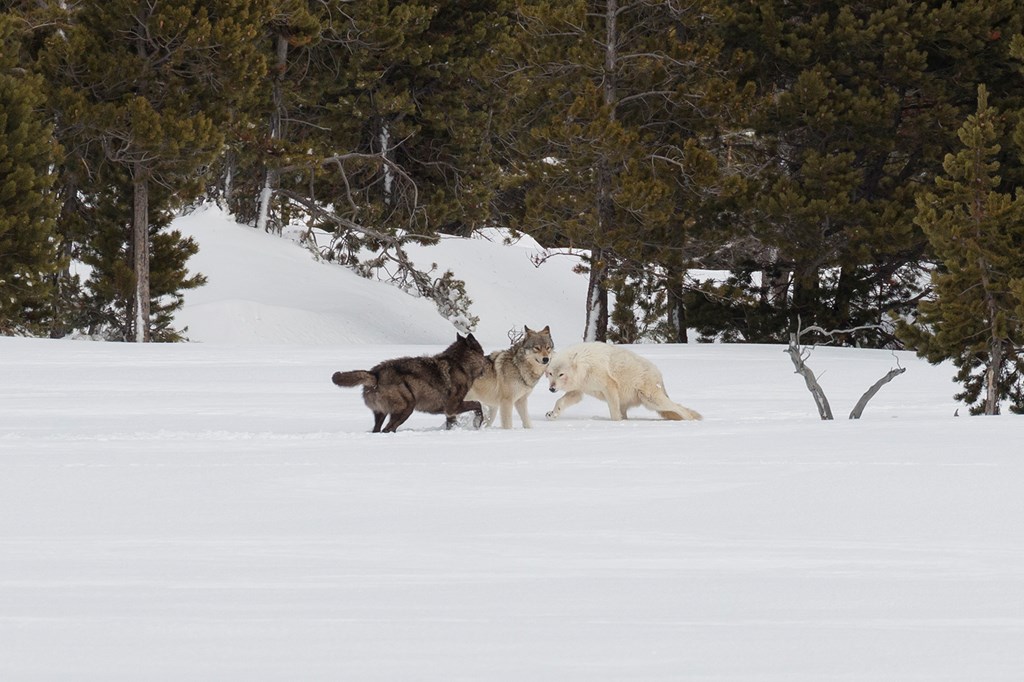 When to see them
While wolves can be seen at any time throughout the year, winter provides a much higher chance of sighting one in the wild. In the summer, the temperatures are high and the park is flooded with tourists, typically restricting wolves to day naps in the shade and night hunts — remaining elusive to tourists. Wolves tend to come out during the colder months, typically from January to March, which happens to be their mating season, marked by increased activity and howling. Wolf pups can generally be seen running around just before Memorial Day, offering a unique wolf watching experience.
As the temperature drops, the wolves come out to play. Fall usually marks the beginning of wolf spotting season, as their preferred prey, elk, descends to lower elevations, which makes it easier for tourists to spot wolves from their vehicles. Winter, however, is prime time to witness wolves hunting in the park as they adapt with thick, warm coats and huddle together for warmth. These acclimatizations allow wolves to thrive during the winter, making it one of the most ideal times to see one of these furry beasts hunting, scavenging and playing in the snow.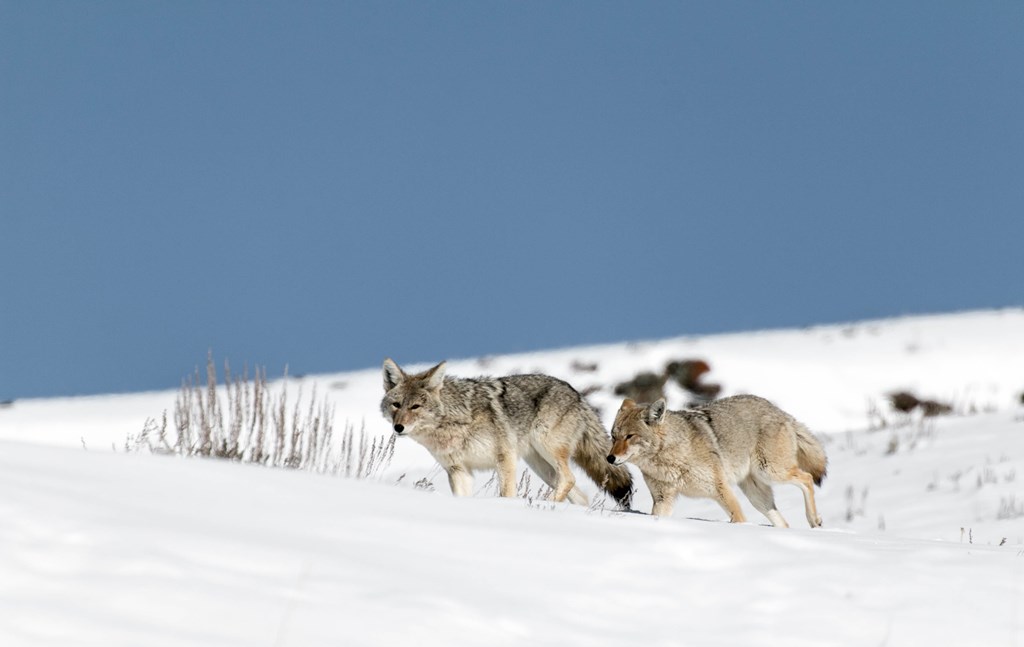 What are the odds?
Last year I did my second wolf watching tour with Nathan Varley, founder of Yellowstone Wolf Tracker. For more than a decade he's been the park's unofficial wolf whisperer. In 2021 he estimated that the odds of seeing a wolf in the winter were about 90 percent. Normally, it's closer to 50 percent. So why is it so high? After years of slow growth, the wolf population is thriving. Packs are having larger litters, and pups are making it into adulthood thanks to a never-ending supply of elk. In 2020 there were approximately 94 wolves. As of January 2021, the NPS reported the park was home to at least 123.
Doug Smith, who is in charge of the Yellowstone Wolf Restoration project, believes even a three- or four-day trip provides tourists with enough time to feast their eyes on one of these magical creatures. Smith recommends going wolf watching in the early morning hours when the wolves are most active. Another reason a sighting is almost guaranteed sort of feels like cheating. Varley estimates that about 33 percent of the park's wolves are collared. Scientists and experts like Varley have access to the collars' radio frequencies. They're able to know the location of certain wolves at almost any given time (which is why it's worth hiring them as guides).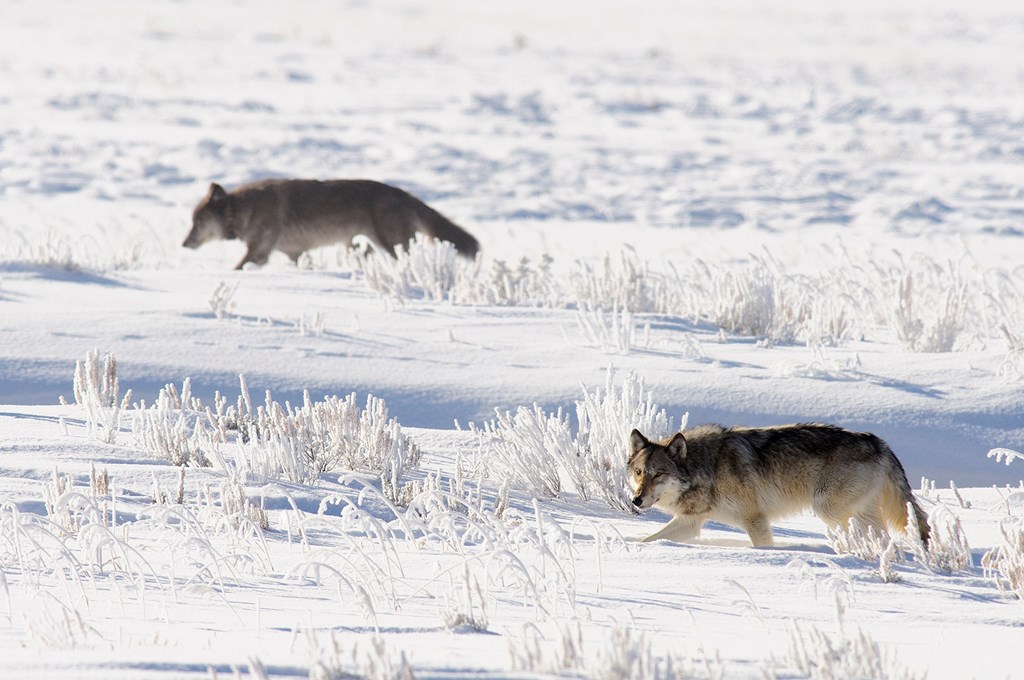 Where to look
The best way to find wolves is to find wolf watchers. In the winter there isn't much traffic in Yellowstone. So, if you see a group of vehicles parked at a scenic overlook, especially with their spotting scopes set up, it's probably a group of wolf watchers. Usually at least one is in the know when it comes to the wolves' radio frequencies. Wolf watchers freely share information with each other, and if you're nice, they may share their whereabouts with you, too.
You can also find wolves by looking for elk – which makes up about 90 percent of a wolf's winter diet – and certain birds. According to the NPS, "The easiest way to spot a kill is to look for a cloud of scavenging birds like ravens, magpies and eagles." For the best odds, drive from Gardiner to Cooke City, stopping in the Lamar Valley – the winter home of the park's largest elk herd – along the way. Known as the Northern Range, this small part of the park is deemed the wolf watching capital of the world by many wildlife biologists. The NPS considers it to be "arguably the most carnivore-rich area in North America." Specifically speaking, Dave's Hill by the turnoff to Slough Creek is where locals and veteran wolf watchers usually camp out. The authors of "Explorer's Guide: Yellowstone & Grand Teton National Parks and Jackson Hole" write that the top of Dave's Hill is "worn bare by legions of wolf watchers."
Optics make it easier
Even wolf whisperers like Varley can't approach a wolf without having it run away. So, If your goal is to see a wolf up close, it's wise to invest in quality optics. While binoculars are a good choice if you plan on snowshoeing or cross-country skiing in (and Varley leads those tours, too), spotting scopes are the optics of choice for most wolf watchers. Their magnifying power is greater, and because you set them up on tripods they don't need as much adjusting and are easier to share. After all, it's hard to keep something as special as a wolf sighting to yourself.
Book Your Trip to Yellowstone With Kampgrounds of America
Catch a glimpse at one of the world's most endangered species when you camp with KOA. We have over 500 campgrounds throughout the United States and Canada, with several located near the country's first national park, allowing you to find the perfect spot for your next adventure. Find a campsite near Yellowstone and enjoy an unforgettable experience searching for wolves!
---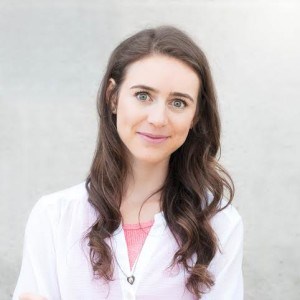 Katie Jackson is a writer and media specialist based in Montana's Big Sky Country. Living and working everywhere from New York to Nicaragua, Katie is no stranger to adventure. When she's not traveling the world (or writing about it!) she's busy chasing after a Leonberger named Zeus. Follow Katie's travels on Instagram @katietalkstravel.