Why a Camping Trip Is the Perfect Self-Care Experience
In today's fast-paced world, self-care is more important than ever. If you have been more stressed than usual lately or just need to get away in general, camping could be the refreshing solution you have been searching for. With the right planning and amenities, a camping trip can be the perfect self-care escape.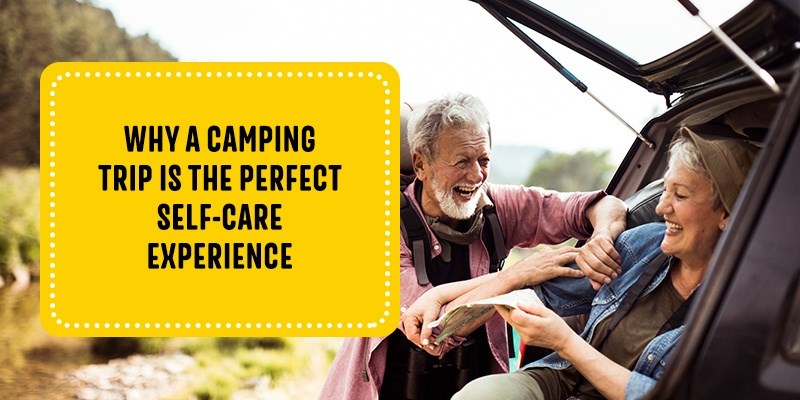 What Is Self-Care?
In general, self-care refers to anything you do deliberately to protect or enhance your mental, emotional and physical well-being. While this may sound like a simple concept, many people do not pay enough attention to their self-care or overall well-being. Taking deliberate action to guard your well-being requires being conscious and in touch with how you are doing on all levels.
To achieve true self-care, you must recognize your current state of health and understand the steps you can take to improve. Self-care can involve simple, minor lifestyle changes like not watching TV right before going to bed so that you get better sleep or more major decisions like going on a vacation focused on self-care. Both types of self-care are essential for preserving your health.
Why Is Self-Care Important?
Self-care is extremely important because it enables you to maintain a healthy relationship with yourself, which can help you develop better relationships with others as well. If you do not already have a sense of peace and positivity within yourself, you cannot give those good things to others.
Although some may confuse self-care with selfishness, this misconception is not accurate. Paying adequate attention to your own well-being via practicing self-care gives you the energy to be the best version of yourself for family, friends and strangers alike.
How Camping and Self-Care Are Related
Much of self-care involves connecting with nature and taking time for yourself, and the physical and emotional health benefits of camping are countless. Check out some of the specific ways camping promotes self-care.
Boosts Emotional Health
Research has found that literally stopping to smell the flowers can have a powerful positive impact on emotional health. The vibrant colors of flowers can help stimulate your senses and prompt the production of melatonin, a hormone that calms you down, and serotonin, a hormone that boosts your mood. As a bonus, spending time outside among the flowers brings opportunities to encounter beautiful creatures like butterflies, dragonflies and hummingbirds — further helping to reduce stress.
Improves Sleep Patterns
If you have been struggling to get enough sleep, research has shown that camping is one of the most effective ways to reset your natural sleep rhythm and get your fill of natural light. Instead of spending your pre-bed hours watching TV or scrolling through social media, you can reset your sleep schedule by watching the sunrise in the morning and the sunset in the evening.
Decreases Stress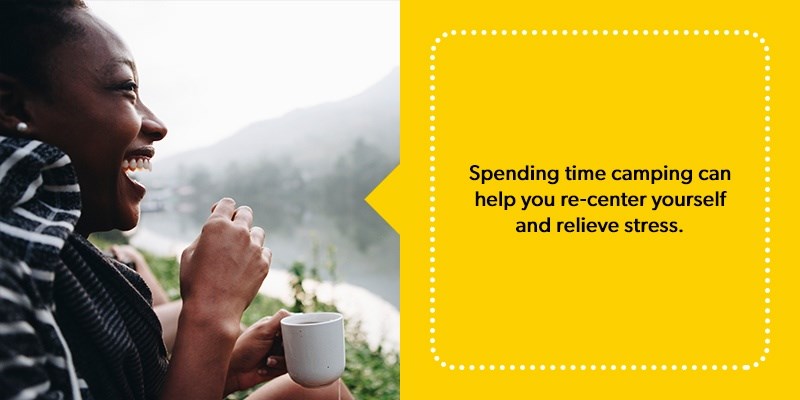 It is easy to get stressed from attempting to balance all of life's everyday responsibilities. Relaxing and letting go can be challenging when you have numerous appointments and meetings to keep each day. However, spending time camping can help you re-center yourself and relieve stress.
Additionally, spending time swimming in a nearby river, lake or pool while camping can help your body let go of any pent-up tension. Being in water gives you a sense of weightlessness that can naturally lighten your mood. Floating can also promote relaxation and lets you enjoy the moment.
Encourages Physical Activity
Going camping provides the perfect scenery for an afternoon hike or evening walk, and walking provides a wide array of health benefits, including weight management, improved muscle mass, increased energy and disease prevention. It can also help relieve stress by giving you a chance to sort through your thoughts and clear your head. Sometimes a solitary walk is all you need to refresh and adjust your perspective on a situation.
When you go camping, you might feel inspired to explore the multiple trails near your campground. Your walk does not need to be long, either — just half an hour of walking each day is enough for you to start experiencing the positive effects of getting active. However, the beauty of nature is so mesmerizing that you may not even notice how many miles you put in!
Keeps You Grounded
Recently, scientists have begun exploring the effects of direct physical contact with the Earth. Research has shown that health improves when you make regular contact with the vast supply of electrons on Earth's surface. Being barefoot outside, a practice known as "grounding" or "Earthing" allows the Earth's negative ions to absorb the positive ions within the body that can cause diseases.
Camping is a great opportunity to connect with nature and practice grounding. All you have to do is go outside, take your shoes off and stand or walk on the ground for about half an hour to benefit from grounding. Doing this daily can help heal physiological dysfunction and enhance wellness overall.
Pamper Yourself: Try out Glamping!
Take your self-care outdoors to the next level by glamping. "Glamping" is a modern mash-up word that is a mix between "glamorous" and "camping." Glamping is a type of camping trip that is a level up from roughing it. Glamping offers a luxurious outdoor experience by providing an extra layer of comfort to traditional camping.
If you want a relaxing getaway full of self-care, a glamping trip is an ideal way to get away and unwind in nature. On a glamping trip, you will experience a unique blend of outdoor adventure and natural scenery with modern amenities and comforts from home. The goal is to create a peaceful and stress-free trip that still connects you with nature in a way that you could not achieve when staying at a hotel.
You can turn any regular camping trip into a glamping trip by bringing enough accessories from home. To ensure your glamping trip goes smoothly, follow these top five glamping tips:
Make it your own: Customize your glamping trip to suit your tastes. Depending on your personal preferences, your glamping trip can be to the beach, a winter wonderland, an autumnal forest or a refreshing springtime countryside. You can also choose to stay in a tent, cabin or RV.
Be prepared: Check the forecast to ensure you are ready for whatever the weather brings. Pack an umbrella and some rain gear just in case.
Get creative: Being out in nature can get your creative juices flowing. Consider bringing creative materials, such as paints, a sketchbook or a journal, so that you can work on a passion project.
Experiment: Glamping is a great chance to try new things like archery, whitewater rafting or horseback riding. Add some adventure to your trip by participating in an activity you would not usually have the opportunity to try.
Relax: Your glamping trip should be all about whatever self-care looks like for you. Do not feel pressured to pack your trip with activities. Instead, keep your schedule generally free to give yourself the flexibility of doing whatever you want.
Book Your Glamping Trip With Kampgrounds of America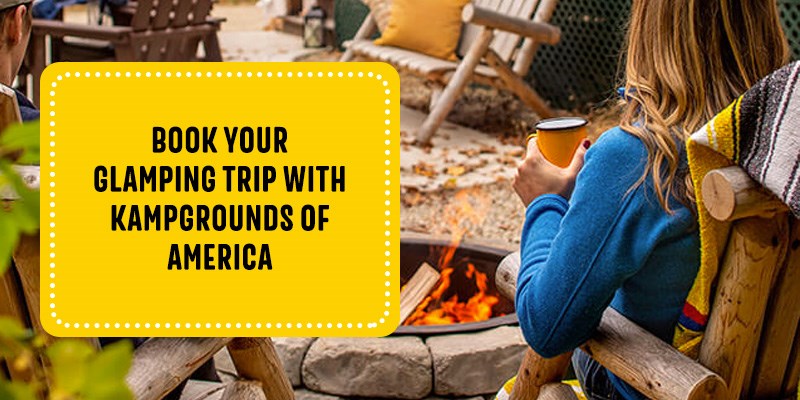 If you are ready to get serious about your self-care, book a glamping trip with KOA. KOA provides multiple glamping locations across the country, each offering a unique outdoor experience with comfortable lodging and plenty of amenities to make your stay as refreshing as possible.
Dedicate some time to take care of yourself and try out glamping at KOA today!
---
About the Author: Kampgrounds of America
Kampgrounds of America is the largest system of open-to-the-public campgrounds in the world, with over 500 locations across the United States and Canada. Founded in Billings, MT in 1962, KOA's family of campground brands – KOA Journey, KOA Holiday and KOA Resort – today serve more than a million camping families each year. KOA is dedicated to "connecting people to the outdoors and each other" by providing people with a variety of camping experiences and the information they need to make the most of their camping trip. Read more of their camping and travel resources by visiting KOA.com/blog.
---