What to Do in Cherokee, NC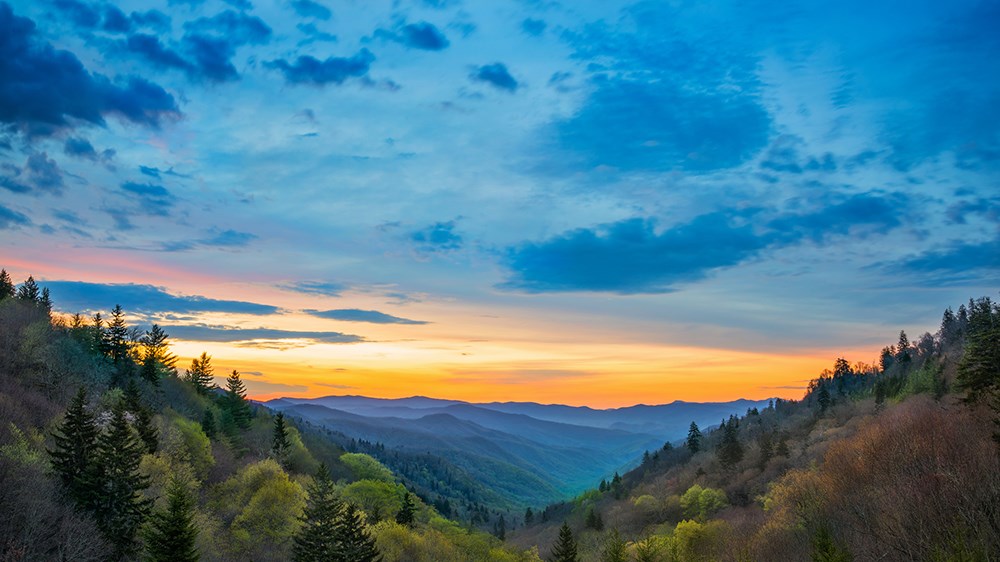 Nestled in the Smoky Mountains on a Cherokee Nation reservation, Cherokee, NC, is a town that can provide both enriching cultural experiences and exciting outdoor adventures. Here are some attractions that we recommend for your stay.
Great Smoky Mountains National Park
The nation's most popular national park, Great Smoky Mountains National Park straddles the border between Tennessee and North Carolina. It encompasses more than 800 square miles of breathtaking natural diversity, and the best way to see a reasonable amount of this park is by taking a scenic drive. The park's 300 miles of roads meander through lush forests to scenic viewpoints, historic sites, hiking trails, campgrounds and great fishing and wildlife opportunities.
Some of the park's most popular attractions include:
Spring and summer bloom: The Smokies are home to more than 1,500 flowering plants, including trout lilies, orchids, wild geranium and several types of trillium. To witness the best blooms, aim to visit from mid-April to mid-May. The park's famous rhododendrons are also in bloom starting in April in the lower elevations and into June at the higher elevations.
Clingmans Dome: At 6,643 feet, Clingmans Dome is the highest point in the park — and in the entire state of Tennessee. If you're visiting between April and November, you can take the scenic access point from Newfound Gap and then walk a short distance to the summit. The peak includes a futuristic observation tower that offers stunning views. As Clingmans Dome is popular, we recommend that you beat the crowds by leaving early in the day. If you're coming during the winter and would like some guaranteed solitude, you can access the summit by cross-country skiing or snowshoeing.
Autumn leaves: Like many places in the Appalachians, the Smoky Mountains are well known for their vibrant fall colors. Drive or hike to the park's higher elevations to witness more than 100 species of trees turning bright reds, oranges and yellows. For the higher-elevation sections of the park, aim to visit around mid-September, and for the lower elevations, go with mid-October.
Appalachian Trail: The famous Appalachian Trail spans from Georgia to Maine, and 71 miles of it pass through the park. While most visitors don't have the time or desire to hike its entire length, there are stretches of the trail that can be completed in a day. One such segment is the seven-mile stretch from Newfound Gap Road to Clingmans Dome. If you have more energy, you can even continue for another five miles to Silers Bald.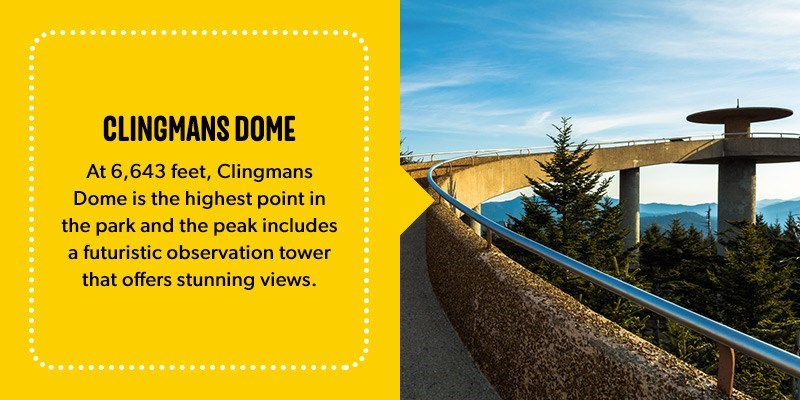 The Blue Ridge Parkway
The Blue Ridge Parkway is another one of the country's most visited attractions, and it happens to be right next to Cherokee, so make sure to take a drive on this scenic route during your stay in Cherokee. This road runs along the crests of mountains and features countless turns and drops, revealing breathtaking panoramas of verdant mountain peaks, deep valleys and endless sky.
In addition to enjoying the scenery from your car, you can also stop at one of the parkway's many picnic spots or hike one of its many trails. The parkway offers different spectacles every season. In the spring, the redbuds begin to blush. In the summer, you'll witness an outburst of green. In the fall, you'll get to enjoy perhaps the most famous spectacle of all: a vibrant explosion of reds, oranges and yellows that attract visitors from around the world.
This famous highway begins on the southern edge of Shenandoah National Park in Virginia and meanders along the high ridges of the Blue Ridge Mountains for 469 miles before reaching its Southern terminus just a few miles from Cherokee.
Waterfalls
Thanks to the region's mountainous terrain and wet climate, there's no shortage of magnificent waterfalls. Two of the most famous falls near Cherokee are:
Mingo Falls: This beautiful hidden treasure is arguably the region's most stunning waterfall. It's located about 10 to 15 minutes from Cherokee. Towering 200 feet above the base, these falls make for a breathtaking photo backdrop. Although the parking lot is not far away and the path to the falls is not long, the hike can be slightly challenging, with about 150 steps to climb. Fortunately, the view makes it all worth it!
Soco Falls: The picturesque Soco Falls is another dramatic spectacle in the area. To get here, drive east on US Route 19 toward Maggie Valley. After 11 miles, the falls will be on your right. You'll see a small, unmarked pullout, and a short walk will lead you to a viewing platform for the falls. If you're coming from Maggie Valley, it'll be 1.5 miles past the Blue Ridge Parkway on your left.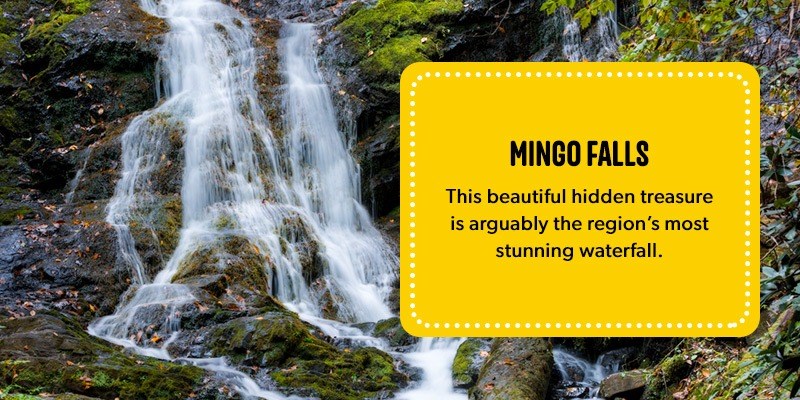 Oconaluftee Indian Village
When you're in the Oconaluftee Indian Village, you'll realize that Cherokee culture is alive and well. Upon entering the village, you'll immediately be transported back to the 1760s. Enjoy the aroma of wood smoke as you go on an interactive tour led by a Cherokee cultural expert, who will show you traditional Cherokee dwellings, sacred ritual sites and work areas. You can also interact with villagers while they sculpt pottery, hull canoes, fashion beadwork and weave baskets. You can even learn about how a village prepares for war or attend a blowgun demonstration.

The Museum of the Cherokee Indian
At the Museum of the Cherokee Indian, you can experience the Cherokee Nation's rich history of over 13,000 years and learn about their resilience, inventive spirit and will to survive. You and your family are sure to enjoy the museum's many interactive videos and fascinating displays.
If you're coming with a larger party, ask about group packages, which include experiences like Cherokee language courses and performances by the Warriors of Anikituhwa. The museum's exhibits are also fully handicapped-accessible, including its new education and research wing and restrooms. The museum's store stocks a wide variety of crafts, clothing and books, including educational coloring books for kids.
"Unto These Hills"
One of Cherokee's most popular attractions, "Unto These Hills" is an outdoor drama that tells the history of the Cherokee people from 1780 up to the 21st century. Since its debut in 1950, this production has welcomed more than 6 million visitors. Shows are performed outside at the Mountainside Theatre every night of the week except Sunday from June to August. "Unto These Hills" will teach you about the courage and beauty of the Cherokee people through its action, drama and gorgeous imagery.
Qualla Arts & Crafts Mutual, Inc.
Founded in 1946, Qualla Arts and Crafts has the distinction of being the oldest Native American Cooperative. It promotes and preserves the traditional arts of the Eastern Band of the Cherokee, showcasing works of more than 250 members. It offers a wide selection of pottery, baskets, beadwork, wood carvings and much more.

Fishing
Cherokee boasts 30 miles of streams, which is arguably the Eastern U.S.'s largest stretch of managed private fishery. What's more, the streams are teeming with trout, including rainbow, golden brook and brown. The area has more than 40 stores and shops that offer authorized fishing permits and an increasing number of tackle shops that supply flies, bait and tackle for both experts and novices.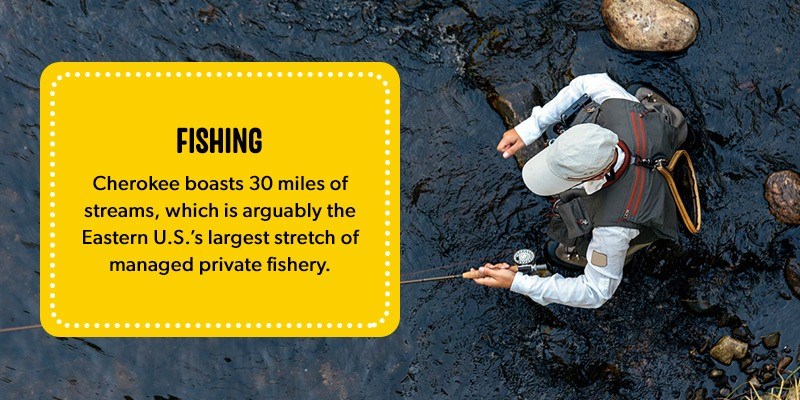 Mountain Farm Museum
At the Mountain Farm Museum, you can see an assortment of old farm structures that were taken from all over the Smoky Mountains to be preserved on one site. These structures include a smokehouse, a spring house, an apple house and a barn. You're welcome to explore and walk through all of them and get a feeling of how things were a century ago.
You can also learn about the agricultural practices of the day, such as caring for livestock and gardening. The Oconaluftee River Trail also starts here and follows the river for a mile and a half to Cherokee.
Smokemont Riding Stables
If you're a horseback riding enthusiast, you can't miss the Smokemont Riding Stables, which offer a wide selection of horseback trail rides within Great Smoky Mountain National Park. The horses here are well-trained and suit any level of riding ability — even beginners can get saddled up and start riding in no time.
The majority of these trails lead riders through gorgeous scenery along the Oconaluftee River and are two to four hours long. Children must be at least five years old to ride, but if you have kids who are younger, you can still take them on a relaxing wagon ride.

Smoky Mountain Gold & Ruby Mine
At the Smoky Mountain Gold & Ruby Mine, you and your family can follow in the footsteps of pioneer gold miners by panning for gold or gemstones. You'll be supplied with everything you need to find your own gemstones, and once you've found some precious stones, you can have them identified and polished on-site. You can also have them set into charming jewelry items to bring back home.
This activity is especially refreshing on a hot summer day, as you're sure to get wet!
Harrah's Cherokee Casino Resort
Unlike any casino you'd find in Las Vegas, Harrah's Cherokee Casino Resort is surrounded by beautiful, green mountains. This resort is massive, with more than 1,000 guest rooms and a wide selection of facilities.
In addition to enjoying the popular gaming machines and tables in the casino, you can also treat yourself to a refreshing spa session, work out in the on-site gym or just kick back by the resort's indoor or outdoor pools. If you're a lover of live music, you can attend one of the resort's concerts, where big-name musicians regularly perform.
Cherokee Rapids Tube Rental
If you're visiting Cherokee during the warmer months of the year, your stay would not be complete without a leisurely tubing trip down the gorgeous Oconaluftee River. This is a great activity for the entire family (as long as all children are over five years old) and a fun, refreshing way to take in the natural scenery of the area. The river, which is two miles in length, features gentle Class I and Class II rapids.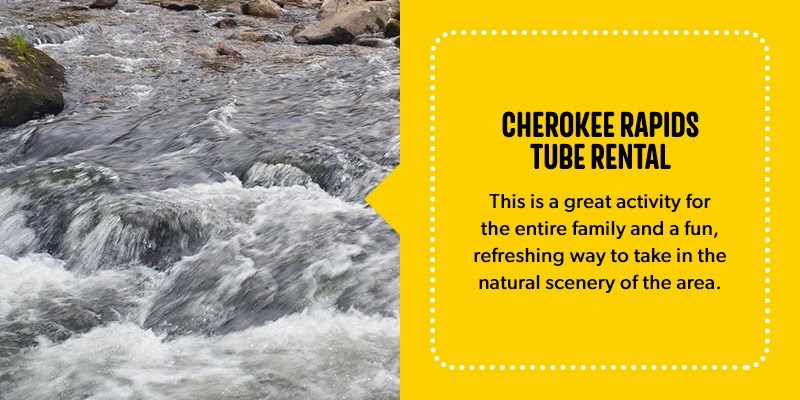 To access the tube rental, park near the Little Princess Restaurant, where the Cherokee Rapids team will take you by bus upstream and provide you with a tube and life jacket. You can take as much time as you'd like floating down the river, stopping for a swim along the way.
Cherokee's miles of rivers can also be traversed by kayak. The Cherokee Rapids River Company also rents out kayaks and all the necessary gear for your day on the water. Head down the Nantahala Rapids for an exciting adventure, or if you'd prefer calmer waters, get yourself over to Fontana Lake.
Great Smoky Mountains Railroad
A ride on the magnificent Great Smoky Mountains Railroad is perhaps the most relaxing way to take in the local scenery. In the wintertime, choose the Polar Express ride, where your kids can hitch a ride with Santa. Other themed rides include ones with the Wizard of Oz and the Peanuts gang.
Zipline Across the Nantahala Gorge
You can take an exhilarating zipline trip over the Nantahala Gorge by signing up with the Nantahala Outdoor Center. You'll experience 360-degree views of the valleys below, meaning that this adventure is not for the faint at heart. There are eight sky bridges and 12 different ziplines total, so your entire family can spend the day flying through the trees.
Sequoyah National Golf Club
Located just three miles outside of Cherokee, this par-72 championship golf course measures 6,600 yards and features beautiful bent grass greens and bluegrass fairways. The course offers stunning views of Great Smoky Mountains National Park and provides excellent playing conditions throughout the year. In addition to its 18 holes, the Sequoyah National Golf Club also offers an expansive practice area that includes putting greens, a driving range and a chipping area. Their golf shop sells a wide variety of golf apparel for men and women.
When you're not golfing, you can sit back and enjoy a delicious lunch or refreshing beverage on the outdoor deck, which offers stunning panoramic views of the Smokies.
Santa's Land
The beloved Santa's Land is a theme park that will let you and your family enjoy the best of Christmas whether it's the holiday season or not. It boasts a zoo with exotic animals such as bears and lemurs, exciting rides, gift shops, games and, of course, Saint Nicholas himself. Don't miss a ride on the Rudicoaster!
Visit KOA Cherokee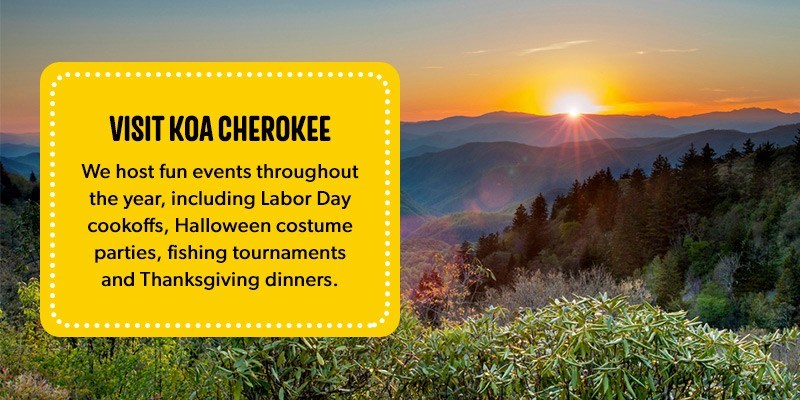 When you're staying KOA Cherokee, you can enjoy yourself without even leaving the campground, as we host fun events throughout the year, including Labor Day cookoffs, Halloween costume parties, fishing tournaments and Thanksgiving dinners. Check out our calendar to time your stay with one of our exciting activities.
---
About the Author: Kampgrounds of America
Kampgrounds of America is the largest system of open-to-the-public campgrounds in the world, with over 500 locations across the United States and Canada. Founded in Billings, MT in 1962, KOA's family of campground brands – KOA Journey, KOA Holiday and KOA Resort – today serve more than a million camping families each year. KOA is dedicated to "connecting people to the outdoors and each other" by providing people with a variety of camping experiences and the information they need to make the most of their camping trip. Read more of their camping and travel resources by visiting KOA.com/blog.
---