Vintage Camper enthusiasts are bringing back the classics at KOA
By PAUL LACITINOLA / Vintage Camper Trailers Magazine
Vintage camper "trailering" has rolled onto the scene as one of the newest ways to enjoy the age-old hobby of camping.  Trailers, manufactured from the 1930s through the 1970s, are being rescued from years of idleness and given new life through restoration.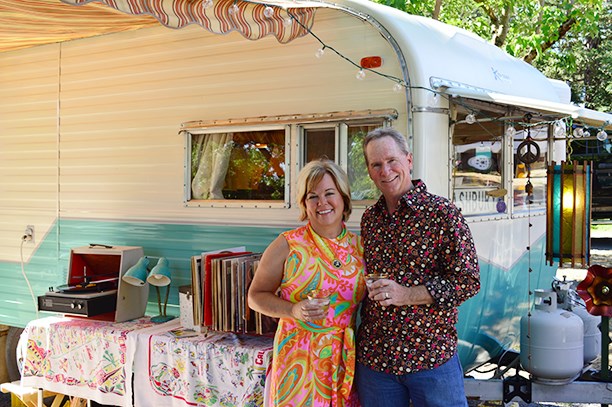 Many are back on the road to once again bring joy to their owners.  Gathering together at rallies across the U.S. and Canada, trailerites (vintage trailer enthusiasts) are a passionate group who appreciate the mystique of mid-century America. Rallies that feature an open house give the public a chance to interact with the trailrites, who are more than willing to invite them in for an opportunity to step back in time.
As publishers of Vintage Camper Trailers Magazine, we've spoken with hundreds of people about their vintage trailers. We have discovered that the hobby captivates many different types of people from all walks of life.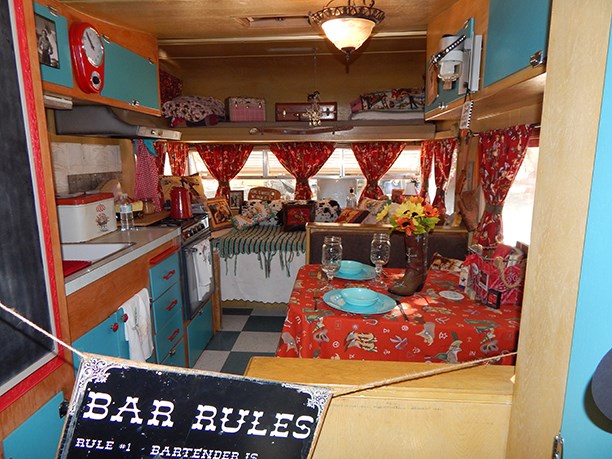 Memories are made while camping.  We have seen several people walk into a vintage trailer and become emotional as they recall memories of camping in a "trailer just like this."  The wood paneling on the interior of these trailers gives off a smell that is hard to forget.  It is a warm, comforting scent that triggers stories of rainy nights playing games with family, crashing on the bed following a long day at the beach, hiking, fishing or a plethora of other camping activities.  Sometimes it is a vintage apron hanging on a hook that reminds a visitor of the incredible cakes or cookies or dinner that was served to them while camping in bygone days.  Bunk beds, checkered table clothes and gas-burning lanterns all add to the cozy memories.
Each October, we host one of the largest vintage camper trailer rallies in the nation at the Stockton Delta KOA in Northern California (www.trailerfestrally.com). Renting the entire campground, we have over 250 vintage camper trailers gather together for three fun-filled days.  Many in the vintage camper trailer community have personal memories of camping in trailers that are now considered "vintage."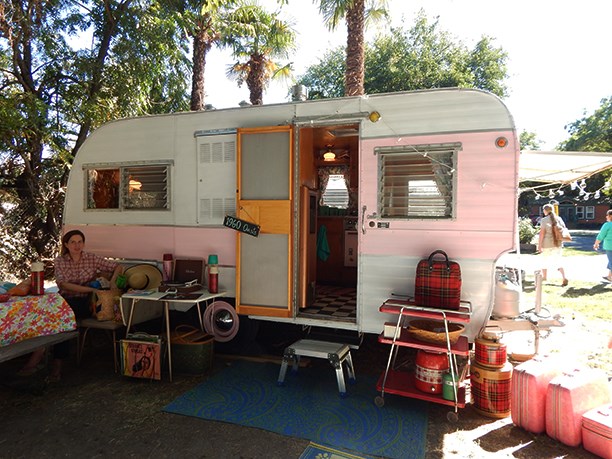 The hobby is not exclusive to that generation.  We have seen a large number of families with younger children, recent empty-nesters, as well as retirees find a place to belong in the vintage camper trailer hobby.  The vintage camper trailers have created an opportunity to belong to a unique community that appreciates vintage values and vintage trailers.  At rallies, you will find groups sitting around campfires enjoying conversation while sipping on coffee brewed over the fire or with a fancy espresso machine. Everyone has their own ideas of what makes a great experience.
Rallies often include pajama parades, dog parades, open houses, pot lucks, bands, breakfast feasts, ice cream making contests and lots of laughter and conversation.  They are a time of sharing old stories and making new memories.  Talking about trailer finds and the one that got away, like fishermen talk about the big catch. Where else do you see a 13-year-old kid give his chair to an elder and sit on the ground to hear their stories, or see a mom able to enjoy a few minutes of reading because she knows her toddlers are being cared for by a dozen adopted grandparents?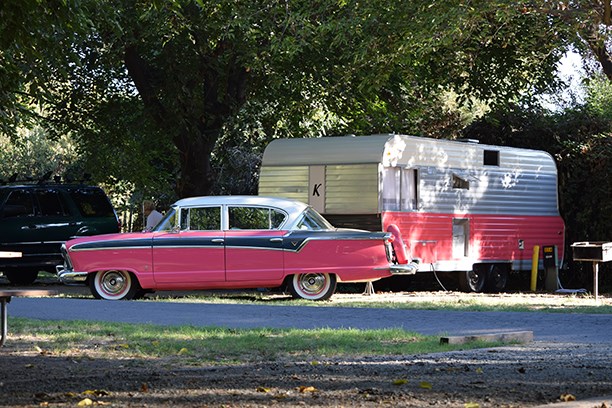 The need to share this unique hobby prompted us to begin publishing the Vintage Camper Trailers Magazine in 2011.  The subscribers grew and the paper tabloid news soon evolved into a full color glossy magazine.  Now, with thousands of subscribers across the United States, the magazine features how-to articles, stories of restorations, history of vintage camper trailers and pictorials featuring a broad range of vintage camper trailer models.   The Vintage Camper Trailers book is also set to be released in May of 2016.  It is a coffee table book full of short stories and beautiful pictures of the people and their vintage camper trailers.
If you are feeling the need to recall a time in life that brings back fun memories of camping, look for information on where you can come see some of these incredible pieces of history at www.vintagecampertrailers.com.
---
Meet the Lacitinolas: Vintage camper trailer collectors/restorers and the publishers of the Vintage Camper Trailers Magazine and soon to be released hardcover book by the same name.