Why Visit Dallas / Fort Worth?
When traveling to the Lone Star State, add Dallas and Fort Worth to your list of cities to explore. The two cities have many attractions, events, dining experiences and shopping spaces for you to enjoy. The South is also an excellent place for camping. With the state's temperate weather, you and your family can stay at a campground near Dallas, Texas, for an exciting vacation as you travel around the city.
When You Should Visit Texas
Texas is known for its warm weather. If you're looking for a long or short vacation, the months of March to May and September to November are ideal for visiting Dallas and Fort Worth. Both periods provide visitors with more bearable temperatures without enduring the area's scorching summer heat. While visiting during the spring and fall is ideal, the peak travel season is from July to October. During peak season, you'll have many opportunities to experience different events and festivals near the cities.
8 Places to Tour Near Dallas and Fort Worth
Dallas and Fort Worth are in Texas's top five most populous cities. Big cities often have many attractions — and Dallas and Fort Worth are no exception. You have plenty of options to sightsee and travel between the two cities. Some fun and exciting recreational locations you could visit include:
1. The Sixth Floor Museum at Dealey Plaza
On November 22, 1963, the United States was at a standstill when President John F. Kennedy was assassinated in Dallas. The historical event led to nationwide mourning as people discovered the news. You can learn more about JFK and the historical events surrounding his life at The Sixth Floor Museum at Dealey Plaza. It was created to commemorate his legacy and chronicle his assassination.
The museum is on the sixth floor of the former Texas School Book Depository building, where Lee Harvey Oswald shot JFK and Governor Connally from. You'll see over 90,000 artifacts related to the assassination, such as objects from the Kennedy Family, Lee Harvey Oswald and Parkland Memorial Hospital.
2. Reunion Tower
Visit Reunion Tower to travel 470 feet in the air and have gorgeous views of downtown Dallas. The Tower's observation deck lets you experience the sights indoors and outdoors. Families will love the various family-friendly events happening. Adults can also celebrate special occasions with a unique date at the GeO-Deck.
3. The Dallas World Aquarium
Learn about animals of the rainforest and ocean during a visit to The Dallas World Aquarium. You and your family will love seeing and learning about the conservation efforts for the various fish, birds, mammals and reptiles around the exhibits.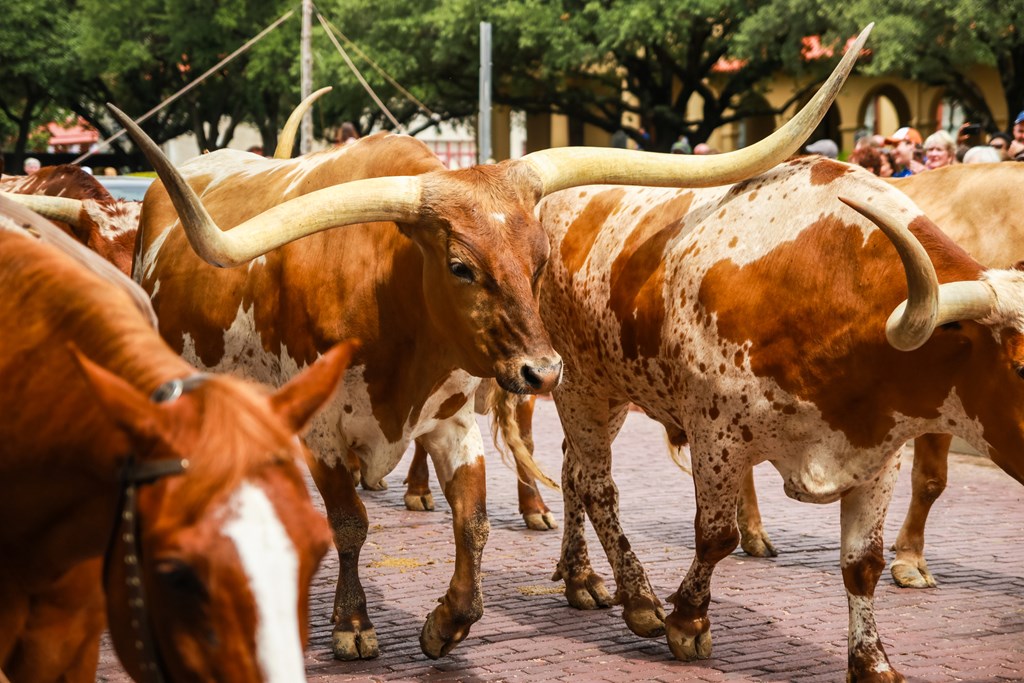 4. Fort Worth Stockyards
Travel back to the Old West with a trip to the Fort Worth Stockyards National Historic District in Fort Worth, Texas. The Fort Worth Stockyards embody its Texas history, paying homage to its livestock industry heritage. Visit the saloon for a delicious meal and live music. Also, ensure you get to The Herd Experience, where you and your family can interact with drovers and watch as they use the same tools from the Cattle Drive Era to complete their chores.
5. Dallas Zoo
If you didn't get enough of the animals at the aquarium, make your way to the Dallas Zoo to see more. There are plenty of experiences and encounters with keepers and animals that let you learn about the unique species on the property. Feed giraffes or enter the interactive aviary, where you can befriend a bird if one lands on you.
6. Buc-ee's
While making a gas station/convenience store a part of your bucket list for Texas might seem unconventional, Buc-ee's lives up to the hype. The convenience store is popular in the South for its grandeur, claiming to be the biggest gas station in the world. Besides stopping for gas, you could spend an hour or two browsing the store for clothes, souvenirs, food and drinks.
7. Dallas Museum of Art
Connect with your creativity while learning about art from renowned artists at the Dallas Museum of Art. The museum has various exhibitions of art from different cultures and countries. See inspiring pieces from Octavio Medellín, Matthew Wong, Jean-Michel Basquiat and many other artists.
8. Fort Worth Botanic Garden
Spend time in nature surrounded by beautiful gardens full of flora, trees, cacti and plants. The Fort Worth Botanic Garden has 17 diverse gardens and venues you can stroll through, such as:
Rose Garden
Perennial Garden
Cactus Garden
Four Seasons Garden
Backyard Vegetable Garden
You'll enjoy seeing all the plants and beautiful venues while walking around the grounds.
Rest at RV Campgrounds Near Dallas, TX
Camping at Kampgrounds of America can extend the fun and excitement of your trip to Texas. The Dallas and Fort Worth area is home to several KOA Campgrounds that you could make your home base during your vacation, such as:
Each campground provides camping sites near Dallas to help guests have comfortable places to stay. Rent a Deluxe or Camping Cabin or park your RV at one of the sites. We also provide tent camping experiences near Dallas with our various Tent Sites. Our RV and Tent Sites have several hookups to ensure you can connect to water, electricity and sewer whenever needed.
Wherever you stay, you'll have access to plenty of amenities to help you remain comfortable during your trip. At KOA, you can experience glamping or more traditional camping. Our campground facilities and amenities give you plenty of space and recreation to unwind and recover after adventuring throughout the Dallas and Fort Worth area.
Stay at KOA When in the Dallas / Fort Worth Area
Camping is easy when you stay at KOA. We ensure you have everything you and your family need for a fun and eventful trip. Stay in our cabins near Dallas or bring your RV or tent for a different camping experience.
Begin planning your adventure by reserving a campsite at one of our Texas KOAs today!
---
About the Author: Kampgrounds of America
Kampgrounds of America is the largest system of open-to-the-public campgrounds in the world, with over 500 locations across the United States and Canada. Founded in Billings, MT in 1962, KOA's family of campground brands – KOA Journey, KOA Holiday and KOA Resort – today serve more than a million camping families each year. KOA is dedicated to "connecting people to the outdoors and each other" by providing people with a variety of camping experiences and the information they need to make the most of their camping trip. Read more of their camping and travel resources by visiting KOA.com/blog.