Traveling the Kentucky Bourbon Trail | KY Road Trip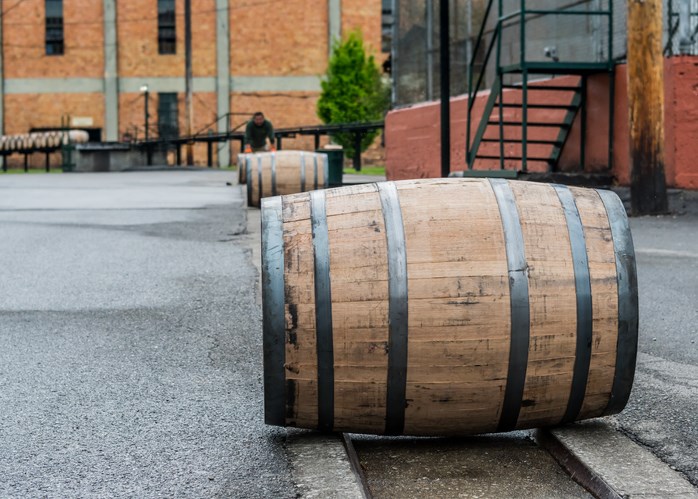 Are you visiting Kentucky? There's so much to do and see in the Bluegrass State, from exploring the world's longest cave system to listening to some authentic bluegrass music. But if you're interested in visiting numerous bourbon distilleries, learning about the origins of the drink and tasting lots and lots of it, you and the Kentucky Bourbon Trail (KBT) will make the perfect pair.
This article will help you plan the ultimate Kentucky road trip by explaining what the KBT is, the top places to visit during your bourbon tour in Kentucky and what a KBT itinerary could look like. Keep reading to discover the best bourbon distilleries and convenient Kampgrounds of America (KOA) locations near the Kentucky Bourbon Trail to stay at. With this guide, planning your KBT trip will be a breeze.
What Is the Kentucky Bourbon Trail?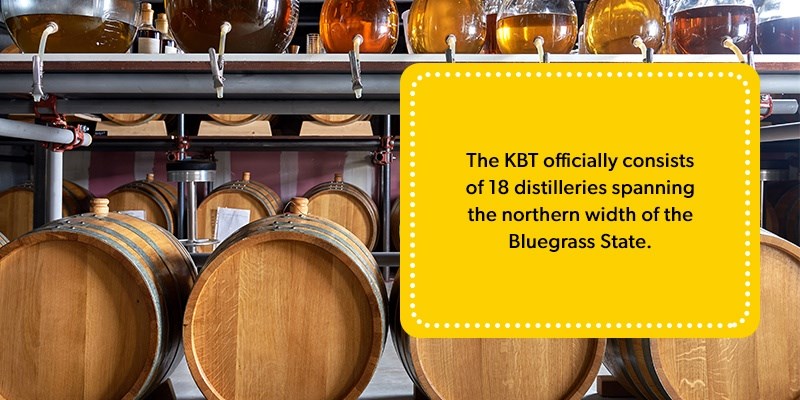 The Kentucky Bourbon Trail is an extensive collection of bourbon whiskey distilleries located in Kentucky. The KBT officially consists of 18 distilleries spanning the northern width of the Bluegrass State. By following the KBT, bourbon connoisseurs can experience the ultimate road trip of world-famous Kentucky distilleries, such as Maker's Mark and Jim Beam, along with other Kentucky attractions.
The Kentucky Distillers' Association established the KBT in 1999 to bring more tourists to Kentucky. Since then, millions of bourbon lovers from various states and even other countries have experienced the Trail. Even if you're new to the world of bourbon, anyone can find something to love about the KBT. From tours, tastings and museums to big-city nightlife, quaint country town views and historic buildings, there's always something to do and see.
On the KBT, you'll get an up-close look at the history of crafting bourbon, the distillation process and the art of bourbon tasting. Touring these famous distilleries will give you the opportunity to understand what sets Kentucky bourbon apart. Plus, you'll get a chance to experience Kentucky in a whole new way.
When you do the KBT, make sure to bring a Bourbon Trail Passport to get stamped at each KBT distillery you visit. Getting your KBT passport stamped unlocks access to special extras on the KBT along the way, such as unique tastings, tours and other activities. If you show your KBT passport at one of the KBT distilleries, you may even get the chance to purchase special bottles or swag. If you complete your entire KBT passport and turn it in, you'll receive a special gift.
10 Best Places to Visit Along the Way
In case you're short on time or don't want to see all 18 distilleries, below is a list of the top 10 experiences to include on your KBT itinerary.
1. Evan Williams Experience in Louisville
The Evan Williams Experience will take you back in time to 1783 — some of Louisville's earliest days when bourbon was just beginning its illustrious history in the area. The Evan Williams Experience tour does a great job of explaining the background of bourbon, Kentucky's history with the drink and how the KBT got its start. Of course, the tour ends with a tasting of some top-notch bourbon.
This is technically the only official bourbon tour in Louisville proper, making it more than worth the stop if you already plan on checking out the city. Afterward, you can find affordable accommodations at Louisville South KOA Holiday, Kentucky's largest KOA campground. This fun-filled KOA offers everything from tent sites and RV spots to air-conditioned Camping Cabins and fully furnished Deluxe Cabins.
2. Jim Beam Distillery Tour
Staying at Louisville South KOA Holiday puts you right in Shepherdsville, which just so happens to be home to the Jim Beam Distillery — the largest maker of Kentucky bourbon. Because the distillery is so massive, the Jim Beam tour will give you a unique view of a larger-scale bourbon operation.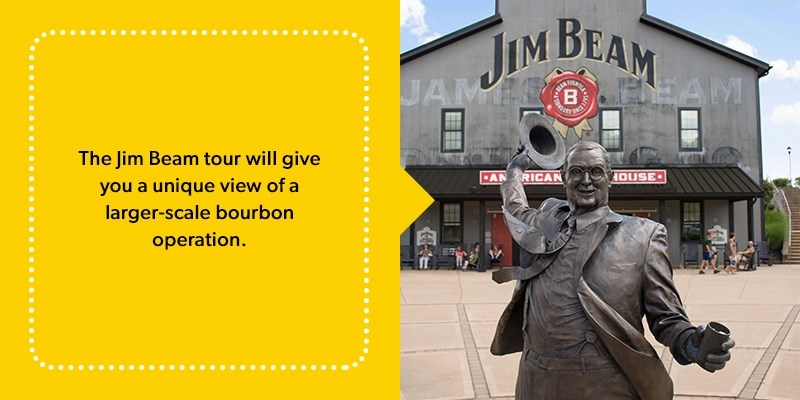 The guided tour starts at Jim Beam's natural limestone water well and walks you through each of the mashing, distilling, barreling, aging and bottling steps. The Jim Beam Distillery tour guides are extremely knowledgeable and try to make the tour as interactive as possible by encouraging questions.
3. Bernheim Arboretum and Reserach Forest
If you ever need a little break from bourbon and want to hit up a different type of trail, check out the Bernheim Arboretum and Research Forest. This charming natural wonderland is right down the road from Jim Beam, making it a convenient spot for walking off any bourbon ice cream you may have indulged in. Here, you'll discover over 35 miles of hiking trails, which wind through the forest, into valleys and around a gorgeous lake.
4. The Louisville Slugger Museum & Factory
While you're near the Louisville area, don't miss the Louisville Slugger Museum & Factory. This fascinating museum spotlights where professional baseball bats are made. At the museum, you'll get to take a factory tour that teaches visitors all about historical hitters and their bats. At the end of it, every visitor receives a mini souvenir Louisville Slugger to take home.
5. Maker's Mark Distillery Tour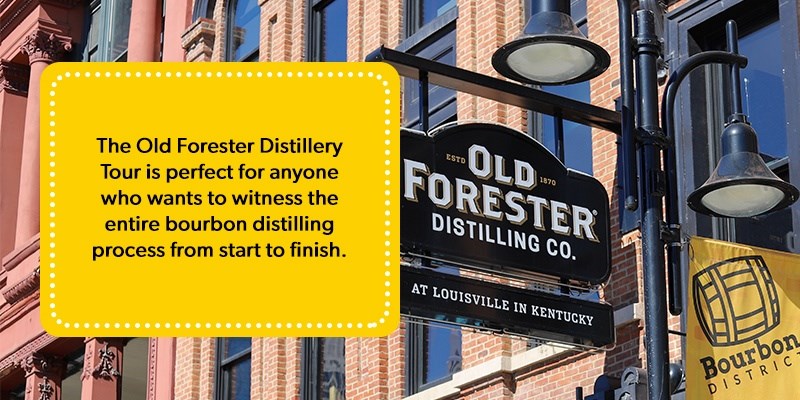 The Maker's Mark Distillery Tour is a must for any true bourbon aficionado. Maker's Mark offers the best all-around distillery tour, boasting beautiful historical grounds, an intriguing brand origin story and a guided tasting. Be sure to buy a bottle of bourbon — you'll get to dip the top of it into the iconic Maker's Mark red wax yourself.
6. Old Forester Discovery Tour
The Old Forester Distillery Tour is perfect for anyone who wants to witness the entire bourbon distilling process from start to finish. During the tour, you'll get to see everything that goes into producing bourbon, including the making of the barrels and the bottling of the final masterpiece. As a bonus, most tours include tastings of four different Old Forester expressions.
7. Woodford Reserve Distillery Tour
The Woodford Reserve Distillery is a National Historic Landmark featuring a restored limestone building and expertly manicured landscaping that's beautifully maintained. Here, you'll get to enjoy a tour through the entire distilling process while being surrounded by stunning rolling hills. On the tour, you'll get to see the still, the warehouse and the bottling process.
Make sure you savor the drive to Woodford Reserve Distillery, as you'll be passing through some of Kentucky's most famous Thoroughbred horse farms. Any of these horse farms may very well be the home of the next Kentucky Derby winner. Once you get to Woodford Reserve, there's a cafe on the grounds, which serves as a great spot for grabbing food while on the KBT.
8. Mixology Classes
If you're looking to jazz up your bourbon, try taking a mixology class along the KBT. Several distilleries included on the KBT offer mixology and cocktail classes to help visitors enjoy their bourbon in a new light. These fun and creative classes will provide you with a hands-on lesson about how to mix a craft cocktail like a pro.
Specifically, the Shaken and Stirred curated cocktail class at the Bardstown Bourbon Company allows you to take a deep dive into what it takes to make a fabulous cocktail with high-end spirits. Although Bardstown is one of the farthest KBT distilleries from Louisville, it's worth the drive.
Afterward, you can explore more of Central Kentucky's scenic views by staying at Horse Cave KOA Holiday. At Horse Cave KOA, you'll find comfortable accommodations, including lodging, RV sites and tent sites, along with wonderful opportunities to check out Kentucky's famous cave region.
9. Specialized KBT Tours
While most of the distilleries along the KBT offer a standard tour of the facility and tasting, some distilleries run special tours that give you a unique experience. For instance, the Angel's Envy tour concludes with a tasting of its rye whiskey straight from the barrel. At the Stave & Thief Society, you can participate in the first and only "Official Bourbon Education Course" recognized by the Kentucky Distillers Association.
Make sure you look into what kind of specialized tours the KBT has to offer and book one that piques your interest. Regardless of which KBT tours you sign up for, you can count on finding suitable accommodations at the nearest KOA campground. With numerous KOA locations throughout Kentucky, you have plenty of fun, affordable and convenient lodging options.
10. Keeneland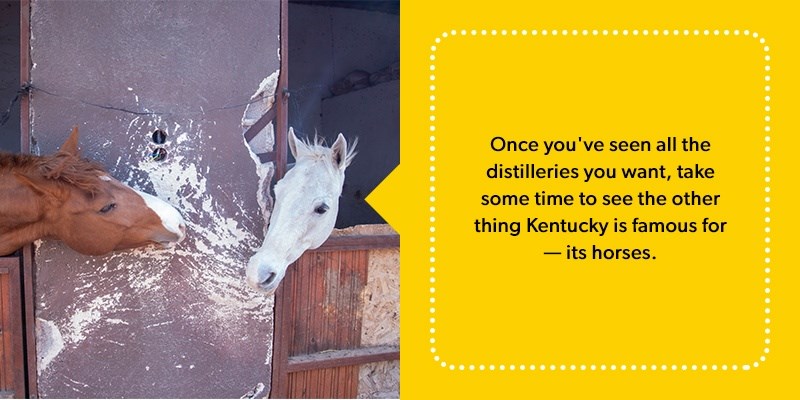 Once you've seen all the distilleries you want, take some time to see the other thing Kentucky is famous for — its horses. Get to know some of Kentucky's speediest horses at Keeneland, one of the world's most beautiful race tracks. If you get to Keeneland early enough, you can watch the Thoroughbreds and their trainers go through their morning workouts. As a result, you get a close-up view of future champions without having to pay a cent.
Sample Itinerary: 5-Day Trip
If you're ready to start planning your KBT trip and require some inspiration, check out this sample itinerary. Below, you'll discover a potential KBT route and activity schedule that will give you five days to experience all Kentucky has to offer. This itinerary includes some of the most popular distilleries along the KBT and a mix of Kentucky's beautiful backroads, charming small towns and cool urban scenes.
Before going over the itinerary, note that drinking and driving on the KBT is in no way encouraged. All of the KBT distilleries are legally limited on how much alcohol they can give each visitor to sample. The KBT distilleries also can't sell alcohol to consume on the premises. If you want to go out on the town later, simply leave your car where you're staying for the night and use a ridesharing app.
Day 1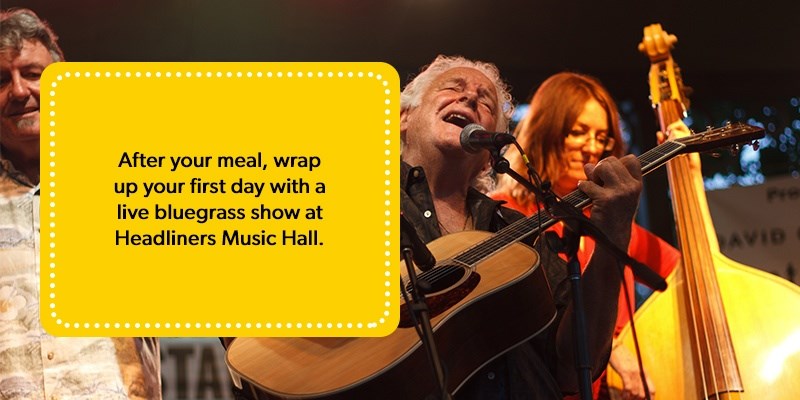 Begin your KBT adventure by landing at the Louisville airport and picking up a rental car, so you have a reliable way to take the KBT. Once you've secured your rental car, go straight into downtown Louisville for an afternoon tour at the Evan Williams Experience. This fun and flashy tour is a great way to shake off your flight and get your KBT trip started on the right foot.
After the Evan Williams Experience, you can take the rest of the afternoon to check into wherever you're staying and rest from the flight or explore more of Louisville. Staying at Louisville South KOA Holiday is an excellent choice for remaining conveniently close to Louisville and other KBT stops while avoiding the hustle and bustle of downtown.
Once you've settled into your lodging, head back to Louisville for dinner. For a unique and bourbon-centered dining experience, eat at Bourbons Bistro. This restaurant is located in a historic building from the 1870s and features over 130 bourbons. If you can't choose just one bourbon, the bartenders will create a custom flight for you. After your meal, wrap up your first day with a live bluegrass show at Headliners Music Hall.
Day 2
Take the morning to visit any other Louisville attractions you're interested in, such as the Louisville Slugger Museum. On your way out of Louisville, stop by the Stitzel-Weller Distillery for the Bulleit Frontier Whiskey Experience, which includes a grounds tour and bourbon tasting. This smaller tour is an excellent warm-up for your next destination — the Jim Beam Distillery.
As one of Kentucky's leading bourbon producers, the Jim Beam Distillery features one of the longest facility tours on the KBT. Be prepared for a fascinating, in-depth look at bourbon-making. After the tour, you can order lunch at the distillery's restaurant, Fred's Smokehouse, and enjoy your meal while sitting in a rocking chair on its porch. Make sure you don't leave the distillery without trying the bourbon ice cream.
Now that you're full of sugar and energy, hit the trails at the Bernheim Arboretum and Research Forest located right down the road. As a bonus, the park is free on weekdays. Once you've worked up an appetite again, have a relaxing dinner near Shepherdsville and get to bed early in preparation for a morning bourbon tour.
Day 3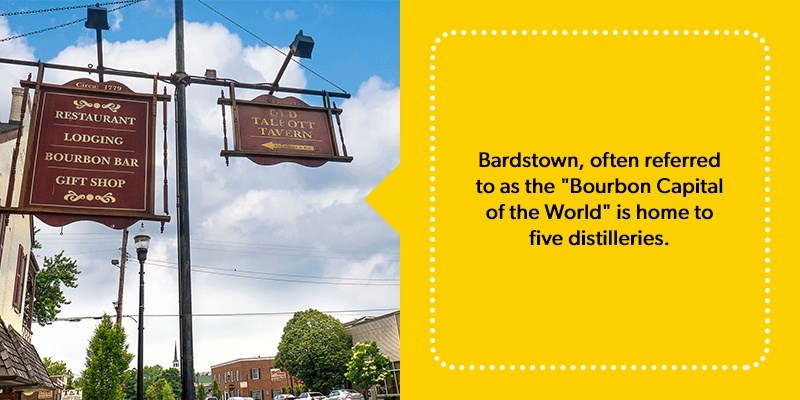 On day three, rise and shine to get to the Maker's Mark Distillery tour before the crowds. As the world's oldest operating bourbon distillery, Maker's Mark is a must-see on the KBT. Here, you can see the Maker's Mark bottling floor where the famous red wax bottles get hand-dipped and, of course, the tasting room.
The rest of your day will be based in Bardstown, often referred to as the "Bourbon Capital of the World." Bardstown is home to five distilleries, including the Bardstown Bourbon Company and its Shaken and Stirred cocktail class. If you visit Bardstown in September, you'll get the added pleasure of attending the Kentucky Bourbon Festival, a spirited event that draws tens of thousands of bourbon enthusiasts each year.
Grab lunch at any of Bardstown's cute, family-owned restaurants, such as Kurtz Restaurant, before catching an afternoon tour at Heaven Hill Bourbon Heritage Center. If you feel like you've seen enough fermenters and rickhouses by this point, sign up for the Whiskey Connoisseur Experience, which is a shorter tour focused on Heaven Hill's history with a tutored tasting of premium and limited release bourbons.
Once you get back to downtown Bardstown, take some time to admire the scenery, cute streets and small shops. Find somewhere local to stop for dinner, and end your night at the Blind Pig Bourbon Speakeasy. This secret speakeasy will make you feel like you're in the Prohibition Era as you sip your bourbon cocktail.
Day 4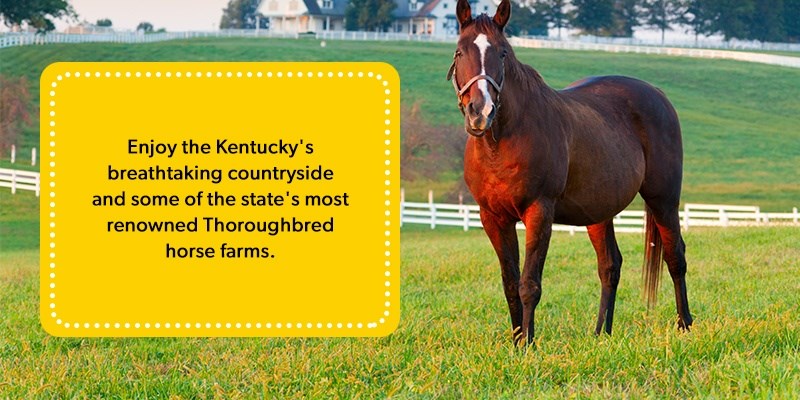 Start your fourth day on the KBT with another early morning tour at Woodford Reserve. Enjoy the drive to this distillery, which will take you through Kentucky's breathtaking countryside and some of the state's most renowned Thoroughbred horse farms. Once you get to Woodford Reserve, enjoy the beautiful grounds and the breakfast of champions — bourbon and chocolate.
Next, head to the Barrel House Distilling Company for a tour and tasting. This tiny operation produces craft bourbon, moonshine, vodka and rum, making it an exciting stop to add between larger distillery tours. After your tour, stop for lunch at the old James E. Pepper Distillery, which has been transformed into a modern restaurant and entertainment campus.
If you're in the mood for a late afternoon tour, walk down the street to the Town Branch Distillery. This distillery specializes in both bourbon and beer, so you can enjoy the best of both worlds. After your tour, spend the rest of the night exploring downtown Lexington and all the fun restaurants and bars the city has to offer.
Day 5
By day five, you may need a bit of a bourbon break. Start this day off with a trip to Keeneland to check out the race track and watch the Thoroughbreds go through their morning workouts. Once you feel refreshed and ready for more bourbon, start the short yet gorgeous drive to Wild Turkey for another distillery tour. During the tour, keep a lookout for the friendly distillery cat.
As your final distillery stop, make your way to Four Roses Distillery for a bourbon tour like none other. Built in 1910, Four Roses Distillery is named for the lovely roses you'll find all over the grounds. The striking Spanish Mission-style architecture of the distillery will make a fantastic finale for your KBT trip.
Before hopping on your flight, make sure you stop by the Louisville Visitors Center to hand in your completed KBT passport. In exchange, you'll receive some KBT gear to show off your achievement. Celebrate being a KBT finisher with dinner and a few final drinks before heading to the airport and starting your next adventure.
Best Time to Visit the KBT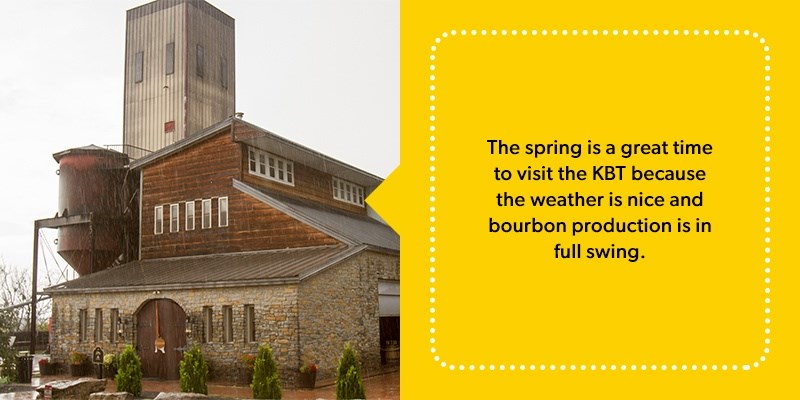 The distilleries along the KBT are generally open year-round, although some distilleries may close for a couple of weeks in the summer for routine maintenance and cleaning. Avoid times when distilleries are shut down unless you don't mind not getting to see the fermentation and distilling process during your tour.
The spring is a great time to visit the KBT because the weather is nice and bourbon production is in full swing. August through mid-November is the busiest time. If you plan on going during this time, be sure to book reservations in advance. For the least crowded tours possible, visit the KBT sometime between the end of November and March. While it may be a bit chilly in these months, most of the tours are indoors, and things won't be as crowded.
Keep in mind that many distilleries don't offer tours every day of the week. Most commonly, distilleries don't run tours on Sundays, Mondays and Tuesdays. However, this varies from location to location. Be sure to double-check the hours of the distilleries you plan on visiting before mapping out your itinerary.
Plan Your KBT Trip Today With the KOA Road Trip Planner
If you're ready to start your KBT adventure, use the KOA Road Trip Planner to help you find the perfect route. The KOA Road Trip Planner supplies you with a list of the closest KOA locations along your route so you can have comfortable accommodations wherever you stop. Most KOA locations offer a variety of Camping Cabins, Tent Sites, RV Sites, Patio RV Sites, Deluxe Cabins and more. At these locations, you'll also enjoy clean bathrooms with hot water, laundry facilities and playgrounds.
Check out the KOA Road Trip Planner to take your first step toward the KBT today.
---
About the Author: Kampgrounds of America
Kampgrounds of America is the largest system of open-to-the-public campgrounds in the world, with over 500 locations across the United States and Canada. Founded in Billings, MT in 1962, KOA's family of campground brands – KOA Journey, KOA Holiday and KOA Resort – today serve more than a million camping families each year. KOA is dedicated to "connecting people to the outdoors and each other" by providing people with a variety of camping experiences and the information they need to make the most of their camping trip. Read more of their camping and travel resources by visiting KOA.com/blog.
---