Best Summer Jobs for Teens
While summer break is a nice reprieve from homework and the school year's fast-paced activities, it is also the perfect time for teens to learn new skills, earn money and prepare for life after high school. Plenty of summer jobs for middle and high school students are available.
The Top 30 Jobs for Teenagers in the Summer
Here are 30 good summer jobs for teens to help them earn money and expand their skills, knowledge and responsibility.
1. Babysitter
Parents in your community may need more help watching their kids once school's out. Babysitting is an excellent first job for younger teens.
2. Pet, Plant and House Sitter
Teens can pet-, plant- or house-sit while neighbors are away. They can feed and walk pets or care for plants to ensure their well-being while friends and neighbors are away.
3. Camp Counselor
Becoming a camp counselor for the summer is a fun opportunity for teens to work with kids and learn about leadership. Day camps and overnight camps may be available in your area.
4. Lifeguard
Strong swimmers can become lifeguards at local pools, water parks or beaches. Teens will undergo training and classes to earn certificates and ensure they have the necessary skills.
5. Dog Walker
Start a small business walking neighborhood dogs. This gig could last longer than summer if it is successful.
6. Tutor
Do you excel at a specific school subject? Use your knowledge and skills to tutor other teens or younger kids in person or online.
7. Small Business Owner
If you love creating jewelry, household decorations, clothes or blankets, turn your hobby into a small business. Set up tables at local fairs, festivals or farmers markets to get started. Once you turn 18, you can take your business to the next level and open an online store.
8. Retail Associate
Mom-and-pop shops and large retail stores often hire people as long as they are 16 or older. Get a job as a sales floor associate at a store.
9. Cashier
You can apply to be a cashier at almost any retail establishment or grocery store. These jobs help you learn about customer service and the importance of properly handling money.
10. Golf Course Caddy or Cart Attendant
Whether you play golf or just like to be outside during the summer, becoming a golf course caddy or cart attendant is an excellent summer job. Golf caddies help golfers during their games, from carrying their club bags to pacing yardages and attending the flagstick. Golf cart attendants help golfers with their carts and maintain the vehicles' cleanliness, storing and staging.
11. Swim Instructor
Strong swimmers could also become swim instructors at the local pool or community center. Teach younger kids how to swim or assist in classes.
12. Restaurant Host or Waiter
Some restaurants hire teenagers as hosts or waitpersons. Working in a restaurant helps teens develop social skills and get a glimpse into the food industry.
13. Delivery Driver
If you are 18 or older, you could become a delivery driver for services like Instacart, Uber Eats and DoorDash.
14. Fast Food Worker
Teens can take and process orders at the counter or drive-through window. In some states, if you are at least 16 years old, you could also work in the kitchen preparing the food. Age requirements and regulations differ based on state and establishment.
15. Bowling Alley or Roller Rink Worker
Teenagers could also work at bowling alleys or roller rinks, keeping the lanes and community areas clean while also distributing shoes and food.
16. Office Clerk
Many offices could use a helping hand with organizing and copying paperwork. Ask local businesses if they're looking for an office clerk.
17. Museum or Zoo Attendant
Some museums and zoos also hire teenagers. You could work as a camp counselor during a museum-run children's camp. If you want to work at a zoo, you could become a zoo assistant, helping zookeepers feed, train and groom animals.
18. Kennel Assistant
Animal lovers could also work or volunteer as kennel aides at an animal shelter or veterinary clinic. Common responsibilities include walking, playing with and feeding the animals.
19. Community Center Program Assistant
If your town has a community center or a YMCA nearby, you could help with the summer programs. Volunteer your skills to help instruct classes, programs, camps and sports.
20. Pool Cleaner
Pool cleaning businesses will be looking for additional help during the summer.
21. Receptionist
Many older teens could easily handle a receptionist's responsibilities, such as answering calls, organizing paperwork and greeting people as they enter the building.
22. Sports Referee, Umpire or Assistant Coach
Working in sports is the perfect teenage summer job for those who live and breathe sports. Teens can help their local kids' leagues by becoming assistant coaches, game referees or umpires.
23. Campground Employee
Many campgrounds will also hire teenagers to help maintain the campground's cleanliness, on-site store, amenities and stations. Some campgrounds, like Kampgrounds of America, may also host recreational events. Teens working at a campground could get the job of being in charge of planning the activities.
24. Landscape Worker
Older teens could also join a landscaping business and care for clients' lawns and gardens. You could also start your own landscaping business by starting with simple lawn care and working your way up.
25. Ice Cream Stand Worker
Local ice cream stands often hire teenagers to run them during the summer. This fun and simple summer job usually involves working with other teens.
26. Movie Theater Attendant
Teenagers can work the counter and ensure they have enough popcorn for all movie-goers.
27. House Cleaner
You can apply for a job at a cleaning company or start small by offering to clean neighbors' and friends' homes.
28. Janitor
Your school may seek extra janitorial help during the summer. Janitorial work will help you understand and appreciate the behind-the-scenes work custodians do for students and teachers.
29. Library Assistant
Teens can work and volunteer at the local library to help patrons, stock shelves and keep the library clean. Many libraries host summer events, so you can even help put those together.
30. National Park Worker
If you love nature and live near a national park, consider working for one. Many parks have programs and internships to help young nature lovers gain experience in conservation work.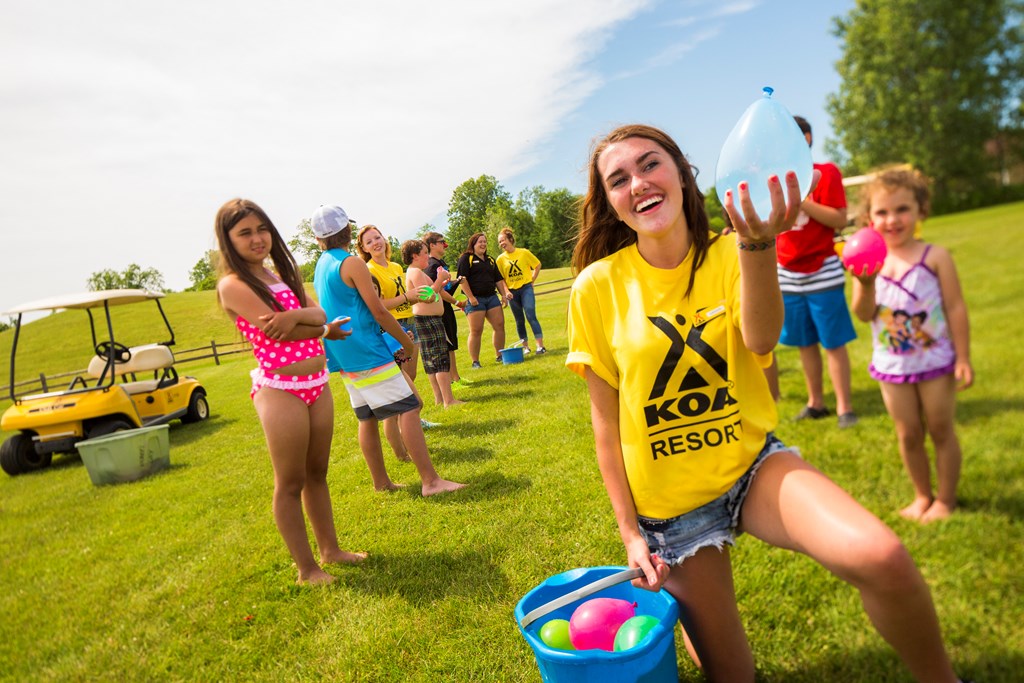 Advantages of Having a Summer Job as a Teenager
Teenagers benefit from having a summer job. Instead of staying home all summer, a job allows you to go outside, see and meet people, earn money and develop or enhance essential life skills. You can also become a more well-rounded person with a job that helps you:
Develop work skills
Increase confidence
Learn how to manage time effectively
Provide a sense of accomplishment
Build a social network
Discover new career paths
Summer jobs for high schoolers also make their resumes look good and stand out. Whatever you have planned after high school — including college, trade school or the workforce — having prior job experience will make you an ideal candidate.
Apply to KOA
Whether you love meeting new people, spending time outside or staying busy, working at KOA is an excellent summer job opportunity. Apply for a job at KOA today!
---
About the Author: Kampgrounds of America
Kampgrounds of America is the largest system of open-to-the-public campgrounds in the world, with over 500 locations across the United States and Canada. Founded in Billings, MT in 1962, KOA's family of campground brands – KOA Journey, KOA Holiday and KOA Resort – today serve more than a million camping families each year. KOA is dedicated to "connecting people to the outdoors and each other" by providing people with a variety of camping experiences and the information they need to make the most of their camping trip. Read more of their camping and travel resources by visiting KOA.com/blog.