Our Top 10 Texas Day Trips
Feeling a little restless? A spontaneous day trip might be just what you need. Many day trips require little planning, making them the perfect last-minute decision. Day trips are whatever you want them to be — a date with your significant other, a family-friendly outing or a solo adventure to clear your mind.
10 Best Day Trips in Texas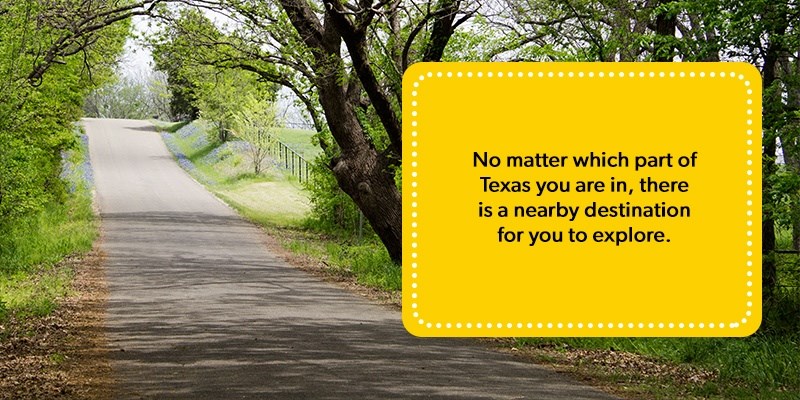 No matter which part of Texas you are in, there is a nearby destination for you to explore.
1. Adventure Through Palo Duro Canyon State Park
Palo Duro Canyon is the second largest canyon in the United States, outsized only by the Grand Canyon. The canyon system is a striking blend of Southwestern colors, including shades of red and orange stone and earth. Between the canyons, the plains are dotted with shortgrass, sunflowers, buffalograss, cacti and juniper trees, among other things. The canyon — which began forming more than a million years ago — is roughly 120 miles in length and 20 miles wide, with a depth of up to 800 feet. It is home to many animal species, including turkeys, mules, coyotes, bobcats, snakes, mice and lizards.
Spend your day trip exploring this natural phenomenon by car, foot, horseback or bicycle. You can also see an outdoor musical at the Amphitheater, or opt for a birdwatching excursion.
2. Explore the Natural Bridge Caverns in San Antonio
San Antonio is full of excellent day trip opportunities, including the Natural Bridge Caverns. Bring a jacket — it can get chilly 180 feet underground — and spend your day trip on a guided tour of underground cave systems, hidden passages and rock formations. If you are traveling with a group, there are private experience options as well.
Once you are back to the surface, you can participate in a ropes course, make your way through an outdoor maze, go ziplining, grab a bite in the on-site restaurant and browse the gift shop. If you are traveling with kids, they will love the gem and fossil mining station and climbing course.
3. Tour the Fredericksburg Wineries
The town of Fredericksburg has plenty to offer day-trip visitors, like authentic German baked goods and beautiful local scenery. Perhaps what the area is most known for, however, are its wineries and vineyards. Head to Hill Country and participate in a wine tour to get a behind-the-scenes view of how wine is produced, including samplings. The best part about Fredericksburg is that it is enjoyable and accessible no matter the season, making it the perfect celebratory trip for any occasion.
4. See the Wildlife on Padre Island National Seashore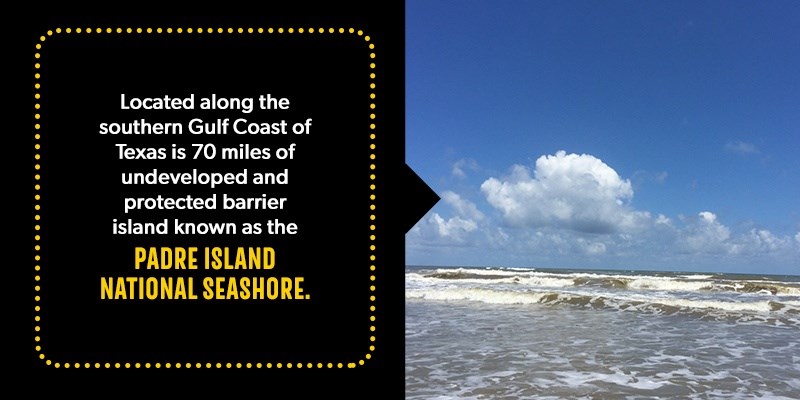 Located along the southern Gulf Coast of Texas is 70 miles of undeveloped and protected barrier island known as the Padre Island National Seashore. While there is no shortage of beautiful beach spots to relax, kayak or fish, the real star of the seashore are the plants and animals that call it home. During the summer, you can travel to see a sea turtle hatchling release. The seashore is also a great place for bird watching — more than 380 different bird species have been spotted here.
5. Galveston Beach and Historic Pleasure Pier
Galveston Beach and the Historic Pleasure Pier are among the top family-friendly beach destinations in the state, with something for every age. Take a day trip here to swim and splash in the surf or stroll around the Historic Pleasure Pier, where you can ride thrill and kiddie rides, play midway games and enjoy both traditional boardwalk fare or dine at restaurants. There are also shopping opportunities on the Pier, including candy and souvenir shops.
You can also explore nearby Galveston Island State Park to go paddling or have a picnic. If you are looking for a wintertime day trip, Galveston's Dickens on The Strand is a beloved celebration that takes place each December.
6. Visit the Rose Capital of America
Sometimes, the perfect day trip is one that is relaxed, slow-paced and comfortable for the casual traveler. That is where Tyler, Texas, comes in. Tyler is known as the Rose Capital of America, thanks to the fact that it is home to the country's largest rose garden. The Tyler Rose Garden consists of 14 acres and 38,000 bushes of more than 600 types of roses. The views and fragrance alone are enough to entice any traveler, but Tyler has plenty of ways to spend your day once you have finished touring the gardens.rio
You can continue your outdoor experience at Tyler State Park, or visit any of the area's numerous museums, including the Goodman-LeGrand House and Museum, the Historic Aviation Memorial Museum and the American Freedom Museum.
7. Attend the Texas Renaissance Festival
Calling all knights and ladies — the Texas Renaissance Festival in Todd Mission is the ultimate day-trip destination. The Renaissance Festival typically occurs during the last two or three months of the year, depending on specific scheduling. With more than 500,000 in annual attendance, the fair proudly proclaims itself as the nation's largest. Bring the family or a group of your closest friends — costumes optional, but encouraged — and spend the day feasting on traditional Renaissance fare, shopping, listening to musical bards or watching performances.
8. See the Marfa Lights
Marfa is a small, quirky town in the Texas desert, often known for its picture-worthy Prada store, numerous art museums and the mysterious Marfa Lights. For more than one hundred years, residents and visitors alike have reported strange, glowing orbs — in an array of colors, like red, blue or yellow — in the desert sky just outside of Marfa. They are random, unpredictable and a complete mystery to those who live there. Though there are as many theories as there have been sightings, the true origin of the lights remains unknown.
Marfa embraces this strange history with the annual Marfa Lights Festival, which includes live music, a parade and dances.
9. Tour the Skies at the McDonald Observatory
Head to The University of Texas at Austin for another celestially-themed day trip. The McDonald Observatory and Visitor Center is the largest operational optical telescope in the world, allowing you to experience the night sky in a way you never have before. Plan to attend during a Star Party, and you can participate in a lights-out Constellation Tour.
10. Float the Rio Grande
If you are near the western part of the Lone Star State, take a day trip to the Rio Grande Wild and Scenic River and participate in a float trip down the winding waters. You can bring your own gear or rent the correct equipment at an on-site facility. You can also partner with a service guide to make your trip as easy and stress-free as you would like. For a one-day-only journey, opt for Mariscal Canyon, a short, 10-mile trip with unbeatable views.
Make Kampgrounds of America Your Home Base for Texas Fun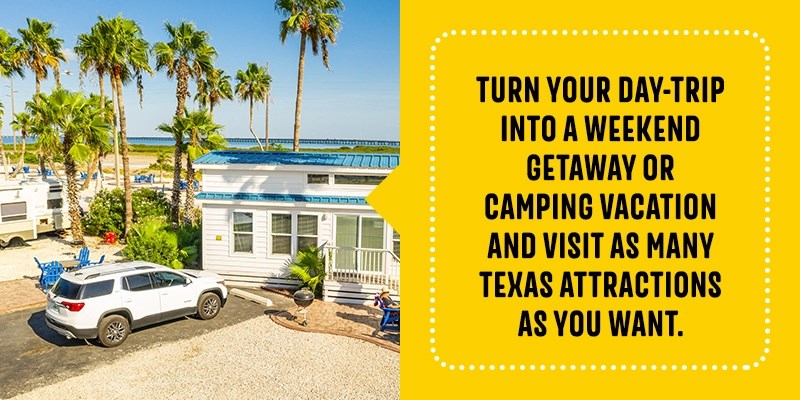 There is no shortage of fun day trips in Texas. If you are struggling to choose between them, why not extend your trip? Turn your day-trip into a weekend getaway or camping vacation and visit as many Texas attractions as you want. When you make KOA your home base, you can end each day with a hot shower, spacious campsites and a relaxing campfire. Find a Texas KOA near you to reserve your stay and view campground-specific amenities today!
---