Road trips don't have to mean fast food, chain restaurants and empty calories. Instead, use these tips for shopping local when traveling to find fresh, local eats no matter where the road takes you.
Road trips are synonymous with snacks.
In fact, one of the best parts of being on a road trip (aside from the scenery and company, of course), is the fabulous snacks you get to indulge in, guilt-free.
Though snacks are always a favorite, you can't forget about real meals too.
Because even though we'd all like to, we just can't survive simply on beef jerky and potato chips.
However, you don't want to end up eating out for every meal on the road. Not only is that going to burn a hole in your wallet pretty quickly, it also isn't always the healthiest option.
So what's the best way to stay healthy and save money while on the road?
Shop local!
You may be intimidated by the idea of shopping locally while on your road trip, but fear not — we are here with some stellar tips on how you can get your local goods and eat great food while traveling.
How to Shop Local While Traveling
1. Stock up before heading out
You likely know your local grocery store like the back of your hand.
Countless trips to this store have given you the ability to walk in with your list in hand, get everything you need, and get out in no time.
So, before embarking on your road trip, head to your favorite local grocery store and stock up.
Choose simple foods that also happen to be full of nutrients, and that can be made into a meal easily. Some such foods include:
Fresh vegetables
Fresh fruit
Hard boiled eggs
Homemade fruit leather
Raw milk cheese
Good butter
Homemade bouillon
Dehydrated vegetables
Bone both
Soaked granola
Yogurt
Pasta
Peanut butter
Bread
Nuts
Dried fruit
While it's easy to head for snack foods when grocery shopping for your upcoming trip, remember that you want to aim for hearty and nutritional meals so that you don't end up eating chips and candy for dinner.
Chances are, you'll also save money by getting foods for a meal as opposed to snacks. Packaged foods tend to be pricier, so you'll end up spending more money in the long run, and also sacrifice a whole lot of nutritional value.
2. Scope out farmer's markets
Though it doesn't sound particularly riveting, one of the most fun parts of exploring a new town can come with a trip to the local farmers market.
Not only is that where all the locals hang, thus allowing you to get a look into local life, but it's also a great place to find great food, arts, and crafts.
Most farmers markets today go beyond just farmed food and into the goods created by locals.
You'll surely find some great souvenirs to take home.
But the food you'll find here will be some of the best. With local farmers pulling local crops, you know you're getting the freshest products, and often times at the best price.
You'll be able to choose organic foods at the farmers market without the middleman grocery store price tag.
Spend a bit of time before leaving on you trip, and search online for local farmers markets in the towns you'll be passing through. You should be able to find times and locations, as well as what types of products they offer.
The USDA's National Farmers Market Directory is a great tool that provides you with easy access to find a farmers market near you.
The database has nearly 1000 markets, and is maintained by the Agricultural Marketing Service to ensure the information is accurate and up-to-date.
3. Find a natural foods grocery store
Though a farmers market is always our top choice, we also realize that sometimes that option is not available.
And, we also realize that you can't always get everything you need at a farmers market, especially if you're at one in a small town.
So, the next best option is a natural foods grocery store.
These are typically independently owned stores and co-ops, so you know you're getting farmers market-quality food.
And then there's Whole Foods: the biggest player in the natural foods grocery store game, with locations all across the country. There's no doubt you'll come across at least one Whole Foods store during your trip.
At these natural foods stores, you'll find a plethora of local foods, as well as some great prepared foods and deli options to make your breakfast, lunch, and dinner quick and easy, not to mention far less expensive than taking everyone out to a restaurant.
We won't even judge you for picking up a microwavable meal at a natural foods grocery store, because there's no doubt it's more healthy than your average sit-down restaurant meal, and is guaranteed to be more healthy than a fast food meal.
The more nutrient-dense and healthy your meals are, the more you're going to enjoy your trip.
We've all experienced that sugar crash and unavoidable slump after a super unhealthy meal.
Skip all that and opt for healthy options at a natural foods store that will leave you feeling full, yet refreshed.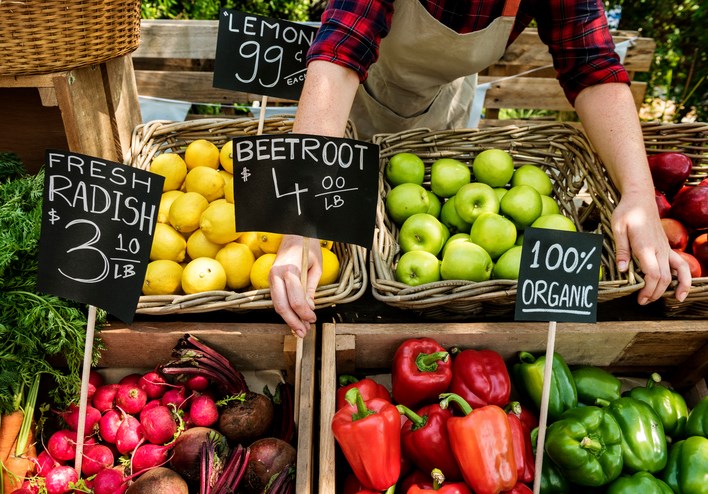 Bonus Tips on How to Stay Healthy on the Road
Now that you know how to find great local food while on the road, you'll also want to be sure you're making healthy options.
We realize sometimes you just cannot pass up that ice cream cone (and you shouldn't), just don't make it a habit and ensure you're reaching for the healthy options over the non-healthy whenever possible.
You've already set yourself up pretty well with the three things above: stocking up before you leave, seeking out farmers markets along the way, and opting for natural foods grocery stores over your general grocery store.
However, there are some other things you can do while you're traveling to stay on a healthy track.
1. Say "no" to breakfast buffets.
Though breakfast buffets give you a lot of bang for your buck, the reason they're so cheap is oftentimes because the quality of food they serve is abysmal.
Rather than stop by a cheap breakfast buffet to fill up, eat some fresh fruit and organic yogurt from the health food store.
Though it may be a bit more expensive than the all-you-can-eat breakfast buffet, trust us — you will be much happier with your decision to put quality food in your stomach.
2. Bring a water filter.
Tap water can be great in some locations across the country, and awful in others.
Save yourself the hassle of trying to research whether the water is safe, and bring a water filter along with you.
This will also save you from having to spend money on bottled water.
3. Speaking of water . . . drink lots of it.
Travel can be quite dehydrating, so make sure that you are drinking extra water while on the road.
Oftentimes we mistake being thirsty for being hungry, so keeping your water intake high enough will help you from reaching for snacks when you're not really hungry.
4. Eat every few hours.
Rather than waiting until you're so starved that you end up binging on gas station hot dogs, eat something every 2-3 hours.
We aren't talking a meal every few hours, rather snacks such as nuts or dried fruit to keep you from getting into that starvation mode where bad decisions are often made.
And make sure what you're eating as a snack is healthy.
Say "no" to chips and candy bars, and go for nutritional snacks that will keep you fuller for longer, and pack your body full of vitamins and nutrients at the same time.
5. If you've got to eat out, pick something healthy.
While planning ahead and making your own food is always the best option, we realize there are times when you've just gotta eat out.
And when these times happen, don't head straight for the nearest McDonalds. Instead, find a healthier fast food option, such as Chipotle. Chipotle offers non-GMO options, as well as grass-fed meats and vegan options as well.
And if you're traveling through California, you'll find a number of fabulous healthy chains including Sweetgreen, Amy's Kitchen, and more.
6. Get enough sleep.
When you don't get enough sleep, your body tends to crave sugar and caffeine to help you get through the day.
This is not good because then you're throwing yourself into a cycle of sugar and caffeine highs and lows, which will not leave you feeling particularly happy or well-rested.
Though it can sometimes be tough to sleep while on the road, find some ways to help you make sure you get the sleep you need not only so that you can make healthy food choices, but also so that you can have fun!
---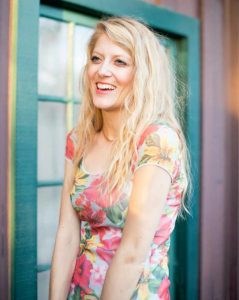 Leslie, a.k.a. Copy Girl, is a copywriter who gets butterflies from telling stories through words.
Her voice comes from a place filled with passion, dreams, and lots of sugar. "Cake over steak" is her go-to motto.
With over 10 years of experience in crafting words, and years of embarking on travels that have taken this Montana girl to some incredible places, Leslie love the adventures of both body and mind her writing takes her on.
Everywhere she goes, she takes this advice with her:
"Hold on to your divine blush, your innate rosy magic, or end up brown." – Tom Robbins, Jitterbug Perfume
To see what Leslie's up to in the writing world, visit her website here.
---