Food is the fuel that keeps us going between all the hikes, setup, tear-down, and shenanigans of a camping trip. But it's more than that. Food and even the preparation of food can be comforting, fun, and a powerful memory-maker.
While convenience fare (that can of baked beans, roasted hot dogs, granola bars, and S'mores) certainly has its place around the campfire, it can be downright exciting to take things to the next level.
And no, you don't have to be a "foodie" or a chef-in-training to dazzle fellow campers or indulge yourself. It's possible to find that happy medium between convenience and a knock-out, gourmet fare when kicking back in the outdoors.
Here are 14 tips for creating a gourmet food experience on your next camping trip.

1. Use simple but *good* ingredients
Many campers have their "home pantry" and their "camping pantry."
Just because you don't reach inside the camping pantry as frequently as your home pantry doesn't mean you should use second-rate goods in the camping pantry. On the contrary, a meal prepared tent-side after a long day of driving, hiking, or rowing is all the more reason to go with "the good stuff."
Pack the good extra virgin olive oil, your favorite coffee or espresso (consider grinding your beans on-site), and cook the freshest veggies and meat you can get your hands on (more on this later). You'll appreciate the little luxuries so much more.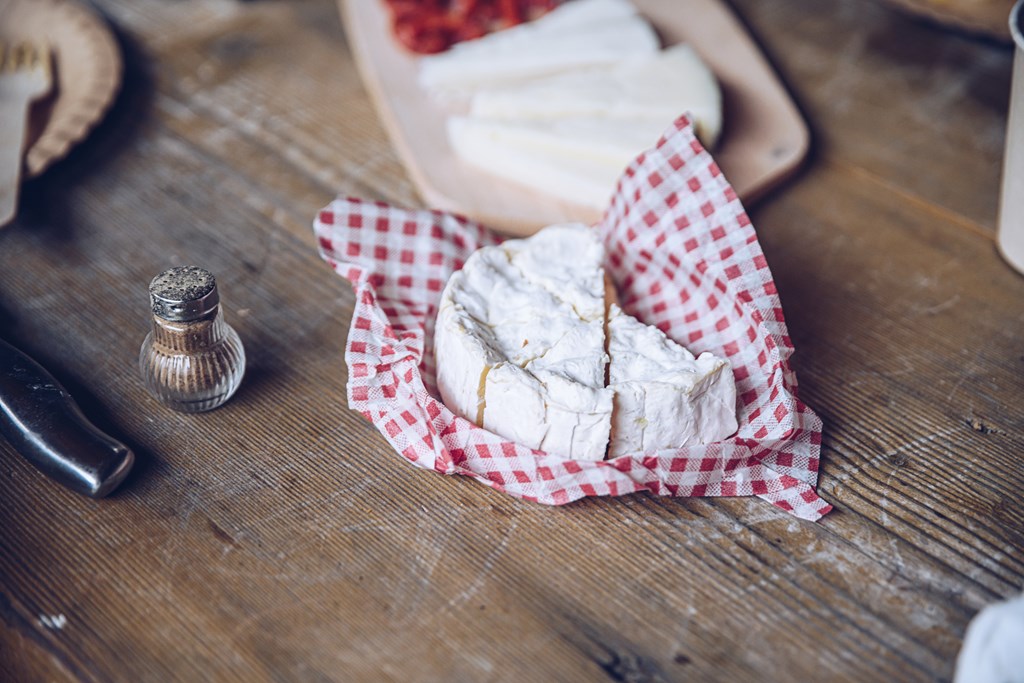 2. Get inspired by your surroundings
If everyone's involved in food planning and prep, and that prep is a unique experience not done at home, you're not just making dinner; you're making memories to last a lifetime. Let your surroundings inspire you.
A meal that has meaning and connects us with the natural world around us is extra special. Shuck and prepare oysters on the West Coast (if gathering oysters is permitted, otherwise purchase locally). Prepare a small charcuterie tray with a block of regional cheese, jerky, and crackers.
Foraging is another great way to eat holistically and can quickly become a hobby in itself! For some, hunting down luscious morel mushrooms or savory wild garlic is the main event — from the trekking and searching to the cooking and eating. An exceptional dinner can be made with beautiful, edible greens and a pan-seared fish caught earlier in the day.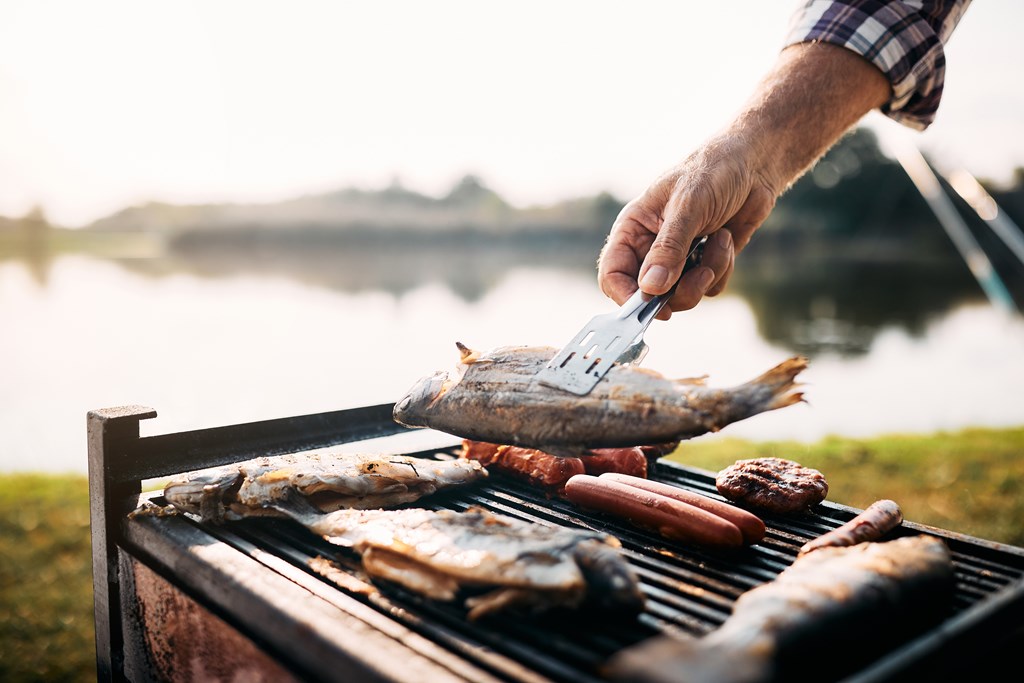 3. Pick your protein
What could be more delicious and fitting than dining on trout near a Colorado stream, or grilling bison burgers over an open flame somewhere on the plains?
If you're not a meat eater, check out alternative proteins that work especially well for campouts, like burgers made with halloumi cheese — a goat's cheese with a high smoke point. Chickpeas are another shelf-stable option that makes a great backdrop to stews, salads, and curries. After you plan the perfect protein, the rest of the meal often falls into place.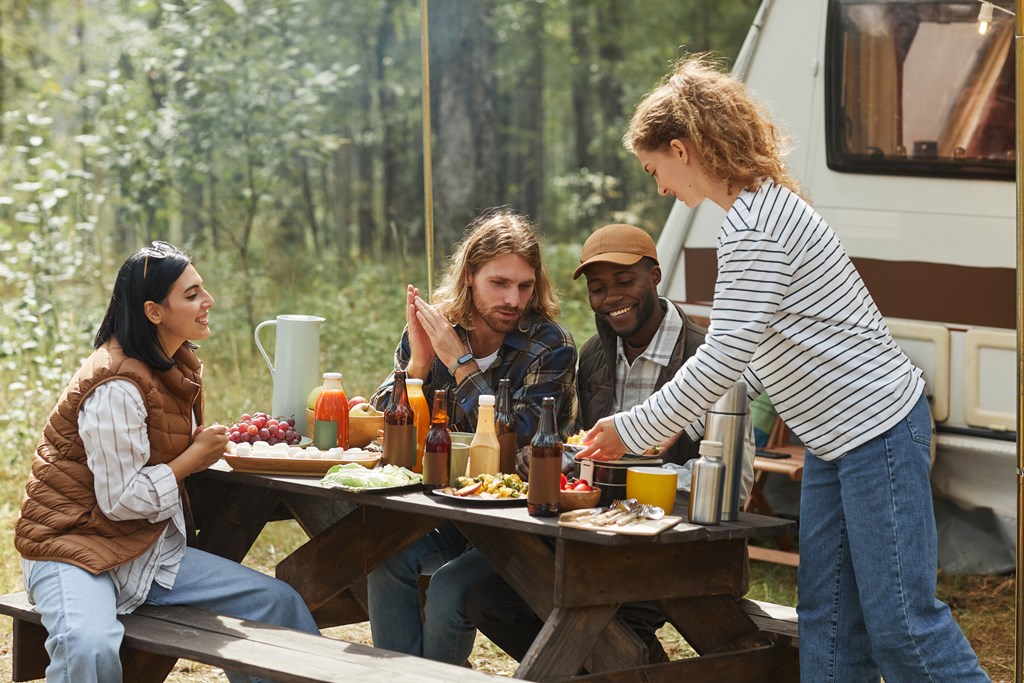 4. Streamline the menu
Don't be intimidated by the word "gourmet;" one meaning of the word is simply someone who likes good food and drinks. It can also refer to high-quality or exotic ingredients and skilled preparation.
What gourmet does not refer to is a meal with a dozen sides, hours of preparation, or overly complicated cooking methods. For anyone in pursuit of the tastiest meal, oftentimes less is more.
A few simple, well-prepared dishes will shine during a yurt/camper/tent vacation. And quality over quantity wins the day. Steak and potatoes, anyone?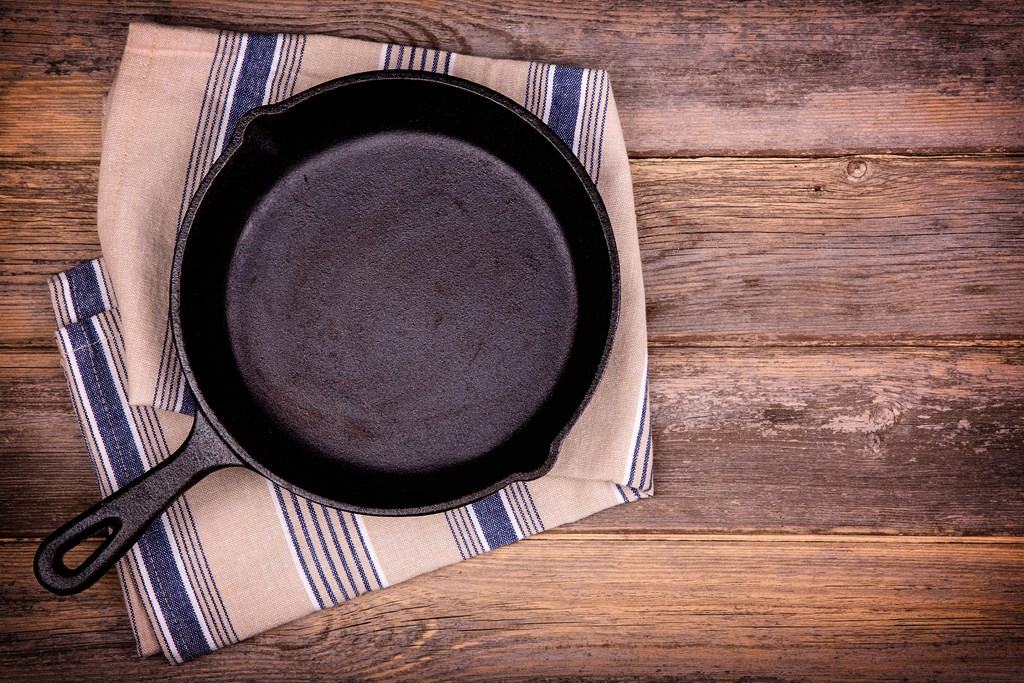 5. Choose your cookware wisely
It helps to 'think traditionally' when it comes to preparing a classic meal to enjoy in the outdoors. Old standards like the cast iron skillet are timeless favorites for a reason — they distribute heat really well and allow you to get a beautiful sear on meats and veggies.
That said, some more modern takes on cookware definitely have earned their place on a food-loving camper's checklist. Bloggers Dave and Annie at CleverHiker put together a list of 'Best Camping Cookware' for gear-loving folks and included items like the Jetboil Genesis Basecamp System Campstove which packs up small and boils quickly, and the GSI Outdoors Bugaboo Base Camper, a nonstick cook set.
Nonstick pans make for quick cleanup at the campsite so you can enjoy the meal and move on to the next activity, like sitting around the fire and doing nothing.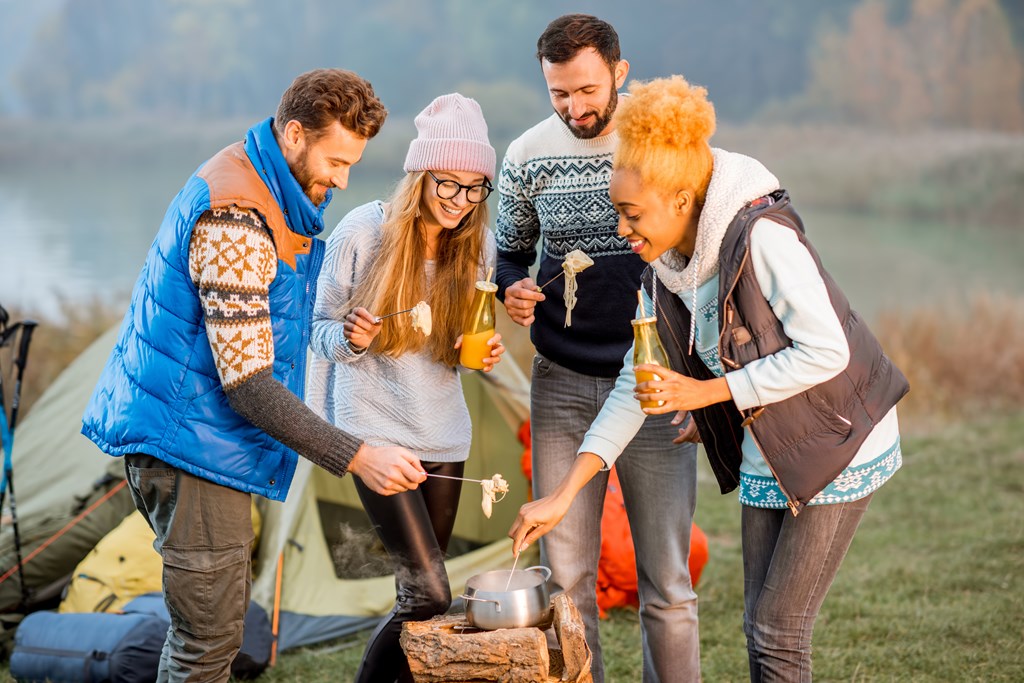 6. Explore new ingredients and ideas
The first rule of gourmet cooking is that you shouldn't cook what you always cook at home! While you don't want to deviate too much from your comfort cooking zone while on a trip, it is an excellent time to try new things.
Grab a cheese that you don't use too much at home — maybe a brie or edam, perhaps — and work it into a recipe you're comfortable making. How fun is this super comforting (and boozy) fondue, or these pre-prepped Norwegian marinated edam cheese cubes?
If you're a pro at pancakes, change it up with apple cinnamon cakes or wild blueberry pancakes (don't feed the bears). If you love doing fried eggs and hash, stir in a flavorful chorizo. Get crazy and eat well.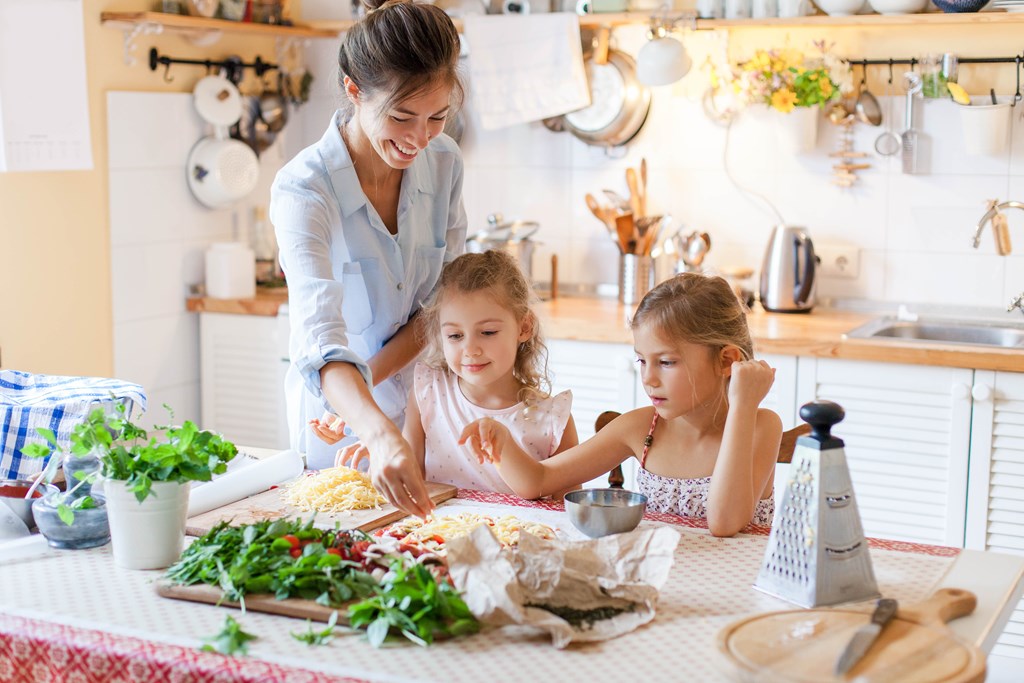 7. Do as much prep as you can ahead of time
Stress sucks the fun right out of a campfire meal, even if you're using the very best ingredients. Prepping as much as you can ahead of time is a key strategy to easy, breezy, enjoyable outdoor dining.
With every recipe you consider, picture yourself doing each step and then seriously ask yourself what would be easier to do ahead of time, in the comfort of your home kitchen. Then go ahead and pre-prep one or two steps further than that.
For example, you could bring a bag of fully prepared and frozen chili (cooked days before) or stew to simply warm up over the fire for an easy but delicious night. Just warm, pour a couple of glasses of your favorite beverage, and bon appetit.
You can also pre-cook things like breakfast burritos, pancakes, kabobs, and campfire pizzas. Again, keep the ingredients top-notch and your gourmet meal is good to go.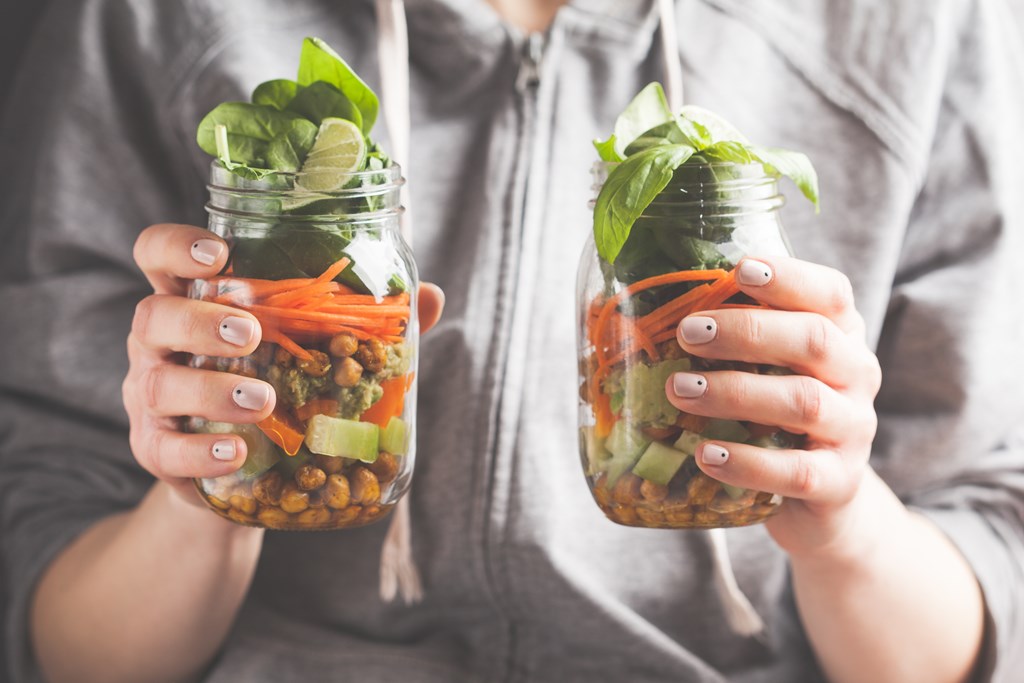 8. Put it in a packet or a jar
This tip goes along with the prep step: When preparing campsite meals, make tin foil and mason jars your friends. It's seriously a good, good feeling to toss some prepared and pre-portioned foil packets over the fire, knowing they are filled with seasoned deliciousness.
As a kid, "potato packets" often meant potatoes and butter, maybe some Polska kielbasa sausage (and onions and green peppers if dad was going the extra mile). But you can do a ton of things with this classic technique, like zucchini parmesan foil packets or garlic butter herb steak foil packets.
Mason jar salads are another cool camping hack. A prepped mason jar burrito bowl would make for a perfect (and easy) whole lunch. Pinterest has a seemingly endless parade of "easy foil packet dinner" recipes and "mason jar salad" combos to check out.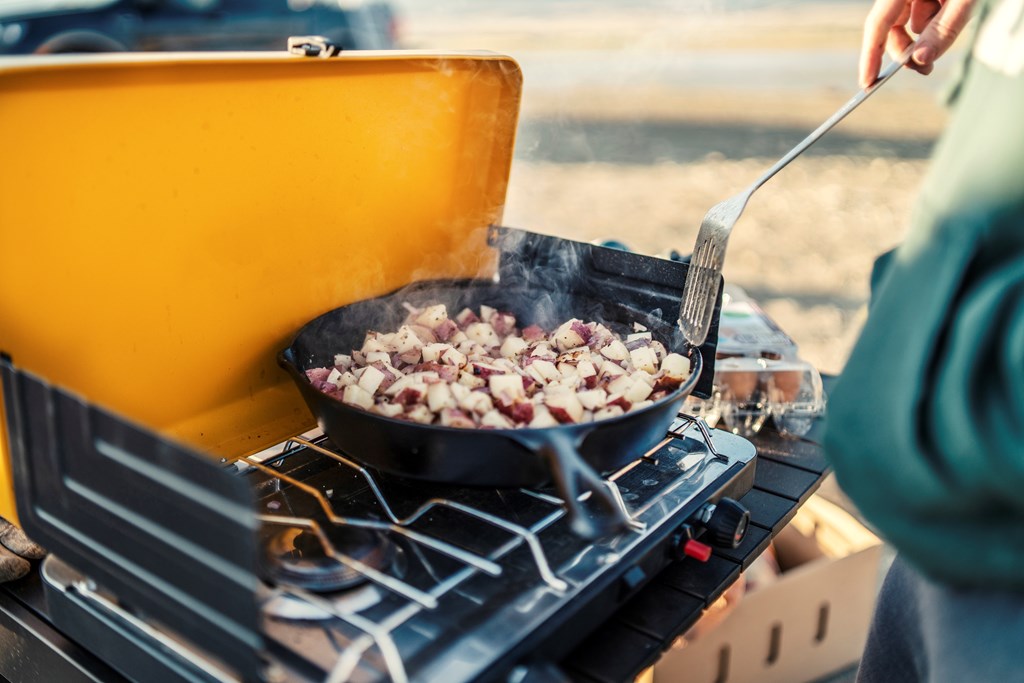 9. Do cut some corners
And while you're researching your recipes and making a master plan … keep in mind that a few convenience or packaged items straight from store shelves can make life a ton easier and your gourmet camping dinner will be just as delicious. It's all about balance.
You might bring a package of precut, pre-seasoned potatoes to round out a meal of fresh caught, pan-seared trout and sauteed dandelion greens. No one's going to put you in food jail if you take a smart shortcut here and there. In fact, they'll probably thank you for not enlisting their help in peeling and cutting potatoes.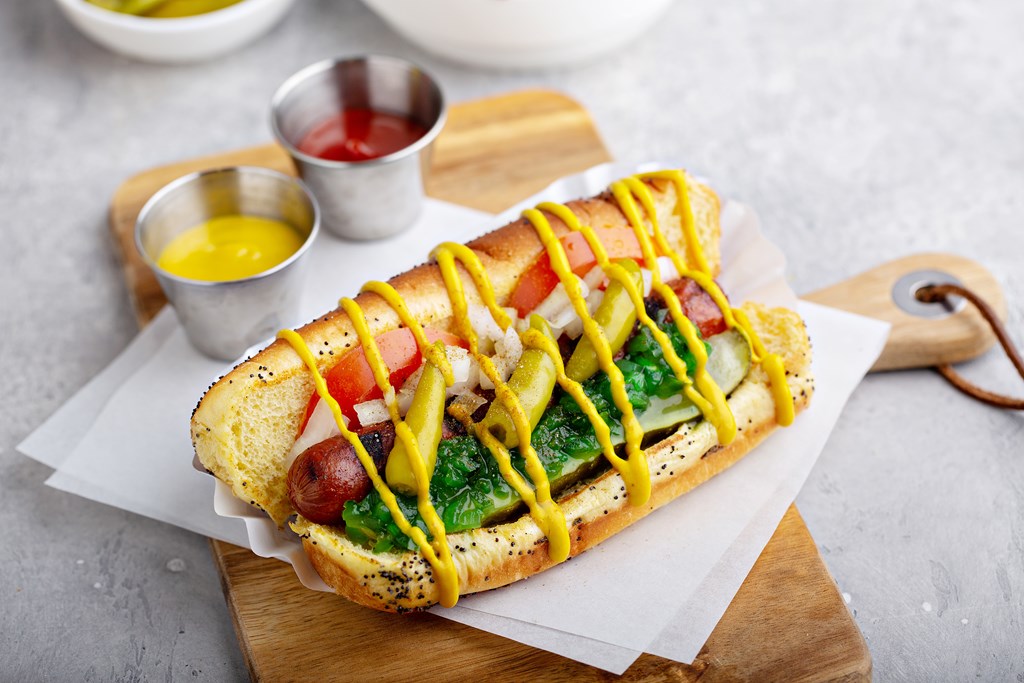 10. Cook with the seasons
There's nothing like a fish boil in the fall, a "Chicago" style hot dog in the summertime with the works, or new potatoes and asparagus roasted up in spring.
Much like getting inspiration from where you are, think about "when" you are. Cook with seasonal ingredients like ripe berries or wild rice.
Look to comfort foods like chili and mac and cheese for nights when there's a chill in the air. You're already enjoying Mother Nature in all her splendor; let the seasons be your culinary guide.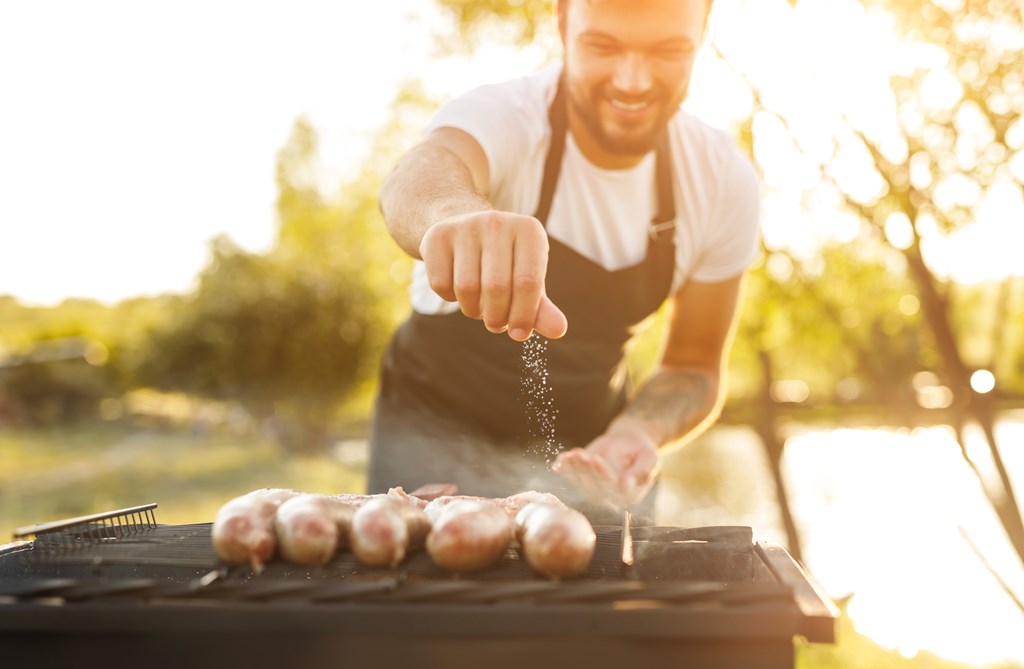 11. Spice it up
So if you're already in exploration mode, why not explore other cuisines? Using different spices is an easy way to make things way more exciting and transform one of your regular proteins.
Hit some Indian notes (and warm up a bit) with the spices turmeric and Garam Masala in a pot of Chana Masala, or Indian Chickpea Stew. Or, get sweet and savory by harnessing the magic of garlic, ginger, and chili flakes in these Korean BBQ Bulgogi Tacos. Explore the world from your campsite.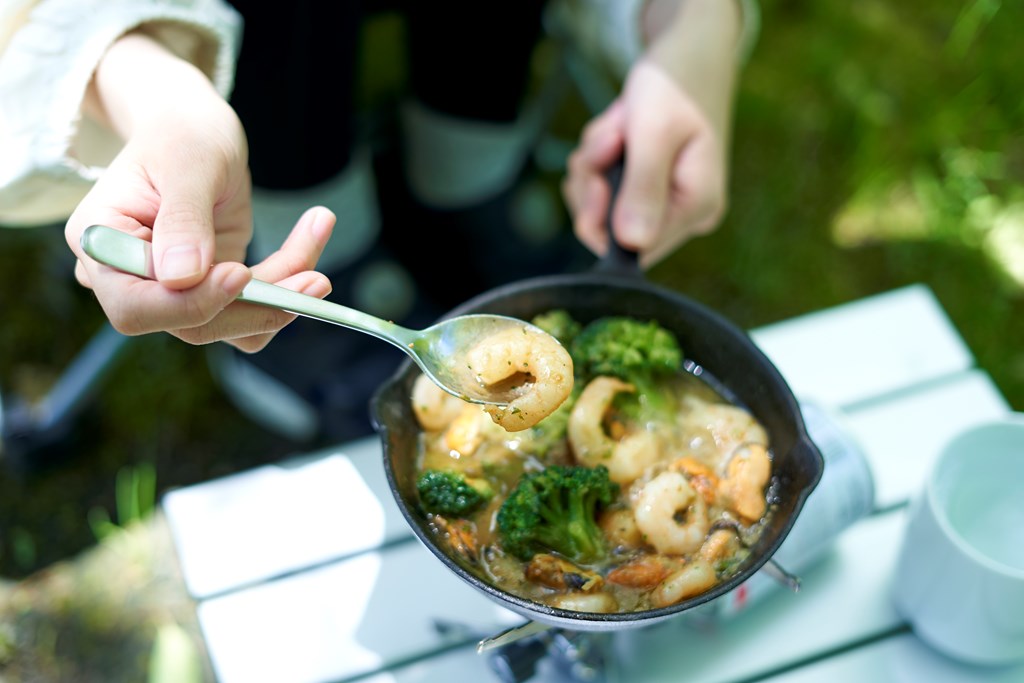 12. Be flexible
Top chefs in all the world-class kitchens need to be agile and so do you, dear camper.
Shopping lists and meal plans are super helpful to reduce the stress and waste that can accompany a camping excursion. But sometimes culinary adventures are a total surprise.
So your breakfast burritos got crushed in the cooler? Looks like we're doing a riff on chilaquiles instead. It's 5:00 p.m. and your six-year-old just caught a fish? Cool, let's get fileting and use the chili for chili dogs tomorrow.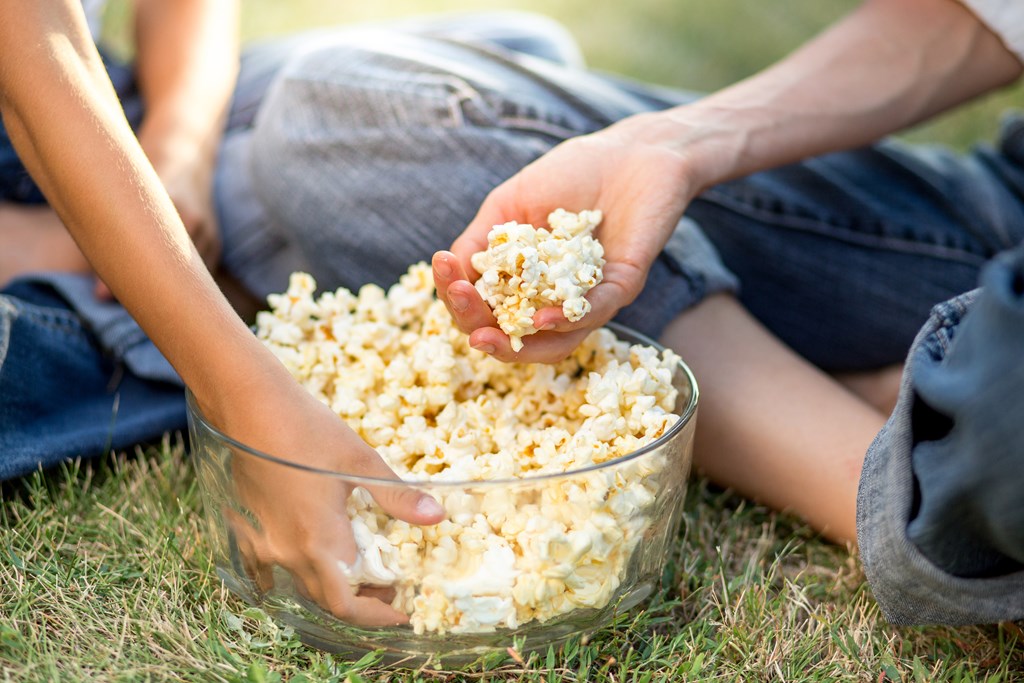 13. Get nostalgic
If you're not about to drop the weenie roasting stick in favor of gourmet, fret not. Hot dogs over the campfire can indeed be gourmet!
Leave it to KOA campers to to zhuzh up the camp classic with a chili cheese dog casserole, complete with mustard, tater tots, cheese, and more. End the meal with peanut butter s'mores and/or truffle oil popcorn.
Just place popcorn seeds in a tin foil pie place and drizzle with the oil of your choice. Cover with a sheet of tinfoil and warm over the fire, shaking continually. When the popping stops, tear open the top of the pan (with great ceremony) and drizzle with truffle oil and parmesan.
Camping is often nostalgic and food can be, too. Think back to family memories and camping trips of days gone by to hit the right notes of flavor and nostalgia.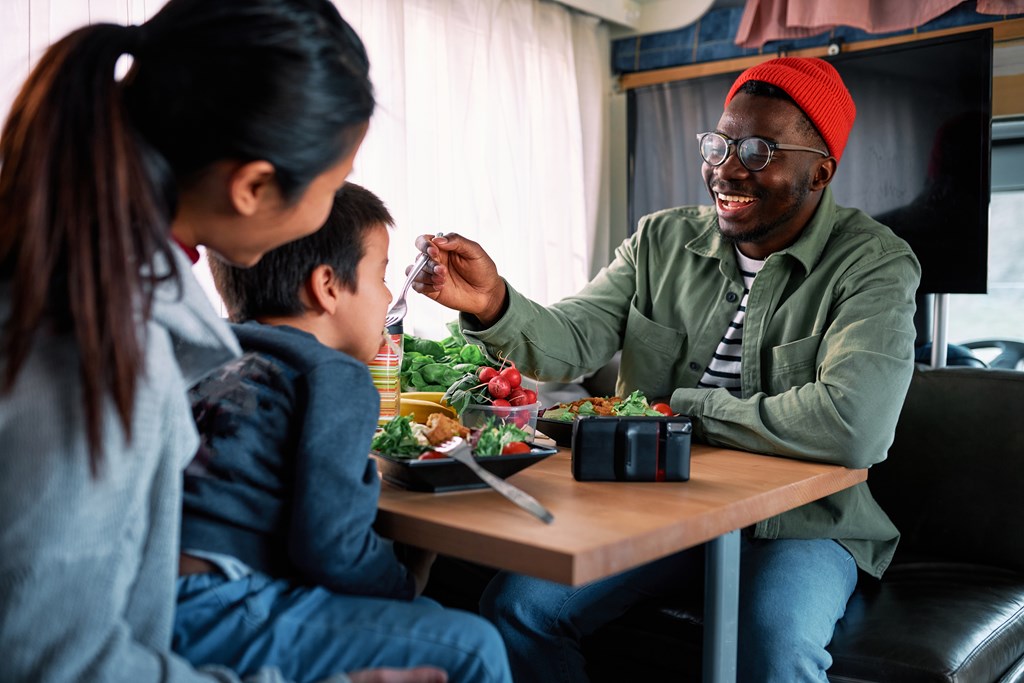 14. Cook and eat with someone you love
The final gourmet camp cooking tip isn't about what you eat, but who you eat with, and this includes you, yourself if you're adventuring solo!
Don't get hung up on the details of creating a "perfect" meal for the "perfect" camping trip. Throw that idea away because life, like camping, is a journey.
Do challenge yourself. Do have some fun. And don't take life too seriously. After all, what's a camping trip without some mini powdered donuts thrown into the mix, anyway?
Food is one of the many joys to be experienced while camping with family and friends or solo. And depending on what we pack, cook, or share, over time things can get a little stressful or boring.
Remember: It's not a specific meal that elevates food to gourmet status, rather it's the thought behind it. It's a combination of the ingredients, process, and people with whom you enjoy it. With a little research, creativity, and preparation, you can keep the culinary excitement alive season after camping season.
---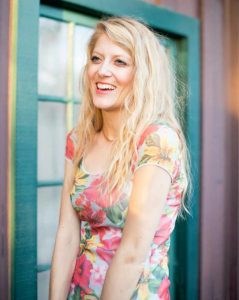 Leslie is a freelance travel and health/wellness writer who gets butterflies from telling stories and sharing information with readers across the globe. Her voice comes from a place filled with passion and dreams.
With over 10 years of experience in crafting words and years of embarking on travels that have taken this Montana girl to some incredible places, Leslie loves the adventures of both body and mind her writing takes her on.
To see what Leslie's up to in the writing and design world, visit her website here.