Some say it's the most important meal of the day; some just like reuniting with food after spending eight whole hours without it.  Whatever reason you have for loving breakfast, we're behind it. If a campfire is all you're working with, don't worry: we've got three recipes for tasty breakfasts that can be cooked right at your campsite!
Breakfast Burritos
Burritos don't require pesky luxuries like forks and plates, making them a solid option for camping. Scramble your eggs with your favorite spices, veggies, meats, and cheeses in a skillet. Then, roll your eggs tight in a tortilla before wrapping the entire burrito in tin foil. Place directly on top of the coals and cook until warm.
Campers who like to be ahead of the game can prep and wrap these bad boys before hitting the road and stick them in a cooler for a super easy campfire breakfast.
---
Cinnamon Apple Pancakes
We love adventure as much as anyone, but some mornings call for kicking back in a camp chair and watching the world go by. This two-part breakfast that jazzes up an old favorite is perfect for laidback mornings where the trail, river, or road can wait. Using your favorite pancake mix, grill up some flapjacks in a skillet. In the meantime, shake up apple slices with cinnamon and sugar in a freezer bag before grilling them over the fire. Use the apple slices to top the pancakes and you've got a campfire breakfast to satisfy your sweet tooth.
The sweetness from the cinnamon sugar means you probably won't need syrup, but a drizzle won't hurt. Plus, you can cook up leftover apple slices on a skewer for a sweet afternoon pick me up.
---
Breakfast Pizza
We'll jump on any chance we get to eat pizza for breakfast. Behold, the campfire breakfast pizza: a skillet dish for the whole family. Spread pizza dough in a thin layer of the bottom of a skillet (canned croissant dough spread thin works if flaky if your thing). When the dough's just short of golden, crack eggs and spread your fixings across its surface. Once the yolk is cooked, divvy up and enjoy. Bonus tip: Hot sauce gives this dish the extra kick you need to get going.
With these dishes, it's easy to start your mornings of adventuring off right, whether you're camping in a deluxe KOA cabin or out on the trail!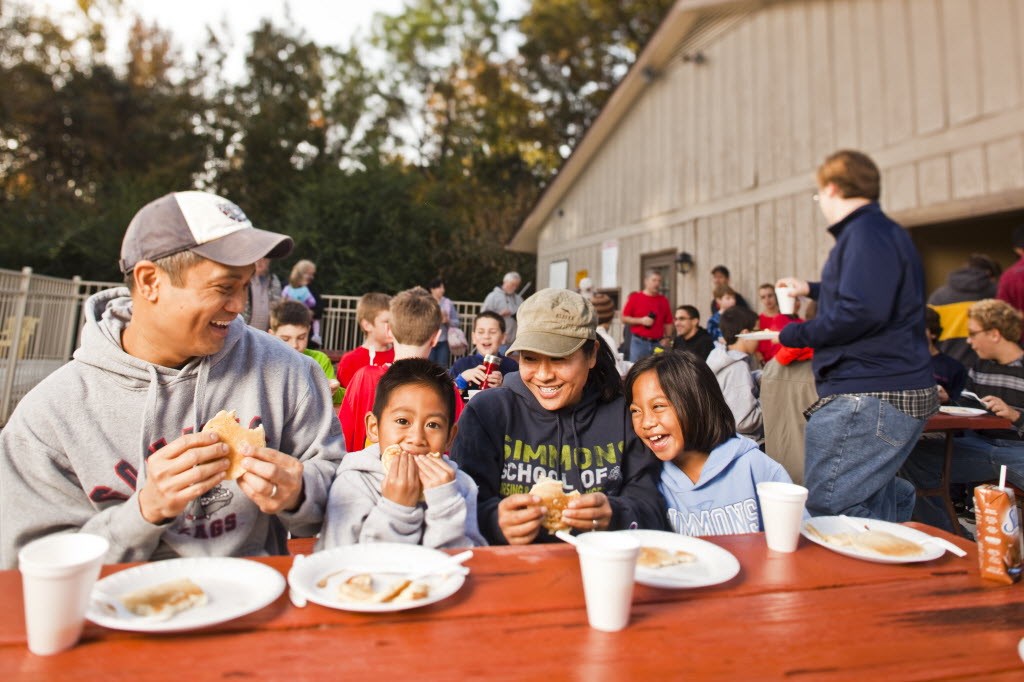 Click here for more easy and fun breakfast ideas on KOA's Greater Outdoors blog.
Header via Flickr / Anne Worner