Ah, the weekend warrior life. Weekend warriors are committed to outdoor adventure even as they're tied down to 9-5 jobs. That means taking off after work on Friday and returning home as the sun sets on Sunday night. It's not easy, but it's always worth it.
Because weekend warriors have such a limited time to be away, it's extra important to get out the door as efficiently and quickly as possible so you have more time to enjoy your adventure before Monday morning rolls around. These tips and tricks will help you hit the road to your next camping adventure with no stress or hustle needed.
Adventure Lists
One of the most challenging parts about the weekend warrior lifestyle is figuring out what you're going to do and where you're going to do it. You likely only have two days, so how do you be sure to get the most out of it?
Making an adventure list of trips that are doable in a weekend will ease the pressure of planning when you want to get out of town in a hurry. Make a document where you list your destinations, driving time, and any special considerations (like seasonality, weather, activity) related to each place.
That way, when it's approaching time to leave, all you have to do is choose and adventure from your list and load the car. You will have done all the planning and route mapping ahead of time, saving a bunch of time when the weekend arrives.
Gear
Gathering gear is another time-consuming aspect of weekend camping trips. You have to figure out where you left your headlamp, run to the store to get batteries for it, remember to put the tent fly back in the bag – the list goes on.
Instead of running all over the place to collect your gear, create designated bins for your camping essentials like sleeping bags, tents, sleeping pads, camp kitchen gear, and safety items. Designated bins help keep your items organized and in good condition so when Friday comes, all you have to do is put the bins in the car and go.
The moment you get home from a trip is the best time to unload and reorganize your gear, making sure everything is clean, dry, and in the proper bins so it's ready to go for the next time you head out of town.
Food
Finally, food planning is the last major aspect of preparing for a weekend camping trip. Planning breakfasts, lunches, dinners, and snacks can take a huge amount of effort if you don't have a plan.
A great way to combat that is to make a basic meal plan that you can change or adjust as necessary, but where the essentials stay the same. Perhaps you always eat oatmeal for breakfast while camping and mac and cheese for dinner. You can stock up on oatmeal packets and boxed mac and cheese ahead of time and put these dry goods in a bin. That way, you'll only have to buy perishable foods as you get ready to leave.
Find a few staple meals that use similar ingredients. These can be your go-to meals each time you go camping and make it so you don't have to Google "what do I eat while camping?" every Thursday evening. For example, my trail lunch always includes apples, carrots, peanut butter, jerky, and an energy bar.
If you plan ahead in terms of your trip, gear, and food, all you'll have to do to get ready is gather your personal gear, clothing, and toiletries, buy your perishable food, and get a full tank of gas. Planning ahead takes a lot of time and guesswork out of preparing for a weekend camping trip. It's efficient, effective, and helps you get out the door and to the woods faster and with less stress.
---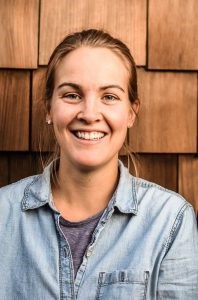 Lettie Stratton is a writer and urban farmer in Boise, ID. A Vermont native, she is a lover of travel, tea, bicycles, plants, cooperative board games, women's basketball, and the outdoors. She's still waiting for a letter from Hogwarts.
---