If you're like most kids, you loved playing in sandboxes during childhood. There's just something about a sifting sea of sand that excites the imagination.
Nature has constructed a sandbox of epic proportions where kids and adults alike can play. It sits in southern Colorado where the rugged Sangre de Cristo Mountains buckle inward and it's called Great Sand Dunes National Park and Preserve. This place will blow your mind – it contains 5 billion cubic meters of sand – undoubtedly, the largest sandbox in North America!
With a dune field spreading over 30 square miles and individual dunes up to 750 feet tall, Great Sands will surely delight the inner child in all of us.
Overview of Great Sand Dunes National Park and Preserve.
Great Sand Dunes National Park and Preserve is a geologic wonderland that has been a national park since 1932. In addition to the dunes, the park's resources include large stands of aspen and cottonwood, alpine lakes and tundra, ancient spruce and pine forests, grasslands, wetlands, and six peaks over 13,000 feet in elevation. Not surprisingly, the park is a natural habitat for various plant species and wildlife.
In addition to the above, Grand Sand Dunes National Park contains Medano Creek, which disappears for much of the year; the Medano Pass four-wheel scenic drive; horseback trails; hiking trails; and places for picnicking and camping. Four of its six mountain peaks are available for climbing: Crestone Needle, Cleveland Peak, Crestone Peak, and Mount Herald.
The Great Sand Dunes – and most forests, lakes, and peaks of Great Sand Dunes National Preserve – are designated wilderness. These areas can be explored through day hikes or overnight backpacking trips.
Park Rangers offer evening astronomy programs for all ages from May to September. Children ages 3-12 who complete various educational activities receive a Junior Ranger badge. The rural location and 8,200-foot elevation of Great Sand Dunes National Park make it a favorite among dark-sky stargazers.

Exploring the Great Sand Dunes
There are no designated trails in any part of the 30-square-mile dune field. Summer air temperatures are pleasant, but the sand surface can reach 150oF degrees, and dangerous thunderstorms can develop with little notice. For these reasons, hiking the dunes is recommended only during early morning or evening hours to avoid heat exhaustion, burned feet, or fatal lightning strikes.
High Dune on First Ridge
At about 693 feet tall, the high dune on the first ridge is not the tallest in the park, even though it may look like it from the parking lot. This common hiking destination provides a great view of the dune field.
The round-trip hike to High Dune is 2.5 miles and takes about 2 hours. If not acclimated to the higher altitude, plan for 4 hours to complete the trip.
Hidden Dune
Hidden Dune is tied with Star Dune as the tallest dune in North America at 741 feet. Named for its remote location in the dune field, Hidden Dune is not visible from most of the park's day-use areas.
To hike Hidden Dune, plan a 6-mile round trip taking about 6 hours. If not acclimated to the high altitude, give yourself up to 9 hours.
Those with a high-clearance 4WD can also begin their hike at Sand Pit or Castle Creek picnic areas on the east side of the dune field.
Star Dune
One of North America's two tallest dunes (with Hidden Dune) at 741 feet, Star Dune can be hiked from the summit of High Dune on First Ridge. You can also access this massive pyramid-shaped dune at its base by following a direct route along Medano Creek.
To hike Star Dune, plan a 6-mile round trip that lasts about 6 hours. If not acclimated to the high altitude, plan for up for 9 hours.
Eastern Dune Ridge
To hike the Eastern Dune Ridge, use a high-clearance 4WD vehicle to reach the steep dune face accessible from the Sand Pit or Castle Creek picnic areas. Make sure you have good shoes, lots of water, and sunscreen.
If you only have a 2WD vehicle, drive instead to the Point of No Return, then hike 0.75 mile to Sand Pit or 1.5 miles to Castle Creek. During the fall months, the portion of Medano Creek traversing this area sometimes contains a gentle water flow.

Exploring Medano Creek
Medano Creek is called the "disappearing" stream because it doesn't flow year-round. The first trickle is typically seen each April as warmer, sunny days begin melting the mountain snowpack.
Flow steadily increases until late May, when Medano Creek reaches its peak. The water movement causes sand surges, creating small waves in late May and early June.
By mid-June, the flow has stopped except in areas of the creekbed closer to the mountains. By August, even those areas have started drying up, and the creek won't flow again until April except at higher elevations closer to the mountains.
Exploring the Forested Trails
Montville Nature Trail
This shady forested trail named for a late-1800s settlement is an option for afternoons during the summer. The trail's highest point offers excellent views of Mount Herard, the dunes, and the valley.
Mosca Pass Trail
Mosca Pass winds through aspen and evergreen forests in the Sangre de Cristo Mountains. American Indians and early settlers used this route to reach the valley. Round-trip is about 7 miles.
Sand Ramp Trail
This 11-mile trail is mainly used to access various backpacking sites along the foothills rather than as a scenic destination trail. Allow more time than the mileage would indicate – after the first two miles, the trail turns into sandy soil or pure sand and becomes a grueling trek along the foothills.
Medano Pass 4WD Road
Medano Pass 4WD Road is a scenic drive any time of year, especially in September and early October when Fall colors are at their peak. However, don't attempt it in less than a high-clearance 4WD. Jeep rentals are available at the Park visitor center.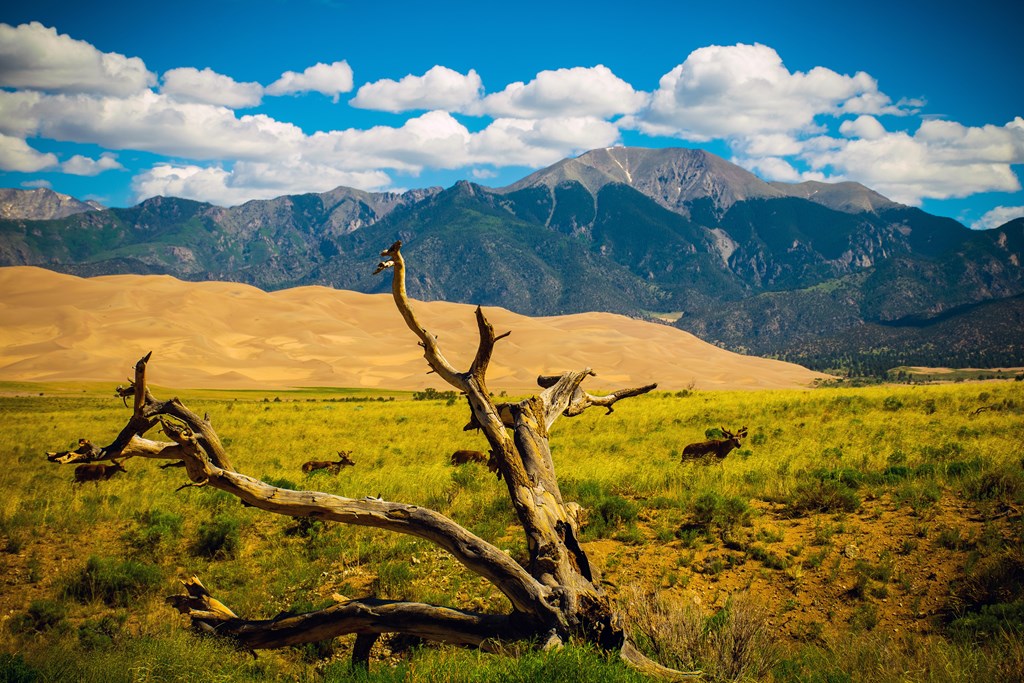 Exploring the Alpine Trails
Medano Lake and Mount Herard
Medano Lake Trailhead can be accessed from the Medano Pass 4WD road. From an elevation of about 10,000 feet, this trail climbs 2,000 feet more through lush meadows and forests, ending along an alpine lake at the timberline.
Lower/Upper Sand Creek Lakes and Little Sand Creek Lake
Reaching the lower or upper Sand Creek Lakes requires a 2-½ hour drive from the Great Sand Dunes Visitor Center with a 4WD vehicle, followed by an 8-mile round-trip hike from the Music Pass Trailhead. Most people consider the spectacular scenery to be worth the effort. Little San Creek Lake involves a 16-mile round-trip from Music Pass. These trails are often blocked by snow from November to June.
Grasslands, Shrublands, and Wetlands
The least-visited Great Sand Dunes National Park area is the spacious grasslands and shrublands. Yet, they have fantastic wildlife, migrating dunes, and panoramic mountain views. See details on accessing grasslands in and around the Park.
Wetlands abound in the San Luis Valley, providing refreshing oases for wildlife and people in this high mountain desert. See details on accessing the wetlands in and around the Park.
Handicap Facilities at Great Sand Dunes National Park and Preserve
The special sand wheelchairs for disabled visitors are a unique feature at the Park. Free of charge, they must be reserved in advance. The wheelchairs work best when the sand is dry, and you'll need someone to push since they are manually powered.
In addition, there's a handicap-accessible picnic area, and most ranger-led programs are accessible.
Great Sand Dunes National Park and Preserve Picnicking Opportunities
The Great Sand Dunes National Park and Preserve picnic area stretches along the dunes and Medano Creek. Most sites have shade provided by cottonwood and conifer trees. Each site has a picnic table and charcoal grill. No wood fires are permitted.
Restrooms are available year-round near the adjacent Dunes Parking Lot. An additional bathroom is open in the middle of the picnic area in the summer months.
Two picnic sites are available for larger groups: the North Ramada (first-come, first-served) and South Ramada (reservation only). These require at least 15 people but can accommodate groups of up to 70.
Restaurants and Groceries in Great Sand Dunes National Park and Preserve
The Park operates a campground store at the Piñon Flats Campground between Loop 1 and Loop 2 whenever the campground is open. Some convenience foods are also available at the Visitors Center year-round.
The Oasis Restaurant and Store, located at the main park entrance, is the only restaurant within 25 miles of the Park. It also offers convenience groceries and is open from May 1 through September 30.
Additional restaurants and grocery stores are available in the nearby towns listed near the end of this article. The closest full grocery is in Alamosa, 38 miles southwest of the Park.
KOA Campgrounds Near Great Sand Dunes National Park and Preserve
Open during the warmer months, KOA Alamosa has everything you need to make your Great Sand Dunes National Park and Preserve experience fun and comfortable:
RV sites
Electrical hookups
Tents
Camping cabins
Pool
Bike rentals
Wi-Fi
Dog park
This campground is located 4 miles east of Alamosa, right at the base of Colorado's fourth tallest mountain, Blanca Peak which rises 14, 345 above. Call (800) 562-9157 or visit or visit their campground website to reserve.
Towns Near Great Sand Dunes National Park and Preserve
Planning a Visit?
For information about the park, visit the National Park Service website for Great Sand Dunes National Park and Preserve.
---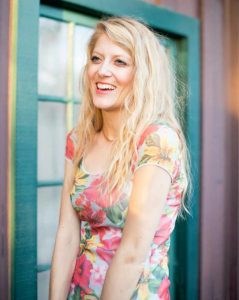 Leslie is a freelance travel and health/wellness writer who gets butterflies from telling stories and sharing information with readers across the globe. Her voice comes from a place filled with passion and dreams.
With over 10 years of experience in crafting words and years of embarking on travels that have taken this Montana girl to some incredible places, Leslie loves the adventures of both body and mind her writing takes her on.
To see what Leslie's up to in the writing and design world, visit her website here.