From sweeping lakes and ancient Puebloan dwellings to soaring cacti and immersive canyons, the American Southwest offers some of the most diverse terrain in the country, and some of the most unique National Parks to explore. Whether you're looking for mountainous hikes, a day of sand-sledding, or an afternoon boat trip, these are some of the best National Parks to visit in the Southwest.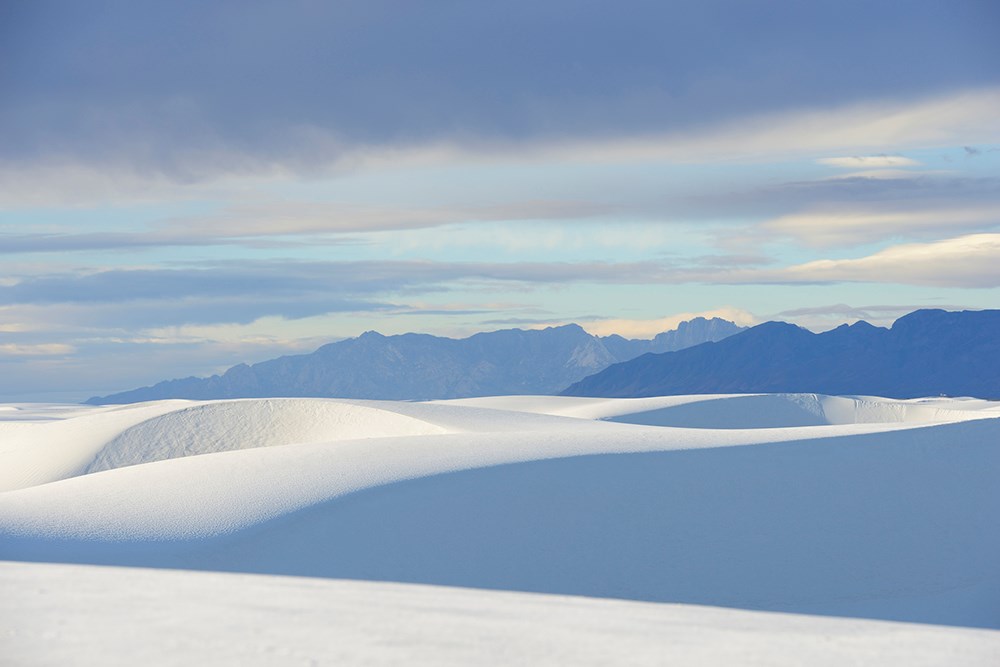 White Sands National Park
One of America's newest national parks is a beacon of exploration and hands-on fun in the Southwestern United States. As of December 2019, New Mexico's White Sands National Monument was upgraded to National Park status, protecting the southern portion of a 275-sq.-mile gypsum dune field that's so large it's visible from outer space. With its bright, snowy hue, and the fact that you can sand-sled here, the dunes look more like the Arctic tundra, but the weather is decidedly warmer and far more comfortable. This is the kind of national park where you're free to wander as you please, though there are a few designated trails that follow colorful trail markers. Along the way, read trail signs to learn more about the fascinating history of the Tularosa Basin, which was once an ancient sea that gave way over millions of years to mountainous dunes.
Nearby KOAs:
Alamogordo / White Sands KOA Journey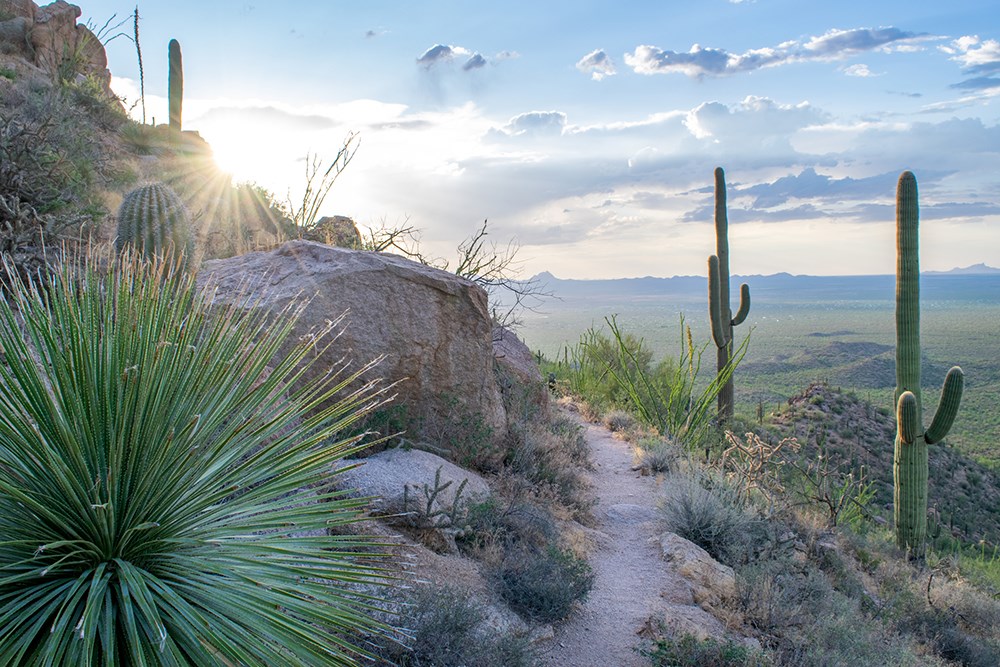 Saguaro National Park
Bookending the city of Tucson with both East and West districts, Saguaro National Park provides a convenient getaway in nature for city-dwellers and travelers alike. Both portions of this cacti-filled park are filled with a variety of trails, from flat desert treks to strenuous mountain summits. No matter which side of the park, or which trail, you're sure to be swept up by the overwhelming beauty — and inherent serenity — of the soaring Saguaro, the mightiest cacti on the continent, which dot the landscape for as far as the eye can see. When visiting in the late-spring through summer, your best bet is to wake up early and start your hikes before the sun is at it's most scorching; the southern Arizona heat is no joke!
Nearby KOAs:
Tucson / Lazydays KOA Resort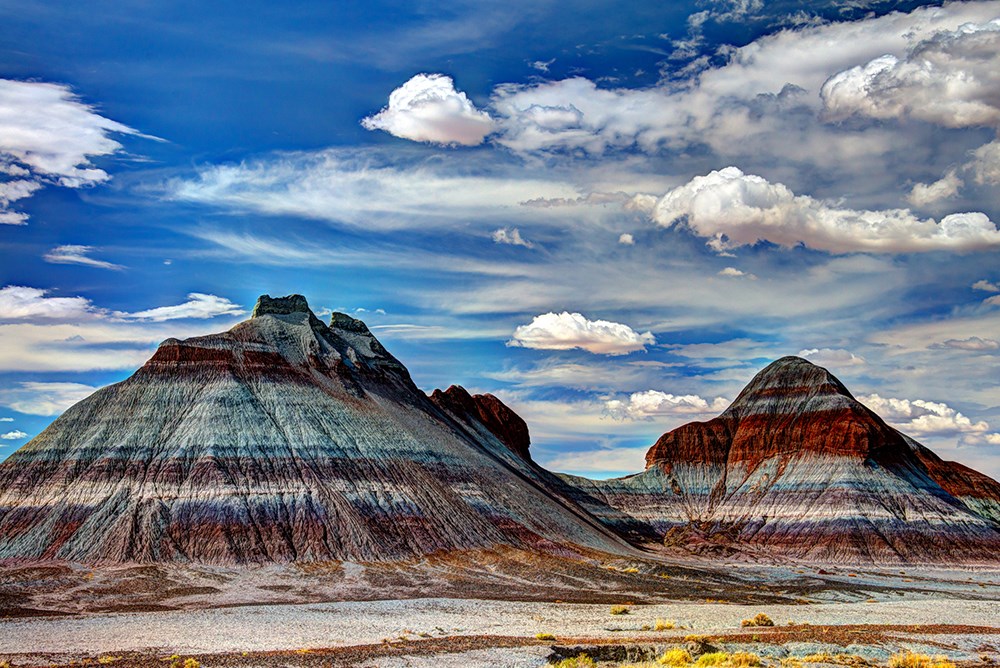 Petrified Forest National Park
Don't be fooled by the name; this is one "forest" that's far from fertile. Instead, this unassuming park in northeastern Arizona is filled with more fossilized trees than almost anywhere on Earth, giving new meaning to the notion of forests in America's National Park System. Leaves and greenery that once stood in this bygone tropical landscape are long gone. In their place are boulder-sized logs that have been crystalized and turned to petrified wood, shimmering with hues of purple and green. The main road through the park makes for an incredible scenic drive, with convenient stop-offs for easy (and mostly brief) hikes through the log-scattered terrain. Along the way, you'll spot petroglyphs, learn about dinosaur fossils, and traverse colorful badlands.
Nearby KOAs:
Holbrook / Petrified Forest KOA Journey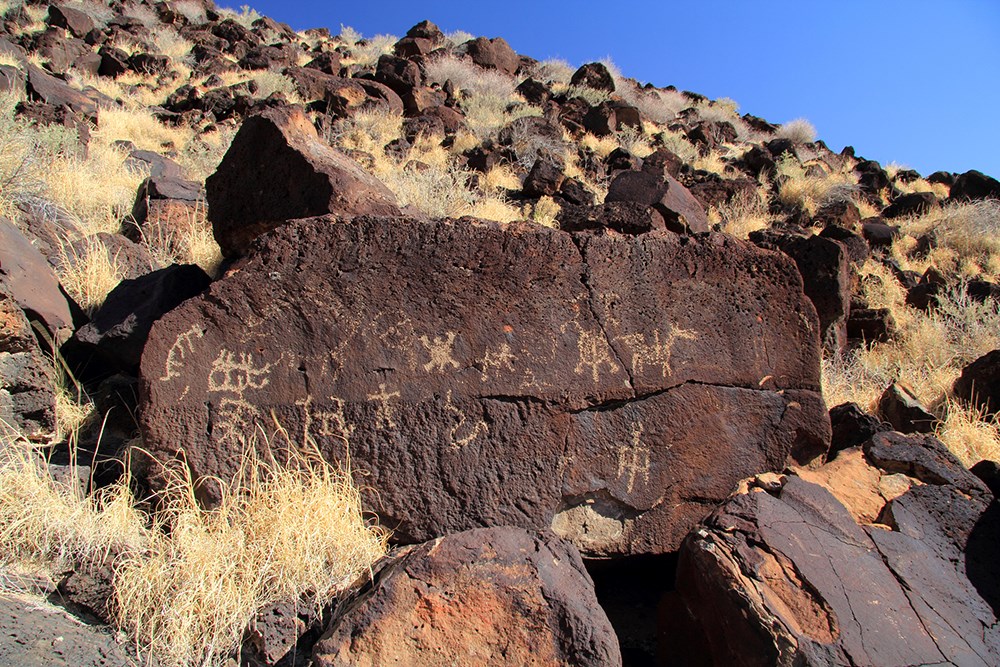 Petroglyph National Monument
Speaking of petroglyphs, if you really want to get your fill of ancient rock carvings, then you need to pay a visit to Petroglyph National Monument in Albuquerque. Perched on the west side of town, with downtown Albuquerque and the Sandia Mountains looming in the distance, this modest national park contains some of the largest collections of ancient petroglyphs on North America. For thousands of years, Native American tribes called this region home, and they left their literal marks by carving symbols into malleable volcanic rock in the high desert. Today, about 24,000 images and symbols are visible to visitors, best seen along moderate hiking trails that weave through rocky canyons, cacti-filled terrain, and dormant volcanoes.
Nearby KOAs:
Albuquerque KOA Journey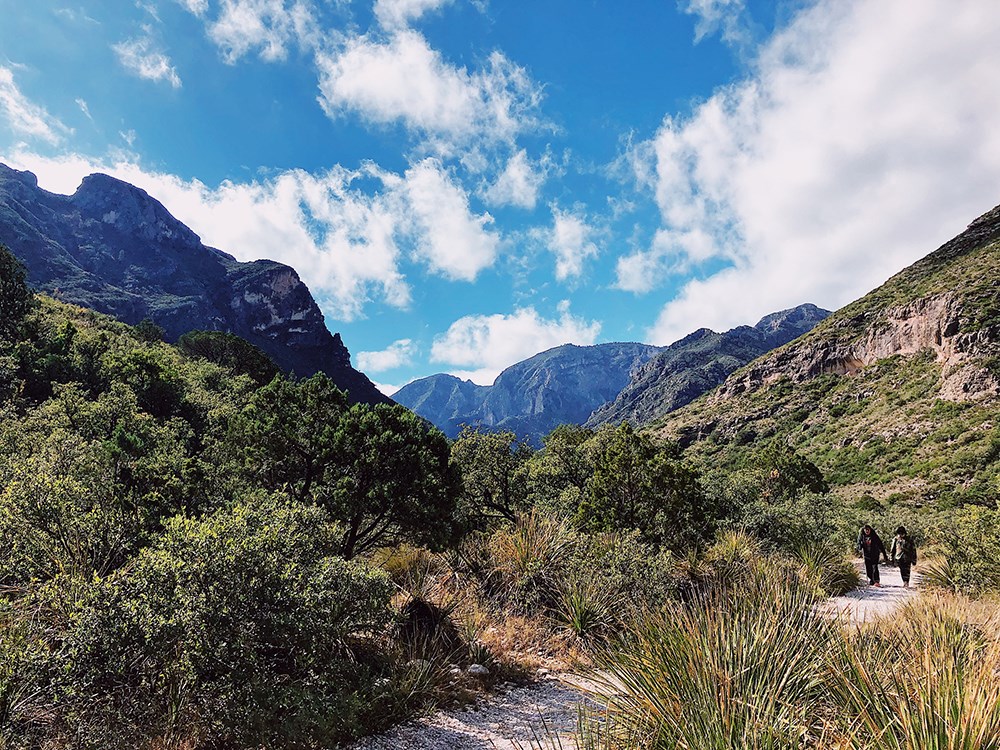 Guadalupe Mountains National Park
One of the most underrated — and least visited — national parks in the Southwest, this west Texas park is a mecca for hikers, as the Guadalupe Mountains reign as the tallest peaks in the state. Of the many miles of hiking trails to traverse here, the park offers astonishing diversity, from arduous summit trails (including the namesake Guadalupe Peak, the tallest point in Texas), to peaceful ponds, sand dunes, and the beautiful serenity of McKittrick Canyon, which comes alive with vibrant foliage in the fall. This is another park that was once immersed in a tropical sea, which means the Guadalupe Mountains are actually one gigantic fossilized reef — look closely at the rocky walls as you hike and you'll see tiny shapes and patterns that look like seashells and coral.
Nearby KOAs:
Carlsbad KOA Holiday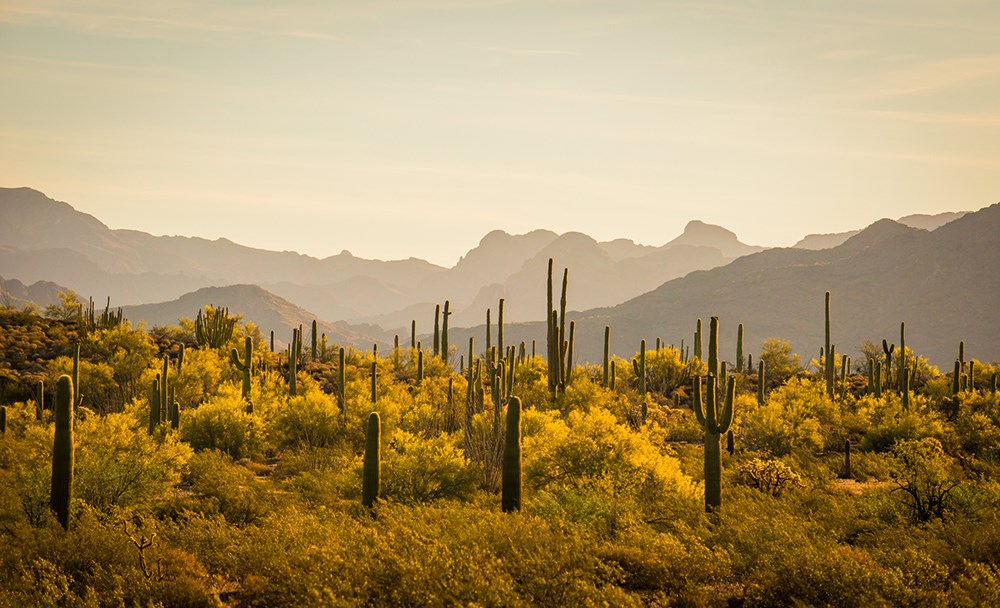 Organ Pipe Cactus National Monument
Saguaro National Park isn't the only Arizona park dedicated to the preservation of rare cacti. Located further south, hugging the U.S./Mexico border, Organ Pipe Cactus National Monument is much more underrated, and well worth a detour. This is the only place in the country where the rare organ pipe cactus grows wild, and it's an all-natural spectacle that needs to be seen to be believed. While not as tall as Saguaros, these behemoths sport multiple arms branching upward in a cluster, hence the organ pipe name. Although the temps can bet mercilessly hot in the summer, the park is a haven for hikers, desert camping, and horseback rides.
Nearby KOAs:
Tucson / Lazydays KOA Resort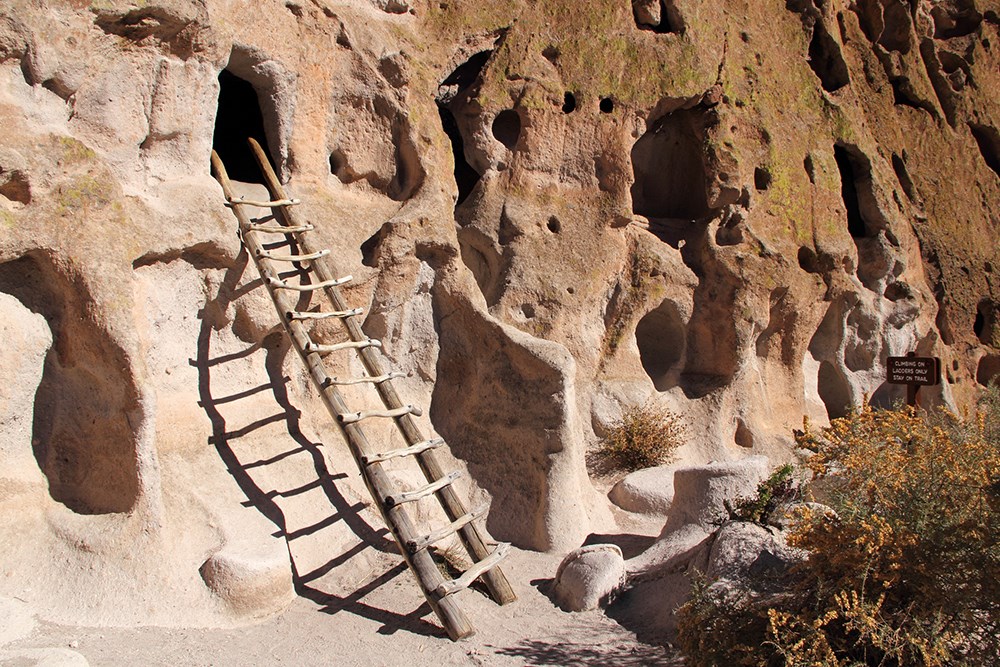 Bandelier National Monument
For ancestral Puebloan history with a side of hands-on hiking, Bandelier National Monument can't be beat. Located a stone's throw from Santa Fe, this New Mexican park protects more than 30,000 acres of gorgeous mountainous terrain, craggy canyons, and most notably, ancient homes and structures created by Southwestern Puebloan tribes, most of which date back to before the year 1600. Today, you can learn about these native peoples and their impact on the land by hoofing it through Frijoles Canyon, home to multiple paintings, rock dwellings, petroglyphs, and ceremonial pits called kivas. One of the coolest parts of the park is Alcove House, a cave-like abode carved into soft canyon-side rock that can be accessed via a ladder that ascends up through a kiva.
Nearby KOAs:
Santa Fe KOA Journey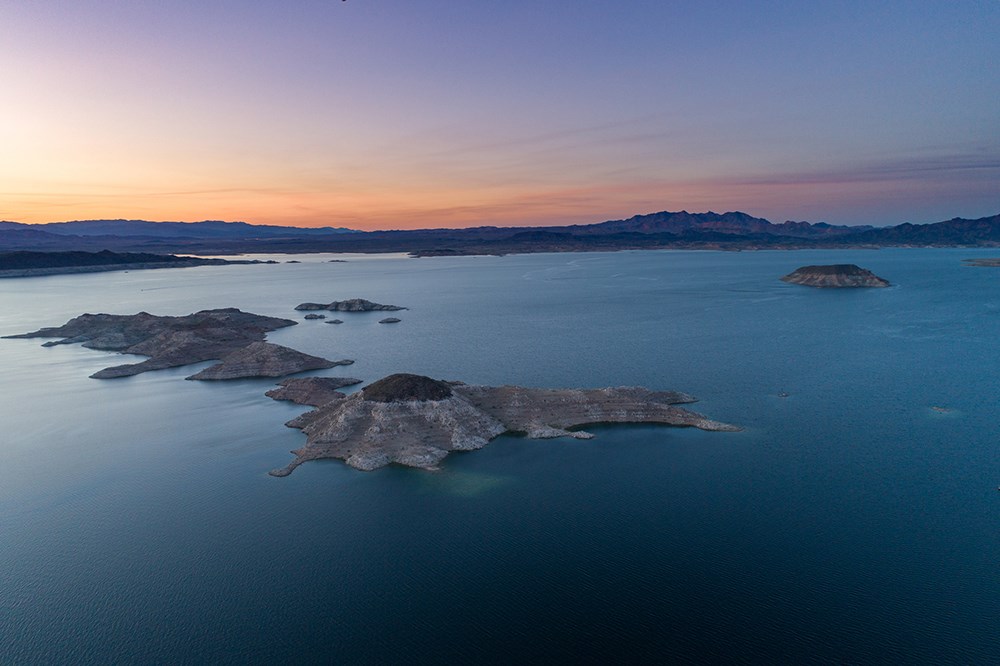 Lake Mead National Recreation Area
Nestled on the border of southeastern Nevada and northwestern Arizona, Lake Mead lives up to its name as a National Recreation Area, the first unit in the National Park System to be designated as such in 1947. This sprawling and shimmering lake provides an oasis for aquatic recreation in the hot desert, while the surrounding landscape affords ample exploration on foot. Here in the sweltering Southwest, Lake Mead is a go-to for fishing, swimming, and boating, both on the namesake lake, as well as smaller nearby Lake Mohave and the river connecting the two. Considering the park encompasses three of the four different desert ecosystems — Mojave Desert, Great Basin Desert, and Sonoran Desert — there is a lot to explore on land as well, with plenty of trails around the lakes affording sweeping views and immense diversity. Of course, don't forget to stop at the iconic Hoover Dam for a photo op, assuming you don't have a fear of heights.
Nearby KOAs:
Las Vegas KOA Journey at Sam's Town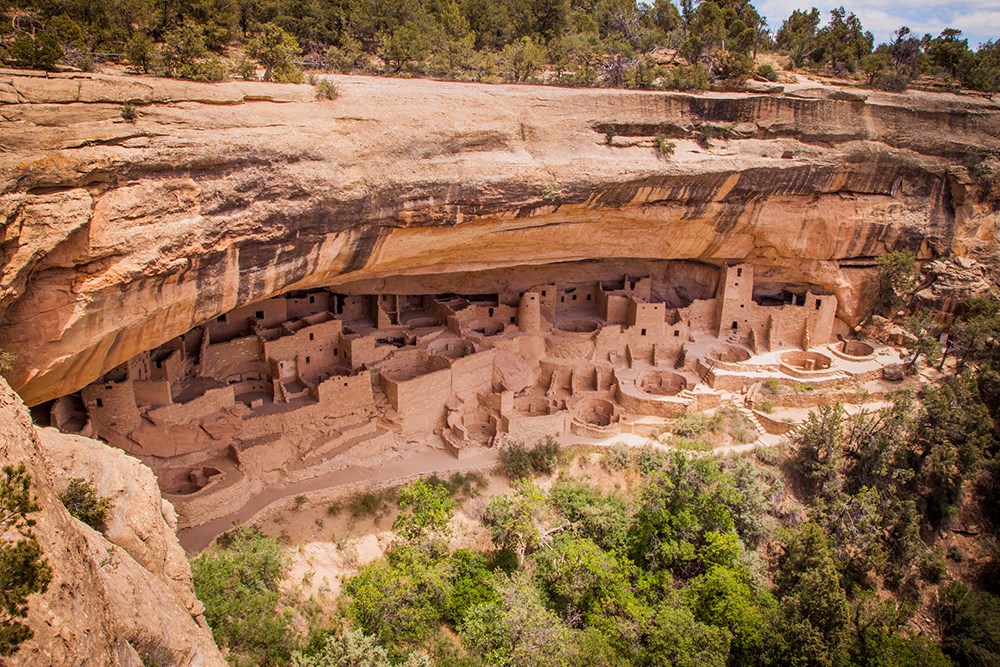 Mesa Verde National Park
A common theme among national parks in the Southwest is Puebloan history and heritage. These are on full display at Mesa Verde National Park, a southeastern Colorado park that flies under-the-radar compared to its mountainous counterparts elsewhere in the state. This was the first national park designated to preserve man-made structures; in this case, ancient cliff dwellings created by Puebloan tribes. They've long since vacated their mesa-side towns, but their incredible work lives on today. Whether on a hike that offers a view of the abodes, or on a ranger-led tour through some of the structures, you're sure to be blown away by the craft and the meticulous ingenuity that went into constructing such sprawling dwellings.
---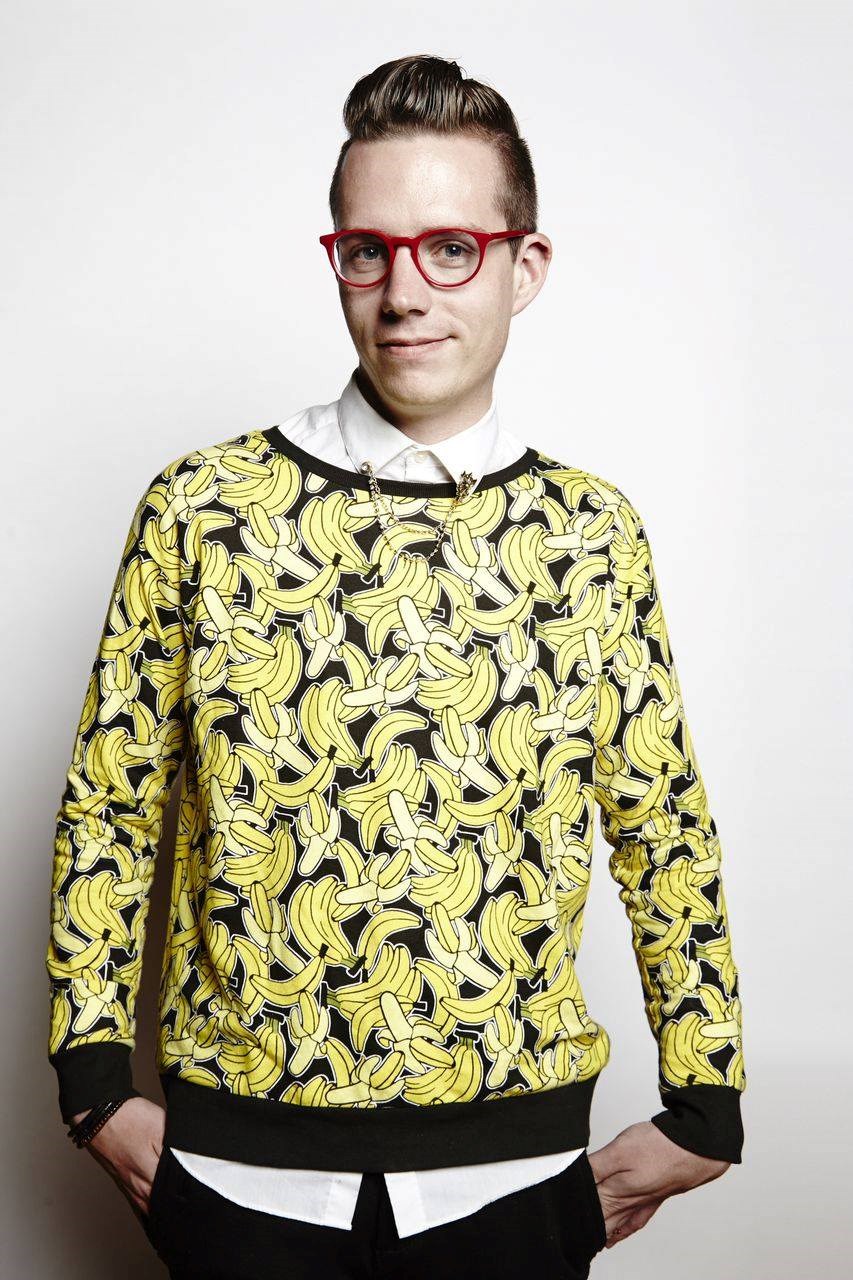 Born and raised in New Hampshire, Matt Kirouac grew up with a love for camping and the outdoors. Though he's lived in Chicago since 2006, he's always on the lookout for new adventures. He writes about travel and food for outlets like TripExpert, Money Inc, Upventur, DiningOut, Food Fanatics magazine, Plate Magazine and Zagat, and he currently serves as Chicago editor for What Should We Do?! He's the author of The Hunt Guides: Chicago (2016) and Unique Eats & Eateries of Chicago (2017).
---