A Note from Kampgrounds of America CEO, Toby O'Rourke
At KOA, we believe the outdoors is fun and for everyone. It seems like a simple concept, but it can complicate quickly when centuries-old biases and cultural differences come into play. Leaders in the camping and RVing industry are coming together to figuratively open doors and welcome all people of color and members of other under-represented communities to the wonderful outdoors lifestyle. Part of the effort will also come from the inside, with increased opportunities for workplace leadership roles. A first step is listening, along with working on existing barriers that may leave some communities feeling less than welcome. In that effort, we've partnered with Teresa Baker, founder of the African American National Parks Event and a leading advocate for increased inclusion. Teresa is also the creator of the Outdoor Industry CEO Diversity Pledge, of which I enthusiastically take part. Below, Teresa shares some thoughts as we begin our efforts.

– Toby O'Rourke / Kampgrounds of America Inc. President & CEO

---
Teresa Baker is founder of the African American National Parks Event, which provides communities across the country with opportunities to participate in events that speak to culture, heritage, and lifestyle. Through her work, she helps to change perceptions and behaviors relative to the national parks and foster the next generation of diverse, informed, and loyal park stewards and outdoor enthusiasts. Below she shares her vision on diversity and inclusion in the great outdoors.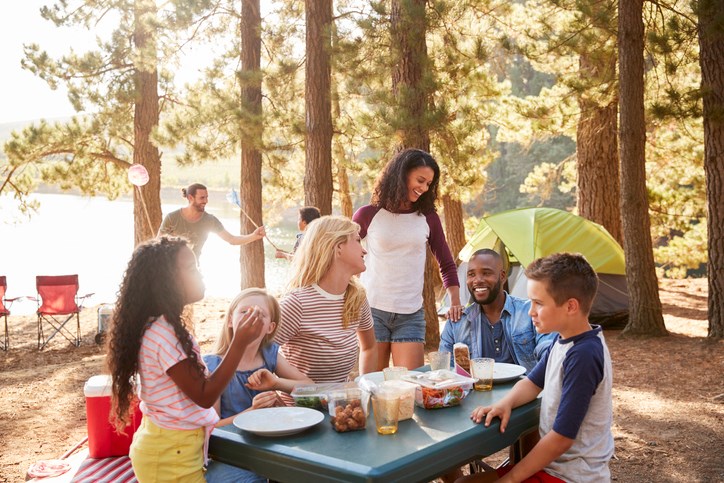 I often tell people diversity and inclusion is not an easy conversation to have with some organizations and companies. That has certainly not been the case with the folks from KOA, their President & CEO Toby O'Rourke, specifically. Toby and I met years ago at a gathering in San Francisco that she invited me to. At that time, KOA discussed the emergence of under-represented communities in the camping world and what they were doing as a company to maintain that growth. The camping world has certainly grown since that gathering and KOA has been leading the charge.
Earlier this year Toby and I met up again to discuss how KOA may continue to address matters of diversity and inclusion within the company. It was brought up during that conversation that perhaps we should do a gathering that would bring together not only KOA, but the outdoor camping and RVing industry as a whole. We agreed on that and just a couple of weeks back, we made it happen at the Presidio of San Francisco.
With a room made up of presidents, founders and marketing managers from across the camping and RV industry, myself along with Jose Gonzalez, founder of Latino Outdoors, and outdoor writer and facilitator Amanda Machado began the day speaking directly to some of the concerns the industry is faced with, and how as a collective they could all leave this gathering with a game plan in place. As in most cases, they wanted to know where to begin. This is an all-too-common question people ask when venturing into the work of diversity and inclusion. The answer can be complex, depending on your ultimate goal. As we explained to those in the room, you start where you're comfortable and venture forward from there. Baby steps, if you will.
We suggested hiring a consultant or creating a position within their individual companies, whose only task is to work on DEI (diversity, equity, and inclusion) efforts. As with a lot of companies that struggle with where to begin, this is by far the easiest way forward, along with building partnerships with those of us who do this work daily. It takes the pressure off existing staff who may already have a full plate, or who may not have the experience with the work of DEI.
We also addressed best practices for the camping/RV world and the importance of having someone keep track of the progress the industry is making. And for me, the best forward-facing idea was the mission statement of the industry, the buy-in statement, if you will. What is the industry prepared to say, publicly, to show their commitment to the work of DEI? For me, this sends a clear message to the industry at large and their customers, that this work is important and they are committed to doing better. This is certainly the impression Toby and others left me with when we concluded the day, their ongoing commitment to this work. I believe everyone walked away with the understanding that this is a beginning step for many in the room and their true grit will come from the ongoing commitments they are making to this work.
The work of diversity and inclusion is an issue that is gripping the entire outdoor industry, from brands and retailers to organizations and agencies. How do we come together with egos aside and work on an issue that requires give and take? We must first understand that what is at stake if we don't come together on this issue, is the environment. The environment pays when we lead with ego, and not a commitment to understanding. The outdoor industry can not maintain itself without a healthy, well-protected outdoor arena. And that is what we should all put first when discussing diversity and inclusion.
This conversation is not about giving underrepresented communities a larger chunk of your marketing dollars or excluding the current dominant face of outdoor marketing. It's about being more inclusive, opening up opportunities for a larger customer base, a customer base who is not new to camping, hiking, skiing, etc, but a customer base that has always been in these outdoor spaces, but who are seldom shown in marketing campaigns, on your boards and in decision making roles.
So to all the RVers , weekend and vacation campers, outdoor brands and organizations, I call on you to help me in this work. Let's build partnerships so that when issues arise or missteps take place, relationships are already in place to help move beyond. I say to the presidents and founders of these companies, state publicly your commitment to this work. Create together a mission statement that includes a commitment from the camping and RV world at large. Make sure we are inviting everyone to the table and not just those who have traditionally held a seat at your campgrounds. Let's do our best to make sure everyone feels welcomed.
We all play a role in bridging the divide that is not too great to overcome. Let us put the environment first – that favorite fishing hole you like to visit, the mountain range you love to explore, or your favorite camp site. Let's make that our priority and the rest will fall in line.