The Coolest (and Weirdest) Tents Money Can Buy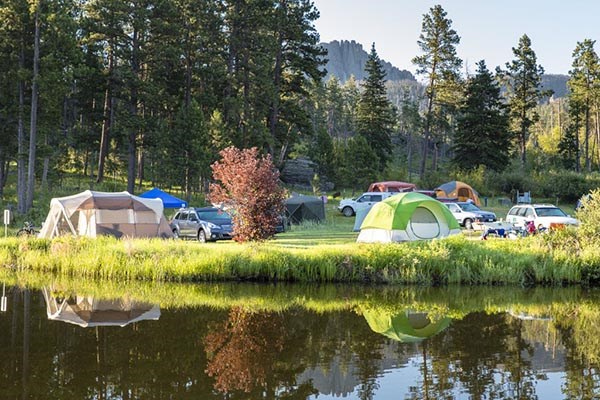 While traditional tents will always hold a special place in our hearts, sometimes we like to take a look at what else is out there. What we found: modern tents today seem to range from practical to innovative to downright weird. Check out these weird tents that let you camp in the trees, hang out on a lake, or sleep under the stars. You may just fall in love.
If you spent your youth begging for a tree house, you're going to love Tentsile tents, which are pretty much portable tree houses that you can pitch anywhere you can find three trees in a triangular formation. And they said adulthood would be no fun.
One big reason to love Tentsile tents: the price point. Compared to the other funky and fancy tents on the market, Tentsile is a fraction of the price: the most affordable options start at about $500. While half a grand may seem like a pretty penny to drop on a tent, we like to think of it as the coolest investment you'll ever make.
These transparent tents aim to bring campers as close to nature as possible without subjecting them to the woes of bug bites and uncomfortable temperatures. More of a luxury experience than a camping one, Bubble Lodges stay inflated with help from a silent turbine that consistently pumps in air.
With nothing but a layer of PVC between you and Mother Nature, you can witness sunrises without even getting out of bed, wake up at night to a sky full of stars over your head, and hang out in the midst of a rainstorm without being soaked to the bone.
Made of aluminum and covered in a waterproof trap, Cocoon Trees label themselves as the "modern version of a cabin in a tree." But what we love most about them is that you can use them to camp on water. With the capability to be fixed to a pole driven into the bottom of a lake, Cocoon Tree is one of very few options for setting up a camp you must swim to.
Designed to be installed rather than pitched and taken down quickly, these aren't feasible options for campgrounds or any space that's not your own turf. You'll want to pick a solid spot for your Cocoon Tree before beginning installation.
Now that you've set your sight on your newest must-have tent, find the perfect place to pitch it at KOA.com!
Header via Cocoon Tree
Camping writer for Roadtrippers. Jersey Girl. Poet. Scenic Route Enthusiast.
Brought to you by KOA and our partners at: