There is no denying that national parks in the United States are unlike anything else. The beauty that they display is unparalleled.
But you know what else is unparalleled? The crowds that you find at those national parks. Sometimes it is a struggle to enjoy them to their full extent because they are so packed with fellow national park lovers.
However, we have found a solution. While we think that you should definitely find the right time to check out the parks in the United States, we also suggest that when the parks here start to get busy, that you get busy and head up north to Canada.
Our neighbor to the north offers national parks that are just as beautiful and awe-inspiring as the ones here in the States, minus all the extra people.
In Canada's national parks you've got everything from beaches to snow-capped mountains and everything in between.
Boasting 40 national parks, there is a lot to see here that you may not know about.
So we are here to put some fabulous Canadian national parks on your radar. Read on for our favorites to visit.
Canada's Best Parks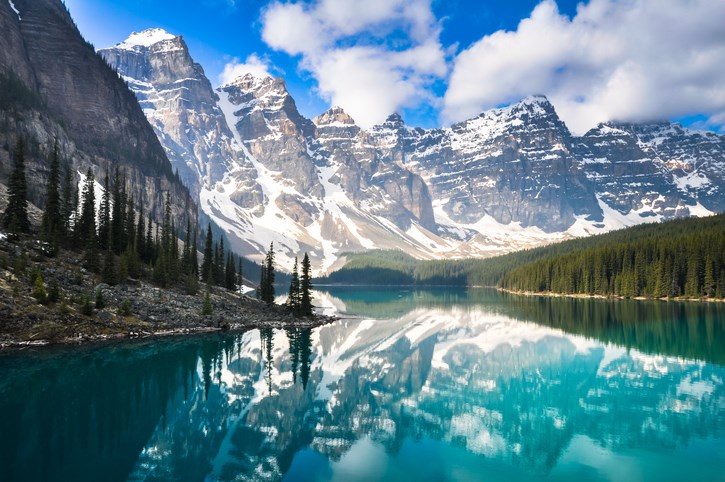 Banff National Park | Alberta
The original claim to fame for Banff National Park was the fact that it's the first national park in all of Canada. While the park is still riding that wave today, it offers a lot more that has put its name on the map. In fact, it is one of the most popular tourist destinations in all of Canada.
Which, you guessed it — means that there are going to be more fellow travelers here than the other parks. However, fighting a bit of a crowd is worth it for what you'll get to see here. And, if you are really anti-crowds, then you can visit in the off-seasons.
Regardless of what time of year you visit Banff, expect to be blown away. If you visit during the winter, be prepared for some epic skiing. There are a number of different ski resorts to choose from that will give you some of the best skiing you've ever experienced. And if you aren't into skiing but still want to enjoy the winter scenery, hop on a gondola to see all the splendor.
If you travel to Banff during season other than winter, you will find hiking galore, as well as biking, fishing, and rock climbing. There is no shortage of adventure-filled activities in this park. For a memorable hike, head to Lake Louise where there are a number of trail options that will take you to some beautiful places including the Lake Agnes Teahouse that's open during the summer.
There are a number of other lakes to enjoy in Banff as well as the Johnston Canyon. This canyon boasts two beautiful waterfalls and if you're up for a bit of a challenge, then take things further to the Ink Pots where stunning springs await.
The wildlife you'll spot in this park is some of the most amazing in the entire country. Here you'll find over 50 different species of mammals including grizzly bears, elk, caribou, bighorn sheep and much more.
KOAs nearby:
Cranbrook / St. Eugene KOA Journey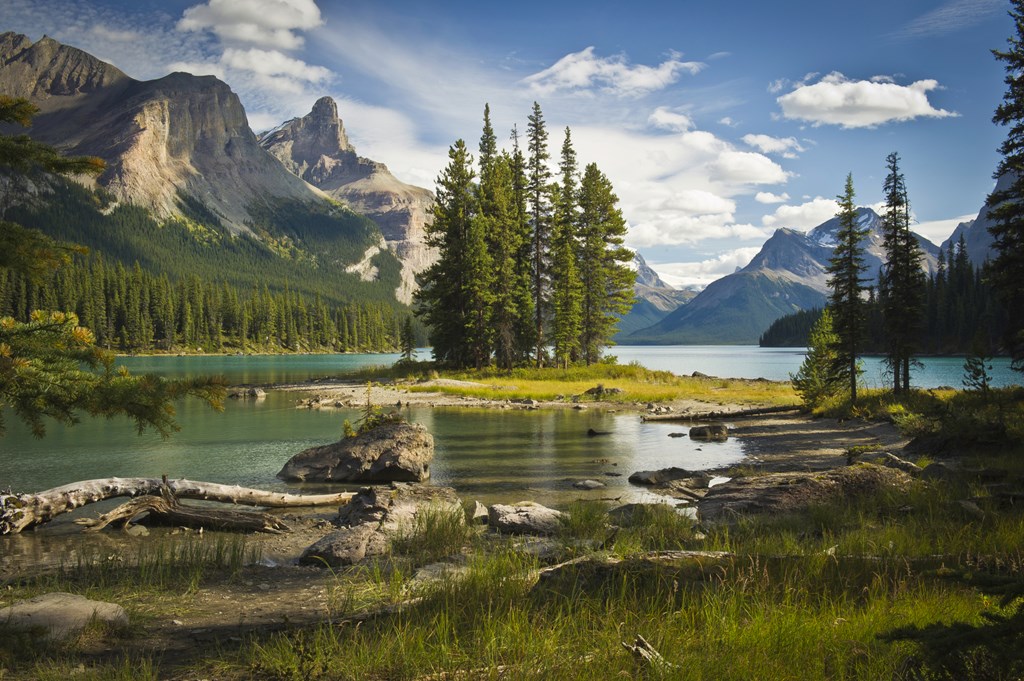 Jasper National Park | Alberta
With the title of largest national park in the Canadian Rockies, Jasper National Park is the place to go to see the Rocky Mountains at their finest.
When you think of a national park in Canada, you likely imagine lush green mountains, blue-snow capped mountains, and crystal-clear turquoise waters.
And that's exactly what you'll find at Jasper National Park. You couldn't possibly take a bad photo of the scenery here, so get your hands ready to be snapping away.
Some of the park's highlights include a hike to Maligne Lake, the second-largest glacier-fed lake in the entire world. If you visit here during the warmer months, you'll be able to enjoy the water via a canoe, kayak or a rowboat for a perfectly peaceful and serene look at the park.
Another sight to check out (especially because it is rapidly shrinking) is the Athabasca Glacier. With a guided tour, you'll be able to get close to the edge of the glacier that divides Jasper and Banff and is a vision not to be missed.
If trekking isn't up your alley, then hop on the Jasper SkyTram for a scenic trip on the longest and highest guided tramway in the whole country. The tram will take you through six different mountain ranges and a slew of stunning views.
But how you'll really be blown away in Jasper is not looking out across the mountains that surround you but rather up — to the sky. Jasper is proudly the second largest dark sky preserve in the whole world (as designated by the Royal Astronomical Society of Canada), so stargazing here is guaranteed to be unlike anything you've ever seen before.
If you're big into astronomy, plan your visit to Jasper National Park in October to witness the Dark Sky Festival — a weekend full of parties, concerts, and exhibits with the star of the show being, well, the stars.
KOAs nearby:
Hinton / Jasper KOA
Clearwater / Wells Gray KOA Journey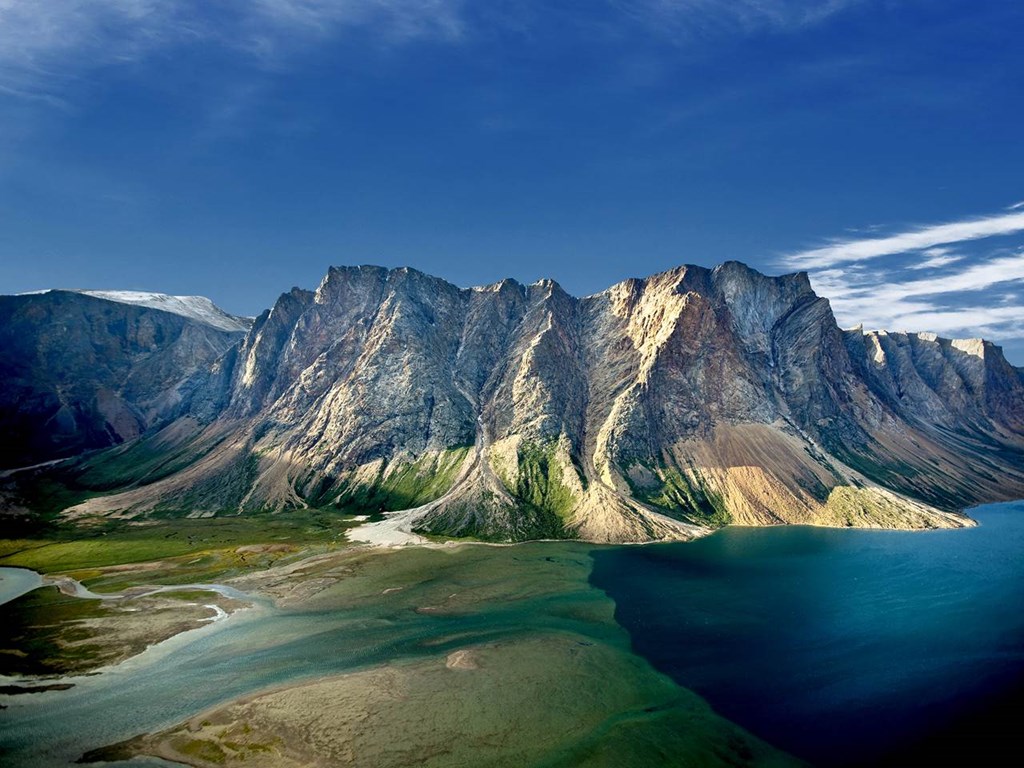 Torngat Mountains National Park | Newfoundland
There are a number of things about this national park that make it stand out from the rest.
We'll start with the fact that it's got polar bears. Yes, you read that right — polar bears. They are everywhere here, and one of the reasons why is because this is a pretty darn remote park to visit.
In fact, it's really only a place you can visit just a few weeks out of the year. And your run-ins with polar bears will not happen unprepared — upon entrance to the park you have to watch a video on how to act and what to do in polar bear country, should you have a rough encounter with one.
The park doubles as a research facility but is still open to visitors during the few weeks in the summer that the weather is warm enough to accommodate non-locals.
When in Torngat Mountains National Park, you will be amongst some of the oldest rocks in the entire world, dating back to nearly 4 billion years ago. This park is a geologist's dream and regardless of how in-depth your knowledge of rocks is, there is no denying that you will appreciate what it feels like to step back in time.
You'll also appreciate the fact that the culture here has stuck to its roots. In fact, Torngat Mountains National Park is the only park in the entire world where the staff consists solely of Inuits. Learning about the park from the locals will be amazing, but learning about their culture is what is likely to really blow your mind. Getting a peek into how these people survive here and the long-standing history of their culture is truly amazing.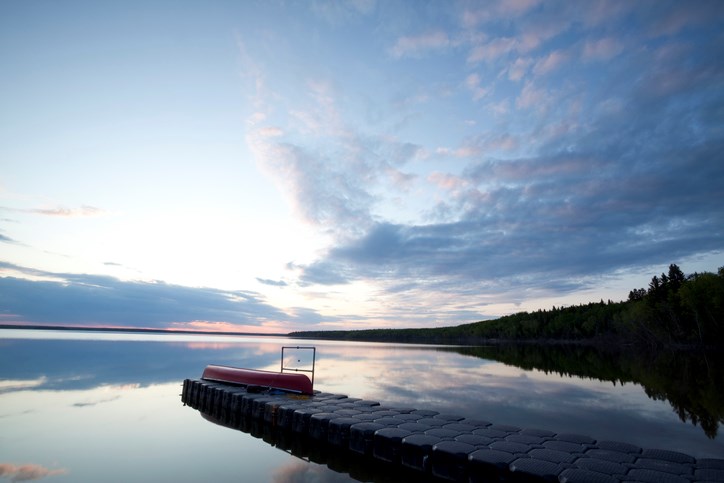 Prince Albert National Park | Saskatchewan
The mountains in Canada get all of the attention, but what about the flatlands?
Prince Albert National Park in Saskatchewan is the perfect opportunity to appreciate the prairie side of the country — its beauty is truly breathtaking. And, you won't be the only one to think so. Prince Albert National Park is the most popular national park in all of Canada.
This is likely due to the fact that it's not as daunting as some of the more rugged parks and allows travelers and adventurers of all walks of life to enjoy what the park has to offer. You don't have to be a die-hard hiker to trek around on the trails at Prince Albert National Park, though there are some more challenging ones if you're feeling up to it.
During the winter, come here for some great cross-country skiing. This terrain makes for the ideal Nordic skiier's dreams come true. And when the weather starts heating up, get ready to see some pro-level wakeboarding and waterskiing, as Prince Albert National Park is known as one of the favorite places in the country to partake in water sports.
And if you're a fan of autumnal sights, then this place will be a favorite of yours come the fall. Hike up the Spruce River Highlands Trail to get above the treeline and see the postcard views of the rolling hills and plains.
No matter what time of the year you're visiting Prince Albert National Park, you are sure to see some diverse wildlife that includes nearly 200 species of birds and bison that are free to roam wherever they like.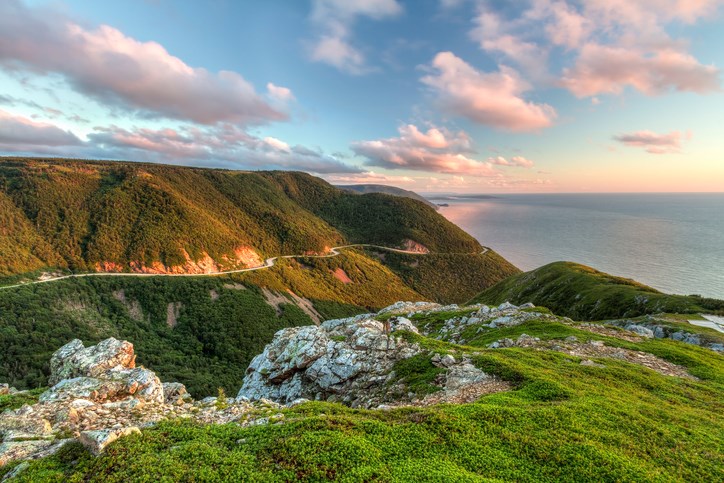 Fundy National Park | New Brunswick
This year-round park has a lot to offer travelers from all over. To start, it's one of the top cruise ports in the East, so you can explore it when your cruise ship makes a stop here.
Or, you can plan your own trip to the park, as it's worth a few days' stay on its own. One of the things you'll love about Fundy National Park is the waterfalls. Not only are they beautiful, but they are plentiful and just waiting to be enjoyed by you.
One of Fundy's claim to fames is that it is home to the highest tides in the entire world. You can enjoy these tides via a kayak or other adventurous means. And when low tide hits, be sure you find a way to explore the seafloor that will be full of surprises.
If you're looking for a unique experience, you will certainly get that at Fundy where you can snorkel with salmon. And these aren't just any salmon, they are the very rare Bay of Fundy Atlantic salmon. How many other places can offer an experience like that?
By walking just a few steps inland, you will find yourself in thick forests where you'll beg to get lost. The variety of things to do and scenery at Fundy National Park will have you wondering why this place is so under-the-radar, and will make you want to share it with the world.
KOAs nearby:
Sussex KOA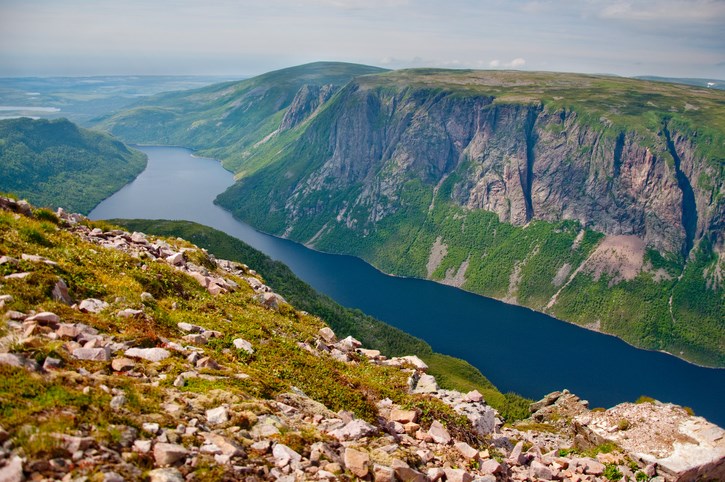 Gros Morne National Park | Newfoundland
This UNESCO World Heritage Site will have you thinking you've been dropped right into the middle of a scene in Lord of the Rings. With lush green everywhere and cliffs that stand over 2,000 feet tall, you will be soaking up some truly amazing views while visiting Gros Morne National Park.
But that's not the only thing you'll be doing. Chances are good you'll run into a moose or two while here, as this park has incredibly high concentrations of moose — one of the highest in the world, actually. In fact, there are so many moose here that it is becoming a problem.
In addition to moose, you'll also get the opportunity to take a step back in time and drive along the trail known as the Viking Trail. Yes, this is a trail that has been traveled for thousands of years and is the place where vikings first landed in Newfoundland.
This park has no shortage of unique experiences, and this one may be our favorite: a visit to Gros Morne National Park gives you the opportunity to walk on what was, at one point in time, the Earth's mantle. What used to be thousands of miles under the Earth is now at the surface in this park, and available for you to walk one. There's no missing this spot, as the red rocks of this area stands out strongly against the lush green scenery of the rest of the park.
KOAs nearby:
Gros Morne / Norris Point KOA Holiday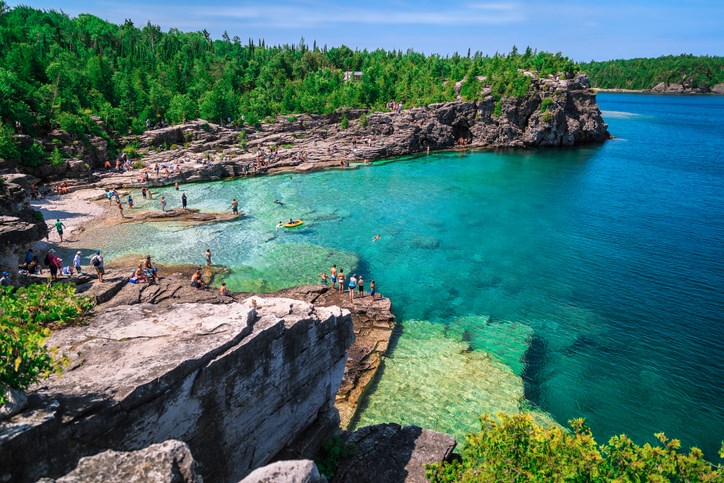 Bruce Peninsula National Park | Ontario
Sitting right in the middle of a World Biosphere Reserve, Bruce Peninsula National Park is a place you should put on your list.
Let's start with the water here that is so striking and clear that you can see right to the bottom. Georgian Bay is surrounded by dramatic cliffs that perfectly compliment the turquoise waters.
And then you've got beautiful forest filled with wildlife where you can roam wild too on some of the park's hiking trails. On your hike, you'll also come across some truly stunning plant life that will have you snapping photos at every turn. Orchids are the specialty here — there are 40 different species of them.
One of the best parts about this park is that it is a Dark Sky Preserve, so you know the stargazing is going to be amazing. Come in July during Dark Skies Weekend for night sky viewing programs that will give you a whole new appreciation for celestial bodies.
But what really steals the show here is the Grotto. Though it's a bit of a hike, it is well worth it. The view of the rock formation against the turquoise waters will take your breath away. KEep going to visit Indian Head Cove and Driftwood Cove where you'll experience a rare ecosystem that is home to the oldest trees in North America.
Bouldering is a big deal in Bruce Peninsula National Park and its remote enough that it won't be flooded with other people.
KOAs nearby:
Owen Sound KOA
There are a number of other fabulous Canadian Parks that are worth a visit, but these are the ones that you absolutely cannot miss. For all of your Canadian adventuring, be sure to use KOA to make your adventures the best possible.
Interested in trying a new way of camping during your Canadian Park vacation?
Check out the ways you can stay when you camp with KOA.
---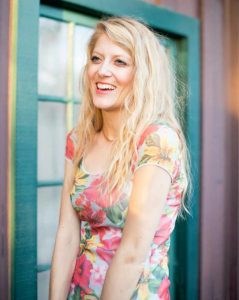 Leslie, a.k.a. Copy Girl, is a copywriter who gets butterflies from telling stories through words.
Her voice comes from a place filled with passion, dreams, and lots of sugar. "Cake over steak" is her go-to motto.
With over 10 years of experience in crafting words, and years of embarking on travels that have taken this Montana girl to some incredible places, Leslie love the adventures of both body and mind her writing takes her on.
Everywhere she goes, she takes this advice with her:
"Hold on to your divine blush, your innate rosy magic, or end up brown." – Tom Robbins, Jitterbug Perfume
To see what Leslie's up to in the writing world, visit her website here.
---