Every camper has at least one, whether it's currently keeping their beer cold or collecting dust in the garage. But 100 years ago, coolers weren't a thing. In fact, it wasn't until 1953 that the patent for the "Portable Ice Chest and the Like" was filed by an Illinois man, Richard C. Laramy. Just a year later, Coleman would invent the noun "cooler" and start experimenting with a new material, plastic. The first portable ice chests were metal or foam, and they had one job: keep food from spoiling. 
These days, it's easy to find a cooler for every occasion, and they're packed with fun features like backpack straps, built-in bottle openers, wheels, cupholders, fish rulers and even USB ports. They also keep food colder than ever, for longer than ever. (Pro tip: maximize your ice retention by following these cooler packing recommendations from the friendly folks at YETI.) Since there are literally hundreds of models to choose from, we've put together a list of some of the most highly-rated. So, whether you're going fishing and want a cold beer to celebrate your trophy trout, or you're hosting half of the campground at your site for a potluck, here are 11 of the best coolers money can buy. 
Looking for the Perfect Camping Cooler? Try one of these 11 Cooler Recommendations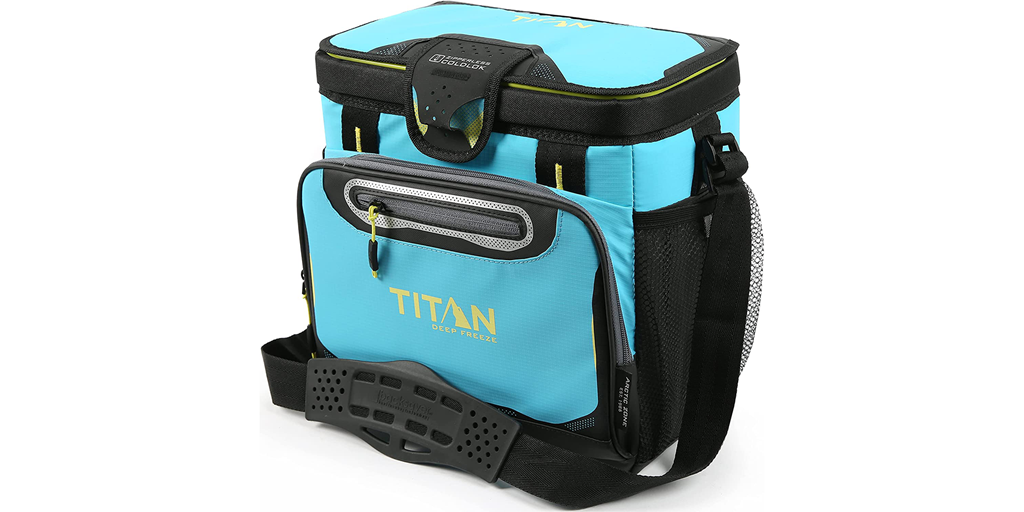 1. Arctic Zone Titan Deep Freeze 16-can Zipperless Cooler, $43, Amazon
Best for: road trips, golfing
With more than 16,200 perfect five-star ratings, this 16-can cooler from Arctic Zone is in the top 10 on Amazon's list of Best Sellers in Camping Coolers. Campers who don't want to mess with zippers love its patented flip–open design which allows for easy access. There's also a hard-sided removable interior shelf, so they don't need to worry about squashed sandwiches. The shoulder strap is adjustable, the exterior is water-resistant and stain-resistant, and there's an insulated front pocket for small valuables. 
Keeps contents cold for: 2 days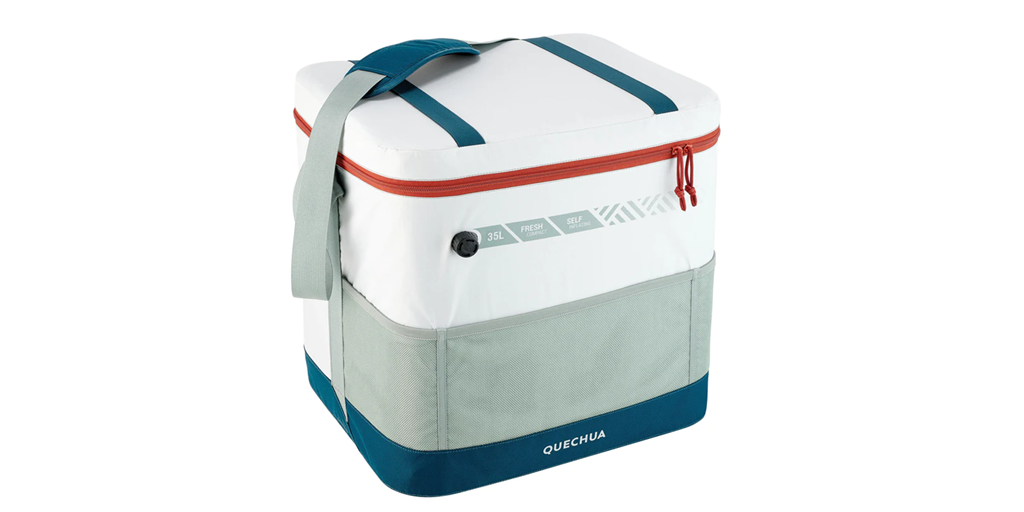 2. Quechua 35L Camping Flexible Cooler, $40, Decathlon
Best for: road trips, picnics
Originally $80, enjoy 50% off this best-selling cooler from Quechua that makes it easy to stay organized. It has four pockets, including an exterior net pocket for easy access, and an internal divider so you can keep your cans from crushing your grapes. But perhaps the best part about this cooler, which can be carried by the two handles or via the shoulder strap, is the fact that it deflates. When not in use, it takes up about as much space as a book!
Keeps contents cold for: 17 hours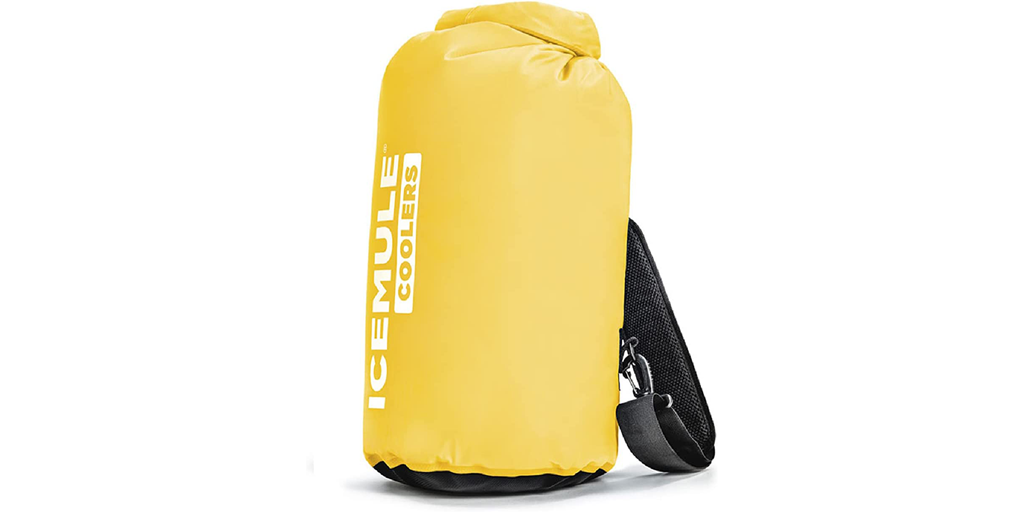 3. IceMule Classic Collapsible Backpack Cooler, $65, Amazon
Best for: floating, paddleboarding, kayaking,
Not only is this collapsible sling backpack cooler waterproof, but it also floats – even when it's full! It currently comes in 10 colors and is available in four sizes ranging from mini, which holds six cans plus ice, up to large, which holds 18 cans plus ice. While it's available at icemulecoolers.com, on Amazon, it has an impressive 4.7-star average rating from more than 2,100 reviews. 
Keeps contents cold for: 24 hours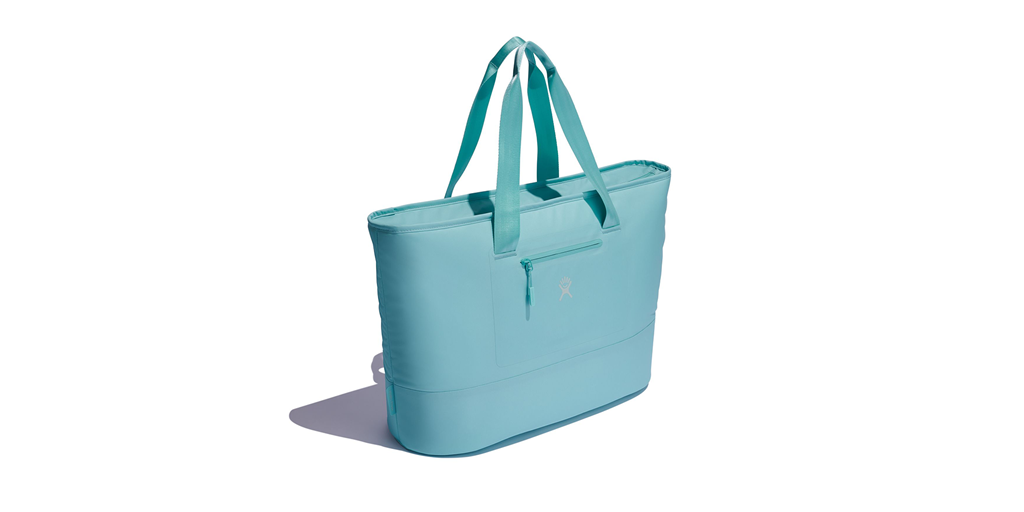 4. Hydro Flask 35L Insulated Tote, $75, Hydro Flask
Best for: picnics, grocery shopping
If you prefer your cooler in tote form, consider this soft-sided bag from Hydro Flask which looks chic enough to be a large purse. Seriously: expect to get compliments whether you're rocking it at the campground pool or in the produce section of Albertson's. Like the IceMule, it's collapsible, so it doesn't take up much space when not in use. It's also easy to clean; simply wipe it down with a wet cloth. 
Keeps contents cold for: 4+ hours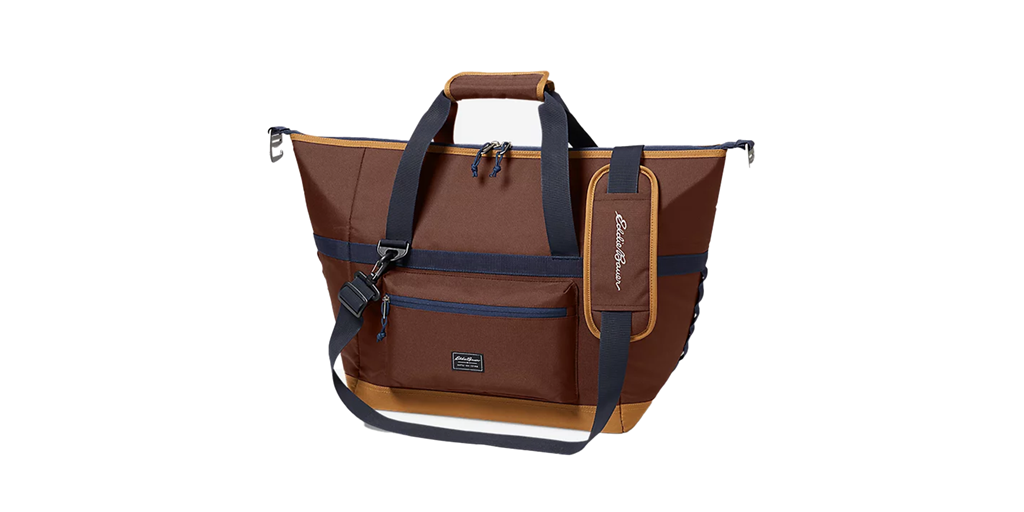 5. Eddie Bauer Recycled Bygone Convertible Cooler, $80, Eddie Bauer
Best for: road trips, music festivals
Like the Hydro Flask cooler, this eco-friendly bag (it's made of repurposed polyester) from Eddie Bauer is a tote bag. However, in addition to the two regular handles, it has an adjustable padded shoulder strap which comes in handy if you have to haul it further . It can hold up to 36 cans, plus ice, and while it's not waterproof, the interior seams are welded, so it is leakproof. 
Keeps contents cold for: 4+ hours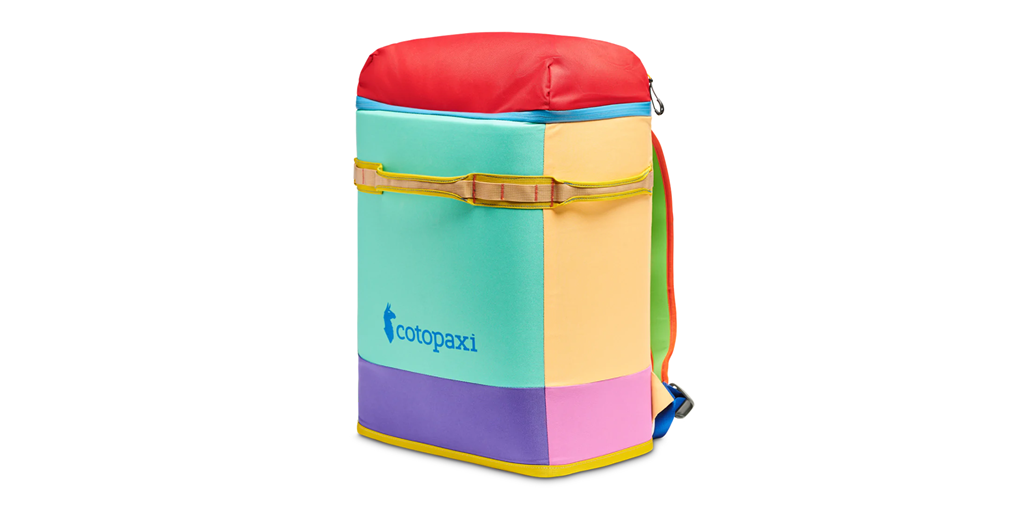 6. Cotopaxi Hielo 24L Cooler Backpack, $200, Cotopaxi
Best for: hiking, the beach
Easily the most colorful cooler on this list (every cooler is different and the color combination is a surprise), the Hielo is definitely a conversation starter. But not only is it cool-looking, it's also comfortable because it features substantially padded straps and even a padded back. Just be forewarned: there's no such thing as having just one Cotopaxi product. One five-star reviewer writes, "Unique bag and great craftsmanship. First Cotopaxi purchase and now I'm hooked." 
Keeps contents cold for: 12+ hours 
7. Camelbak ChillBak Pack 30 Soft Cooler & Hydration Center, $325, Camelbak
Best for: potlucks, concerts
For a backpack with a built-in hydration system, consider investing in this innovative cooler from Camelbak. In addition to holding up to 24 cans and 15 pounds of ice, it boasts an internal bladder that holds up to six liters of water (or whatever your beverage of choice is). Simply use the external spigot to fill up your favorite cup. Like the Hielo, it has ample padding. But unlike the Hielo, it also has a waist belt which helps distribute weight more evenly. 
Keeps contents cold for: 72+ hours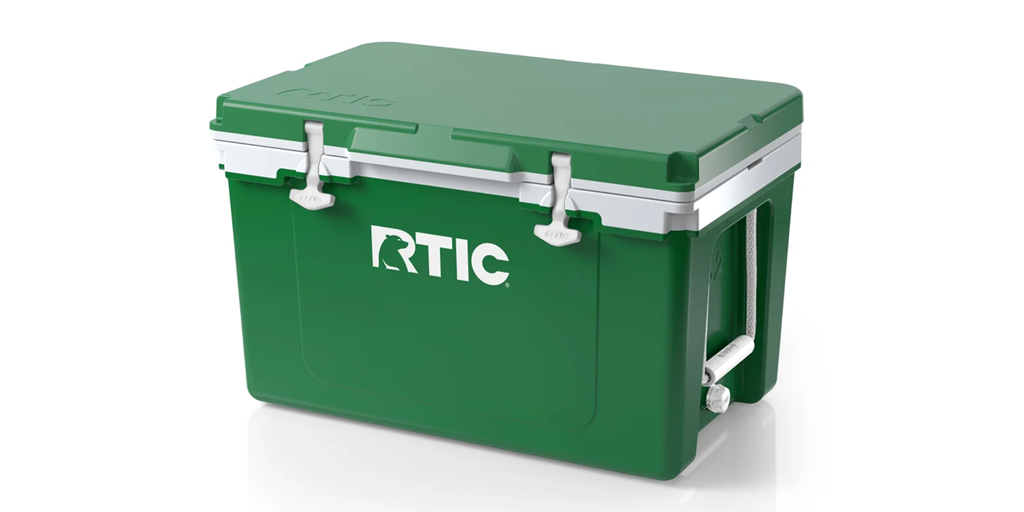 8. RTIC 52-Quart Ultra-Light Cooler, $200, RTIC
Best for: tailgating, boating
RTIC also has an awesome backpack cooler (it's designed to hold wine bottles), but its best-seller is this 52-quart ultra-light hard-sided cooler which weighs 30% less than its competitors. Despite how light it is, it can hold up to 60 pounds of ice and 70 cans. It's also multi-purpose. RTIC recommends using it as a table, an extra cutting board, a non-slip step stool and even a bench. If you're going to use it as seating, add the cushion accessory ($42.50) to your shopping cart. 
Keeps contents cold for: 8 days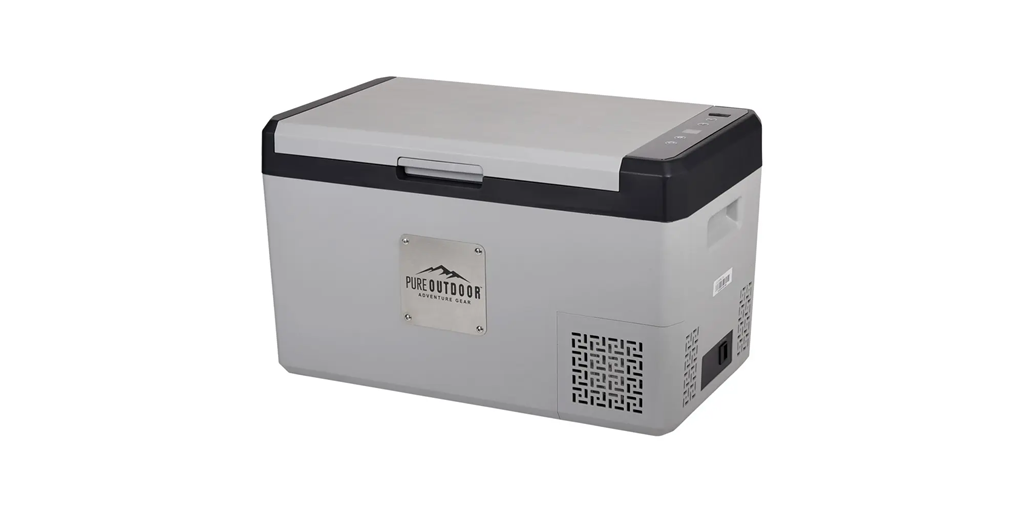 9. Pure Outdoor by Monoprice Emperor 25 Portable Refrigerator 25L, $250, Monoprice
Best for: car camping, van life
It may look like a cooler, but this bad boy from Monoprice is actually a portable fridge/freezer that can get down to -7 degrees Fahrenheit! Instead of buying bag after bag of ice, simply plug it into your car or RV to keep it cold. It comes with an AC power cord and a DC car adapter. It also has a USB outlet, so you can use it to charge your mobile devices! Finally, despite having a battery, it only weighs 24 pounds. 
Keeps contents cold for: weeks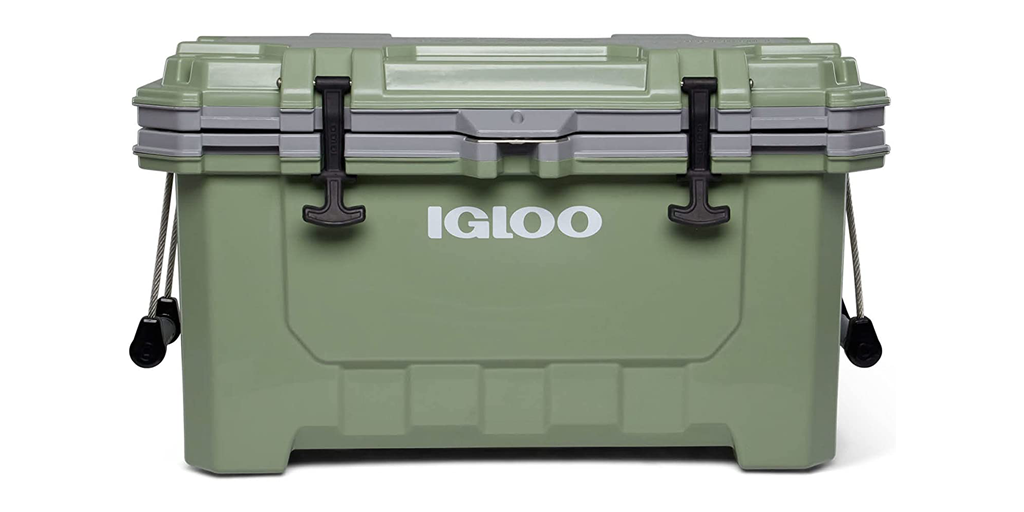 10. Igloo IMX 70 Qt. Lockable Cooler, $250, Amazon
Best for: family reunions, fishing
Holding more than 100 cans, this is one of the biggest personal coolers money can buy. It's also one of the best. Why? For starters, the side handles are molded so they're not hard on your hands, the lid features four self-draining cup holders, the exterior is treated with UV inhibitors to prevent sun damage, there are tie-down points for stability, and as its name suggests, it's easy to lock (lock sold separately). Of course, it would be remiss not to mention the built-in bottle opener, wire basket and fish ruler. 
Keeps contents cold for: 7 days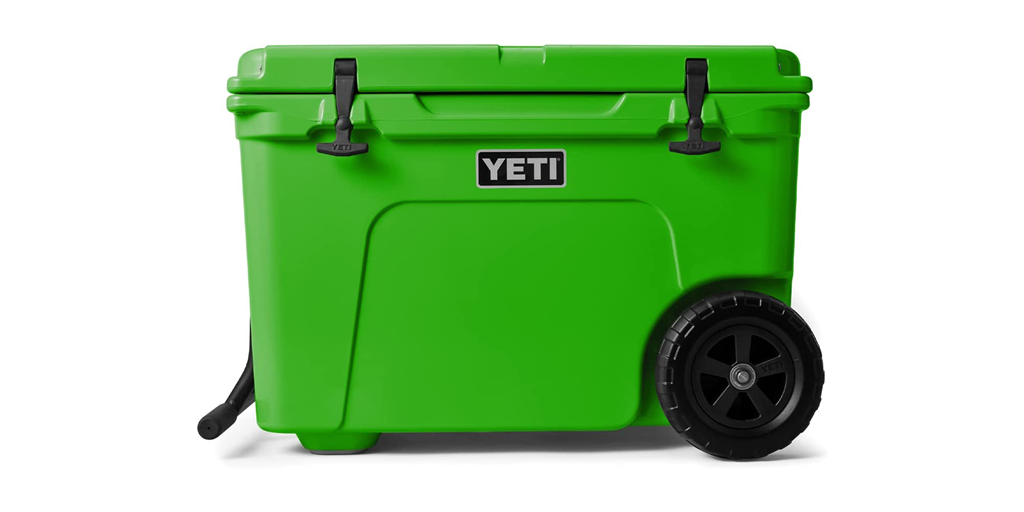 11. YETI Tundra Haul Portable Wheeled Cooler, $450, Amazon
Best for: group camping, maximum mobility
Is this cooler pricey? Yes. But with YETI, you definitely get what you pay for in terms of features and durability. For example the extremely popular YETI Tundra Haul has a very impressive 4.8-star average rating from nearly 3,500 reviews on Amazon. And unlike all the other coolers on this list, it has two wheels and a towing handle, so it's easy to move around all by yourself. Worried about getting a flat tire? Don't be. They're puncture-resistant! 
Keeps contents cold for: 2-7 days    
---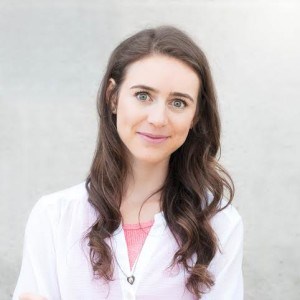 Katie Jackson is a writer and media specialist based in Montana's Big Sky Country. Living and working everywhere from New York to Nicaragua, Katie is no stranger to adventure. When she's not traveling the world (or writing about it!) she's busy chasing after a Leonberger named Zeus. Follow Katie's travels on Instagram @katietalkstravel.

Kampgrounds of America, Inc is a participant in the Amazon Services LLC Associates Program, and affiliate advertising program. Some links may be affiliate links and Kampgrounds of America, Inc may get paid if you buy something or take an action after clicking one of these links.
Prices are accurate at time of publishing. Note that they are subject to change at the discretion of Amazon or their marketplace sellers.