The Best Cooking Gear for Camping and RVing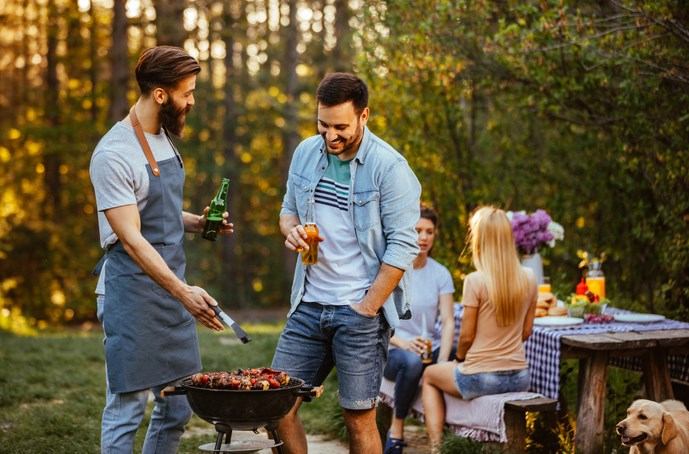 Organizing your kitchen is one of the most challenging parts of camping and RVing. You want to fix fun food that's healthy enough to fuel your outdoor activities, but you don't want to spend hours in the kitchen. And whether you're in a KOA Deluxe Cabin, tent, or RV, space is tighter than back at home, so your cooking gear needs to be small, portable, and multi-functional.
Take the stress out of meal prep by stocking your camp kitchen with these cooking essentials.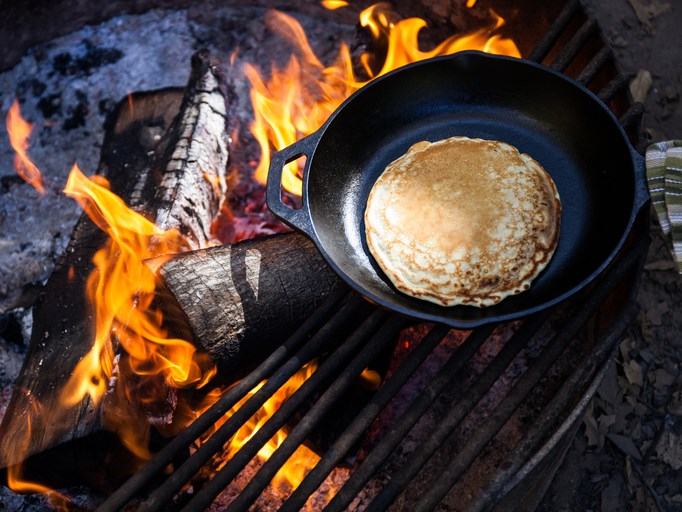 Must-Haves for Every Camp Kitchen
Properly transporting and storing your food is the first step to getting rave reviews for your campground cooking. Invest in a sturdy, well-insulated cooler with enough room to pack a trip's worth of groceries without crushing your ingredients. Attach a small, adhesive thermometer to the inside of the cooler so you can tell when it's time to replace the ice or refreeze your ice packs.
Eliminate the need to rummage around in your tent, the back of your car, or the RV pantry by labeling plastic storage bins for dry goods, utensils, pots and pans, and condiments. Pack small food storage containers or freezer ziploc bags to eliminate excessive food packaging and store leftovers.
Wow your campers with exotically spiced recipes they thought you could only fix at home. A portable spice rack, with airtight, test tube-size containers, safely stores all your herbs for months at a time. To save even more space, get a set of refillable squeeze bottles and tubes for mayo, ketchup, mustard, nut butters, and jams.
If you're like most families, a steaming cup of coffee is essential to the success of any camping trip. But campground water varies in taste and mineral content, causing a bad aftertaste or, even worse, clogging your drip or pod coffeemaker. Stock your kitchen with an Aeropress or French press coffeemaker for the best and most consistent flavor in any campground.
Invest in multi-functional items like a universal silicone lid for your pots and pans, collapsible bowls and colander, and nested sets of cookware to save space and simplify meal prep. Get a nested kitchen set that includes pots, a pan, bowls that collapse into plates, and mugs if you're really tight on space. For campfire meals, you'll need fireproof tongs, spatula, ladle, and a set of sporks that you can use with every meal.
Because nothing flavors food better over an open fire than cast iron, you may want to keep a cast iron skillet on hand. Other non-essentials that add a lot to your culinary repertoire: a plastic egg holder, meat thermometer, lightweight silicone cutting board and roll-up dish drying rack, mesh laundry bags to hang dishes to dry, and a multi-tool with knife, can opener, corkscrew, and bottle opener.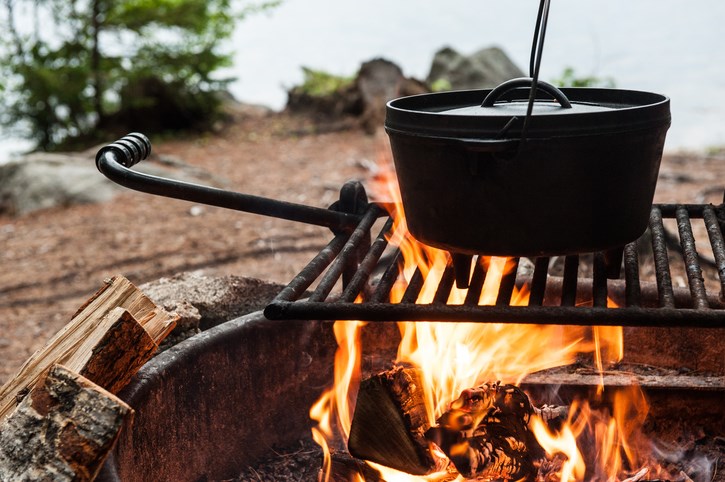 Cooking Gear for Around the Campfire
Any meal tastes better when it's prepared over an open flame. Bring along fireproof skewers, a Dutch oven, and a folding bucket to grill like a pro and douse the flames before heading to bed. A portable food prep table lets you set the picnic table for dinner, and a single or multi-burner camp stove allows you to prepare your main dish and sides at the same time. Get several insulated hobo pouch koozies to keep your foil packet dinners warm after they come off the grill.
Get the kids involved in making dessert with pie irons and roasting forks for dessert pies and s'mores. A griddle expands your breakfast options with campfire pancakes and French toast.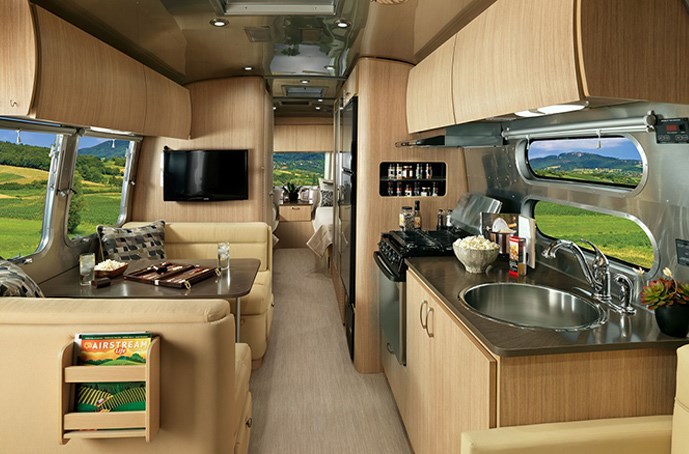 Cooking Gear for In the RV
The joy of having an RV kitchen is that you get to bring most of the luxuries of home with you on the road. With electricity, running water, a refrigerator, and freezer, you can eat like a king. Add an induction burner and slow cooker for even more touches of home. An induction burner heats instantly to cut your cooking time in half and isn't hot to the touch like electric and propane burners. A slow cooker has all the advantages in camp that it has at home, letting you enjoy the outdoors instead of spending vacation time in the kitchen.
Home chefs and foodies may want to complete their RV kitchen with a Kitchenaid mixer and Instant Pot. These two heavy lifters replace lots of other kitchen gear and simplify meal prep and clean up. A Kitchenaid not only mixes, but has attachments for making pasta, spiralizing, grinding meat, juicing, slicing, chopping, and shredding. Slow cooker, pressure cooker, rice cooker, steamer, yogurt maker, saute and browning pan, and warming pot all describe the versatile Instant Pot. Though not essentials, if you have the space to store them, these two items are worth the investment.
---
If travel and food writer Ann Gibson isn't hiking, backpacking, paddling, biking, running, or skiing, she's most likely in her RV, writing about the sports she loves and the best destinations to enjoy the outdoors. She splits her time between home base in the Carolinas and the life of a digital nomad, traveling, writing, visiting, and volunteering in America's parks with her husband and two Aussies.
---